Shopee is an excellent tool for providing people the opportunity to start an online business with little cost. The challenge is on how to overcome price-sensitive demand and the existing competition in your niche. The eCommerce industry has grown at incredible rates in SE Asia and it will continue for the next 10+ years. It is a great time to start selling on the Shopee sales channel. In this article, we're going to give you the 6 biggest success factors to help you as a Shopee seller to optimize your sales channel to its fullest potential.
1. Create Great Product Listings
If you fail to create a product listing that either meets or exceeds the standards set by your competition, you could end up not selling anything or, at the very least, not make as much money as you could.
In eCommerce platforms like Shopee, there are hundreds or thousands of products exactly like the one you are trying to sell. 
It is important to craft superb product listings because it helps you fight for the buyer's attention and get additional clicks. 
Below, we will discuss how great product listings can benefit your Shopee store. 
Product Searchability
Let's say that out of all the handbags on Shopee, your product is the only one that had mobile charging capabilities.
Yet, you noticed that you are not making as many sales compared to other handbag sellers. 
The reason could be that your product's searchability is quite poor. So, when someone goes to the search bar to look for a handbag, you don't even make it to the first three pages of the search result. 
No matter how good a product, if buyers don't get to see it, they won't be able to purchase it as well. 
Product Listing Conversion Rate Optimization
Another important aspect to take into consideration would be conversion rate optimization. 
The great thing about eCommerce is that it allows anyone to start a business without having to use a large amount of capital. 
The downside is that in eCommerce, you don't have a lot of ways to convince a user to purchase a product. You're fairly limited to product images and great copywriting.
 
Here are two example customer paths to conversion that will help you understand the need for product listing conversion rate optimization.
Customers at the Mall

Let's say that someone wanted to buy a scarf at your store location at the local mall. 
The customer walks to where your scarves are displayed. She hesitates at first because of the price on display but decided to get a feel of the material before leaving the store. After witnessing the uniqueness of the material used in the product, she decided to take the scarf to the counter to purchase the item.
Price is a huge factor for customers when deciding whether or not to purchase an item.
But once the customer sees that the price is justifiable (due to product quality or additional features).
As a Shopee seller, you need to make sure that you have a great product listing that addresses any barriers to conversion (whether it's related to cost, quality, or competition).
Customers Shopping Online

Let's say the same customer wanted to look for a warm scarf in preparation for the winter season. Instead of going to the mall, this time, she decided to go to her Shopee app and see what she can find. 
In her product search result, your cashmere scarf was one of the things that caught her eye. However, when she visited your product listing, she became unsure of whether your scarf was the one to satisfy her current needs. She wanted great cashmere fabric, not too thin – something very soft.
The customer looked at your product description to get a clearer picture of what your product has to offer. She checked your product image to see what the product looked like when zoomed in. But your image doesn't show the detail she wants and it doesn't communicate the specific values of your product well enough to make her convert. 
The customer decides to purchase a different product just because of a gap in your product listings.
The other Shopee seller described his scarf as "something good for cool or winter months" whereas you only described your product as a material made of cashmere. 
As a Shopee seller, you know what cashmere cloths are used for. While a number of buyers know this as well, many prospective customers do not. 
If this situation happened at the mall or any other physical location, the customer would have been able to tell that your scarf is for the cold season. She would have been able to physically assess and get a feel of the product. 
However, since the transaction was done online, she had no other basis but your own product listing content.
To Conclude:
Hence, it is important to craft your product listing into the best it can be. At the end of the day, you are selling pictures and text to prospective buyers online.
How To Create Great Product Listings
Before we talk about how great product listings are created, let us first take a look at how business works in Shopee as well as other eCommerce marketplaces.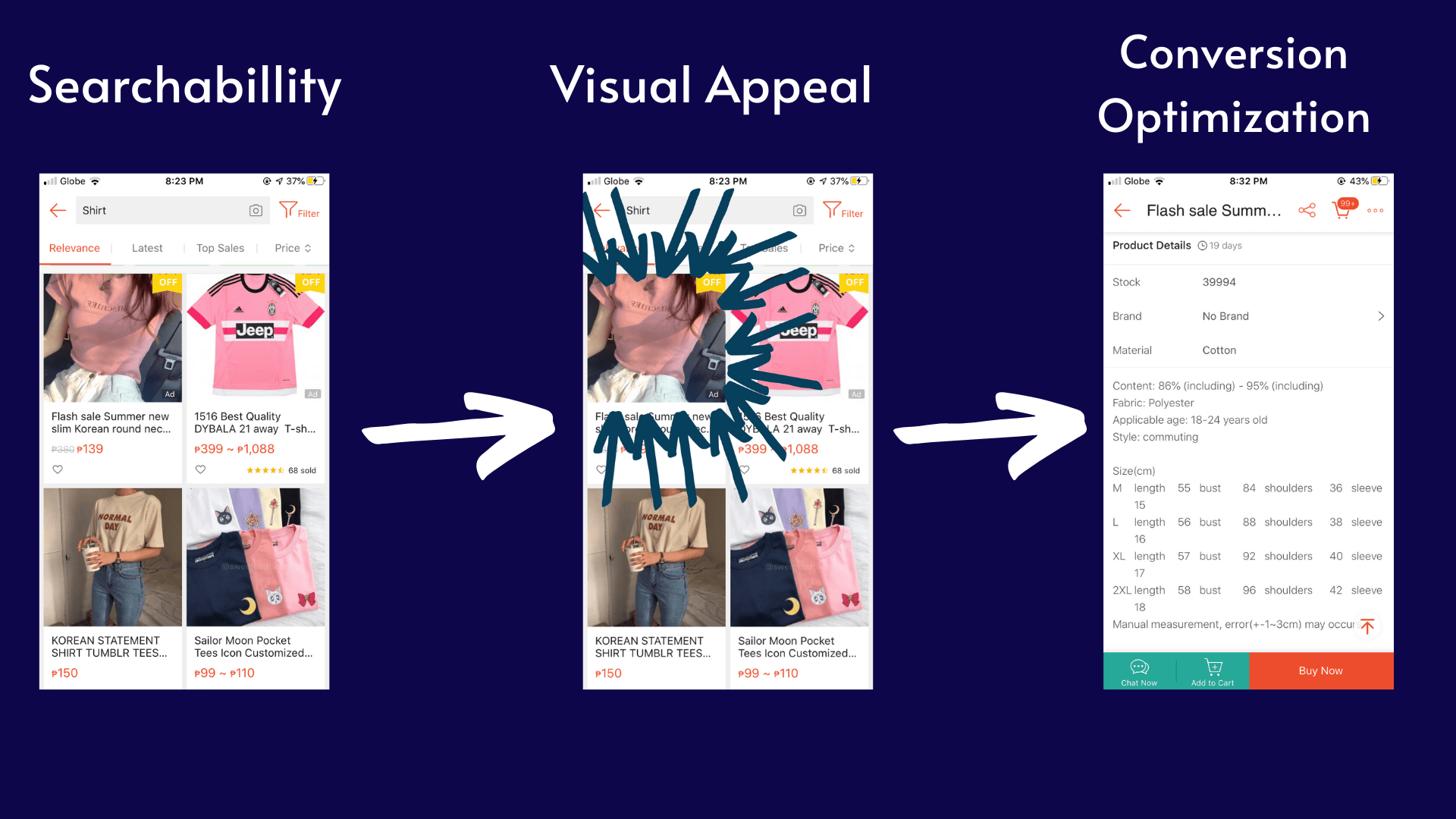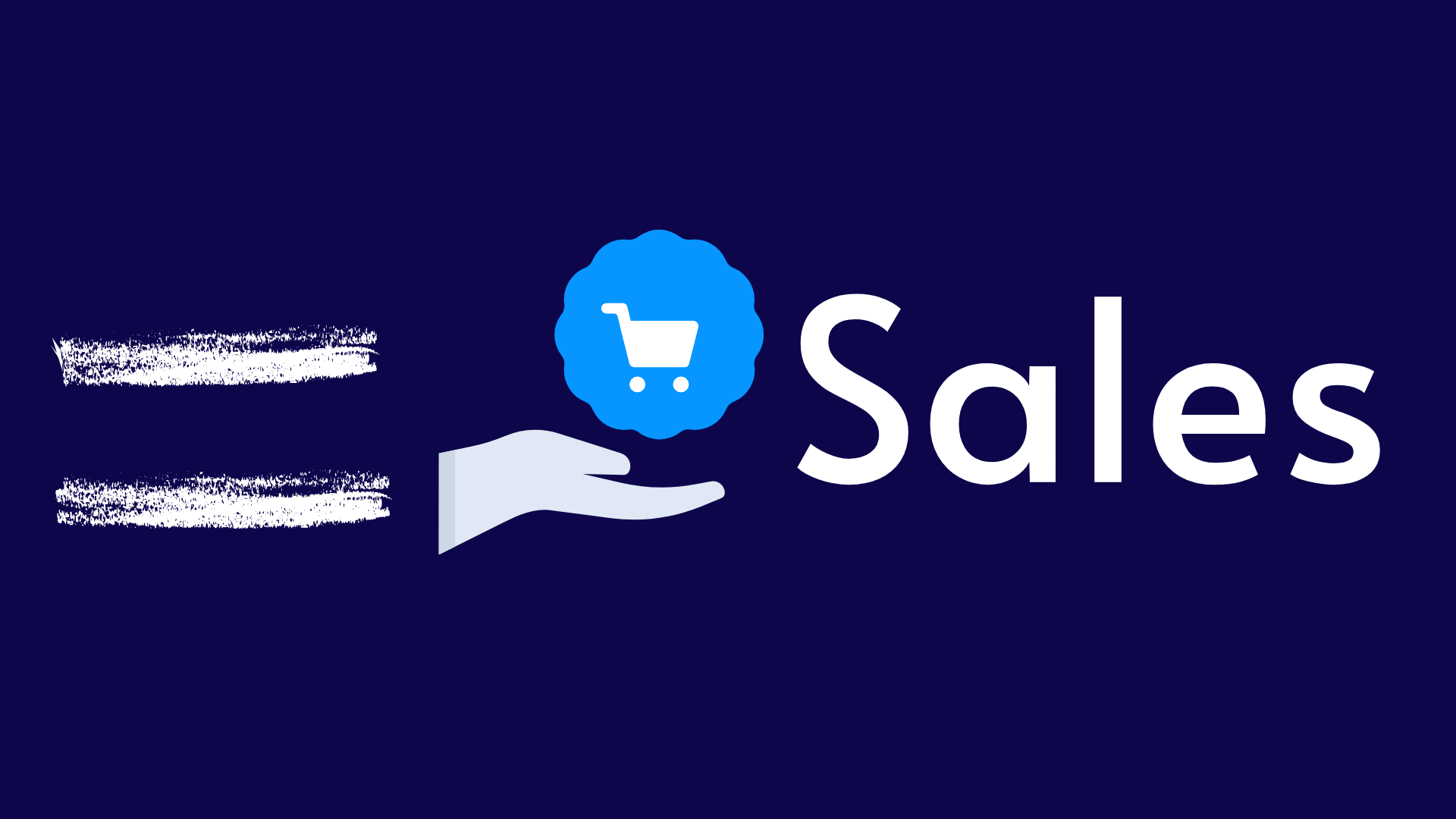 The illustration above pretty much sums up how your product listing is connected to how you are going to get sales – from being found in search results to having enough visual appeal to get a click to converting the user on your Product Detail Page.
Doing Smart Keyword Research
To make sure that you are targeting the right people you need to do smart keyword research. This will enable you to see which terms have a high search volume.
Publishing product listings that aren't keyword-optimized can greatly affect the searchability and visibility of your product. This means your product will not appear in item search results in Shopee.
Split Dragon is an outstanding tool that you can use for your keyword research. What sets it apart from traditional keyword research programs like Google Keyword Planner and SEMrush is that Split Dragon specifically targets keywords that are used within eCommerce platforms such as Shopee and Lazada.

To access Split Dragon's keyword search feature, simply click on Keyword Suggestions in the dashboard sidebar.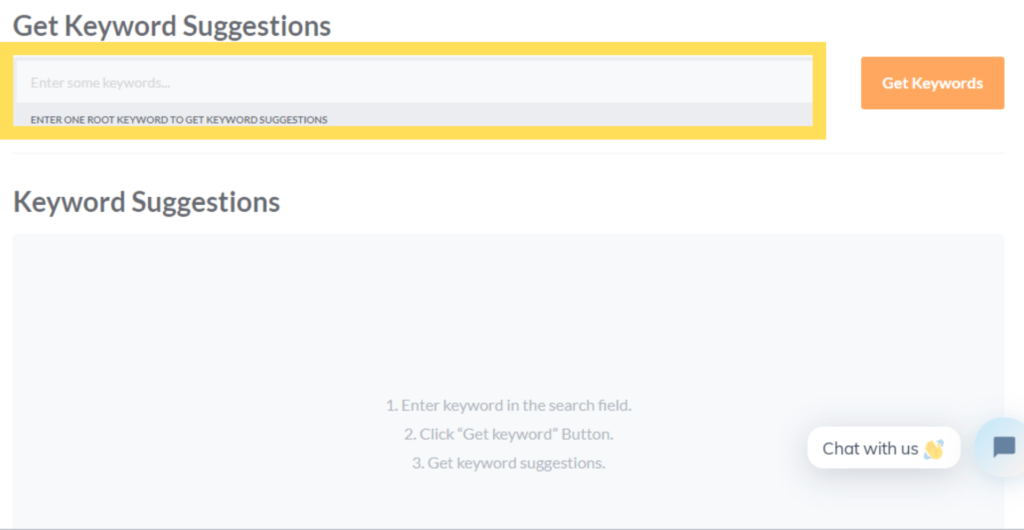 Type something in the search bar.

Click Get Keywords.

The system will then generate a list of keywords that customers use within the Shopee platform. The list also comes with figures that can help you assess which keyword would be the best one to use for your product listing.
Volume – the number of people using this keyword to search for an item in Shopee.
Relevance – this pertains to measurement of how closely related the keyword is to your product.
Competition – the numerical measurement of how many Shopee product listings include this particular keyword.
Trend – data that summarizes the frequency of which customers enter this particular keyword onto the Shopee search feature.
The main edge of using Split Dragon's technology is that the keywords are already broken down for you. Instead of selecting from a huge heap of keywords, Split Dragon presents keywords that are entered onto Shopee.
Creating Your Product Name
Building trust is important in online selling. As far as building trust is concerned, professionalism needs to be present starting from your product listing. 
To be professional as a Shopee seller means that you need to give your product listing a structure. Let's start with the product name. How do you structurize your product name?
Here are some pointers to keep in mind:
Make sure that the first letter in each of the words in your product name is capitalized

Only capitalize all your letters if you are referring to a huge brand such as ASUS or ZARA

Avoid using complementary or promotional descriptions like "bestseller" or "hot item" 

Do not use words that are irrelevant to the product

Do not use hashtags or emoji symbols
Shopee Standard Product Name Formula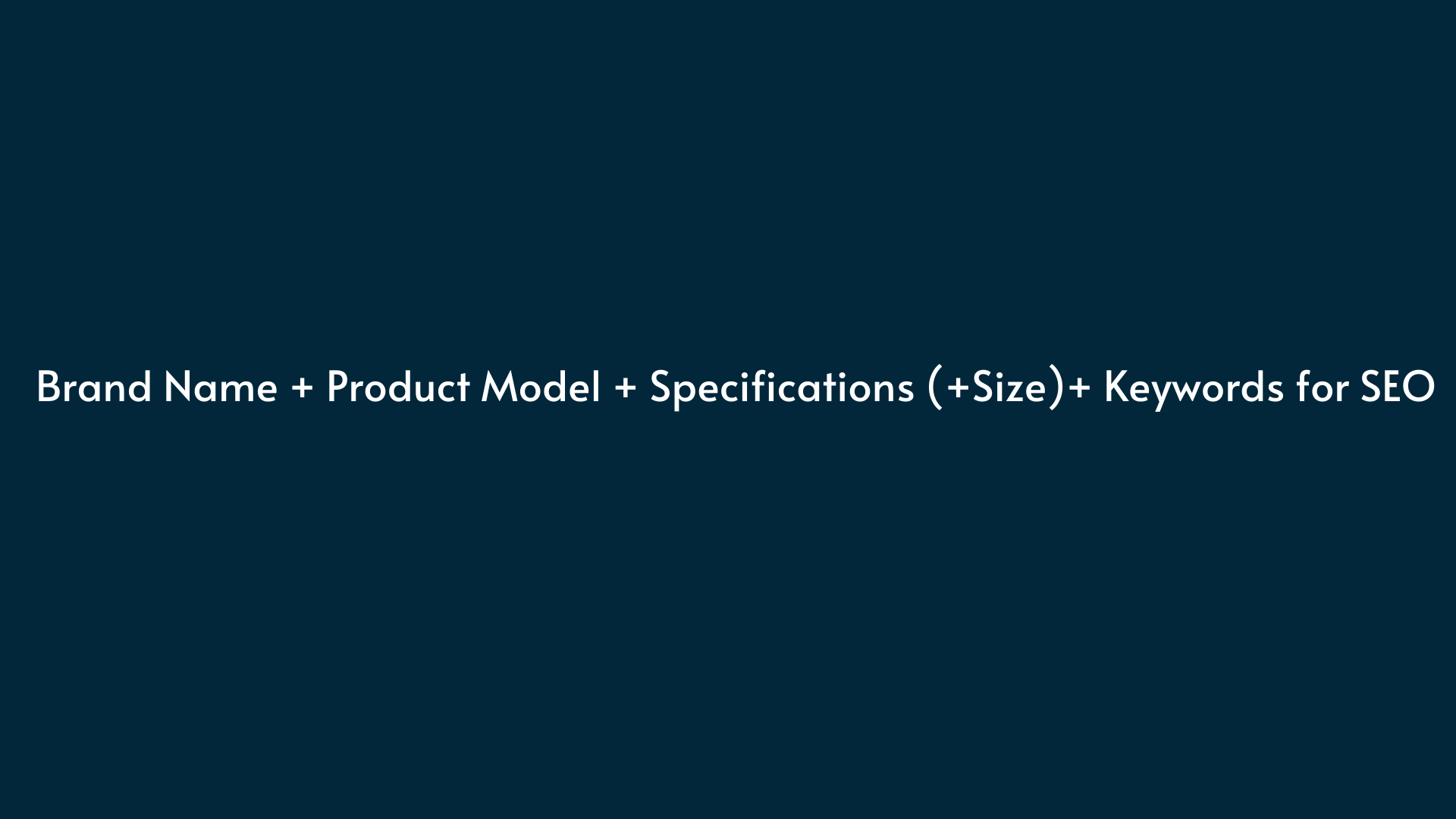 Not only do you need your product name to sound professional, but you also need to ensure that all the essential information a customer wants to know is in the product title.
If you have a product page for an item that has a specific size, the best formula to use would be:
Brand Name + Product Model + Specifications + Size + Keywords for SEO
However, if you sell multiple sizes for a certain product, you might as well just skip adding the size in the product name. Instead, you can list your product with multiple size variations. 
What if the product has no brand? If that is the case, you can use the following product name formats:
Gender + Specifications + Product + Keywords for SEO

Age + Specifications + Product + Keywords for SEO

Age + Gender + Specifications + Product + Keywords for SEO

Specification + Product + Keywords for SEO
Only the ones mentioned above should be added on your product name. Be careful in using variations in your product name.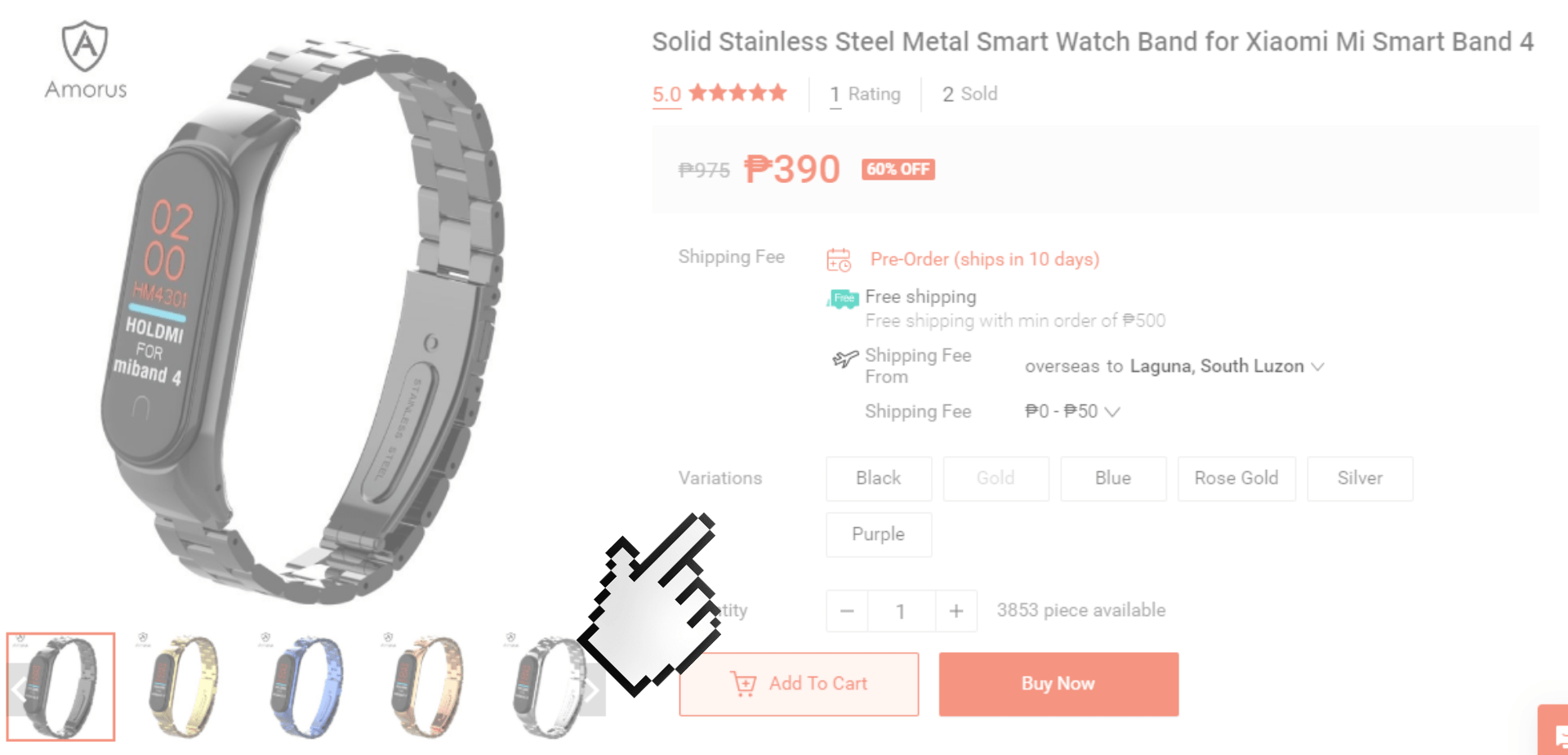 The only place your variations should be included is in the variation section of your product. Otherwise, you're wasting valuable character length that can be used for SEO.
Select The Most Relevant Category For Your Product
There are many buyers who look for products by browsing categories instead of searching for keywords in the search bar. About 25% of conversion on Shopee and Lazada come via category navigation or other banner images that drive customers to collections of products.
That being said, it is important to publish your products under categories that it most applies to.
This enables buyers to easily find your products when they look at certain categories.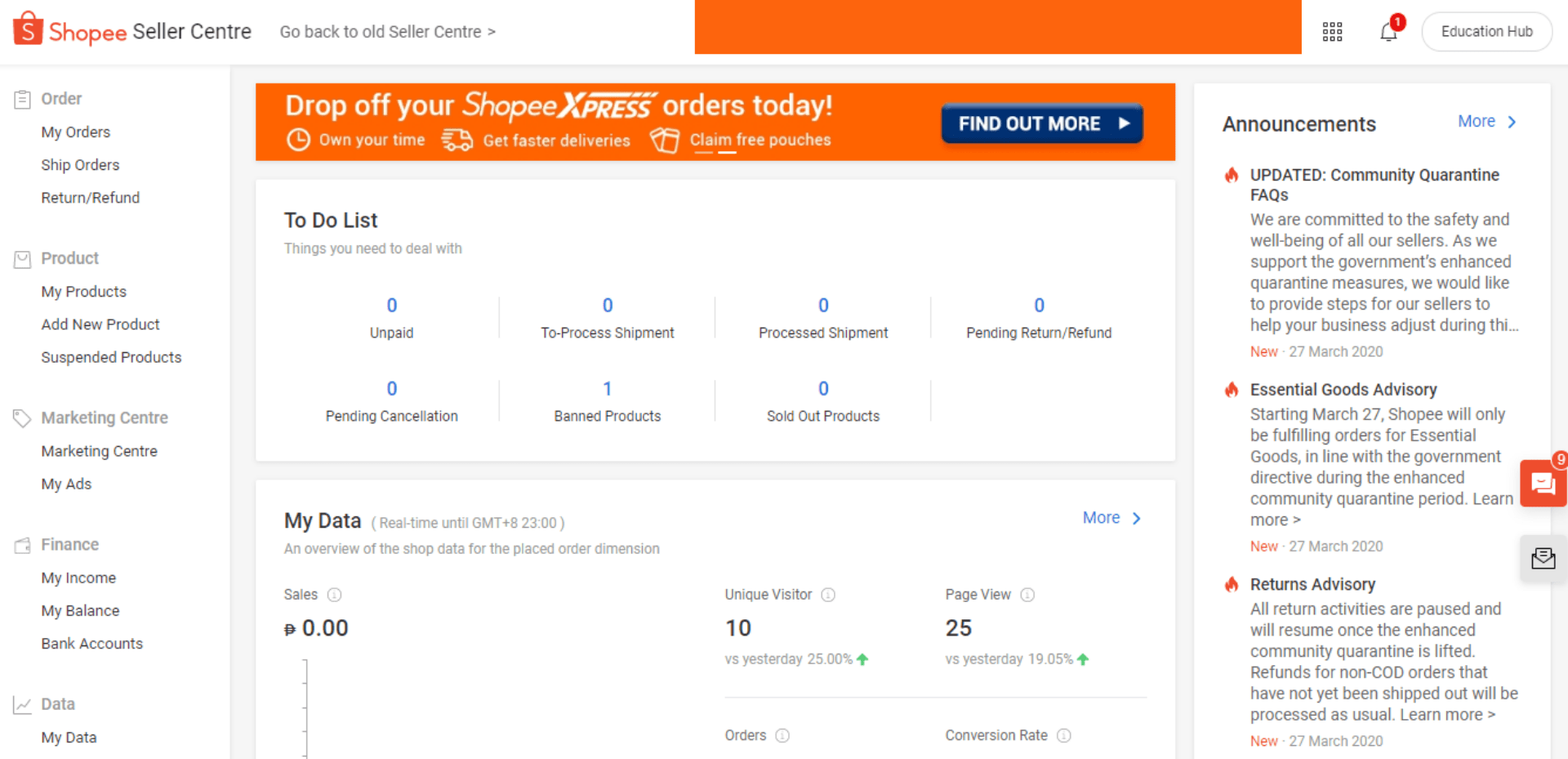 To look at Shopee's category list, you need to log in to your Shopee Seller Account.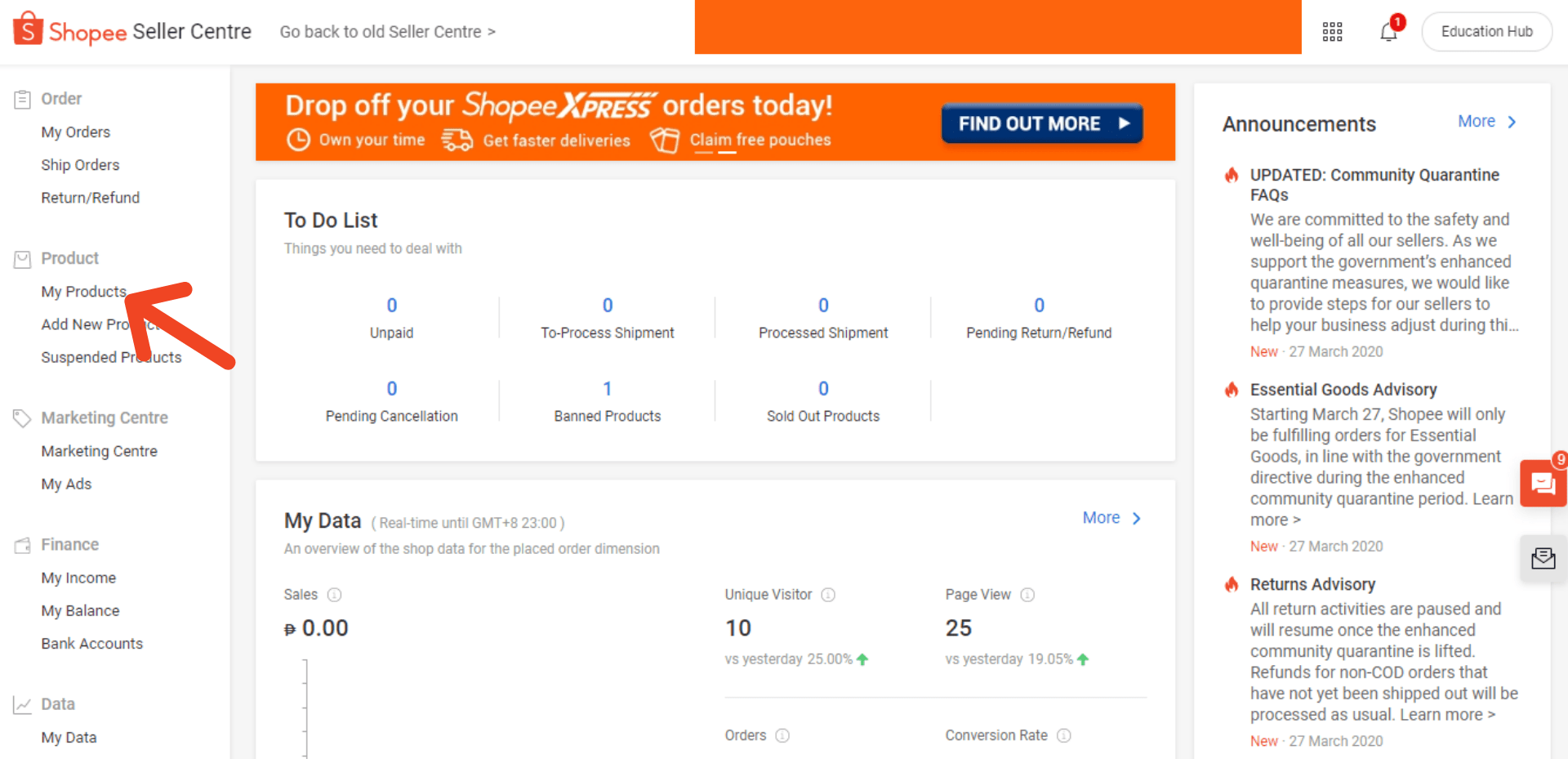 Click on My Products.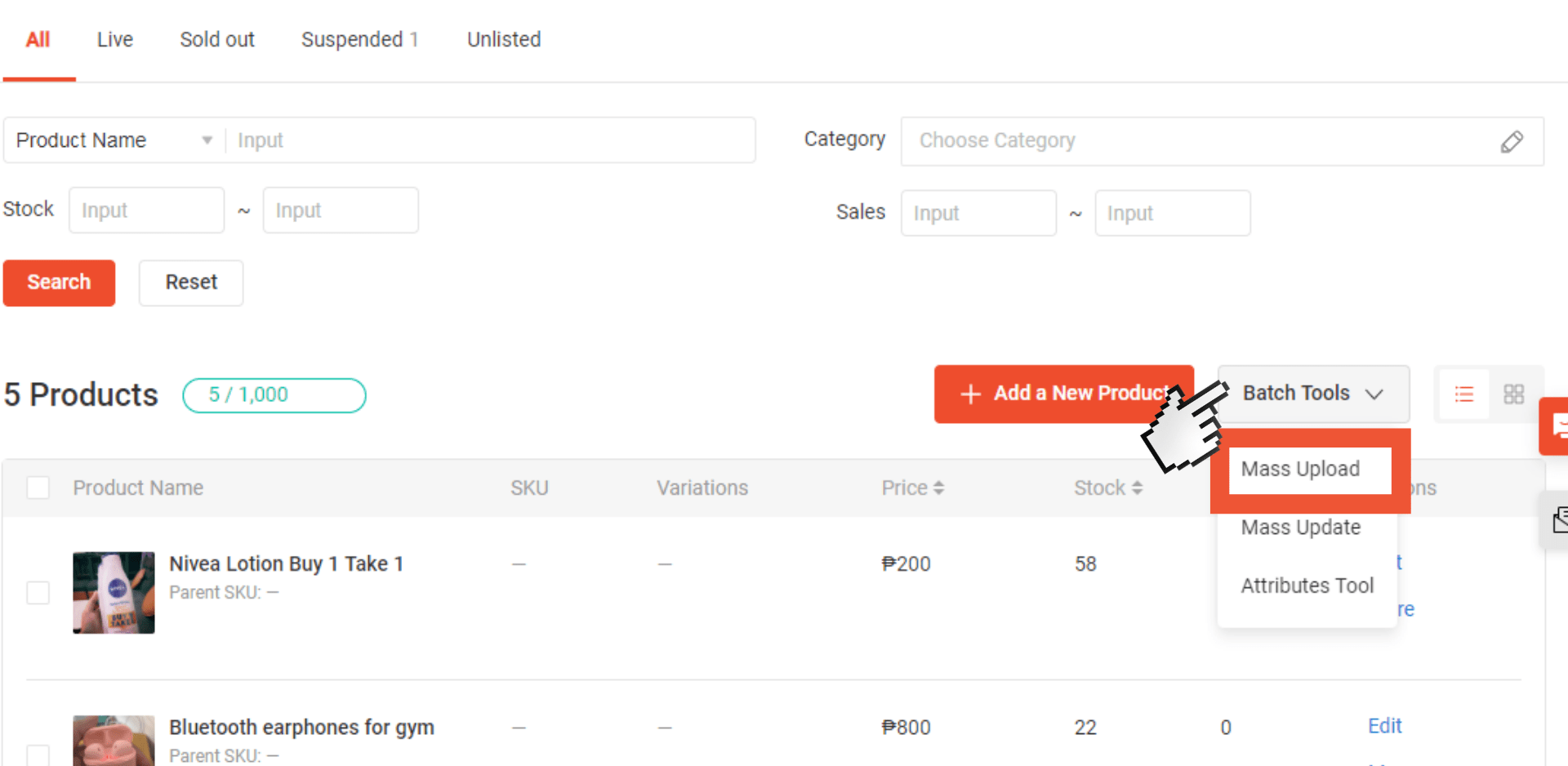 Now, hover your pointer on Batch tools and then choose Mass Upload.

Click Category List.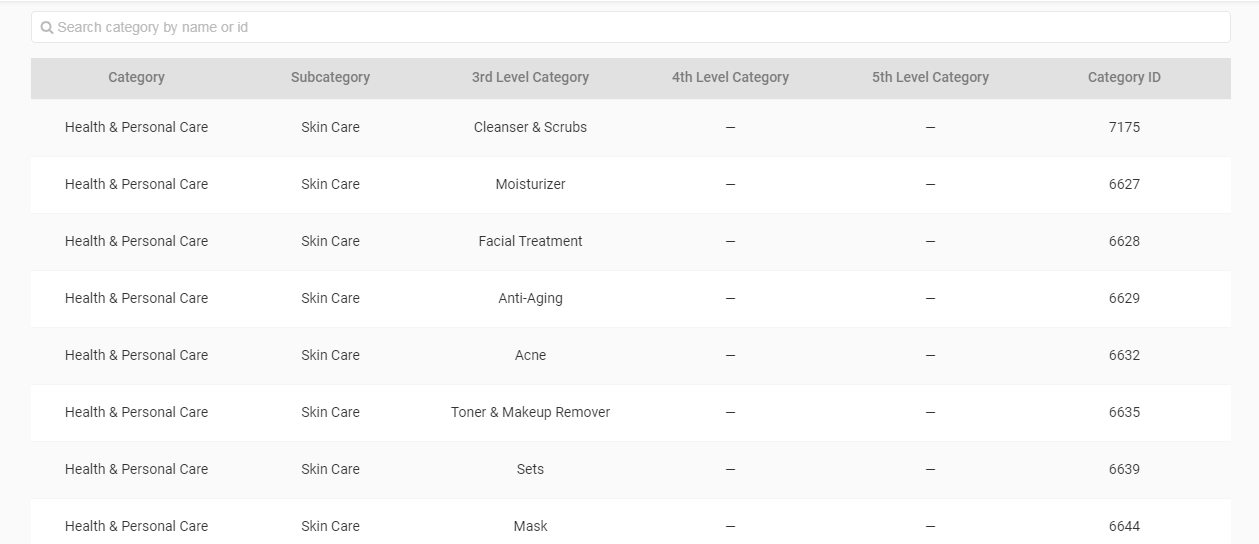 You are now able to view Shopee's complete list of categories. By typing your product on the search box, you will be able to research what category the particular item should belong to. 
Make Sure That The Product Attributes Are All Filled
Product attributes pertain to details or characteristics that describe your products. By entering accurate and precise product attributes, not only will you increase your product exposure and searchability but you will also help customers have a clear depiction of what your product is made of.
If you don't fill your product attributes with content, you will never appear in attribute filter results and miss out on all that potential traffic and revenue.
Some Tips On How To Write Great Product Descriptions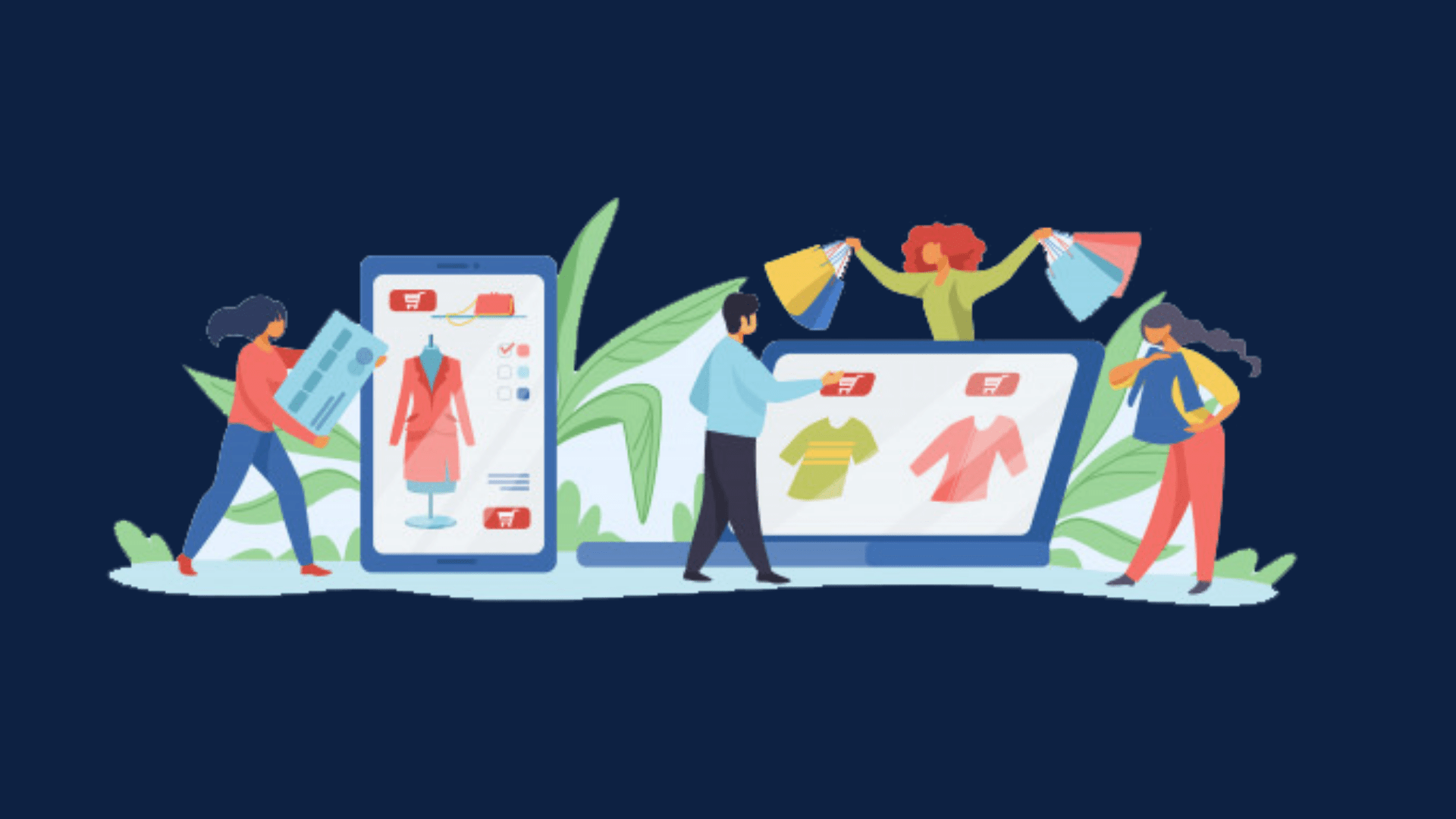 Use the product description section to further describe your product so you don't leave any doubt in the customer's mind about the value of your product.

Write about the benefits of your product to improve the conversion rate.

You should also incorporate your values as a seller and commitment to customer service to improve conversion rates.

Entail the features of your product comprehensively to improve the conversion rate.

Emphasize what exactly is included in in the box to improve the conversion rate



Shopee Category Levels
The first level is its main category. As its main category, it is important for it to reflect the specific function of the product. The second and third levels of category pertain to a broader description of your product. 
Here is an example of each category level:
L1 Category: Bags & Luggages
L2 Category: Backpacks
L3 Category: Casual Backpacks
If your product is gender-specific, make sure to take that into consideration when choosing to publish the product under a category. 
For instance, if you were to sell running shoes for women, the main category of the product should be Women's Shoes. You can then decide to set Running Shoes as its level two category. As for the third level category, you can label it under footwear. 
Take note that if the main category already describes the particular gender or age group of the product, it is not necessary anymore to use a Gender + Specifications + Product/ Age + Specifications + Product/Age + Gender + Specifications + Product name format. 
But we still recommend you do so to make product selection a lot easier for your customers. 
Invest Time Into Your Product Images
Since online shoppers don't have the luxury of getting a feel of the product, they will mostly rely on product images to give them a visualization of how good the product is. That being said, before putting your product out there, make sure that you have two to four images that can hook customers. You can upload up to nine pictures per product. 
If you are making your own product images, here are some tips on how to create images that will get buyers' attention:
Get a high-quality camera phone or DSLR camera
A high-quality camera is a great investment in online selling. Without attractive visuals, it will be difficult to convince people that your products are worth purchasing. 
If you can't afford an expensive camera right now, you can always use creativity to enhance your images as long as you use a camera phone that can take decent images.

We do recommend that you take a look at our 6 Tips To Become A Shopee Preferred Seller post as we have marked some tips on how to manually enhance the output of your images without a DSLR. 
Shoot a variety of images
A rule of thumb in photography is to not be content with several shots of images. You need to shoot as many as you can. Try different angles and heights and show all sides of the product, both zoomed in and out. 
And once you are done, you can take your photos to your laptop or computer where you can inspect your images and find the winners. This is a much better way to assess the quality of your images compared to only reviewing your images from your camera preview. 
Some people prefer to take a couple of quick photographs and then work some magic on them using PhotoShop. 
Even though photo editing skills are essential so your product images can give the most impact to your customers, photo edits can only go so far.
Having the "shoot for the edit" mindset means taking photos that already look good enough without extensive editing. Doing so will give you a far more desirable result. 
Creative image pertains to adding text to your images to point out features and capabilities of the product that aren't instantly visible. Take note that creative imagery should only be applied to your secondary product images. The primary should remain to be clean and taken with the best backgrounds and props.
Here are some tips for creative imagery:
Only use text and font styles that are simple and easy on the eyes
Make sure that the text does not cover or overlap the image
Add charts or appealing infographics within the image that displays product information
Be picky when it comes to selecting pictures for creative imagery. Only use this technic for product images that aren't self-explanatory
Lifestyle imagery is the use of backgrounds, props, and models that enables the customer to visualize using the product.

The image above is an example of lifestyle imagery. The image above shows the coffeemaker (the product) already in use.
Here are some tips for lifestyle imagery:
Show the items that are inside the product package
Emphasize in the image the product benefits onto the customer
Be mindful of the background that you use for the images. The background needs to reflect the nature of the product itself
One more tip: if you believe that you are too busy to take beautiful photographs for your products, you can always purchase ready-to-use images from stock-photography companies like Shutterstock and Gettyimages. 
2. Effectively Using Promotional Tools
In order to increase sales and shop exposure, you need to be effective in the way you use Shopee's promotional tools. Luckily, Shopee already provides sellers with many tools to grow your sales so you only need to learn how to effectively use them. 
Shopee My Ads
Shopee My Ads helps sellers become more accessible and searchable on the platform through promotion advertisements that are placed on the most visible sections of the Shopee website. 
One excellent aspect of Shopee My Ads is that it is already equipped with the necessary keyword engines to help sellers conduct keyword research in the easiest and most seamless way possible.
This is a big boost for sellers since it allows them to be more effective in targeting potential buyers. Without the proper keyword selection in your ads, you won't be able to convert your marketing efforts into positive ROI sales growth.
Shopee My Ads is easy to learn and navigate. You should check out the previous article we created Shopee My Ads: Ultimate Guide. 
It contains all the essential know-hows that you need to master this tool. 
Add-On Deals
Add-on deals are good for making use of your best selling products to increase visibility and positive sentiment for the rest of your products. 
This tool lets you encourage buyers to buy other items that are complementary to the product that they are eyeing. 
Here are some examples of complementary add-on items:
Toothbrush + Toothpaste

Shoes + Socks

Smartphone + Phone case

Makeup Powder + Brushes
The concept is that if a buyer purchases a complementary product as an add-on deal she will get the add-on items for a discounted price.
Bundle Deals
Bundle deals are another great way to encourage buyers to purchase more of your products through discounts. 
What is the key difference between a bundle deal and an add-on deal? Customers will only become eligible for a bundle deal if they purchase the whole set of products being offered. 
For example, if a seller creates a bundle deal "Any 3 get 10% off", the buyer will only become eligible for the discount if he purchases all three items. 
This kind of technique is most effective during holidays and campaigns seasons because this is the time when customers are hyped to buy. Many buyers and sellers make use of add-on deals during campaigns.. 

To create a bundle deal, go to your Shopee Seller Center account. 

Go to Marketing Center.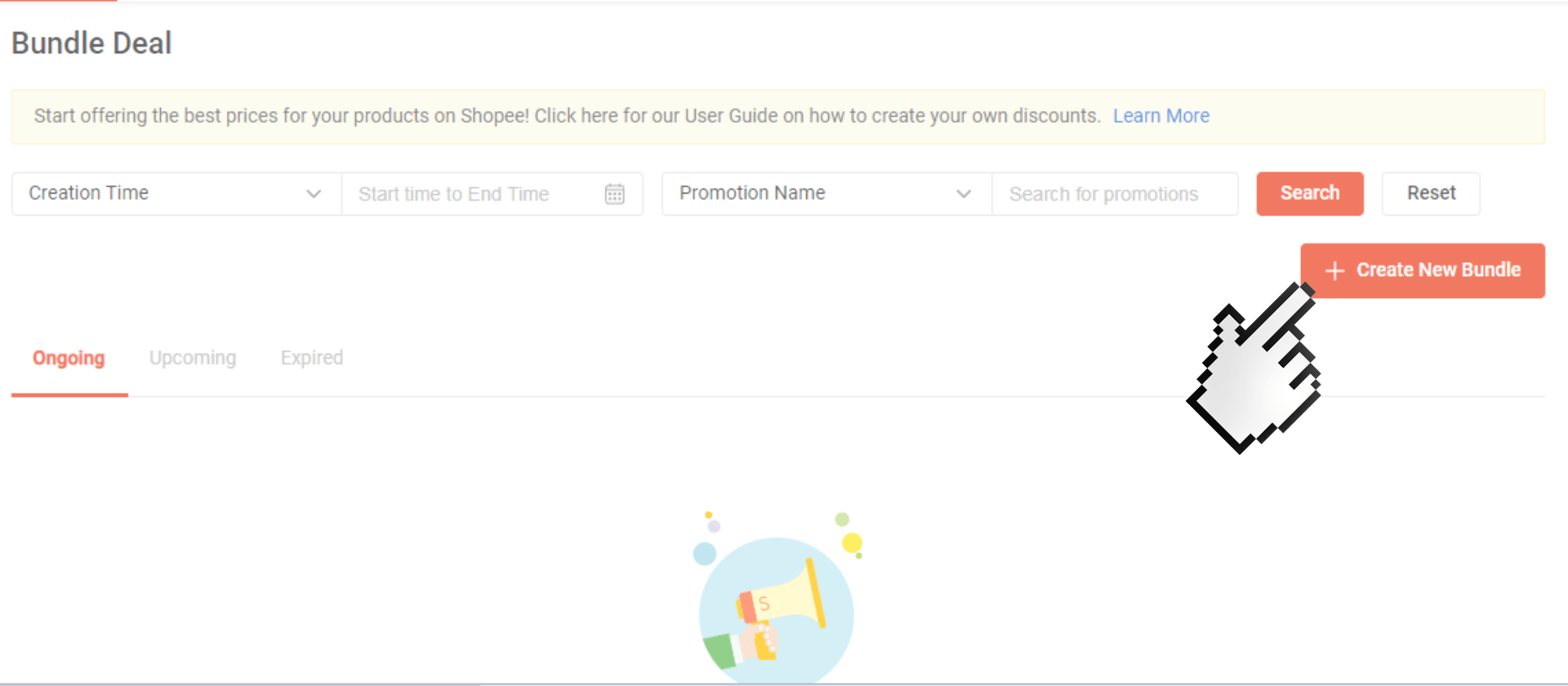 Click Bundle Deal.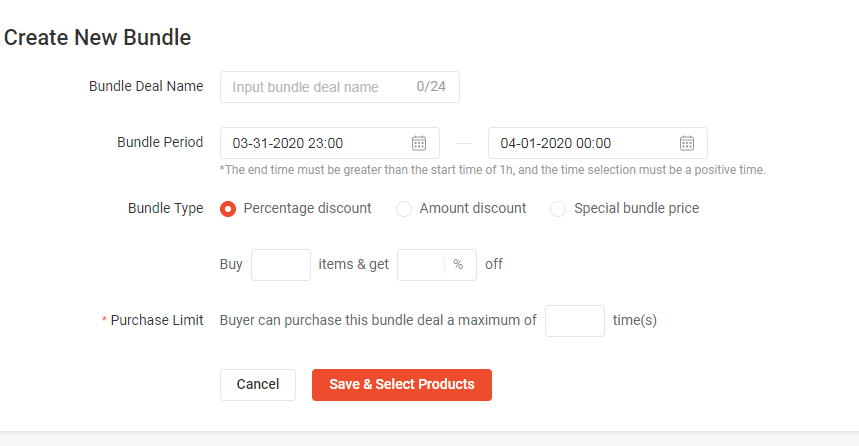 Choose to Create New Bundle.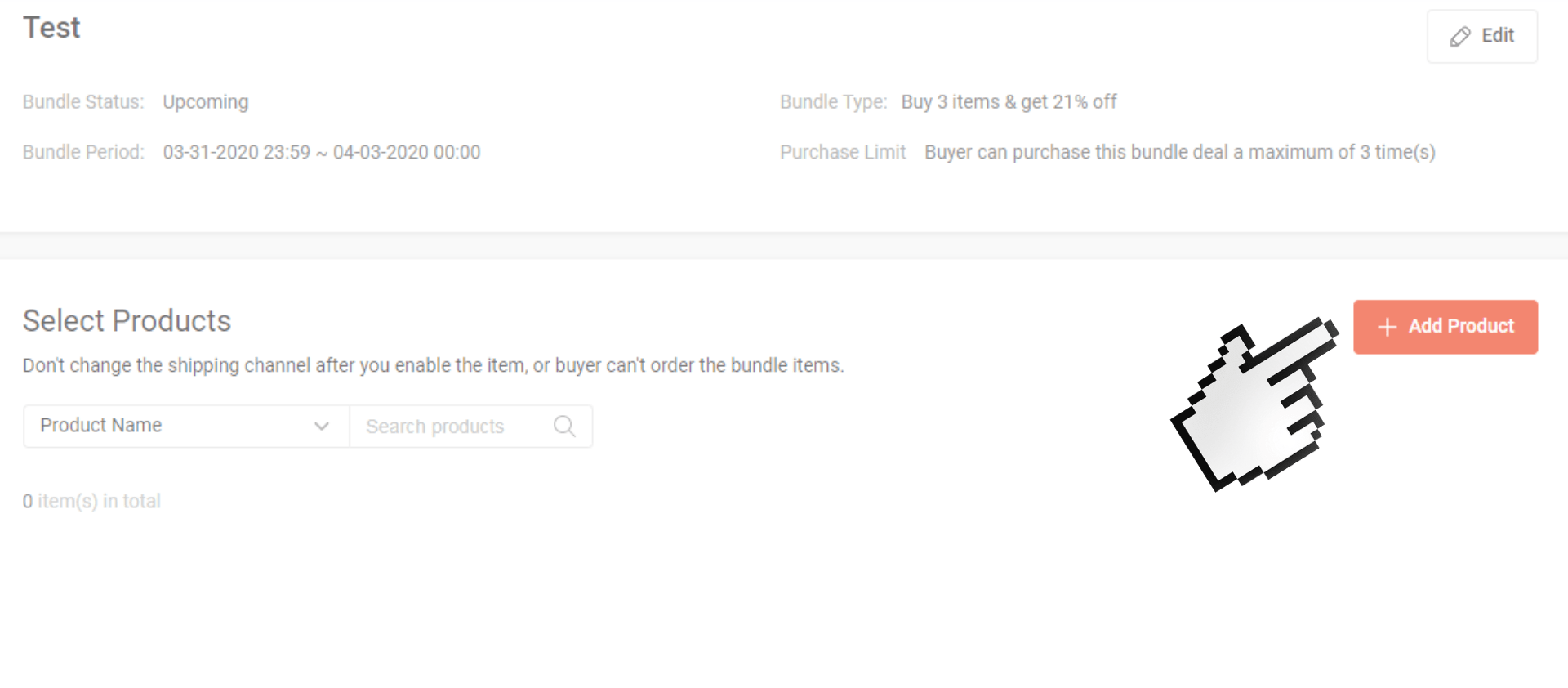 Simply create a name for your Bundle Deal. Indicate the time period of which you want your Bundle Deal to run.
You can create a discount per percentage or an actual currency amount. The special bundle price lets you offer discounts if the buyer purchases a specific number of items (Buy 5 items at a special price of $70)
Don't forget to indicate the purchase limit for the transaction: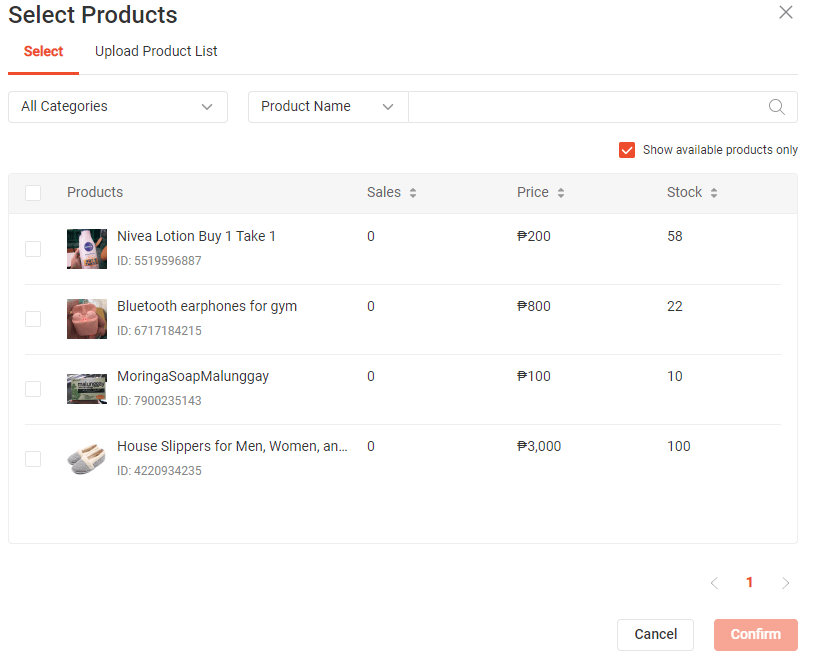 Now, it is time to add products for this promotion.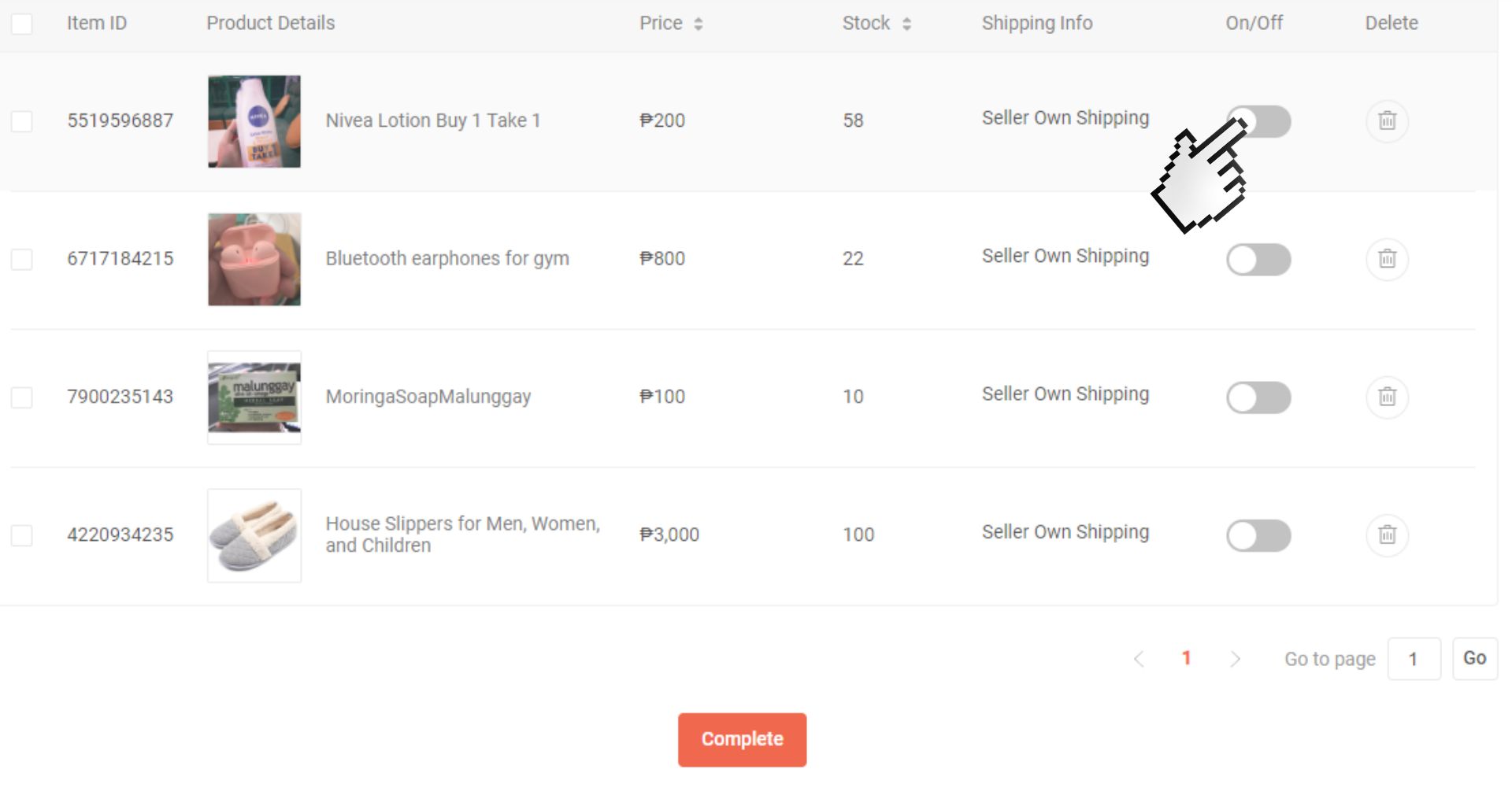 Use the product selector to confirm which products will be part of the bundle deal. Click Confirm when done.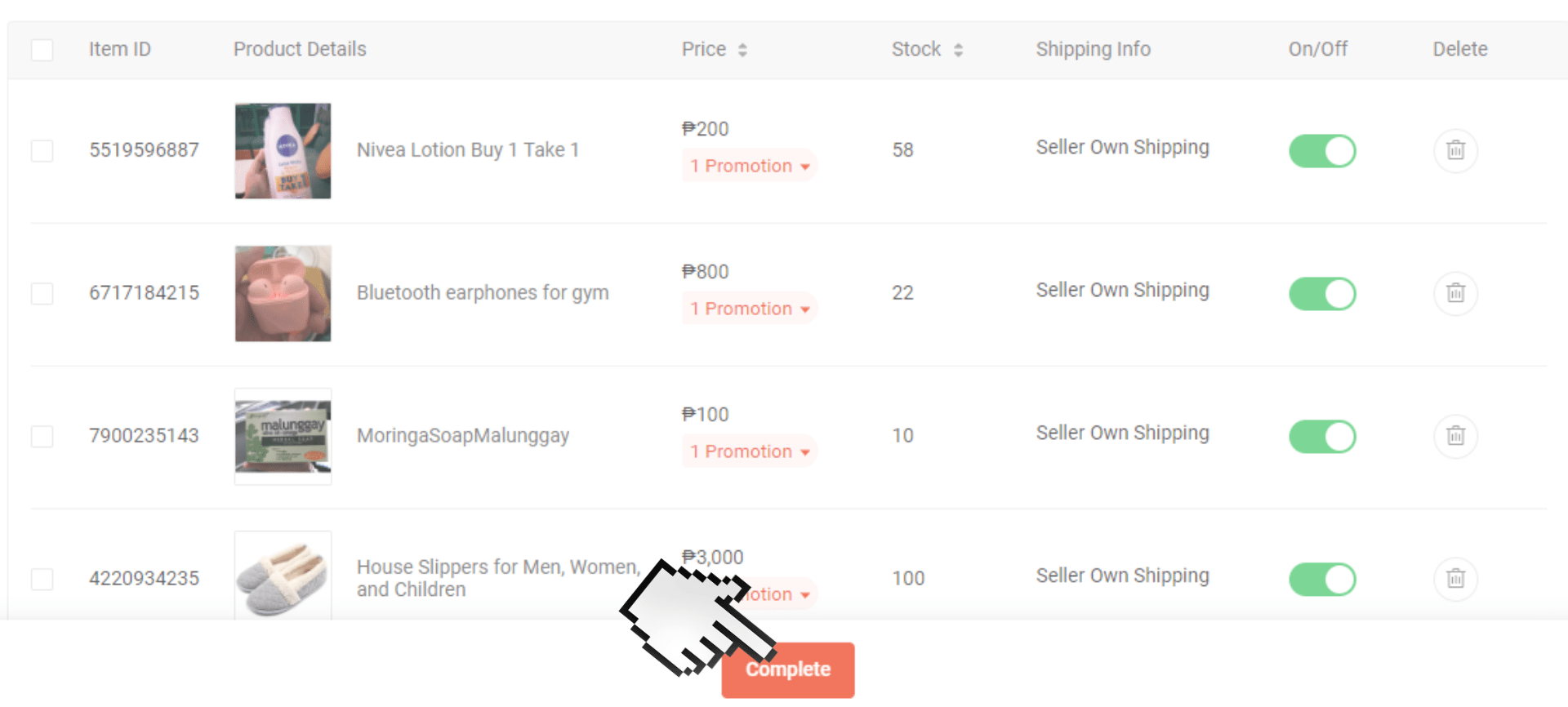 Click the switch on the right side of each product to enable the items. You cannot change the shipping courier once you have enabled the product. Otherwise, buyers won't be able to order them. 

Your screen should look like this before clicking Complete. 

Your Bundle Deal should appear under the Upcoming tab in your Bundle Deal dashboard. 
Discount Promotions
You can take charge of your Shopee store by creating custom-made discount promotions. 
Here is how to do it. 

Go to your Shopee Seller Centre and click Marketing Centre. 

Choose Discount Promotions.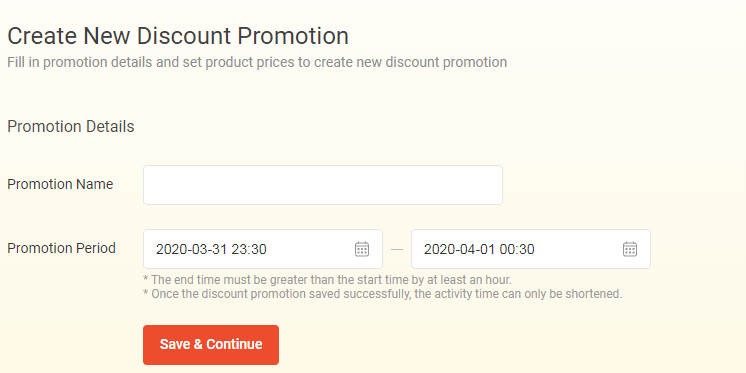 Create a New Discount Promotion.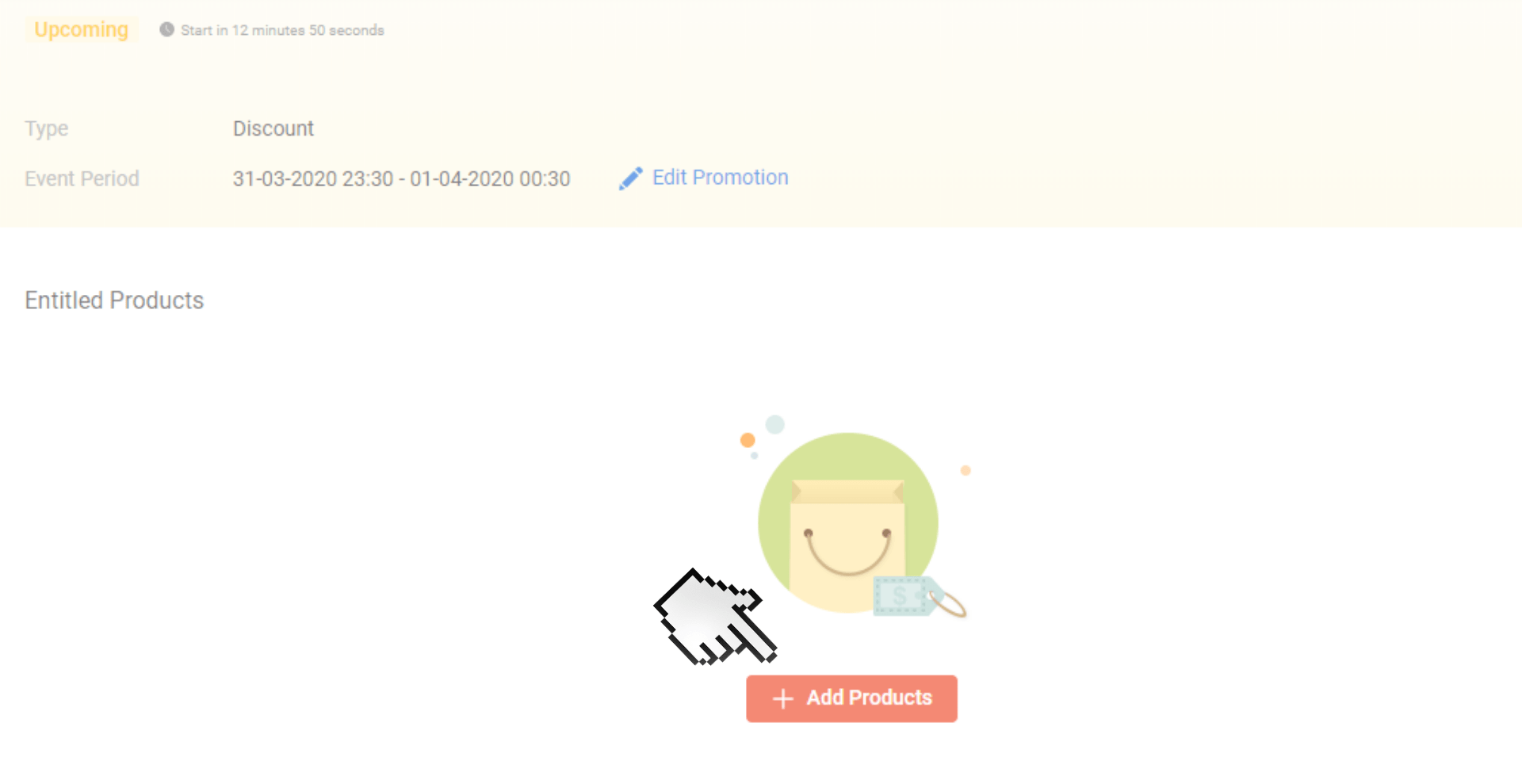 Enter your promotion name. Indicate the time period of when you want the promotion to run. Be mindful of the required time lapse when it comes to the starting and ending time. Click Save & Continue.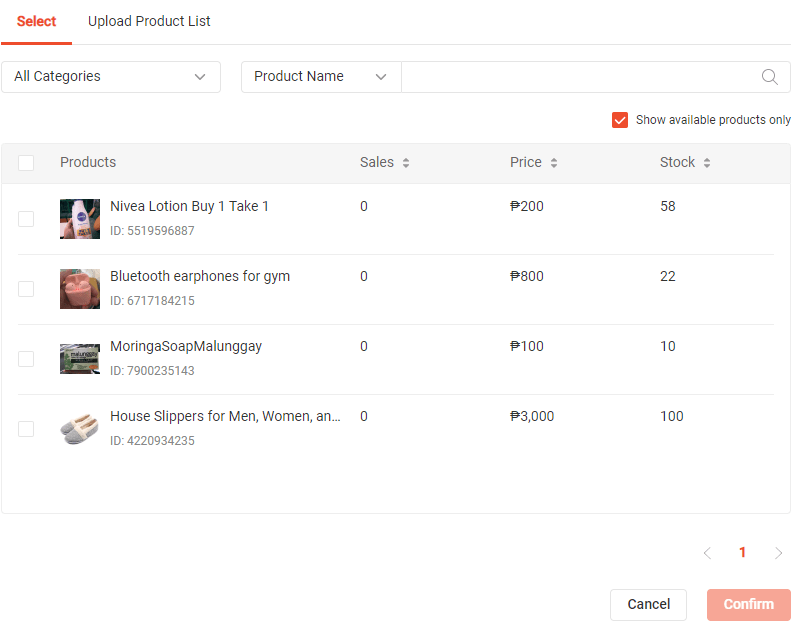 You can now go ahead and add some products.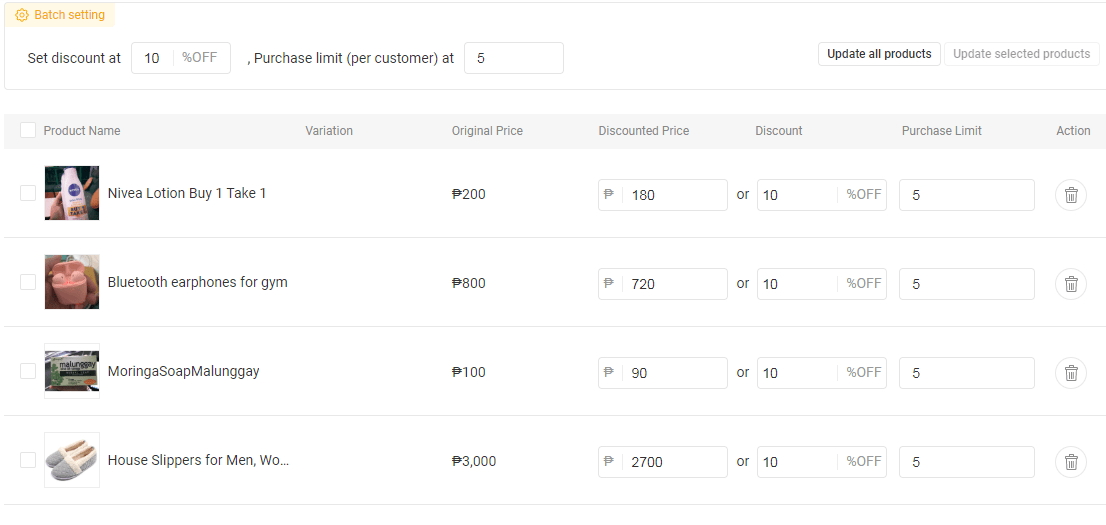 Select the products that you want to apply the discount promotion to. Click Confirm. 

If you plan to apply only one discount for all products, the most efficient way to do is to use the batch setting to set the discount. To do that, simply enter the discount percentage that you have in mind. Indicate the purchase limit for each customer. Click Update All Products. 
The batch setting is located on top of the window. 
However, if you want to set various discounts, you can set the discounts one by one per product.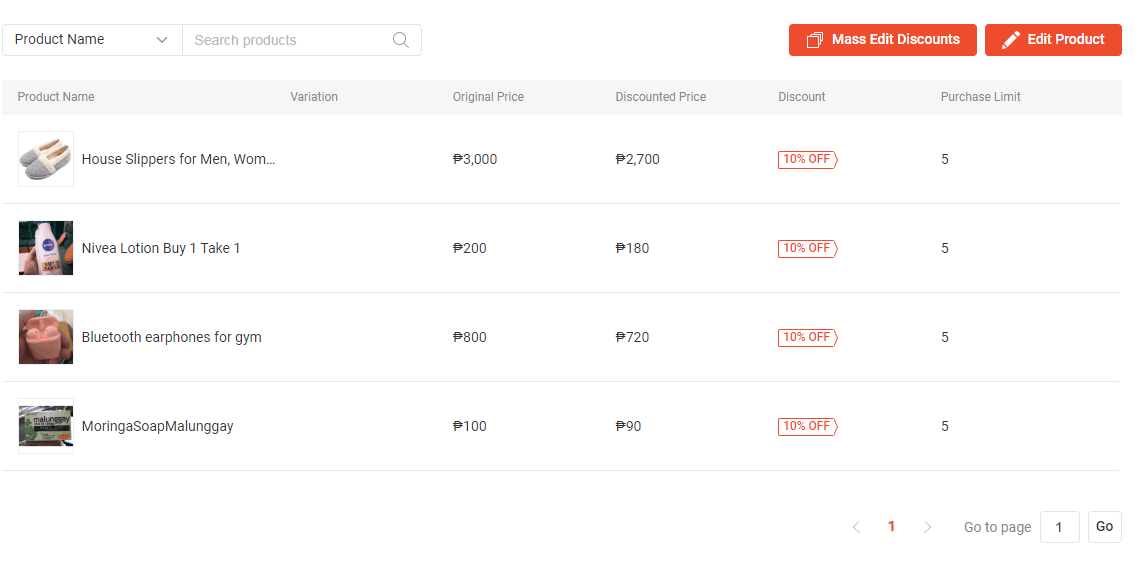 Click Done. 

Before activating your discount promotion, you can still edit them either manually or by batch. 
Otherwise, you can click the Go button. 

Check to see if your discount promotion appears under the Upcoming tab in your Discount Promotions dashboard. 
How To Apply The Effectiveness Of Add-On Deals, Bundle Deals, And Discount Promotions
These three promotions belong under the same category because regardless of the differences in the name, they all pertain to special discounts or cost savings for customers. 
The rule of thumb in effectively running promotions such as bundle deals, add-on deals, and discount promotions is to use them sparingly and seasonally.
By doing so, you are able to maintain the hype that discounts bring to customers. If you run special discounts too often, your customers might decide to only purchase products from you during promotion periods. You also negatively impact your margins by pricing your products low all year round.
Shipping Fee Promotions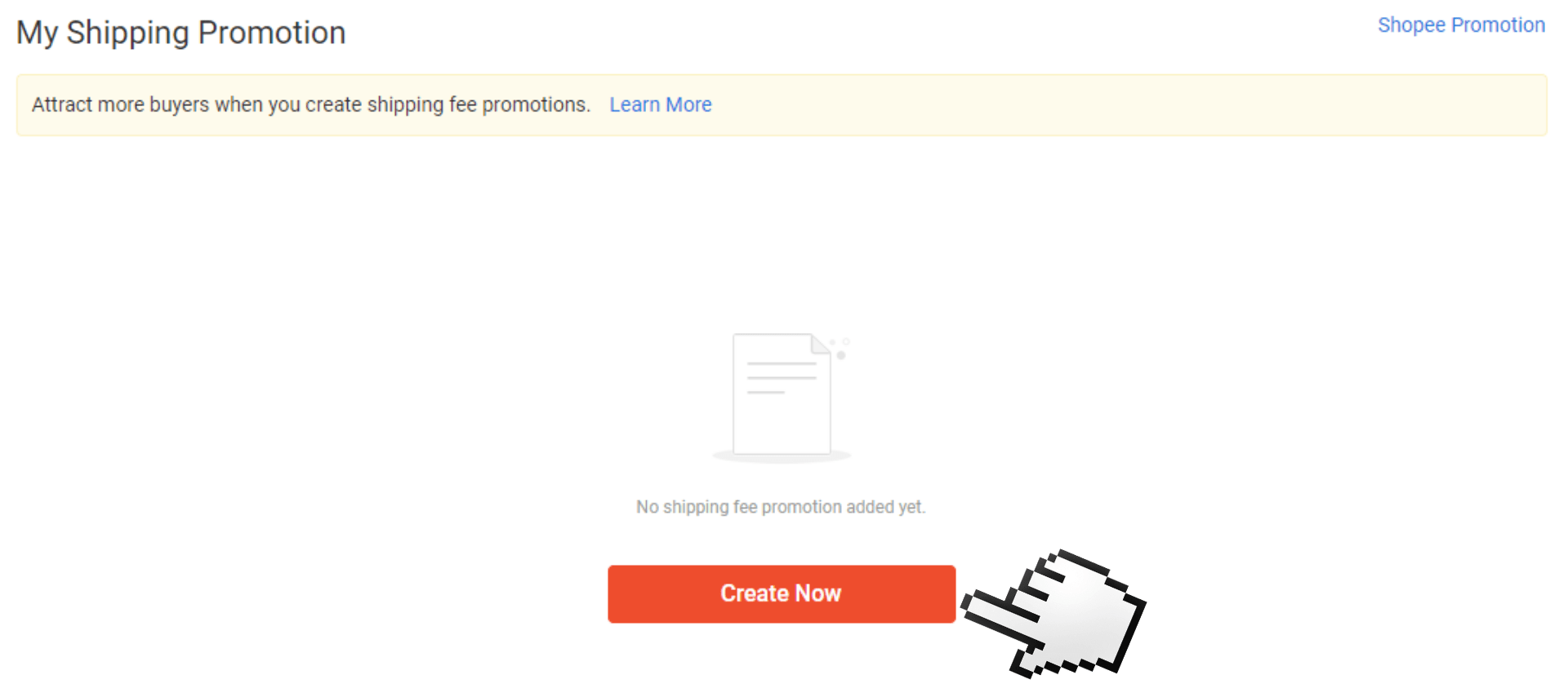 On your Shopee Seller Centre account, go to the Marketing Centre once again and click Shipping Fee Promotion.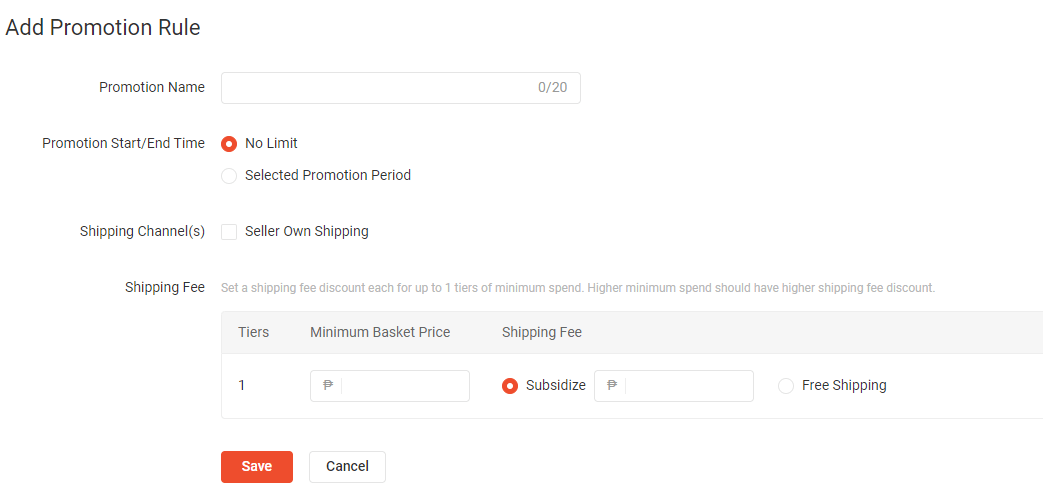 You will then be delivered to the Create Shipping Fee Promotion Page. Click Create Now. 

It is time to enter the details for your Shipping Fee promotion. Enter your promotion name. 
For the start/end time of your promotion, you can decide to set it to "no limit". However, we do not recommend this since this provides no added value to your marketing whatsoever. 
Instead, choose a time period for the promotion to run and click Select Promotion Period. An interactive calendar will appear where you can indicate your start/end dates. 
The next thing you need to do is to tick the box of your selected shipping channel or courier.
Now, indicate the minimum basket price to become eligible for this promotion. You can also indicate to which amount the shipping fee will be subsidized. There is also the Free Shipping option. 
The trick here is to use the subsidized shipping with a zero minimum basket price if you want to invite more people to purchase your items. Meanwhile, you can indicate a higher minimum basket price with free shipping if your goal is to encourage buyers to add more items to their cart. 
Click Save.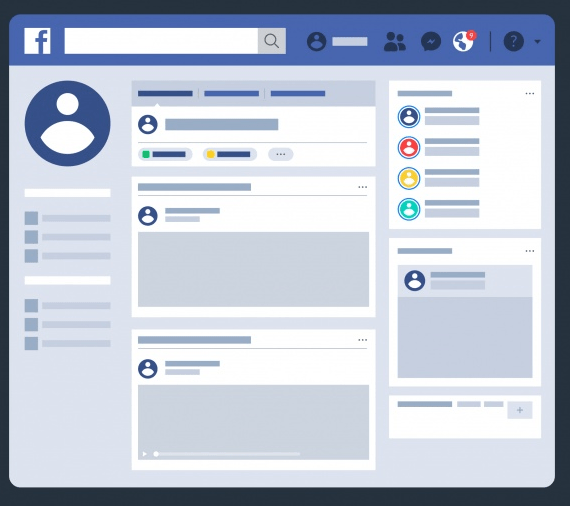 Go back to your My Shipping Promotion dashboard. Your newly created shipping promotion should appear under Ongoing/Upcoming.  
3. Off-Site Marketing

Since your prospects are online shoppers, it is important to work on your online visibility and reputation outside of Shopee too. This helps you diversify your risk of any account or selling issues impacting your sales in Shopee.
Facebook Page
To start off with offsite marketing, you need to create a Facebook page. One reason to do is that your audience isn't always logging into Shopee. They only do so when they are on the verge of purchasing something.
It would be a good idea to post updates each time you are offering discounts and promos on your shop.
Aside from that, if your customers gradually see your posts on social media, this helps them become more familiar with your brand.
Reuse Shopee Marketing Assets For Facebook Marketing
When you run promotional ads on Shopee, you are often required to create images for your discounts and offers. 
We highly recommend that you recycle these images for Facebook marketing. By doing so, you are able to market your brand wherever your customers are and limit creative investments.
Facebook is considered to be one of the most widely used social media channels across SE Asia. Having an online presence on Facebook enables you to connect with a wider variety of potential buyers. 
Of course this strategy should be adapted to each local market. You should have a LINE account in Thailand, Zalo account in Vietnam, etc etc.
Instagram Marketing
The key to successful Instagram marketing is to, of course, create great photographs and messaging that drives engagement, likes, and shares. Not only will you be attracting more attention to your brand and products but you will also have access to data that can help you enhance your overall marketing (via remarketing strategies).
Just make sure to create a business Instagram account instead of a personal profile to look as professional as possible. 
Business Instagram accounts come with free tools like Instagram Insight which is an in-app tool that  enables you to look at your engagement data, impressions, and many more. 
Once you've reached at least 100 followers on Instagram, you will be able to get a breakdown of your followers' demographics. 
By doing so, you can assess the personality and interests of your buyer persona and thus improve your overall marketing. 
Google Ads
Google Ads pertain to the sponsored items that you see at the Search Engine Results Pages (SERPs) when you search for a keyword in Google.
Shopee has an integrated software (Shopee My Ads) that can help sellers increase visibility and sales. The only difference between the two is this:
Shopee My Ads: Boosts visibility within the Shopee app and website
Google Ads: Drives traffic and visibility across the internet
In that sense, Google Ads enables you to reach a wider and a broader group of people and inform them of your Shopee product listing.
Google Ads That Work For Your Shopee Store
There are typically five kinds of Google Ads but we are going to talk about the ones that will be most relevant for your Shopee store.
1. Search Ads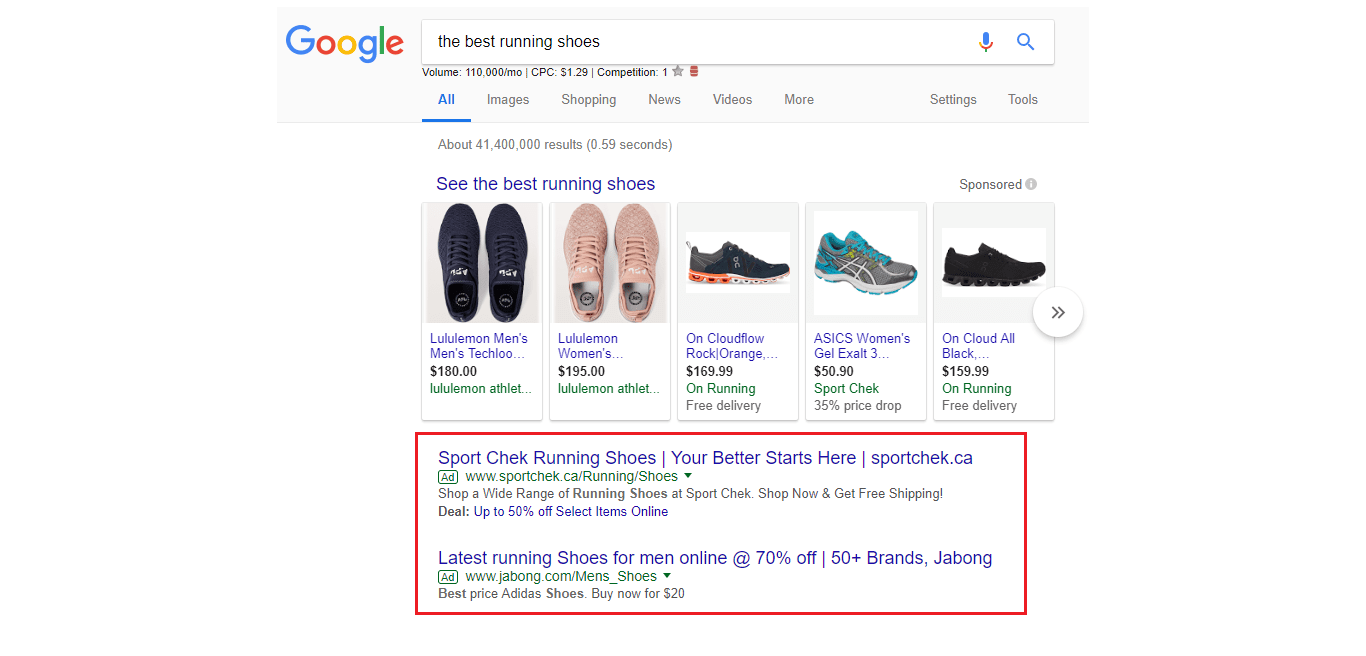 Search ads pertain to the first sponsored links that appear on top of the SERPs when someone searches for  the best running shoes. You will easily recognize a search ad because it comes with an "Ad" label right before the website URL. 
Before people press the enter button, Google already suggests a series of keywords that are relevant to the one they are typing. All you have to do is incorporate Google's keyword suggestions to your search ad campaign so that when a potential buyer searches for a keyword, he will see your link before he can get to your competitors. 
2. Shopping Ads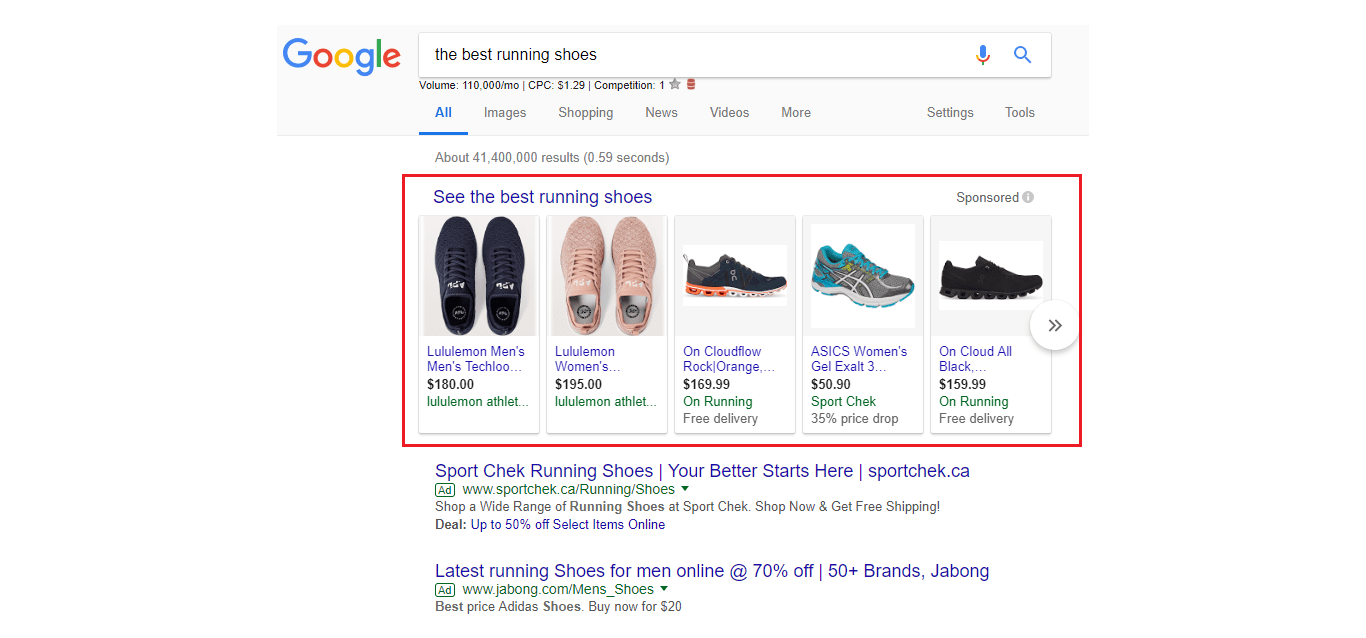 Shopping ads usually appear on top of search ads. This type of ad is geared towards people who are already at the consideration phase of buying a product. 
Prior to searching a product in Google, they already have a visualization or idea of what their desired product looks like. 
It is because of this reason which is why shopping ads come along with images. Signing up for a shopping ad improves your chance converting leads and heightening your sales. 
If you are planning to increase visibility and traffic for certain Shopee product pages, shopping ads will get you far. 
Shopping ads are most recommended for roll-outs of new products.
What you'll love most about this ad is that it gives your customers everything they need to know to make a buying decision: 
It gives your customers an idea where to find your product

Free shipping/ discounted offers

Price 
3. Video Ads
Video advertisements are an excellent way to target your desired prospects. 
If your main product revolves around running shoes, then you can place this type of ad on videos that are relevant to your particular category or genre. 
Video ads are typically placed before the start of the main video. This gives you a chance to capture the interest of the viewer before he becomes focused on the video that he is about to watch. 
These types of ads typically run on YouTube videos. You might have noticed that on YouTube, viewers are required to watch an ad up to a certain time before they can proceed with watching the main video. This gives you an edge because you will be able to tell prospects your full offer. 
4. Remarketing Ads
This is an online marketing strategy that enables websites to show a customer ads of websites that they have previously visited. 
Visiting a website shows Google that a person is interested in a particular product. Using that as a leverage, your chances of converting leads to customers is increased by a great deal.
Note: You can also run remarketing ads on Facebook.
4. Smart Automations 
To succeed in your Shopee business, it is important to constantly stay focused on the tasks that bring the most value to your business. 
This can be quite a challenge to accomplish if you are manning every department of your online business yourself or with a small team. From product listings, SEO, paid advertising, customer service to warehousing, order fulfillment, and return management – it's a lot of work!

Our recommendation is for you to use automation and smart outsourcing  wherever possible
A lot of the tasks you do on a daily basis may be small but they take up a lot of time. By delegating certain tasks to automation software, you will be able to focus more of your time on the most critical challenges to your business growth.
Here are a series of automation software that can be a huge help for your Shopee store:
Shopee's Webchat
Shopee's webchat is an integrated messaging feature within the Shopee platform. It is an avenue for both sellers and buyers to communicate updates and clarifications about their transactions. 
This webchat feature also enables sellers to do a series of automated actions that can help them minimize the time spent on small tasks:
Auto Reply
Shopee sellers receive multiple inquiries and concerns in a day. Having to go through them one by one can be both taxing and semi-productive. 
What Shopee auto-replies help you do is write ready-made replies to answer your customers' most generic queries. Here are some examples of general Shopee queries:
Questions about estimated delivery times

Information about pre-shipping order processes

Inquiries about product quality and material
Auto replies are also useful for automatically sending welcome messages to new customers who are inquiring. You can also use this feature for marketing current shop promotions and discounts. 
How To Set Up An Auto-Reply Message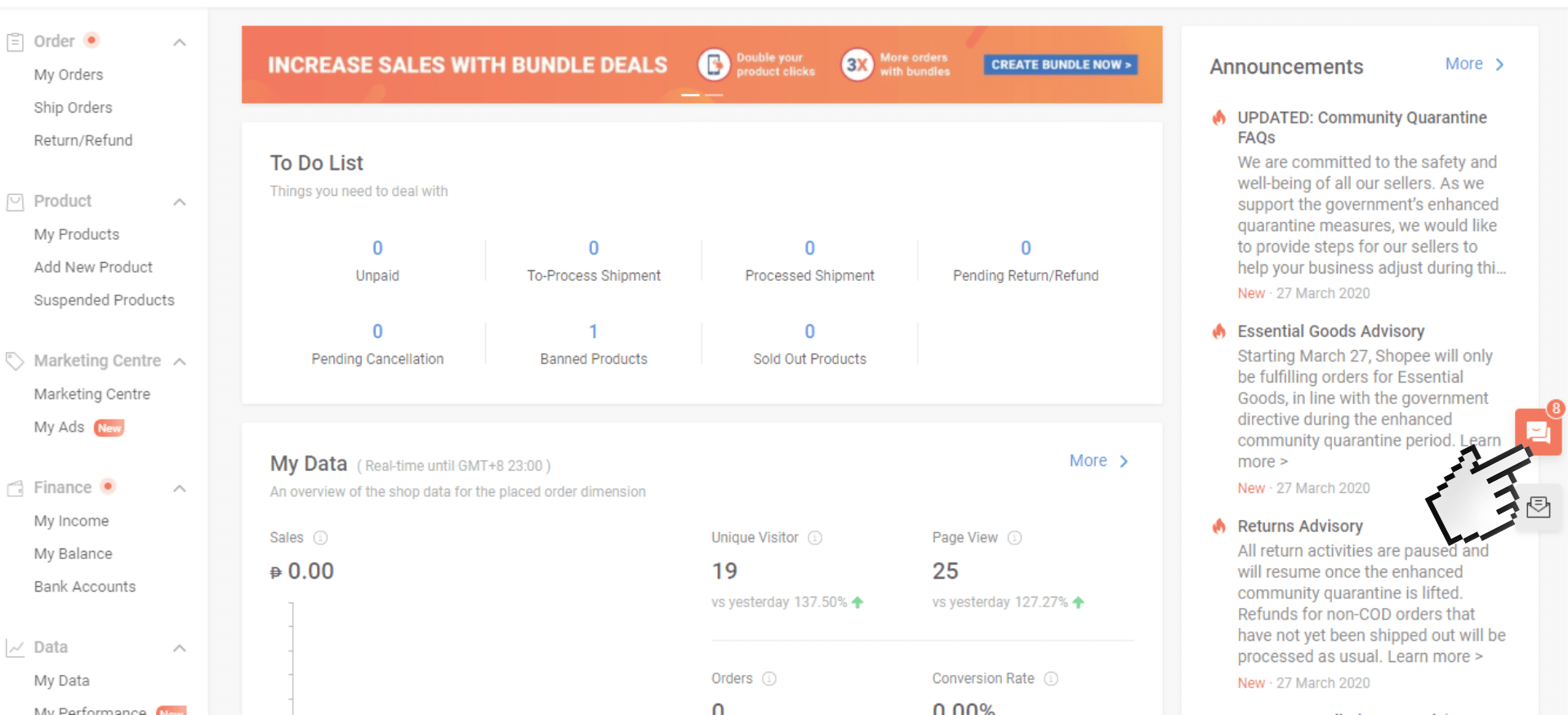 Log in to your Shopee Seller Centre account and click on the messaging icon.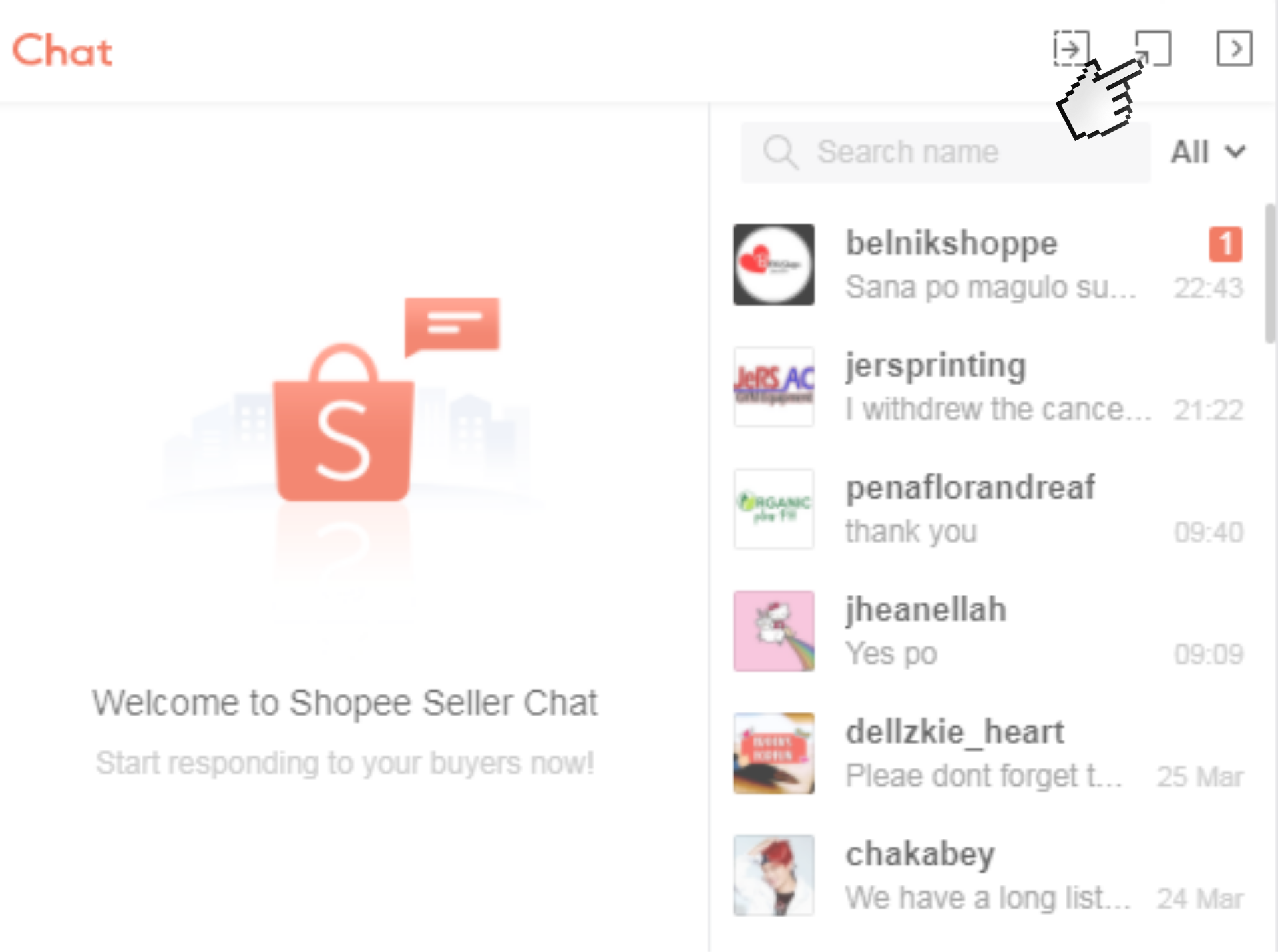 Click the expand button.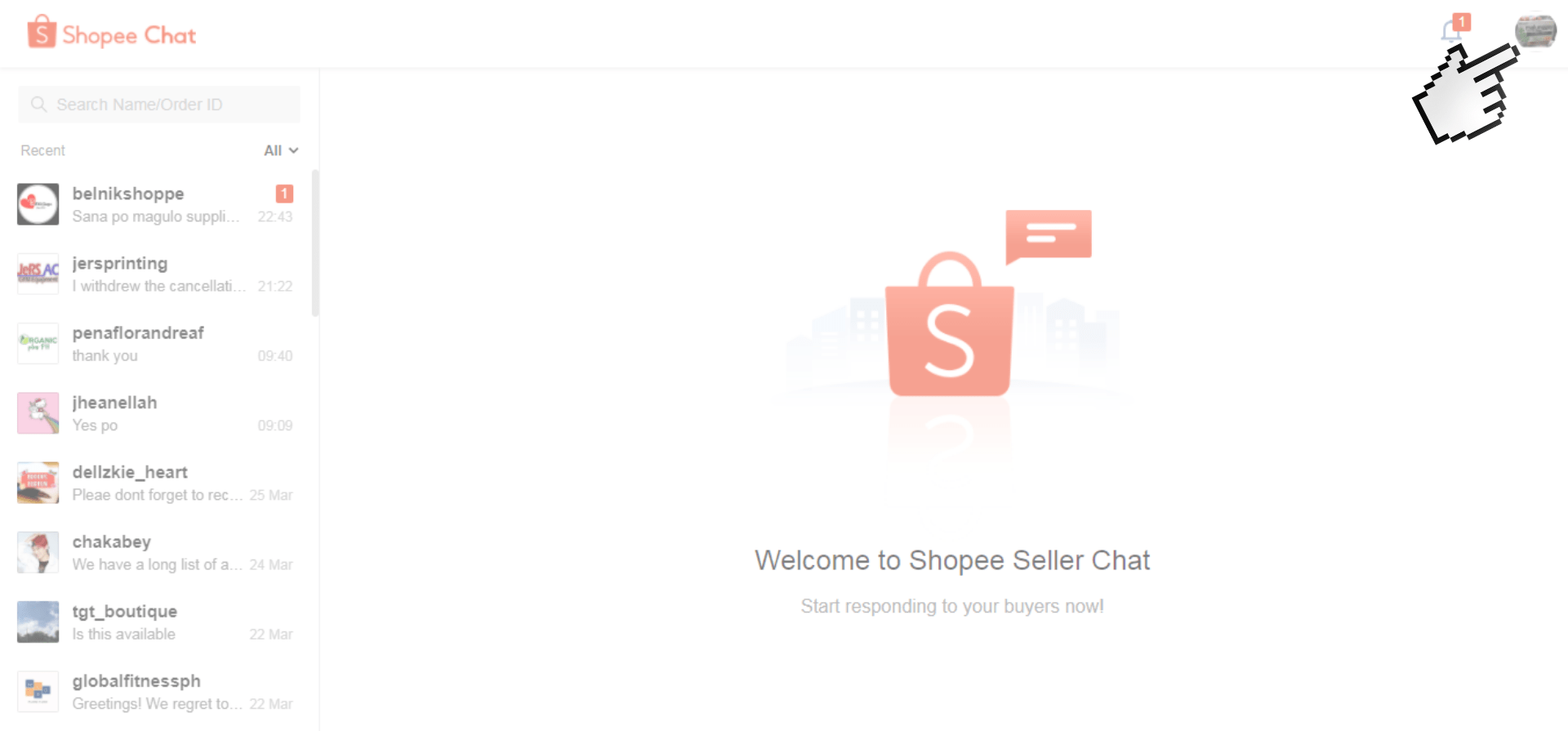 Click on your profile picture. 

Select Chat Settings.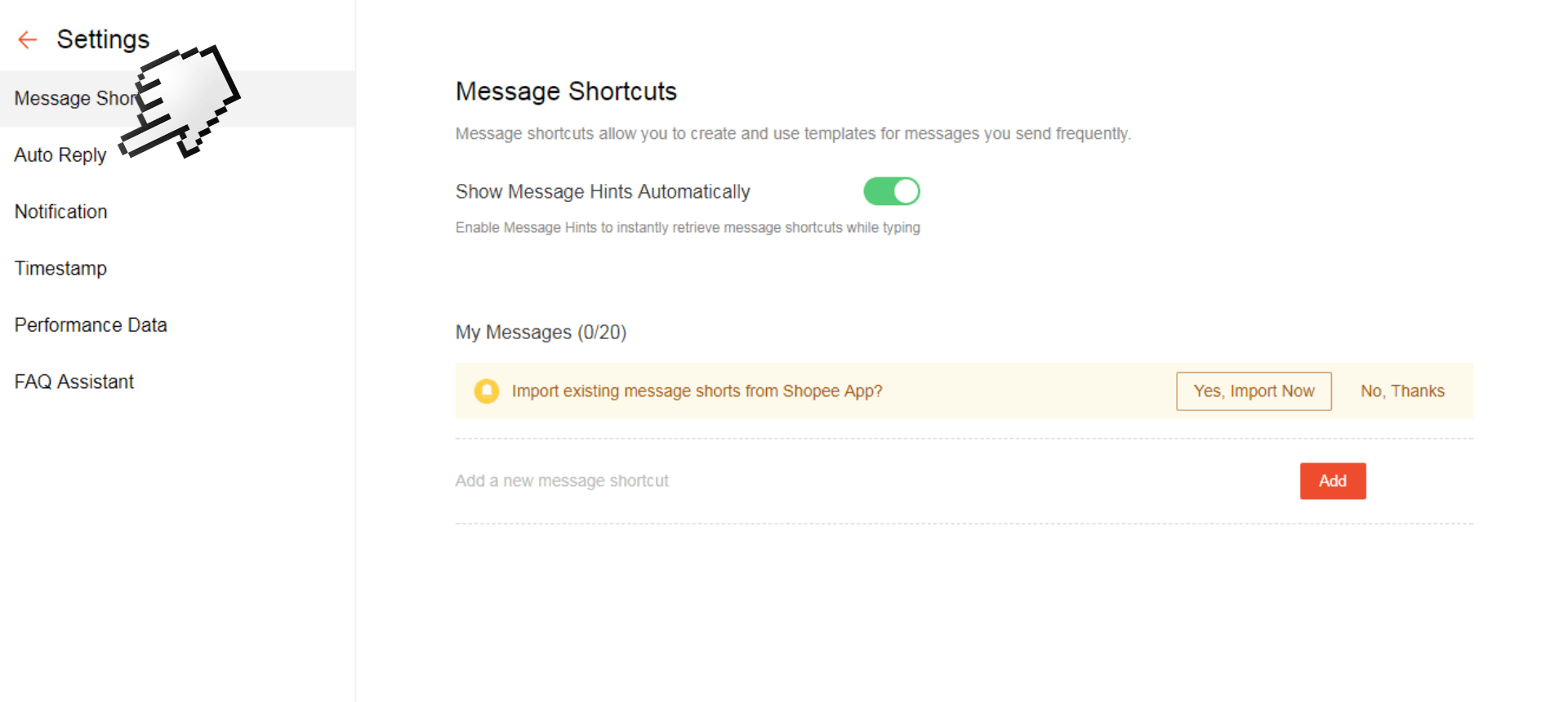 Click Auto Reply. 

You can choose between default replies and off-work auto-reply. Click the ticker to activate the auto-reply. When you do a text box will appear where you can write your custom message. 
Split Dragon
Split Dragon is a software that provides a Shopee seller with a complete kit of tools to optimize their shop to its full potential. 
It lets you connect your Split Dragon account to your Shopee (and Lazada) account so that you can do the following:
Do keyword research 

Track your search rankings

Monitor your product quality

Track competitor products (prices, reviews, images, and title)

Track competitor stores (sales, reviews, followers, and more)

Run automated AB tests
The scope above are all valuable processes for Shopee store owners but would typically not be possible without automation.

It is very valuable to know what your competitors are doing and to monitor your search rank – but without smart software automation, it would take A Shopee seller far too much time.
ERP Services
ERPs might not be necessary during the initial stages of your Shopee business but after a certain point, it would be a good idea to consider integrating an ERP system into your business. 
Here are the benefits that you will get by availing ERP services:
Shopee stores are such simple ventures if done right, it can actually help you go a long way. When that happens, it becomes necessary to split your inventory across different locations as this helps you accommodate a larger scale of customers. 
The team tracks all your orders from A to Z. Aside from tracking, each order has a current status label so you will know a product has already been shipped, is in process, or if it has already arrived to the customer. You will also get a quick snapshot of orders that requires immediate actions. 
ERP services let you monitor the quantities of supply you have on hand for a certain product across all inventory locations. 
Other Automation Tools You Can Use
SelluSeller simply gives you the appropriate software to work with. It also has a ton of other features that ShipBob doesn't have like digital content management systems and Pricing & Promotions Management tools.
Similar to SelluSeller, Dinosync also has inventory and order management capabilities. It just sets the bar a bit higher with its multi-channel integration feature that lets you list your products to various eCommerce platforms without the added hassle. There is also the Advance Your Business capability that will be helpful once you decide to open your own eCommerce store independently. 
5. Optimizing Big Campaigns and Product Launches
Full-blown marketing energies are required for you to meet high standards and expectations during big campaigns. The normal campaign results in about 10-20x sales revenue compared to a normal day in the life of a Shopee seller so it's critical to make sure you are well optimized in advance of a plan and running smoothly during it.
To optimize for a campaign, you need to start a month or two in advance. 
Look For Your Best Products 
Choose the products strategically. You can look at your transaction data to see which products perform the best. These products will be your candidates for the campaign. 
There are two ways you can access these valuable data. One is through your Seller Assistant.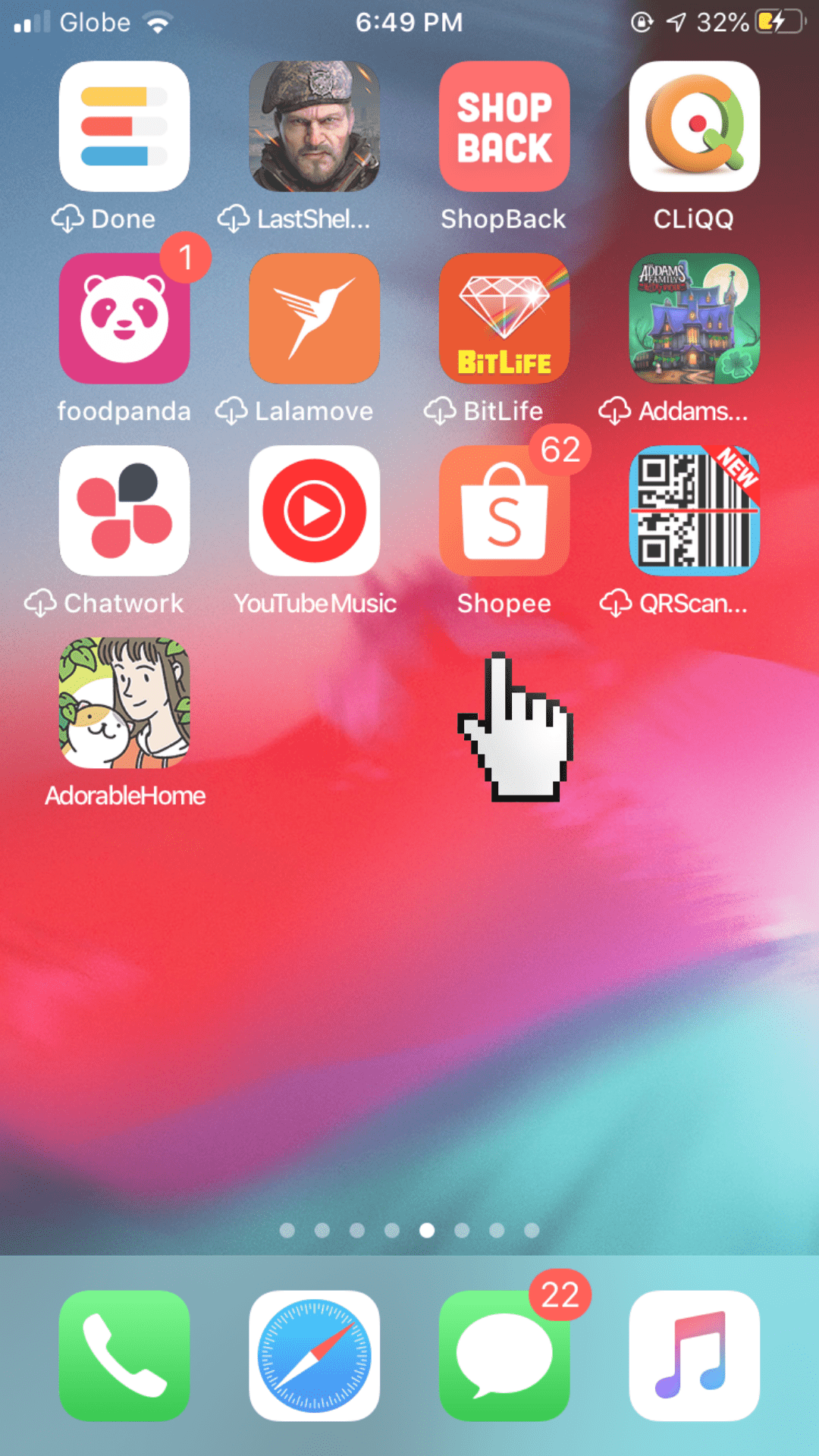 Open your Shopee app.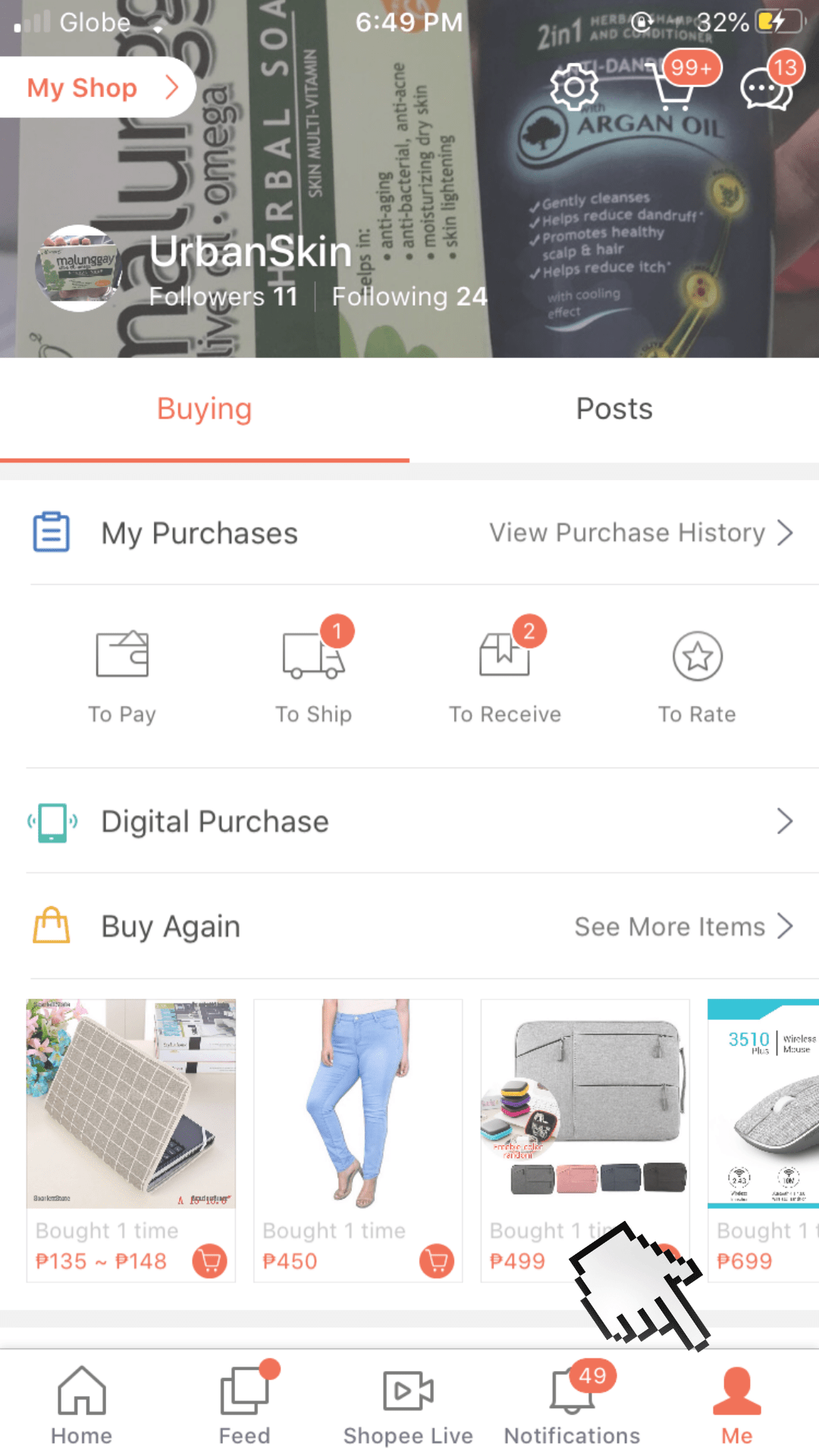 Click the Me tab.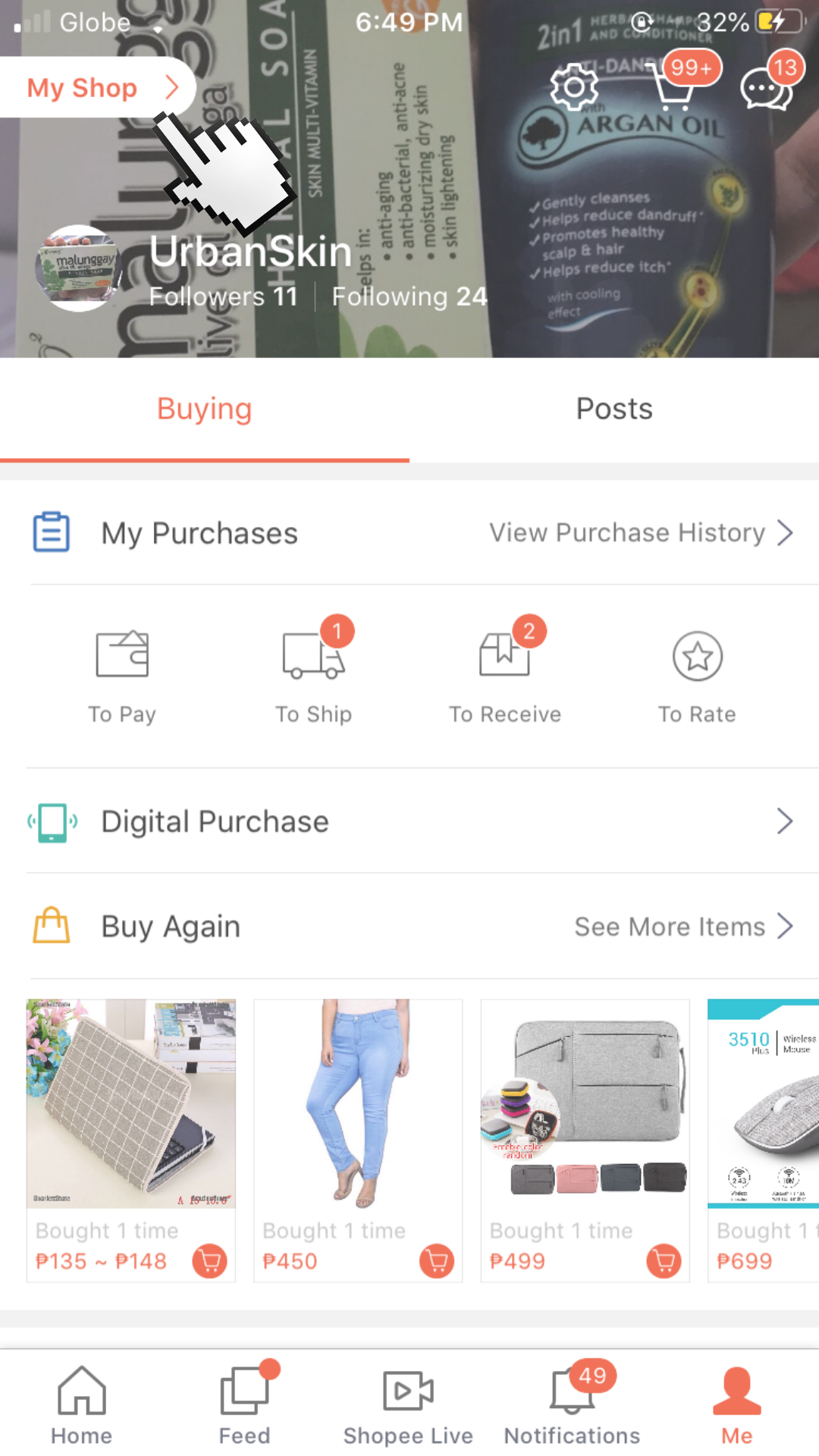 Choose My Shop.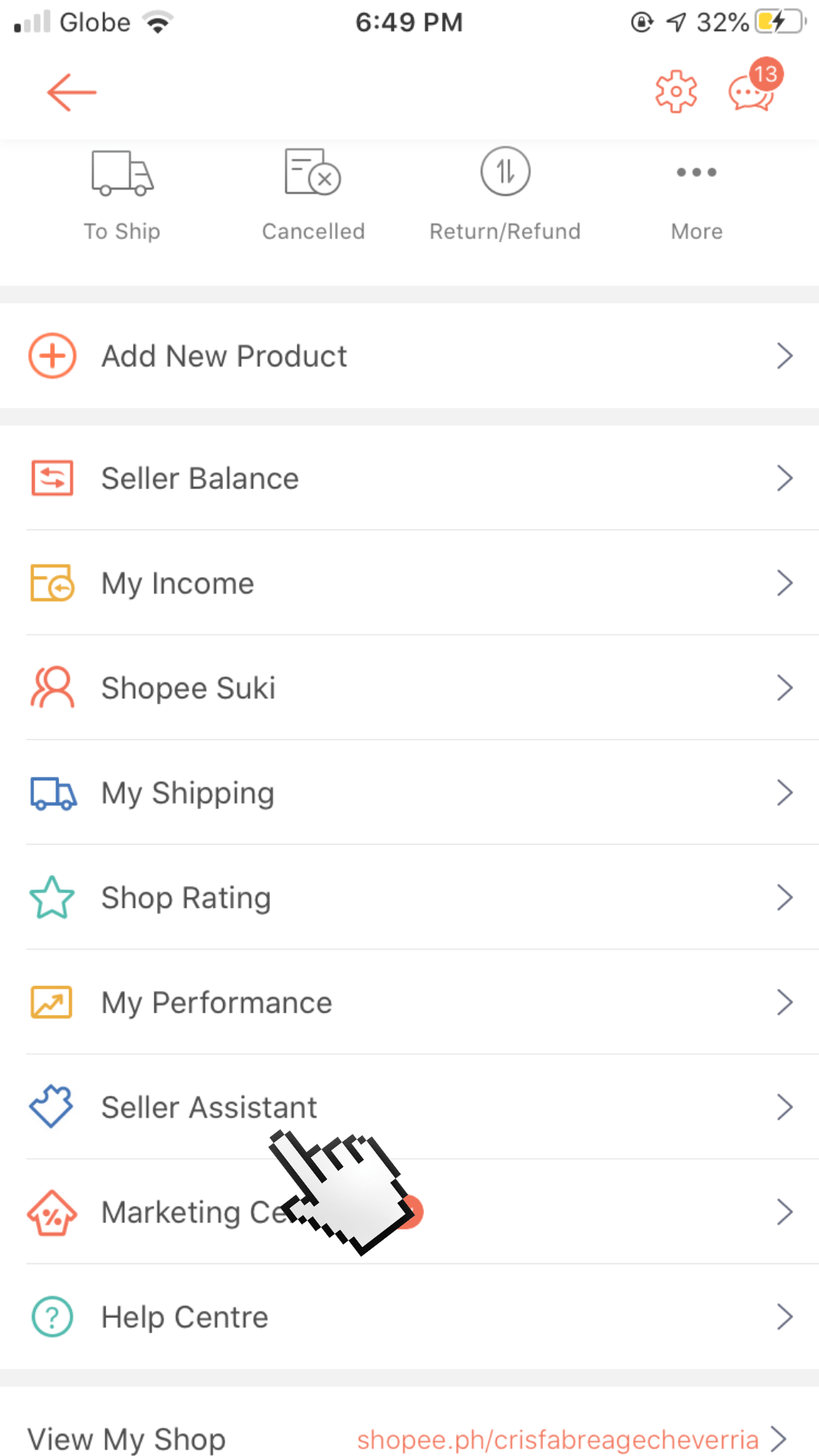 Go to Shopee Seller Assistant.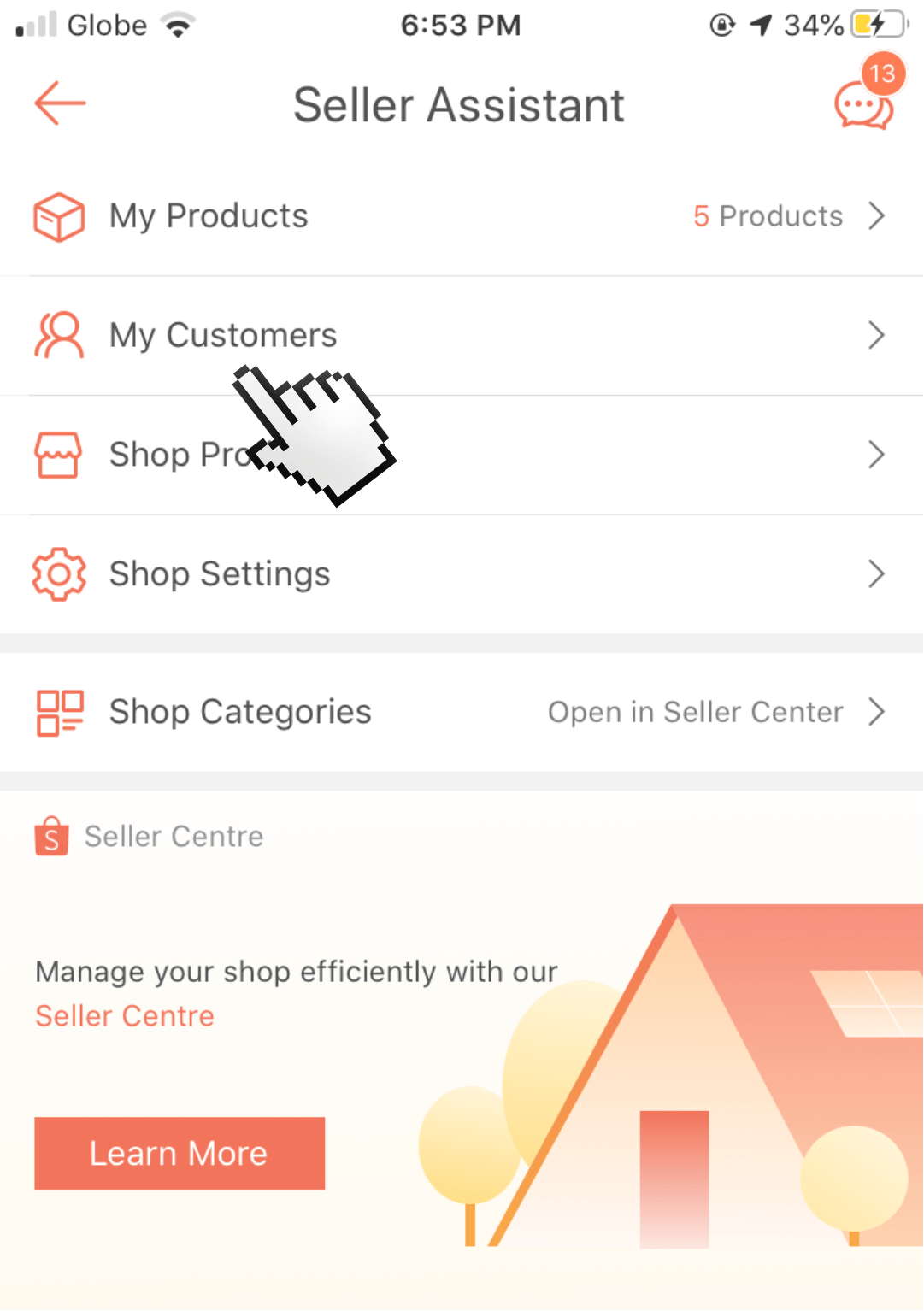 When you click on My Customers, you will see a list of all the people whom you have transacted with. This is where you'll see which of your products have the best reviews and are most popular. 
Your second option is to obtain product performance data from your Shopee Seller Centre account.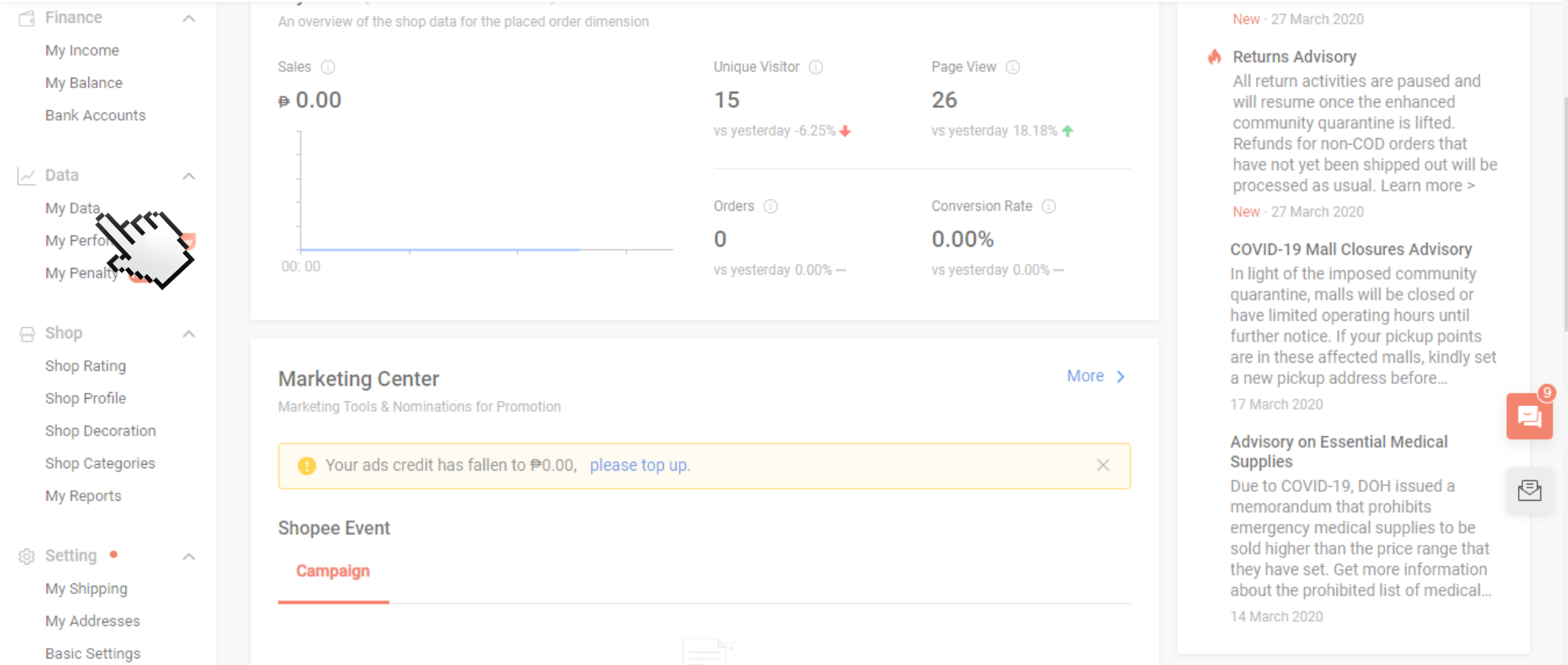 Log in to your Shopee Seller Centre account and then click My Data. 


From the dashboard section, click the Product tab. Here, you will find lots of useful charted data about your products. As you scroll to the bottom of the page, you will see the top 10 rankings for your products.
Select A Combination Of Shopee Campaigns
Discount deals might get you several purchases in a week or month's time but creating a powerful combination of various marketing campaigns will land you a huge prize at the end of the period. 
Here are the Shopee campaigns and deals that you can put together:
Discount Promotions

Add-On Deals

Shipping Fee Promotions

Bundle Deals
Once again, you have to think strategically. Discount promotions, will, for sure, attract the attention of lots of buyers. 
But there will always be products that are much more desirable than the rest. To equal out the orders per product, you can take advantage of Add-On Deals and Bundle Deals. These are campaigns that encourage a buyer to purchase other products that are complementary to their main product of interest. In exchange, they will receive discounts. Shipping fee promotions are also huge factors that can encourage hesitant customers to complete their purchase. 
Using all of these promos together will create a powerful prompting mechanism for your customers. 
Monitoring Your Inventory And SKUs
After activating your Shopee campaigns, it is important to stock up. Doing so will ensure that you have a sufficient supply of products for when the campaign takes place. 
It is important to have revenue projections in place as well. This will enable you to create a conjecture of how many stocks are needed per product type. 
One should not worry about having too much supply of stocks. Excess supply will still be proved to be useful after the campaign. Meanwhile, running out of stock always results in lost sales and profits.
Make sure to label all of your products per SKU based on their type and category. This will help you better manage and track your stock in your warehouse (or a 3rd party warehouse).
Marketing Your Campaign
The great thing about Shopee campaigns is that most of them already come with a lot of support from the Shopee team. This means aside from the attractive offers you give to your customers, the Shopee team will also include your products in their marketing efforts. 
This gives you an initial boost in terms of marketing. 
But we suggest that you engage in voluntary marketing procedures as well. 
For instance, Shopee My Ads provides a wonderful avenue for you to further increase your visibility and product searchability during times of increased traffic.
Doing so will not only increase your overall sales performance in your upcoming campaign but it will also benefit your Shopee store in the long haul.
If this is something you are interested in, check out our step-by-step guide on using Shopee My Ads. 
Shopee Enhanced Coins Cashback
The Shopee Enhanced Coins Cashback is an opt-in program that enables Shopee sellers to increase overall revenue. 
Even though the Shopee team implements a rather strict standard as to the selection of applicants, successfully joining this program will likely benefit you five-fold in terms of traffic. 
Here are some additional marketing perks that you will enjoy as a cashback Shopee seller:
Shopee-sponsored marketing (through the website and in-app)

Social media marketing

Email marketing 

Push notifications marketing
Joining Enhanced Cashback programs are an excellent way to get your brand in the spotlight right before your campaign. 
We posted an article on Shopee Enhanced Cashbacks. It covers every little thing that Shopee sellers need to know about the program. 
Self-Promotion Through Shopee LiveStream
Live interaction is still the most effective way to win the heart of your customers. Shopee's LiveStream feature enables you to engage potential buyers online just like the way you would if you had a physical store. 
How To Promote Your Campaign During A Shopee LiveStream
Announce your upcoming campaigns some time in the program

Put out vouchers that can be used for the campaign

Introduce limited edition samples of your campaign products for sale 
If you plan to take action on this strategy, know that we recently wrote an article regarding Shopee LiveStream that you can check out. 
Social Media Marketing
Use your Shopee store Facebook page to market your upcoming campaign. This will enable you to update customers (people who haven't visited the Shopee platform lately) about your promos. On top of that, you also increase potential visibility (through Facebook likes and shares from customers). 
You can also use your own personal social media account to let people know about the discounts and promos that you are offering.
It is important to involve personal connections in campaign plans. Friends and family are more than likely to help you spread the word about your upcoming campaign.

Due to increased demand, Shopee suggests customers add products to their wishlist before campaign so they purchase quickly on campaign days. We definitely suggest for you to adapt your messaging in social media marketing to push customers to do this too.
Hire An Influencer
If you want to expand your reach to a wider and newer span of audiences, a good way to do so is influencer marketing. 
You can hire an influencer to become a host on your Shopee LiveStream. Influencers are skilled in creating programs that people can relate to. In that case, he/she can provide several effective suggestions on the best time to insert your Shopee campaign announcement during the LiveStream.
Even a simple shoutout from an influencer will go a long way in increasing traffic and attention to certain product pages. 
You could also hire an influencer to endorse some of the products that you will be putting on sale during your campaign. This can be in a form of a banner or video that will be shared on whatever platform the influencer uses. 
6. Getting Your Warehouse and Order Fulfillment Right
We've discussed in this article the benefits of having an ERP software provider take care of your cross-listing, order management, and inventory management. ERP service providers such as SelluSeller and DinoSync work with professionals who know precisely how to do your order fulfillment right. 
Many warehouse providers are integrated with popular ERPs so you can get a single source of truth and data from your ERP. 
Depending on how you set up your warehousing operations, you can potentially distribute your products to various warehouse locations. This way, delivering your products to separate locations will be a lot easier and faster. 
Anyhow, if your Shopee business has just started and has not taken off yet, it would do you well to build a simple warehouse where you can easily go back and forth to manage and fulfill orders.
For small sellers, we recommend building a warehouse space inside your home but any nearby location can work as well. 
Whatever location you choose, you need to ensure that your warehouse will be able to meet a standardized flow of goods. 
The warehouse should be spacious enough to accommodate the following activities/areas:
Receiving

Storage

Picking 

Packing and Shipping

Free area
Receiving Area
If your warehouse is small, there is a pretty big chance that you're going to only have a single dock for both the receiving and shipping of products. Make sure to leave some space allowance to avoid trouble incoming stocks get in the way of stocks that are for outbound shipping. 
As soon as new stocks arrive, make sure to offload them immediately in the receiving area to avoid dock congestion. 
Storage And Forward Picking
Set up a forward pick location. Make sure that it is near the packing station. The forward pick location is for high-velocity goods. Since the forward pick location is set near the packing station, you will be able to minimize your travel time going back and forth for certain stocks. 
Meanwhile, you can place the slow-velocity goods in the bulk storage area of your warehouse. Even though this is quite an effective way to put things in perspective, it is still important to move items from the bulk storage area into the forward pick location every night. Start anticipating which products will be processed for the next day. 
Create Linear Paths For Each Area
You can use a black vinyl lane marking tape to create linear lines from the receiving dock, storage, forward picking areas, packing, up to the shipping area. 
This will enable you or our team to move freely around the warehouse without having to bump into each other when fulfilling orders. 
By doing so, you will be able to avoid cross-traffic during operation times. 
Specialized Areas For Packing And Shipping
You need to arrange the packing and shipping station in a way that items for packing come in one end whereas the items for shipping come off the other end. 
It would also be a good idea to separate the shipping and ship-staging area. This will avoid congestion in the shipping area. 
Once you've finished preparing a package, it would be best to set it aside in the ship-staging station so you can get it out of the way. 
The Need For A Free Area
Regardless of whether you are creating this warehouse for a small or an already well-established business, there will always be a lot of growing to do. That being said, you need some free space in your warehouse to make room for expansions when they come. As you grow your operations, this free area can be converted into a work area for new team members. 
Formulate Your Order Fulfillment Strategy
You need a sound strategy to fulfill Shopee orders in a seamless manner. 
We've already talked about building a small warehouse in a nearby location. 
But if you are managing a big business that already caters to a wide span of customers, our suggestion would be to settle for ERP services that allow you to store inventory in various locations. As already mentioned in this article, having your stocks scattered across multiple locations make product shipping a lot easier and faster. 
Another great thing about ERPs is that you won't even have to lift a finger anymore each time a customer orders a product. Your ERP subscription takes care of everything for you, all the way from warehouse management to product delivery if you ensure it is integrated with your warehouse provider.
Shopee also has FBS or Fulfillment By Shopee. However, this order fulfillment service is only available to Shopee's principal brands, distributors, and key sellers. That being said, it is no wonder why it is not as popular as Fulfilled by Lazada.
Decide On An Order Fulfillment Model To Use
These are the three most common order fulfillment methods:
In-house order fulfillment

Third-party fulfillment

Dropshipping
In-house order fulfillment or self-fulfillment is most likely the model you are going to use if you plan to build a small warehouse. This means that you will be completing every step of the order fulfillment processed either by yourself or with the help of your own team. 
This is traditionally the kind of order fulfillment model most sellers start with. As soon as they grow into a much bigger business, they are more likely to seek the help of third-party fulfillment services as the bulk of work will no longer be feasible for a small team alone. 
Advantages Of Self-Fulfillment
You have total control over your inventory

Anyone can do it

If you have a large volume of shipping items, you can negotiate shipping fees
Disadvantages Of Self-Fulfillment
Time-consuming

Costly

Requires a lot of space
The main advantage of doing so is that you will be able to focus your time and energy on sales management. Your warehouse provider will take care of everything else for you. Meanwhile, you can still check out your account dashboard to see the status of all your order fulfillment. 
Advantages Of Third Party Order Fulfillment
You can buy inventory in bulk for a higher profit margin

No need to invest big capital on warehouse space and facilities

Time-efficient
Disadvantages Of Self-Fulfillment
Quality can be compromised because you don't get to be 'hands-on' with your products
Out of all the order fulfillment models stated here, dropshipping is the most convenient one. This pertains to not having to hold or keep any of the items you sell in your own inventory. Instead, the manufacturer is the one who stores and ships the goods to the customer. 
For instance, if you are a dropshipper and a customer places an order on your Shopee store, your next move would be to manually order the product from the manufacturer. The manufacturer will then ship the product directly to the customer. 
This is a great order fulfillment model for busy individuals. One downside, however, is that you don't get to have a say in the inventory or the quality of the products. 
Advantages Of Dropshipping
Affordable

Easy to start

It allows you to sell more products

Minimal business development
Disadvantages Of Dropshipping
Lower quality control

Reduced brand power
Additional Tips For Order Fulfillment
Always be ready to ramp up stocks during the holidays

Integrate technology into your process one step at a time

Work towards giving customers a fast turn-around time. This will enable you to compete with big sellers
So that's it. We think that if you do the above 6 things well – you will have success selling on Shopee. I encourage all brands and sellers reading this article to think about how they rate on these 6 criteria. What can you do to improve?
What's your next move for enhancing your Shopee store? Do you feel we missed anything in this article? Let us know in the comment section.