If we name a thriving industry in the era of the internet, the eCommerce marketplace is one of the top-of-the-head answers. 
Multivendor platforms like Lazada and Shopee have become the main destinations for sellers and brands who want to reach more customers. However, the mass availability of goods and stores makes selling challenges. 
This led to a new consumer behavior wherein buyers no longer solely care about the products. 
They're after the entire buying experience. This enhanced customer experience brings you more attention, sales, and customer lifetime value in the long run. 
But how can you capture buyers in saturated marketplaces?
While the words "saturated market" may cause entrepreneurs to back off, there are a lot of eCommerce marketplace strategies you can do to stand out and compete in your niche. 
Whether you're an online seller, a marketer, or a digital agency helping clients get visibility in marketplaces, read on.

In this article, we'll share how you can attract customers to Lazada and Shopee.

Side note: This is based on our real client projects. Split Dragon also offers marketplace services to brands and partner agencies.
Here are the 5 strategies you can try: 
1. Crush that SEO 
What makes SEO for Lazada and Shopee different from SEO for Google? 
Google SEO prioritizes the content where it most likely answers the search query. The factors involve domain authority, keywords, and backlinks. 
SEO on online marketplaces like Lazada and Shopee answers which product the searcher would most likely buy. The search engine of the marketplace will be looking for descriptions that closely match the search query. 
To be on top of the marketplace searches, you have to understand how to use the keywords. 
Keywords are words that are most likely used by shoppers when they are looking for your product. 
For example, if you are selling the latest iPhone 13 cases, presumably your target market will use the following words:
"iPhone 13 case"
"iPhone 13 cases"
"iPhone 13 max case"
But let's check the keywords with the highest rank on our SD Keyword search tool: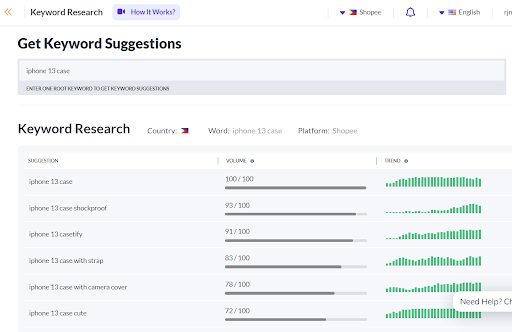 The result showed that the majority of shoppers are specifically looking for shockproof iPhone 13 cases, cases with straps, and cases with camera covers. 
Now that you know the keywords shoppers used when looking for your product, you can optimize your listings. 
These are the 3 most important fields you need to optimize in Shopee or Lazada listings:
Title

Bullet points/Description

Product images (Lorikeet)
Marketplace optimization helps products merchants products placed in the best positions that will gain more traffic.
2. Invest on-site paid ads
Are paid ads worth it? In a saturated market – yes! But only if you have the right strategy in place.
Enhancing a product's exposure will help build an audience – a very important factor in attracting consumers in a crowded industry. 
Shoppers prefer buying online because it is convenient. And as we all know, browsing in the marketplace can be time-consuming because of so many options available. 
As mentioned earlier, positioning your products in strategic places inside the marketplace does not only bring huge traffic but also helps buyers find your product right away. 
For Shopee, there are 4 kinds of on-platform ads available:: 
Product Search Ad

– this pushes your products to the top of the search results page

Shop Search Ad

– this showcases your shop at the top of the search results page

Discovery Ads

– this positions your product in prime recommendation sections, such as Shopee's homepage

Boost Ads

– This showcases your products in multiple high-traffic areas at once. 
For Lazada, the paid ad available is Sponsored Search, a keyword-targeted solution that enables a seller to promote their products. However, Sponsored Search is only available to those who have product listings in one or more available categories. 
So how do you set up a successful ad?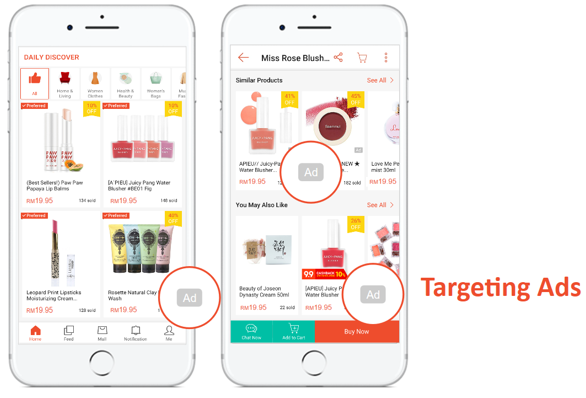 Follow Ad Guidelines
First, make sure the product lists follow the rules to ensure that it won't get flagged down. For Shopee, they have guidelines for:
Logo

Image

Tagline

Content
You will know if you violated a guideline when you receive this push notification: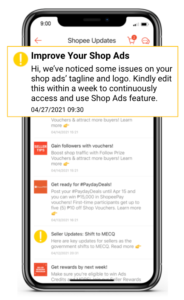 Use descriptive images
Ads are placed all over the platform together with recommended products, so make sure that you use an image that can attract attention. 
For Split Dragon, we use the testing tool to know which image can generate more conversions. 
Use keywords with high search volume
Again, optimizing your listing means you have to use keywords with high search volume. 
It is most likely that your competitor also uses paid ads. So make sure you are equipped with the right tools like keyword search tools to have the best advantage. 
3. Focus on CRO
Conversion rate optimization (CRO) is a systematic effort to increase listings' conversion rate.
A simple change of content or image can actually have a significant impact on how the buyer reacts to your listings.
Imagine stumbling on a listing that has a few low-quality images and an unclear description. Would you find yourself purchasing that item? 
That's an easy pass. 
Here are the most important things you can do it optimize the listing for conversion:
Clear and concise title
An optimized product title should clearly convey what you are selling and who it is for. But more importantly, the title should help your product appear in the search result, based on the keywords you placed.
Also, the title should be relevant to the actual product and highlights the key selling points. 
How about the keywords?
Well, the selection of keywords should be enough to explain what the product is. Do not use repetitive and generic keywords. 
Lazada and Shopee suggest almost the same format in product titles:
Brand_Specifications_Type_Model_ Features
For example:
Shopee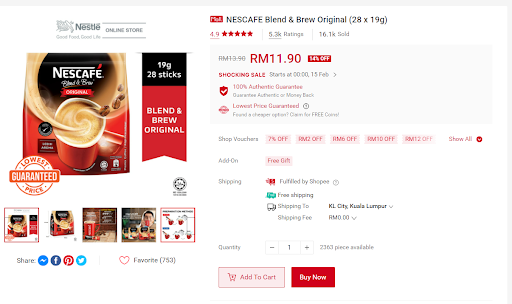 Lazada

Use descriptive images
The role of visual presentation in eCommerce is immense. Each time we open our online marketing app, we see thousands of content, and it is the images that grab our attention.
A study of the human brain by MIT neuroscientists shows that our brain processes images faster than text. 
And with today's technology, you can do so much more with images. Provide a 360 view and zoomable, high-quality images so your prospects can take a closer look at your products. 
Think outside the box and ensure that your images are different from others. On marketplaces, you can also upload product demos in video format. Make sure that your video content provides validation that the product is effective. 
We can't deny that even though we already know what we want, we need to be convinced – just to be safe before we buy something. And a clear and descriptive image can be the starting point for that.
Use engaging product descriptions
While images are processed way faster than texts, the majority of buyers are convinced by reading the specific and detailed product description. 
Salsify, a market surveyor company reported that 87% of online shoppers place a high value on what they read in the description.
On top of that, 50% of online shoppers return products they purchased online because the goods did not match the description provided. 
The title and product description are your means to communicate with your customers and gain their trust.
While it is tempting to just copy the manufacturers' information, product description has the power to allure the buyer and build their confidence in the product. 
Moreover, you can play around with long-tail keywords so your SEO strategy is working not just in your title but also in your product description – round the clock. 
Use A/B Testing
Crushing SEO in your product listing does not end with inserting keywords in your title and other details.
In Split Dragon, we do not practice guessing. Instead, we use Split Testing that automatically calculates winning variations.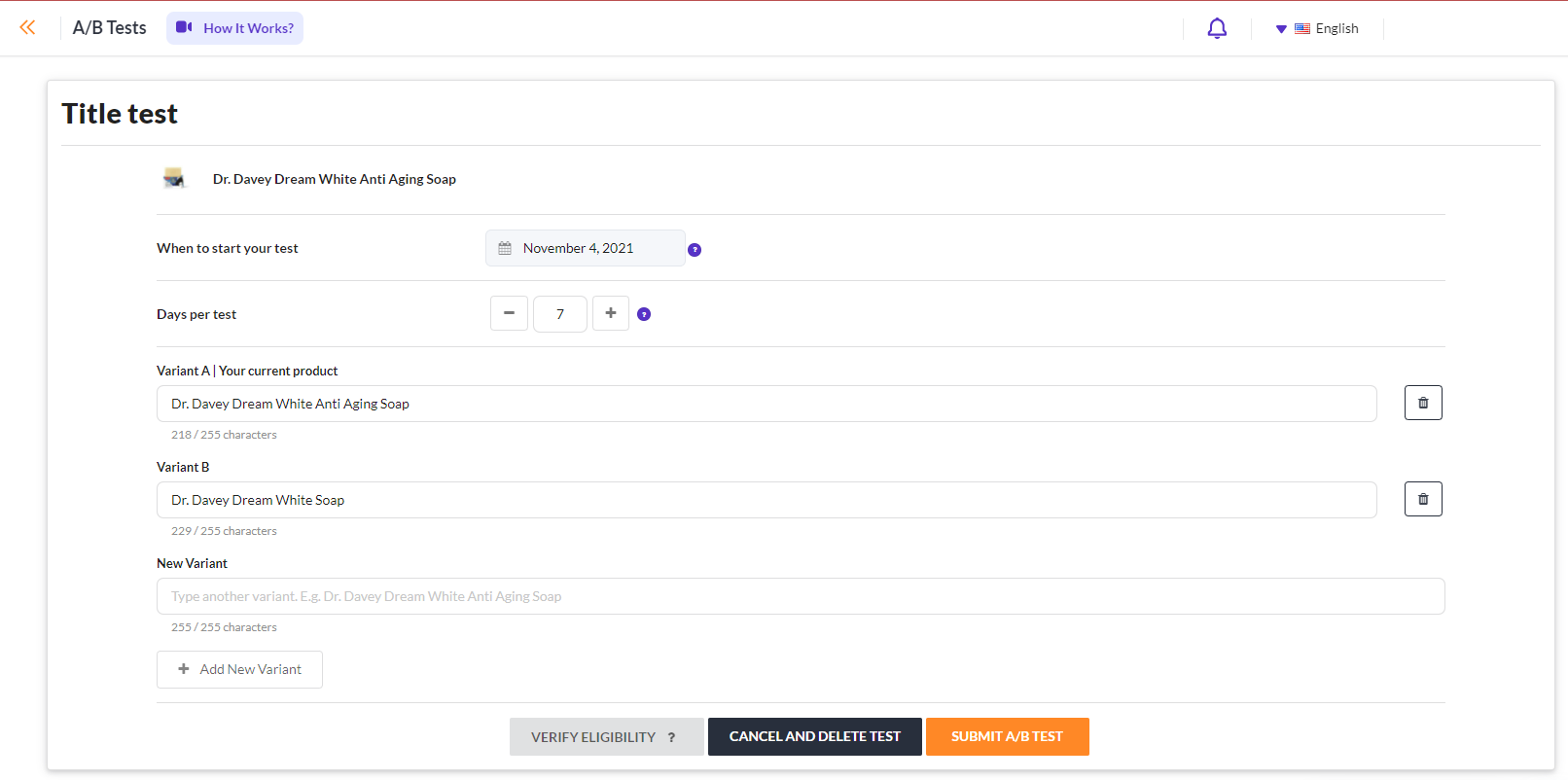 Split testing or A/B testing is the method where you have two (or more) versions of your listing. 
The shoppers will see one of the variations at random, meaning half of them will experience the A variation while the other half will see the B variation. 
After the test, you can see the best version that converts into higher sales. 
The SD Split Testing tool is easy to use so you do not have to be an excel wizard. Most importantly, since it is automated, you don't have to manually update your listings every day. 
You can now focus more time and energy on other marketing tasks.
4. Generate reviews and customer experience
In an industry where people are doing business without physical encounters, it's easy to overlook a valuable concern: customer experience.
The quality of customer experience encompasses every touchpoint the buyer has with the product. This includes advertising, the product itself, and service feature, ease of use, reliability, and of course, customer service.
In a saturated market, shoppers encounter overwhelming choices every day. 
While the marketplace platform itself can provide great customer service during and after sales, it is still up to the seller on how to provide a more personalized experience. 
The goal of improving your customer experience is to make your customers happy. And happy customers are loyal customers.
So how do you start improving your customer experience?
Leverage on discount vouchers
Plan your voucher campaigns. In Shopee, if a shopper visits your store, you can provide a voucher or coins if they follow your shop. This can encourage them to keep on browsing your products so they can use the discount voucher eventually.
Update them
Sellers who value their customers know the importance of communication. Sending a photo before shipping the product provides more confidence to the buyer and ensures that the product to be delivered is accurate.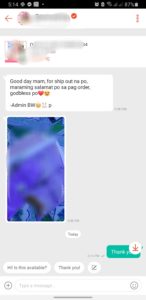 Encourage reviews
Reviews directly reflect the shops' reputation. On the other hand, it is also an effective tool to build the confidence of your customers who are not yet familiar with the store. .
Shopee and Lazada provide programs that recommend well-performing stores in search results. To qualify, a store should have a high positive rating.
In a saturated marketplace, reviews are your ultimate selling point. 
Although marketplaces have set incentives to encourage reviews, there are also strategies you can do to get more reviews. 
One of the effective ways is to ask for one as they open your package. Adding a little surprise freebie will may your review request effective. People love to share good experiences and of course, what's a better way to make them feel good than with a surprise item? 
There is also nothing bad about asking the customers directly to share their buying experience in the review section. 
Getting a review is just the first step. Of course, you cannot please everyone. There may few negative reviews once in a while. Negative reviews should be taken care of quickly as this affects the buying decisions of shoppers. Make sure that you contact the customer, take care of their negative feedback. After making amends, politely ask the buyer to take down or update their review. 
Reviews are also a good source of information on how to improve and innovate your business. Have a conversation with your customers. Learn to explore and analyze the feedback section because even if you are given thousands of tips, customer insights are still the best source of information. 
From there, you can create techniques that will directly cater to your clients' target audience.
5. Sell a fulfilling experience
"A customer is the most important visitor on our premises. He is not dependent on us. We are dependent on him. He is not an interruption of our work. He is the purpose of it. He is not an outsider of our business. He is part of it. We are not doing him a favour by serving him. He is doing us a favour by giving us the opportunity to do so." – Kenneth B. Elliot
Often times in a busy industry where there is no physical interaction, we overlook the fact that our customers are humans. They can form opinions. They can interact. And most importantly, they can feel. 
That's why it is important to foster good relationships with customers by providing the best experience possible. 
In other words, you are not selling products alone, you are also selling experience.
So how do you sell experience?
Deliver what was promised
If you say your product comes with a free battery, then your customers should see that it comes with batteries. Trust is very crucial in the online world and it is easy to break trust than gain it. 
Tell stories
Sometimes, people do not care about the product itself, but they remember the product better because of the stories they hear or read about it. And they would want to experience it too.
You can start from the sellers and their personal experience using the product they are selling. Repurpose these stories and post them on online platforms like forums, social media posts and groups.
Practice constant engagement
Experience is not just a one-time encounter. Instead, it is a constant engagement with customers. Good thing Lazada and Shopee saw the potential of engagement, thus they have platform features that encourage activities such as Livestream, chatbox, and virtual games. 
Pro tip: During the live stream, you can give away discount vouchers for buyers who check out items during live to entice watchers to complete transactions. 
Attract customers with data-backed strategies 
As they say, ideas are cheap. Execution is key. 
However, these eCommerce marketplace strategies and campaigns are hard to execute if you do not have the right data to start with. 
That's why you need to arm yourself with the right tools that will give you accurate and timely competitor information that you need so you can climb your way to the top of the marketplace searches – even if they're "saturated". 
Want to see how you can grow more in the marketplace using Split Dragon tools? Talk to us here and one of our marketplace specialists will contact you. 
Meanwhile, you can join our Facebook Seller Community to learn more about marketplace optimization from fellow sellers, eCommerce experts, and the Split Dragon team