Leveraging data is now a gold standard when driving an eCommerce business. Data provides you with insights to measure the success of your campaigns.  
However, if you are a third-party seller in an online marketplace, acquiring data is impossible — until now.
Shopee made another breakthrough after announcing that Facebook Ad is now available on Shopee Seller Center across Southeast Asia. 
Shopee is the first online marketplace platform to integrate Facebook Collaborative Ad into its system. This is part of their ongoing commitment to empowering businesses of all sizes.
What's in it for the sellers?
Shopee sellers will have a one-stop platform where they can manage both their store and marketing efforts with ease. They will have an access to an array of marketing and data tools to help them build listings, run promotions, and improve their online business success on Facebook.
The best part? Sellers can now track the results of their Facebook ad campaigns in the Shopee Seller Centre. 
So without further ado, let's get into this step-by-step article that will help you learn how to manage your Facebook Collaborative Ads directly via Shopee Seller Center. 
What is Facebook Collaborative Ad CPAS?
Facebook Collaborative Ads (CADS) is an advertising solution that allows brands and retailers to form efficient and effective partnerships. Brands can run marketing campaigns that will help small retailers gain more traffic to their websites and complete a purchase. 
Moreover, many businesses do not have the resources and tools to start with their digital marketing. But with CADS, they can start with their digital promotions without having to spend large money on advertising.
Why run FB ads for your Shopee store?
With over 1.93 billion "daily" active users, Facebook is one of the largest social media networks. But the biggest advantage of Facebook ads is that it's highly customizable and flexible. You can target users based on their age, gender, location, and even interests and beliefs. It can reach customers in varying stages of a sales funnel, and even beyond Shopee communities, resulting in increased traffic to your shop. 
Facebook's ad targeting is unparalleled. But here's the problem: How will you know if the traffic generated comes from the ads you are running?
This is where CPAS will come in handy. 
"Driving traffic to your Shopee and Lazada stores without CPAS is like throwing your money anywhere. The only data you get from your Ads Manager is the clicks and how much it costs you", said Jheng Alvarez, a Facebook Ad specialist from LeadGenify Solutions. 
But with Facebook Collaborative Ads, you can track the sales coming from your Facebook Ads.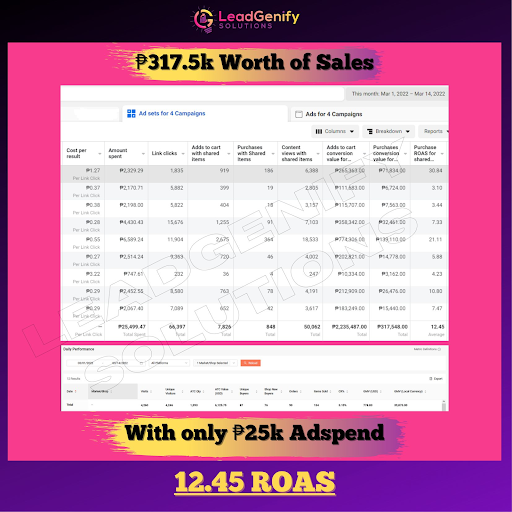 For example, Jheng can accurately measure her clients' ROI. With just Php25,000 spent on ads, they were able to make Php 317,500 in sales. That's a 12.45% return!
And it gets better because you can now do it inside the seller center.
Here are other benefits you can enjoy when using Facebook collaborative Ads on Shopee:
Data shared tracking
Shopee does not allow third-party data ad pixels. Data ad pixels are snippets of code that collects data on a website. However, with CPA, you can have the advantage of having conversion data tracking since CPAS Ads are shared via Shopee's pixel data. 
Dynamic Ads
CPAS ADS are featured dynamically based on user preferences. 
Optimized for conversion
Other types of ads need a product feed deep-link to land directly to the Shopee app. This is not needed with CPAS ads. When users click on an ad, they land straight to the product page in the Shopee app or Shopee site, and they can complete a transaction right there and then. 
Audience retargeting
The sweetest benefit of using CPAS ads is that it can retarget specific audiences as long as they've interacted with your ads before. 
How to set up Facebook Ads in Shopee Seller Center
Thanks to the new integration, setting up Facebook Ads in Shopee Seller Center is easy using the Facebook ads tool. You can create dynamic advertising based on your existing products.
It will appear in Facebook and Instagram feeds like this: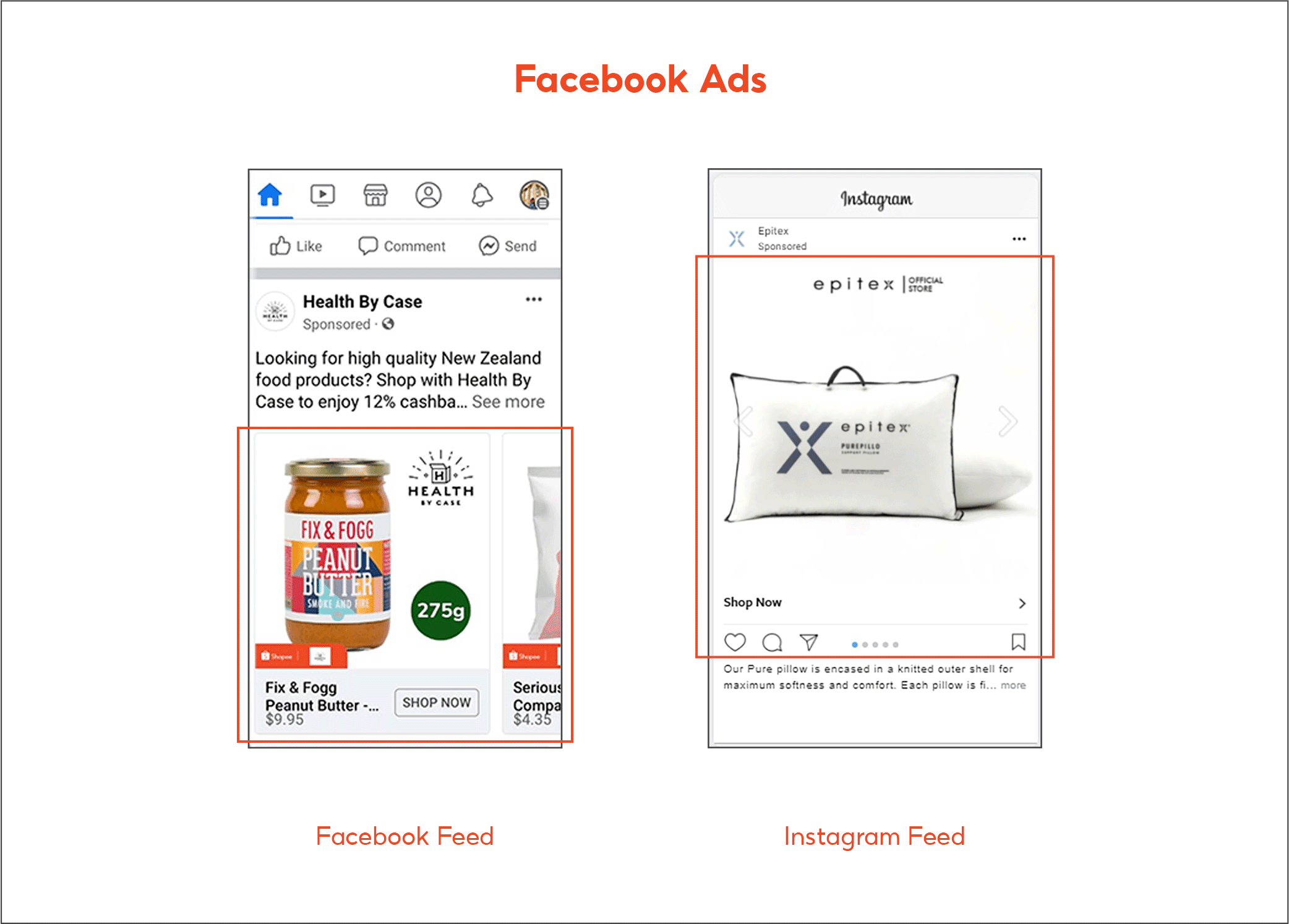 To start managing your Facebook Ads via Seller Center, you have to create a Facebook account through the Facebook Ads tool in Marketing Centre. 
Go to Marketing Center then click Facebook Ad
Click Get Started and then on the upper right, select Create Account.
A Terms & Conditions will pop up on your screen. Select "Accept & Next."
Go to your Facebook Business Page and copy the URL link.
Pase it on the URL box in Shopee Seller Center and then select Create.
Your account should be created within 15 minutes.
How to fund Facebook Ads credit inside Shopee Seller Center
Once your Facebook account is created, you can proceed to fund your ads credit:
On the upper right, select "Top-up"
Select your preferred amount and click "Buy Now"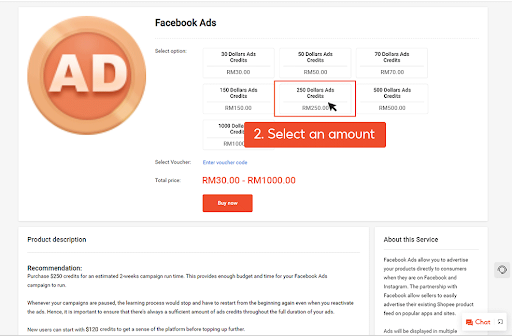 3. Select the payment method and then on the bottom right, select "Confirm"
Top-ups are non-refundable and that credit purchased for Facebook Ads cannot be used for Shopee ads and vice versa. 
How to create a Facebook Ad campaign inside Shopee Seller Center
Before you spend any penny on Facebook ads, you need to understand how Facebook Ad campaigns work.
Facebook Ad has three objectives:
Awareness

Consideration or Engagement

Conversion
And as mentioned earlier, the ads are targeted based on the user's age, location, and other profile information.
Creating Facebook Ad inside the seller center is almost the same as creating one in Meta Business Suite or Facebook Ad Manager. 
The only difference is that the format inside Seller Center is only available in Carousel.
The carousel format features multiple images and/or videos in a single ad. Each of the products is projected to have its title, description, call to action, and link to the Shopee app page.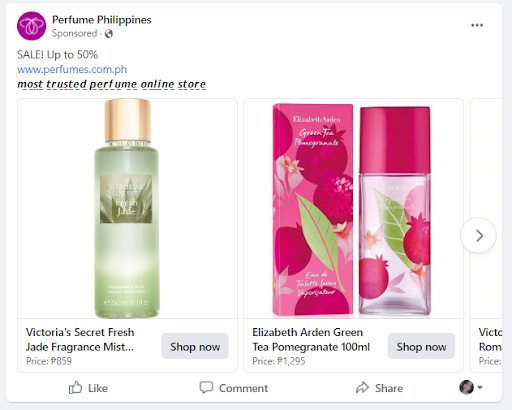 Once you topped your credit card, you can start creating your campaign.
To create a Facebook ad campaign:
On the Facebook Ads page inside Shopee Seller Center, click Create New Campaign
Fill in Campaign Information.
Campaign name – make sure that you are labeling your campaign depending on your ad objectives. Example: Increase Conversion for (product)
Lifetime Budget – this is where you set your campaign budget. There will be a minimum daily required for Facebook Ads, depending on the region.
Start and End Date – Choose your preferred time in which your Facebook Ad is to run. Shopee recommends a 7-day campaign duration. This is enough time for the system to fully optimize your ad's performance.
Primary Text – this is the caption and call to action that will be displayed on the above image of your ad.
3. Fill in Advertisement Content.
     4. Choose what products to advertise
     5. Check the Ads Preview at the bottom of the page to see how your ad will appear on Facebook and Instagram.
     6. Click "Submit"
How to add Shopee products to the Facebook Ad campaign
With the carousel format, you can showcase 10 different products. The products are automatically selected by Facebook to match the shopper's behavior and interest, but you have also an option to select and display a minimum of 5 products.
To add products: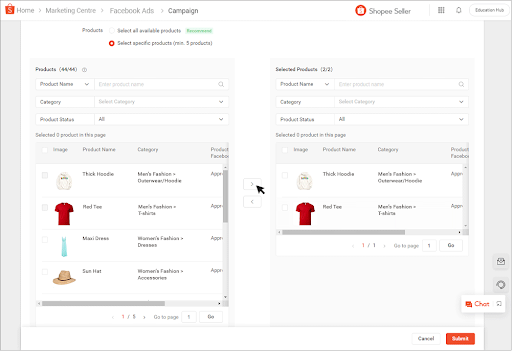 On the Campaign page, select if you prefer all available products or select specific products. 

Start selecting your preferred products.

Click submit
If a product is disapproved, simply hover over the question mark to review the reason and make the necessary changes. 
All information will be taken from your existing product listings, so make sure that your listings are already optimized to start with. 
How to Manage Facebook Ad campaign inside Seller Center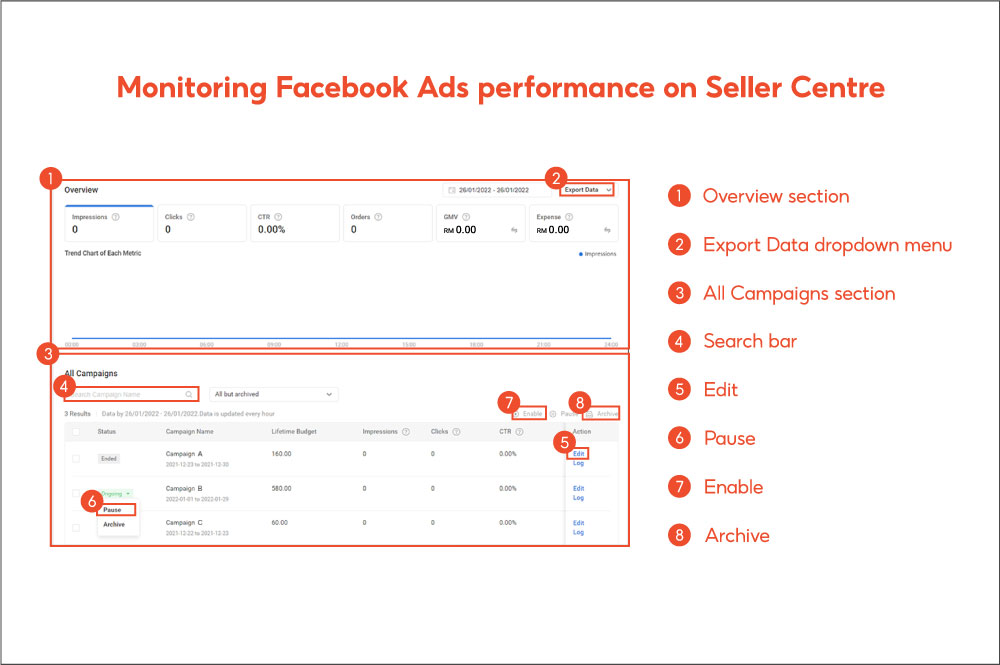 Overview – This section shows a quick broad summary of your account performance. 

Export Data – This is where you can download time data in excel sheet format. 

All Campaigns – This section shows the insights gained on each Facebook Ad campaign. 

Search Bar – Search your campaigns by name

Edit – if you want to make any changes to your campaign

Pause – to temporarily stop the campaign.

Enable – to reactivate a paused campaign

Archive – to stop the campaign permanently. 
4 important metrics to check
Metrics are essential because it helps you make informed decisions based on the data gathered. Aside from that, these metrics will help you justify the money you spend on your marketing campaigns. 
Here are the important metrics to check:
Impressions measure the number of times your ad will show on a shopper's screen. If your ads are receiving relatively few impressions over a lengthy time, consider increasing your daily ad budget.

Clicks and Click-through Rate (CTR)
Click is the total number of clicks on your ad, while CTR is the result after dividing the ad's total number of clicks by its total number of impressions.

The order indicates the total number of orders generated from the ad.

Gross Merchant Value (GMV)
GMV is the total value of products you sell within 7 days
Tips when running Facebook Ads via Shopee Seller Center
Now that you have access to track your ads inside Shopee seller, what else can you do to ensure that you are creating a profitable Facebook ad?
Here are 4 tips we can offer: 
1. Apply the best practices when creating a product listing
As mentioned earlier, the information in your campaign ad is dependent on your product listing. You no longer need to use different images and content. 
Once a shopper clicked on the ad, they will directly land on the product page where they see all the information needed. This is where you convince the customer to purchase the product. 
Therefore, make sure that you create a description that highlights the features of the product. More importantly, include highly searched keywords in the product listing.
2. Align your campaign during big Shopee promotions
Customers love Shopee's mega promotions. 1 in 2 consumers across the Southeast Asia region anticipates Shopee promotions, and 90% of them proactively seek information during the mega shopping season. 
To ensure campaign success, plan your campaign 7-14 days before the beginning of the promotions and let it run during the peak of the promotion.
3. Create a compelling offer
While it's up to Facebook to match your ads to your target audience, it is important to be able to catch the shopper's attention by creating a compelling offer.
The good news is that vouchers and freebies are Shopee's strongest suit.
Add discount vouchers for those who will follow your Shopee store, or if you will be running a flash sale, you can advertise the products included in your flash sale.
4. Test your listings
Since your Facebook ads rely mostly on your listing information, you must optimize every element of your ad. 
How will you know this?
Split Dragon provides an A/B testing tool for Shopee listings. With just a few clicks, SD split testing tool will recommend the best variation of the product listing.
Increase Shopee traffic and conversions with Facebook Collaborative Ads
Shopee's move only shows the crucial role of data in eCommerce marketing and relying on assumptions and wild guessing is no longer an option.
And while Shopee ensures continuous traffic to their website by providing new avenues for the sellers to advertise with ease, we at Split Dragon are also dedicated to providing the best marketplace tools so businesses like you can dominate any eCommerce marketplace.
Split Dragon helps you plan your next move with market research, ensure that you have the best variation listing through our AB Testing, and more! 
All tools are available for a free trial. Try it now!