Shopee Live is Shopee's new "shoppertainment" strategy for giving a more personal touch to how sellers can connect with buyers. Many believe that live streaming is the future for the eCommerce industry following the rise of Facebook Live, Insta Live, and Bigo Live.  This is furthered by recent features released by both Shopee and Lazada to promote live streaming.
This live streaming feature in Shopee enables sellers to engage with their customers at any time / anywhere. 
Benefits Of Using Shopee Live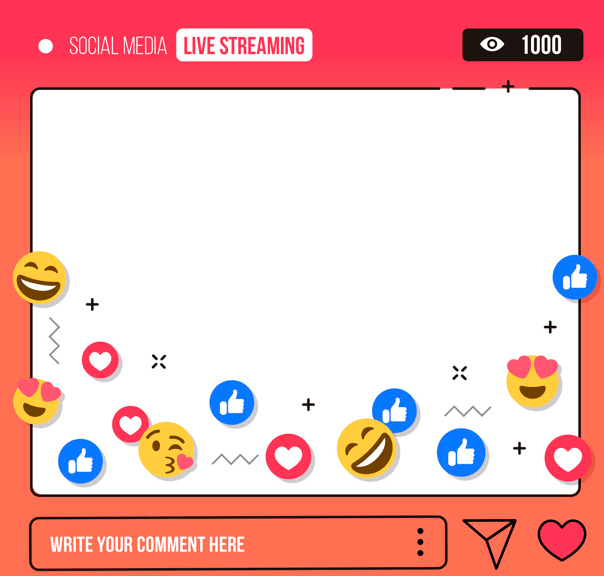 Using Shopee Live benefits sellers in a couple of ways:
Gain new followers and customers
The Shopee Live feature is a great way to engage with existing and new followers.

Increase brand awareness for your shop and products
Live streaming increases your online and social presence. This results in further expansion/awareness of your brand.

Huge potential to increase sales 
You can give out vouchers and discounts to customers during your live session. This encourages an increase in sales.

You establish credibility in your industry
Sharing some information about your product or industry during a live stream gives your credibility a boost.

Increases effective sales
Due to your direct interaction with customers, you are able to actually sell a product verbally and with video and not just rely on product descriptions and images to lead to a purchase.

Direct contact with customers
Livestreaming puts a human face next to the brand and helps with building personal relationships with customers. Sustaining those relationships by occasional live-streaming can help sellers maintain regular sales. 
Seller Checklist Before Going Live

Before you go live, make sure that this seller checklist has been ticked off:
Everything should be in order. Make sure you prepared your content flow and host script. Your prepared content should match the expected duration of your stream.
Featured products should be on the product feed. Make sure that the prices for the discounted products have been updated.
Before going live, make sure that you have a good internet connection. The camera and props should also be properly set up. Put all the featured products on the product feed.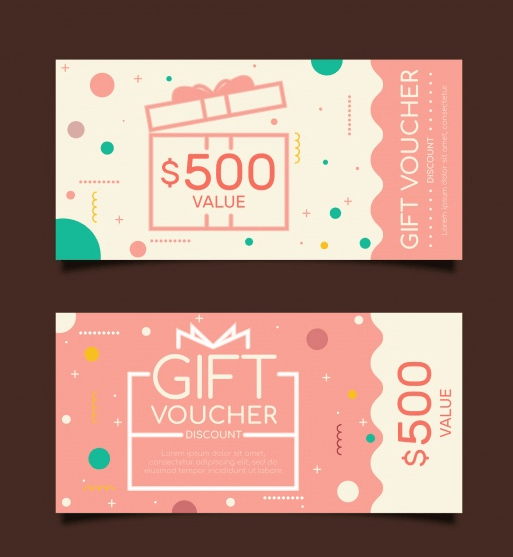 Set aside the giveaways that you'll be giving out. Decide how many of them you are going to give away as well as how you intend to decide who the winners will be.
Your Shopee Homepage Look
Your Shopee Homepage should be updated with the right banner and cover image.
Share the live stream to your social media pages to increase the number of people viewing your live session. 
How To Set Up Before A Live Stream?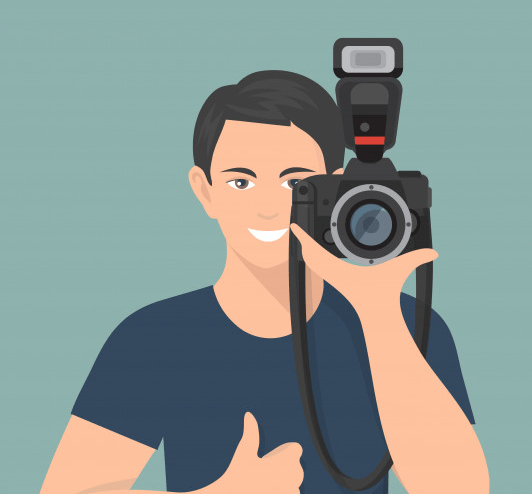 Note: Before you can use the Shopee Livestream Feature, you need to fill up this Shopee Livestream Request form.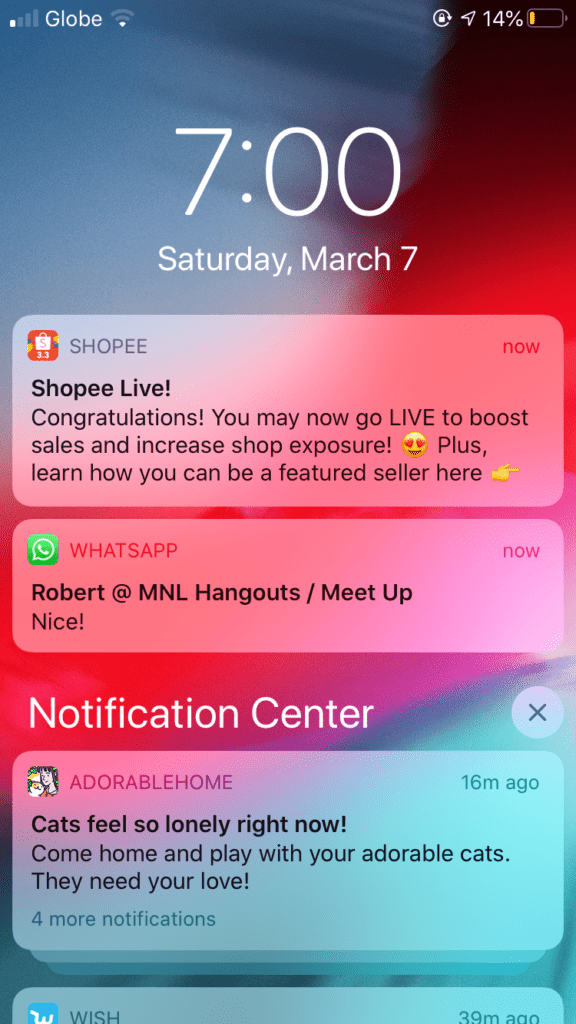 It might take two to five business days for the Shopee team to review your request to use the Shopee LiveStream feature. You will receive a notification once you are approved.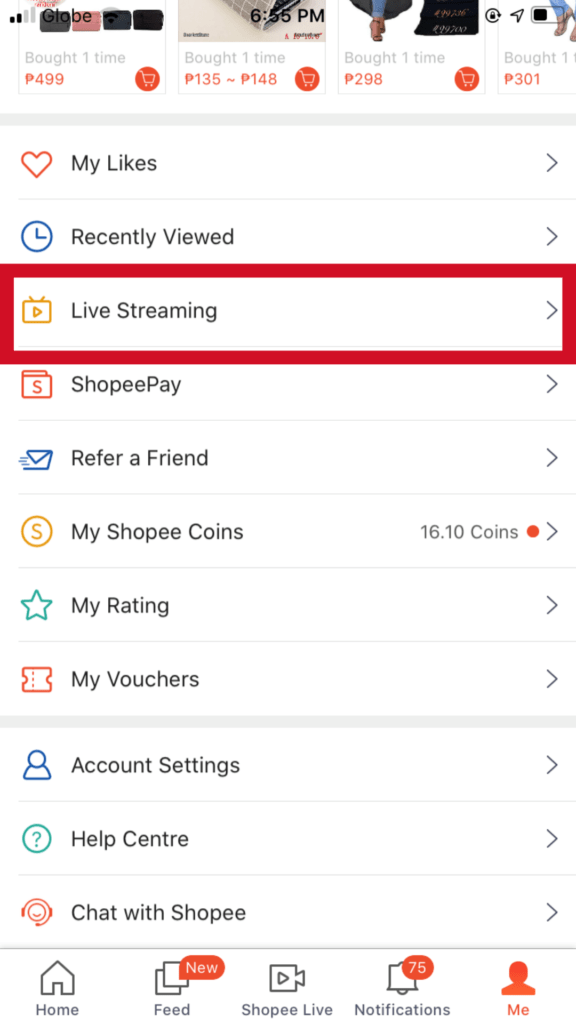 Select Live Streaming When You Go To Your Profile Tab.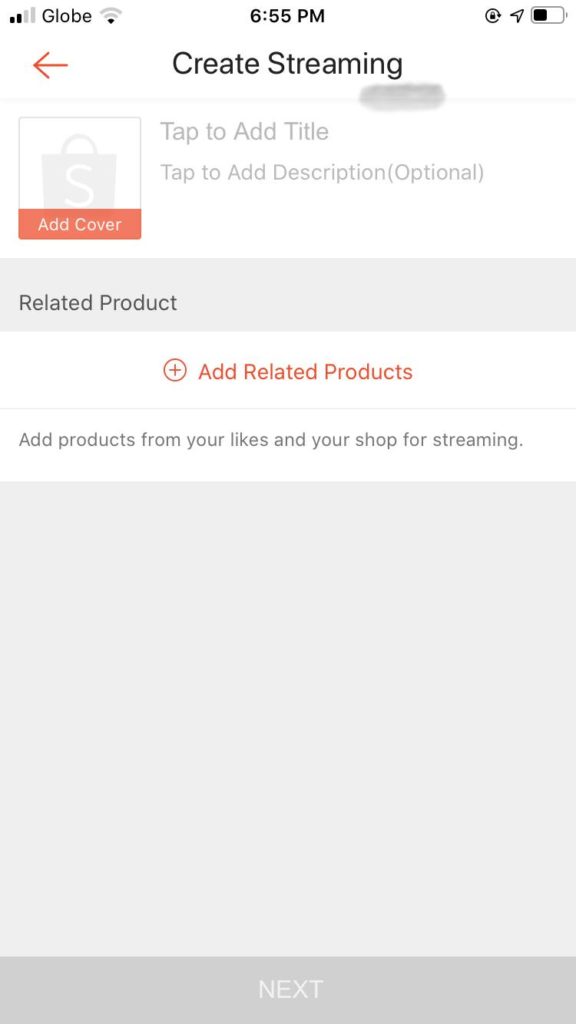 Enter Your Desired Title, Description, And Cover Image.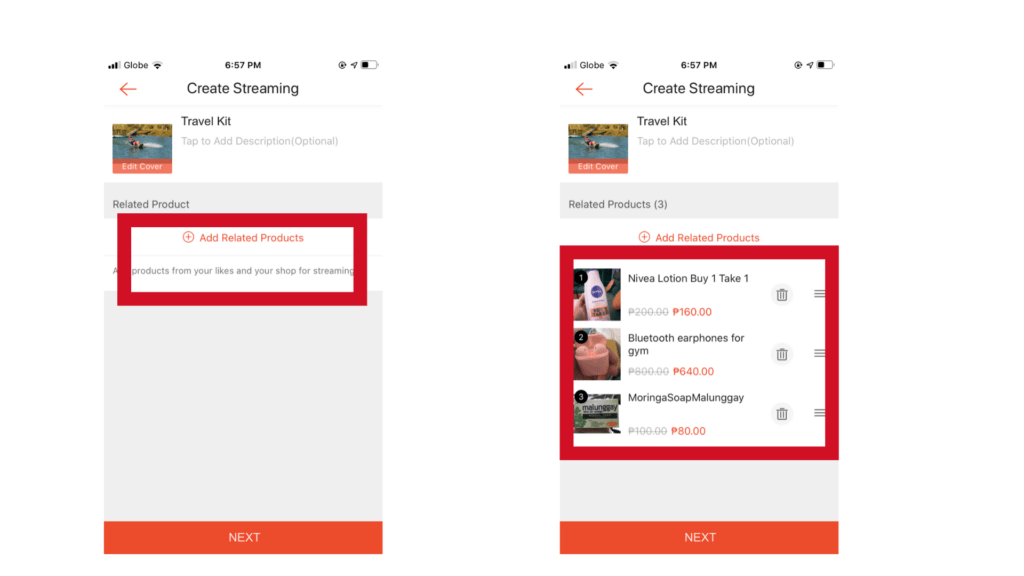 Add The Products That You Want To Feature In The Stream
You select products from your favorite list or from your shop. You can choose up to a maximum of 200 items. When you do, make sure that you go to Seller Centre first and set the discounted price for the products
Edit The Details Before Clicking Next.
You can rearrange the products as you see fit. Edit the details. Click next to see the preview of your stream.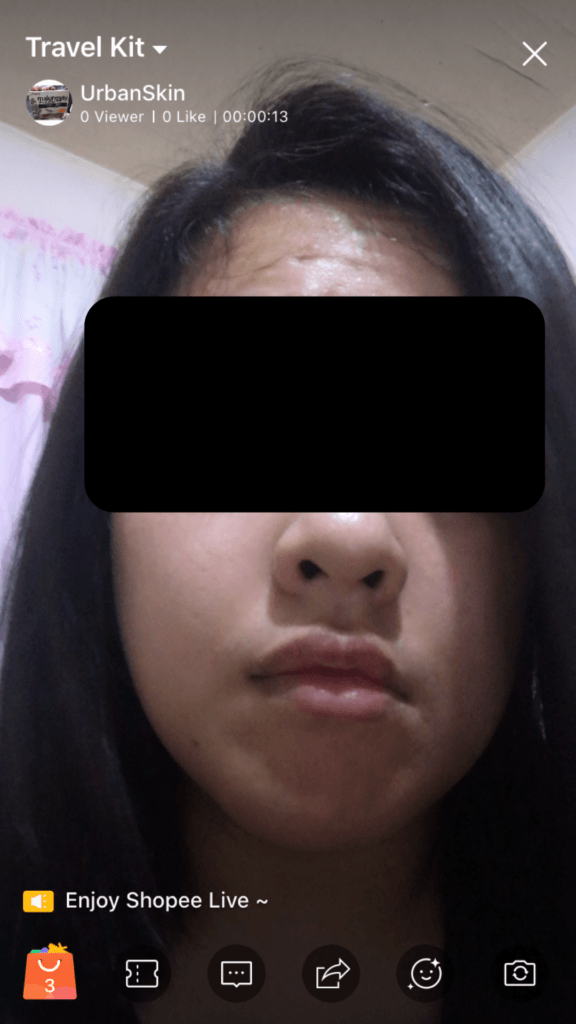 Check Your Camera.
Make sure that the lens is clean and that your phone has sufficient battery to support the live stream. It is essential to use a tripod to set up the camera with the back lens facing towards you. The front camera will provide a mirrored image when used for Shopee Live. 
Functionalities Within The Shopee Live Features

Enables the seller to feature products during the live stream. During the stream, only one product can be shown on the screen at one given time. Click on a new product to replace the current one. There is also an Add button during the stream. However, you can edit the sequence of products at that time. 
If you do not add any products before the live stream, the bag icon will not appear during the stream. In that case, you also will not be able to add new products during your session.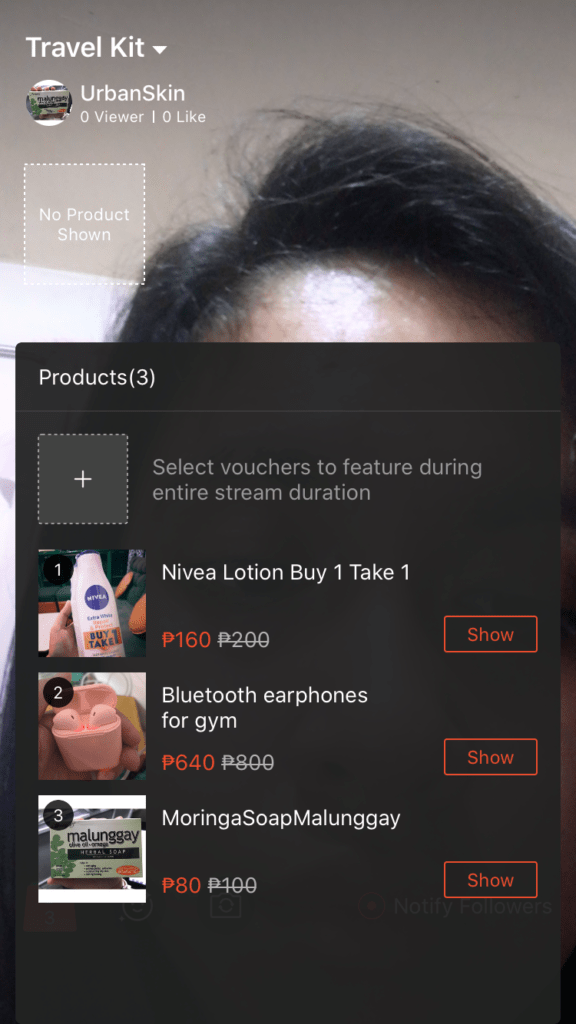 Your products will not immediately appear in your live. You can decide to show them to your viewers by tapping on the shopping bag icon and clicking the Show button.

This lets you tag shop vouchers during a stream that you can give away to your viewers when you go live.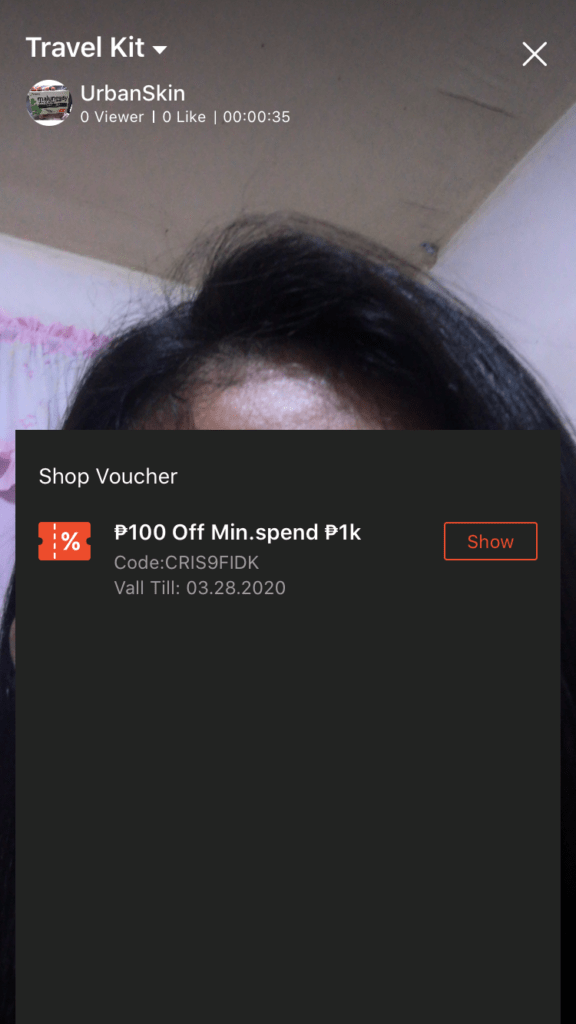 Your voucher won't automatically be displayed when you go live. You have to tap on the voucher button and click Show for the vouchers you want to be visible to your viewers.
How Can You Give Away Shop Vouchers?
Firstly, you have to go to the Seller Center and create a shop voucher. Make sure that the expiry date is beyond two days from the day of the live stream. Take note that you also need one more voucher in stock for you to be eligible for using this for the live stream. 
When you go live, tap on the voucher icon. A list of available vouchers eligible for giveaways will be visible to you. 
Once you select a voucher, a 30-sec countdown will begin for all the users to claim. You can also untag the vouchers anytime. If a customer claims the voucher, it will disappear from view. 

This feature lets customers type a comment and interact with you during the live stream. You, being the host, can view and ban comments as they come. 

This icon is quite well-known as the Share feature. When someone clicks on this icon, the user will be able to share the stream to his social media. 
The Smiley And Camera Icon

The smiley icon lets you control the filters that are active during the stream. On the other hand, the camera icon lets you switch between front and back camera usage.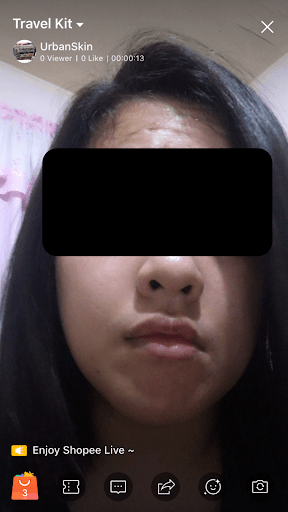 This lets you end the live stream. Once it has ended, you will see the likes and views you received as well as the time duration of the stream. 
Common Issues That May Disrupt A Live Stream
You may experience disruption during a broadcast due to the following reasons:
Inappropriate content posted by the host 
A Shopee Admin can decide to force terminate a live stream if serious violations are found within your content. In that case, there will be no notification shown. Viewers will simply be delivered to the live stream ended page. 
Shopee can also give you an initial warning popup. Only the host will see this popup that warns him about inappropriate content or a certain Shopee rule violation. The host must heed the warning. Otherwise, Shopee will have to terminate the live stream. 
Internet Connection Issues
When there is a problem with the internet connection, the host can end the live stream or choose to reconnect with the audience. 
Content Guidelines For Shopee Live Streamers
To maintain its status as one of the leading eCommerce platforms in Southeast Asia, Shopee is prudent in the kind of content that it allows on the website. 
Sellers are highly forbidden from sharing inappropriate content during live streams. Inappropriate content refers to:
Deceptive or misleading content

Content containing sexual acts

Drug content

Content that promotes copyright-infringing products

Counterfeit products

Gambling content

Content that encourages racism and violence

Animal abuse content

Arms trade content
What You Need For A Good Quality Live Stream
Stable Wi-Fi Connection

Smartphone with a built-in high-quality camera

Small tripod

Good Lighting
Shopee Live Stream Program Flow 
The format below is provided by Shopee itself to serve as the standard program flow for a live stream. 
Opening Monologue
The duration for the opening monologue should span from 30 seconds up to one minute. This is the time for you to make introductions as well as give an overview of what the current live stream will be about. Encourage viewers to stay until the very end by letting them know if there will be giveaways or incentives at the end of the live stream. 
Main Content Of Live Stream
The duration for the main content depends on the kind of product you are trying to market. Preferably, the time span should be beyond five minutes. 
To hook your viewers, keeping the live stream interactive is imperative. Periodically, check the comment section and respond to whatever queries that they have. You can also ask them questions to keep the room alive. For instance, you can ask your audience what the think of the product or what kind of content they wish to see in the next live stream.  It would also be a good idea to call out some of your viewers' answers as this gives greater excitement to the audience. 
Incentives Or Call To Action
This will be time for you to allow your viewers to claim incentives such as vouchers, discounts, and lucky draws. 
If you held a contest as part of the program flow, you can announce the winner during this portion. You can also remind your viewers to avail of the products that you featured in the live stream. 
Announce When The Next Live Stream Will Be
A good 30 seconds should be sufficient for you to announce when your next live stream is. After that, you can sign off. 
Frequently Asked Questions (FAQs) About Shopee Live Stream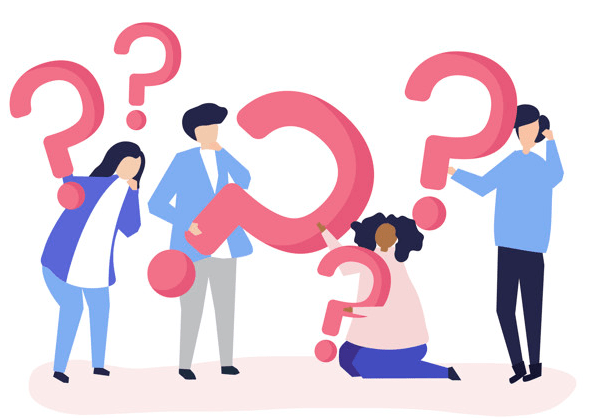 How Can You Attract Viewers For Your Live Stream?
You can share your live stream on social media to encourage your followers and customers to be present during your live stream. Shopee can also lend a helping hand as well. Simply fill out this form to be part so Shopee can promote your stream. 
How Can You Generate A Link For Your Live Stream?
The link is created once your live stream begins by clicking the share button. 
Is It Mandatory To Conduct The Live Stream At  A Particular Place And Time?
The time and setting are completely up to you. You can also change the venue and time on your next live stream as you please. There are no Shopee regulations against this. 
Are There Any Requirements To Conduct A Live Stream? 
Whether you are an online celebrity or just a regular Shopee seller, you are most welcome to engage potential buyers through the Shopee Live Stream feature. What's important is you interact with your audience in the most creative way possible. 
Conclusion
Conducting a live stream on a weekly or bi-weekly basis enables you to directly speak with potential buyers. Good content is what marks the line between increased sales and ineffective use of your time.
How has your experience with Shopee live stream? Do you have any key issues/learnings that you'd like to share?