1. Introduction
In Lazada, the first-line goal for everyone should be to get as many page views of their product listings as possible. Basically, the more traffic the better. You can only start worrying about the conversion rate once you have enough traffic.
The two best methods for driving traffic on Lazada right now for sellers is SEO and PPC advertising.
2. What is Lazada SEO?
I covered Lazada SEO in-depth in my previous article "Lazada SEO: How To Rank Your Products in Lazada Search Results" and encourage you to read it there so I'll just be brief in this article.
Lazada SEO refers to the process that sellers use to improve the visibility of their products in Lazada search results. Approximately 70% of all Lazada sales come from directly searching for a product so having your product appear in page 1 of search results is critical to making money on your online sales business.
Let's look at an example for a hypothetical seller that is selling basketballs with a store named Basketball King Store.
The most popular customer searches for Basketball King Store's products would include basketball, indoor basketball, men's basketball, women's basketball.
So, quite obviously, ranking #1 or #2 in Lazada search results for these search terms will be quite lucrative for Basketball King Store.
Lazada SEO refers to the process of a seller improving their product listing in a way that allows them to rank for 'basketball' and other related keywords in Lazada search results.
3. What is Lazada PPC (Sponsored Products)?
Lazada PPC is referred to as 'Sponsored Products' in Lazada Seller Center. PPC is the acronym for pay-per-click which quite literally describes what you are doing when you enroll in Lazada sponsored product campaign – you're paying for each customer click a fixed price.
When you enroll in Lazada PPC from Lazada Seller Center, you are giving your product additional visibility at a fixed price per click..
The truth is… Lazada sponsored products is a very limited tool right now. If you add your products to Sponsored Products in Lazada Seller Center, your advertisements will appear here: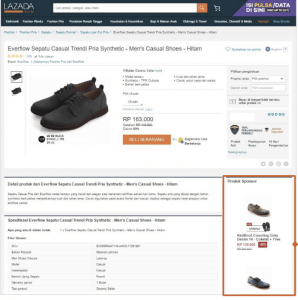 This is very weak ad positioning compared to what you see in other platforms like Amazon which displays advertisements in top of search results page for certain keywords.
4. How do I optimize Lazada SEO?
The first and major step to optimizing your Lazada store for SEO is through keyword research. While most people would typically run towards Google for this, we highly encourage you to try out Split Dragon's keyword suggestion tool.
How Is Split Dragon Keyword Suggestions Different From Google Keyword Research?
It's understandable for people to choose Google for keyword research among other tools. After all, almost every search activity is done through Google. However, once someone enters the Lazada website/mobile app, he isn't using Google anymore.
Lazada has its own search engine that it uses for buyer product searches. The latter is a separate and exclusive search engine with different algorithms. Therefore, you need a keyword research tool that can give you data corresponding to the algorithm of the Lazada search engine.
Split Dragon is an SEO and CRO tool made specifically for Lazada and Shopee sellers. The keyword suggestions that you'll herein are terms that buyers type into the Lazada search bar. The keyword suggestions are paired with the same data that you will find in the Google Keyword Planner: search volume and keyword difficulty.
The steps are quite simply:
Step 1: Identify the important search terms for your products with Split Dragon's tooling.
Step 2: Optimize your product listings.
Step 3: Track your product listing search rank for important search terms
5. How do I optimize Lazada PPC (Sponsored Products)?
Unfortunately, right now in Lazada seller center, there is no way to optimize your PPC spend. The entire process is automated within Lazada systems. You can only decide to run ads and select your budget for each.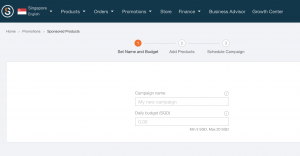 6. Invest In Sponsored Search
Sponsored Search is a new advertising feature in Lazada that brings you at the forefront of customer product searches.
For instance, if a buyer was searching for iPhone chargers, in the Lazada SERPs, your product (set for sponsored search) will on the top of the first page. This gives you added traffic and visibility immediately after the campaign is active (in comparison to waiting for your organic search rank to grow).
Finding the right balance between your sponsored search campaigns and organic search rank will certainly help you in the long run, not just SEO-wise but also in terms of sales and revenue potential.
You can find Sponsored Search in the Lazada Seller Center under Sponsored Solutions. To learn more about sponsored search, check out Lazada Paid Search: The Complete Guide.
7. Get People To Sell Your Products Through Affiliate Solutions
Affiliate advertising is yet a new advertising solution set by Lazada. It goes like this: you select a product/s for the campaign, indicate the timeframe, select a campaign budget, and set the ad active. Lazada will then make your bid for the affiliate solution available for its affiliate network. A particular affiliate picks out your campaign and then starts to market your ad on his own network/website. Each time the affiliate sells your product through his affiliate link, he will get commission which he will receive at the end of the month.
Lazada Affiliate Advertising can also be found at the Lazada Seller Center under Sponsored Solutions. Learn more about Lazada Affiliate Advertising on Lazada Affiliate Advertising – A Guide By Split Dragon.
8. Summary
Lazada is a fairly new marketplace with limited features for marketplace sellers but there is still plenty of room for optimization by sellers and brands.
Sponsored products are fully automated by Lazada systems once you sign up but SEO can be completely managed by Lazada sellers.
All Lazada sellers should be actively measuring and improving their search rank for most popular search terms. For measuring search rank, the only tool available on the market right now is Split Dragon. Split Dragon allows you to add keywords for each product and sends weekly emails to show how your product search rank changes.