What makes affiliate marketing an appropriate advertising solution to online stores is that it is a way to expand your customer base with very little investment and specific effort on your part. It is mostly applauded for its potential to amplify sales but it can also improve SEO and brand awareness at the same time. Lazada launched its Lazada affiliate advertising program in the Lazada Seller Center in May and June (depending on market). Find out more about their new promotional tool below. 
What Is Lazada Affiliate Advertising
Lazada claims that their affiliate advertising/sponsored affiliates let you amplify your sales with a 100% success rate. 
Lazada affiliate advertising is a program that enables online sellers to improve their sales. If you aren't familiar yet with the concept of affiliate marketing, it's the process of promoting Lazada products on the website of their affiliate partners, and, in exchange, the affiliate earns a percentage commission from the sale of the product.
Lazada has teamed up with over 2,000 affiliate partners in SE Asia. These partners range from content creators, leading ad networks, and high-traffic websites. 
How Does Sponsored Affiliates Work?
Lazada sellers can access inside Seller Center. Upon joining the program, your products will automatically be promoted through Lazada's affiliate network and partners. 
Here is the step-by-step process of the Lazada affiliate advertising: 
You access Lazada affiliate advertising on Seller Center

Set up your affiliate offer/campaign details

An affiliate picks up the campaign and then sends traffic to your online store

A customer purchases an item through your affiliate campaign

The purchase and transaction details are recorded by the campaign system

You pay commission to the affiliate once all the sales are verified
Accessing Sponsored Affiliates

Log in to your Lazada Seller Center. You can go to Sponsored Affiliates under the Sponsored Solutions menu. 

The first time you visit this page, you will be asked to agree to the program Terms & Conditions. Click Start My Lazada Sponsored Services Now.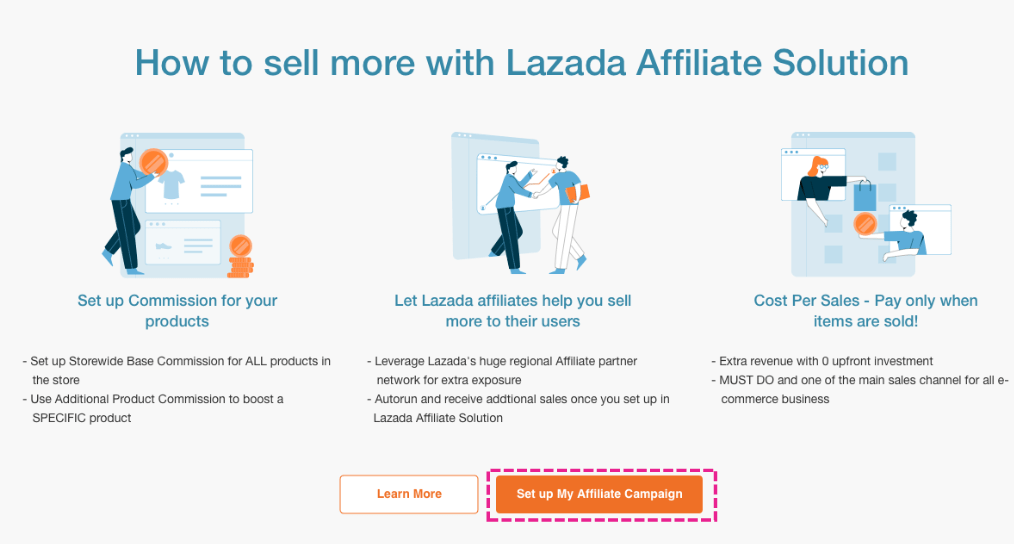 Choose Set Up My Affiliate Campaign. 
Setting Up Your Affiliate Campaign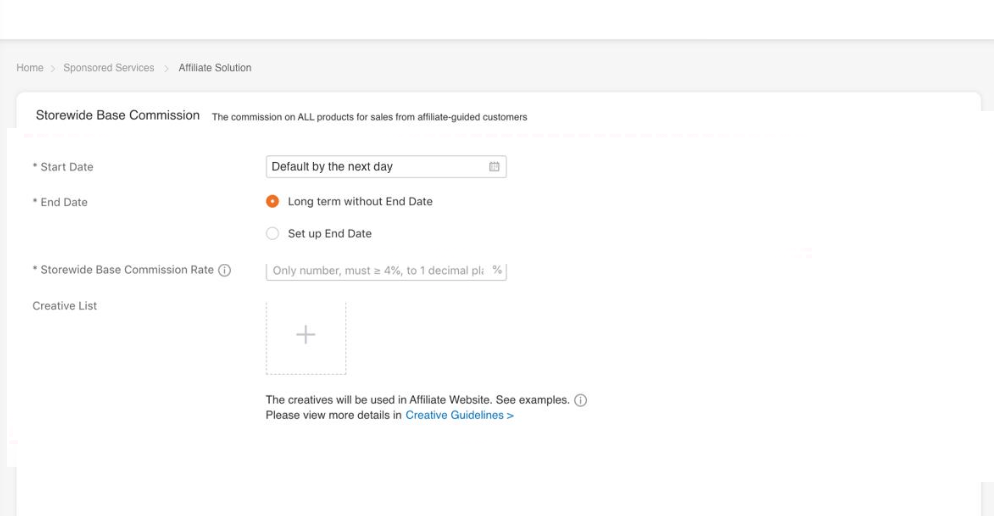 After you start the affiliate campaign, you will find three main areas under the campaign setup page. These are scheduled storewide based commission rate and creative list. Schedule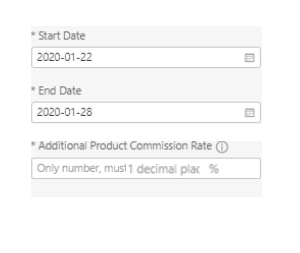 You can schedule your affiliate campaign for the short term or long term. The short term schedule pertains to the campaigns that have a start and end date with a minimum of seven days. Meanwhile, for the long term scheduling, there isn't going to be an end date. This means the affiliate campaign will go on until such a time when you manually turn it off. You can also choose to schedule your campaign by default. What this means is that your campaign will commence the next day with no official end date. 
Storewide Based Commission Rate
You can set the commission rate that you want to pay your affiliates in this area. Take note that there is a minimum commission rate which is set at 4%. 
Lazada also provides a few commission recommendations based on the product category. Take a look below for some samples:
| | | | | | | |
| --- | --- | --- | --- | --- | --- | --- |
| Category | Indonesia | Malaysia | Philippines | Singapore | Thailand | Vietnam |
| Electronics & Home Appliance | 7% | 10% | 6% | 6% | 8% | 5% |
| Electronics, Mobiles & Tablets | 5% | 4% | 4% | 6% | 5% | 5% |
| General Merchandise | 15% | 10% | 5% | 10% | 10% | 10% |
| Fashion | 15% | 15% | 5% | 12% | 12% | 13% |
| Fast Moving Consumer Goods | 10% | 10% | 10% | 12% | 12% | 10% |
| Others | 10% | 10% | 10% | 10% | 10% | 10% |
After you have successfully set the commission rate, you will still have an additional option to set bonus commissions for specific products. 

On the store-wide commission rate successful page, click the Set Up Product Promotions. 
By adding additional product commission, you will be enticing affiliates to increase visibility for your products. This is most useful if there is a specific or a set of products that you want to hype up for a launch or another big campaign. Take note that products with higher commission rates are more likely to be picked up by Lazada's affiliates, because, quite naturally, they will make more money promoting those products than others.


Under the additional product promotions window, you can type the SKU or product name to search for the particular item that you want to add a bonus commission to. 

There is also an option to add a bonus commission per batch. Simply click Batch Edit, select your products, and then supply the needed information. Bear in mind that all of your commission or schedule adjustments need to be done by 3 PM of that day so the alterations will become effective on the following day. 
Creative List
Creatives pertain to banners that you can provide for affiliates to pick up and promote. The banners/creatives will still be posted for review by Lazada. The team can approve or reject your banners. If you want to get the most visibility for your affiliate campaigns, it is recommended that you provide at least five creatives. Take note that providing a creatives list is highly suggested and Lazada will audit the key visuals before approving.
You can use these creative guidelines as a reference.
The element priorities are as follows:
Store or brand logo

Data of campaign period

Value proposition

Call to action

SKU
The size of the creative should be:
1200×628

120×600

160×600

300×100

300×250

300×600

320×50

428×90

468×60

640×200

600×600

640×320

728×90

1200×630

1200×900

1090×1090

700×500

800×400

1200×1200

1400×428



It is crucial that the font of your text is readable. Make sure that it isn't too small. The color of the font cannot blend with the background color of the creative. The SKU photo should also be clear and visible. Try to avoid cropping the SKU photo too much. 
What Can You Expect To See In The Affiliates Campaign Set Up?
Product display (You can review this so that you can ensure that you have selected all the products that you want to promote under the affiliates campaign)

Campaign period set up (the start and end date of the campaign)

Bonus commission set up (the 4% minimum commission rate still applies here)

Campaign summary (review this area before submitting to make sure that all of the breakdowns of the campaign are all good)
When you click Submit before or at 3 PM, your campaign will go live the following day. 
Historical Log 

Lazada records all your activities on your affiliate campaign manager including the changes you make on your created campaigns.
The historical log feature has a search function that lets you do the following:
Type sponsored affiliates that you want to check out

Sort your activity searches per store-wide activity or individual product changes

Search per changed details

Sort the date period of the history that you want to search
Key Metrics And SKU Report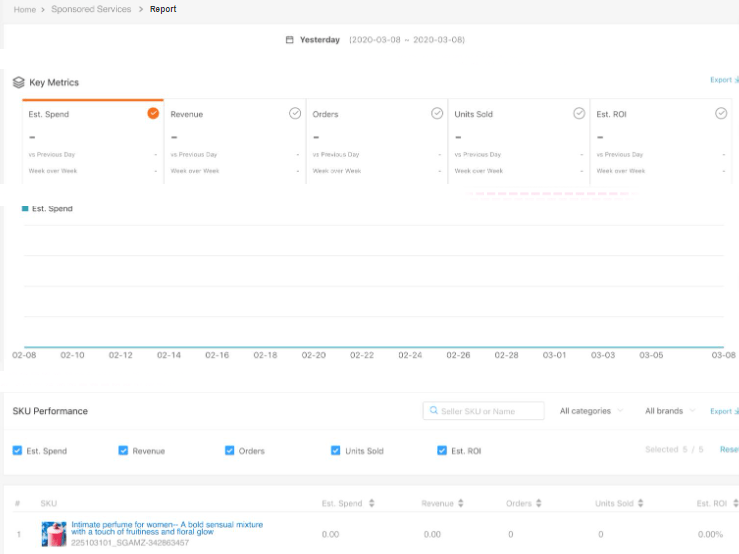 Lazada Sponsored Services lets you view your store's/products' performance in the report section. You can sort the report per the following date range:
Custom

Last 7days

Last 30 days

Yesterday

Month 

Day

Week
The report provides you data on the following key metrics:
Revenue

Estimated spend

Units sold

Estimated ROI

Orders sold by the affiliate/ transactions of the affiliate

SKUs sold by the affiliate/products sold
As you select the key metrics that you want to review in terms of performance, the data will reflect on the interactive chart. The data provided by the key metrics can be filtered as well as exported for offline record keeping. 
Lazada Affiliates Bill Settlement
The compensation of affiliates will be conducted following the seller's billing cycle. The Lazada team will be processing and validating the order status of the SKUs sold by the affiliates. For the affiliate payments to be processed, the ordered product has to be delivered to the customer first (to ensure that it is already a finalized transaction). If a product is canceled or returned to the seller within 30 days, the affiliate's commission will not be accounted for. The payment will be refunded to the seller. 
Lazada Affiliate Advertising Frequently Asked Questions (FAQs)
When will affiliates see my campaign?
Your affiliate ad will become visible on the platform in the next 24 hours.
Can I reduce the affiliate campaign duration?
No. The campaign needs to run for a minimum of seven days since it allows the affiliate to communicate to the end customer regarding the product. 
What does the campaign duration option "no end date" mean?
It means your campaign will continue to run until you manually deactivate it. This gives you maximum visibility for your campaign. It also gives affiliates the luxury of time to market and sell your products. 
Can I reduce the minimum storewide commission rate?
No. The minimum storewide commission rate ensures that your campaign stays competitive to attract more affiliates to sell your product. 
Should I create an additional product commission?
It is highly recommended because it gives you higher visibility on the affiliate websites. 
Do I need to pay the commission per order status?
No. The commission is only paid to the affiliate when the order has already been delivered to the customer. 
Will I get a refund if the customer returns the product?
Yes. The commission fee will be refunded to you if a customer returns a product.
How do I prevent fraudulent activities in my campaign?
Lazada will help with fraud detection to prevent fraudulent activities like click hijacking. 
Conclusion
Lazada affiliate advertising basically lets you put your products in front of multiple audiences outside of your network. The best part is that you don't have to pay for the advertising itself unless it generates a sale for you. You only compensate for products that are sold and successfully delivered through your affiliates. 
What thoughts do you have about Lazada's affiliate advertising program? Are you using it? What is your experience like so far? Let us know in the comment section.