When it comes to gauging the success of your product, it all boils down to whether or not you got the customer's attention. Once a potential buyer clicks on your product and arrives at the product detail page, you have already done most of the hard work. By having a good product rating and enticing them to buy from you, you have managed to make your listing stick out to the user amongst literally millions of other products in Lazada 
You likely did this because you appeared at the top of the search results as the buyer searched for the product they wanted.
Once you have gained their attention, you need to make sure that you have a fully optimized page that answers all their questions and reassures them that the transaction will go smoothly if they buy from you.
How can you do this? 
One frequently overlooked aspect of this is Product Reviews.
Some sellers mistakenly accept product reviews "as they come" from buyers but there are actually some tips that will help you improve your PDP product reviews if you proactively take them.
Improve your product ratings with these easy steps:
1. Setup a weekly product review schedule (and stick to it)
This is quite simple. You'll only know if there is an issue with your product reviews if you are consistently checking them. For this reason, I have my team setup a bi-weekly "customer experience review".
The process for this is as simple as going into seller center and clicking on each and every product so we can view all PDPs. Then we browse thru all PDPs to see if anything looks negative from a customer experience perspective. If anything negative (typically a 1-star, 2-star, or 3-star review), then you should take action immediately to resolve it and improve the health of your listing.
If you don't set a recurring calendar invite and stick to your schedule, it will be easy to forget and that will undoubtedly result in you losing sales because user's question the quality of your product (and/or your product's buying experience).
2. Contact dissatisfied customers to resolve negative reviews
Don't be shy! Resolve your problems.
If you see a customer that has left a negative review, proactively go into seller center and search for which order caused the issue. Then contact the customer to see if there's anything you can do to resolve it.
If you are selling low cost products, think about refunding the customer to keep your product reviews positive.
Some common resolutions are:
Offering a future discount on another order
Offering a replacement product
Offering a full refund
Worst case scenario, the review stays but you've learned some valuable information about customer perceptions of your product and can use that information to improve your listing (by updating your product description, product Q/A, product bullet points, or product images).
3. Upvote your most positive reviews
Upvoting Lazada product reviews tells Lazada systems that they are more valuable. If you want to showcase your most positive reviews, then setup a cadence to upvote your most positive reviews.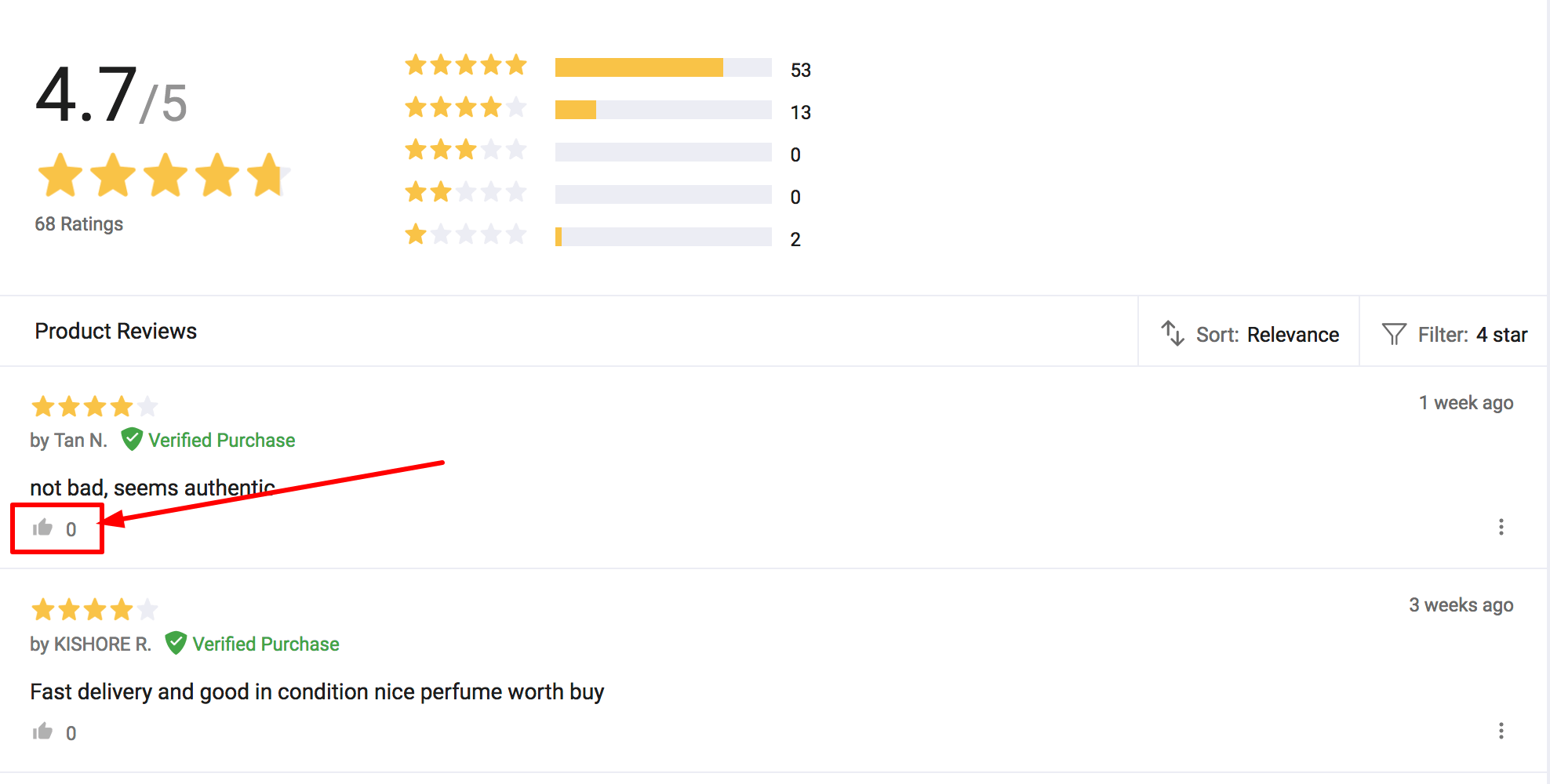 It also doesn't hurt to ask your staff, friends, and family to do the same (especially before big campaign days like 11/11 and 12/12).
By upvoting your positive reviews, you can hide your negative reviews at the bottom of the review list so no one can see them.
Doing this also showcases your 5-star reviews at the top of the product review list!
4. Contact Lazada Support to remove negative reviews
Lazada support is your friend! I know we all have issues working with Lazada seller support but the truth is that they want to help.
If you feel that a product review is unfair or raised by a competitor, then raise a support ticket asking to have it removed.
I tend to be a bit persistent with review removals. If I'm not satisfied, I keep raising the tickets until the negative review is gone.
The worst case scenario is the review stays and you're in the exact same position as you would've been without taking action.
5. Proactively contact customers to leave positive reviews
Don't wait for customers to come to you with reviews, you should instead go to them!
What you do is simply setup a cadence to send out emails after the product would've been delivered and request feedback. I typically write something along the lines of:
Hi [Customer Name],
Thanks so much for your order. According to my records, your [product name] should have arrived already. Is that correct?
Anyways, I just wanted to check in and make sure it arrived to you without any issue and the product is of satisfactory quality.
Please let me know if there's anything I can do to help!
If you're satisfied with your order, please please please take the time to leave a product review here: [insert product URL here].
It makes a huge difference to a small business like ours.
Many thanks,
Seller Name, Head of Customer Satisfaction
The logic behind this is that you can request feedback from buyers and typically receive any negative feedback before it is published on Lazada.
6. Publicly reply to ALL negative reviews
You should be replying publicly to all negative reviews to show potential buyers both sides of the story!
Start your reply with an apology and don't get emotional. Speak polite and diplomatically. Show that you are amenable to a resolution and that their satisfaction is your priority – this will make potential buyers who see the comments stay assured of the quality of your service and continue on purchasing from you. 
By being visible with how you provide quality services and assurance, you will be able to build up your credibility and achieve higher product ratings, allowing more and more buyers to discover your shop and buy your products!
Want to stay on top of the competition?


Split Dragon offers support with your e-commerce needs using conversion-Focused tools and data-driven solutions.
Contact us today
to see how we can help you with tailored strategies that will drive your company's success!