Facebook is currently the largest social networking site in the world with over 2.27 billion active users each month. It is quite easy for us to make the claim that if you find a way to grow your product visibility in Facebook, you will get more sales on Lazada.
In addition to their large amount of Facebook users, Facebook's ad technology is quite sophisticated. Facebook's advertising allows you to show ads to audiences that are most likely to buy your products and be long-term customers.
You can make ads similar to people that have previously bought your products on Lazada with lookalike audiences.
1. Optimize Your Product Listings
First off, you shouldn't spend money on facebook ads unless your product listings are optimized. Split Dragon offers a number of tools to help you with this but I'd strongly suggest you to do the following before you start spending money:
You have your products with a good product quality score.
2. Request For A Shop Catalog And Pixel From The Lazada Team
Some prefer to create their own landing page but the best way to ensure optimal results for your Lazada Facebook ad is to request a Shop catalog from the internal team. They will also provide you with a pixel code so you can track your conversions and build an audience.
To get your shop catalog, you need to send an email to Lazada's Marketing Solutions. The Marketing Solutions email varies per market. Hence, you need to contact your KAM or vKAM to acquire this information. The email should include the following:
Your request for a shop catalog
Business manager ID
Ad account ID of your Facebook
Patiently wait for their response. If they haven't responded to you within 48 hours, send another follow-up email.
You will receive a multi-audience agreement that you need to sign. Upon placing your signature, email the agreement to them. And then after a few verification and signature on their end, they will send the agreement back to you.
3. Setup a Chatbot
If you don't have a landing page and don't want to take the time to create one, you can create a Facebook Ad that opens Facebook messager and sends a coupon. Our favorite tool for this is Jumper AI.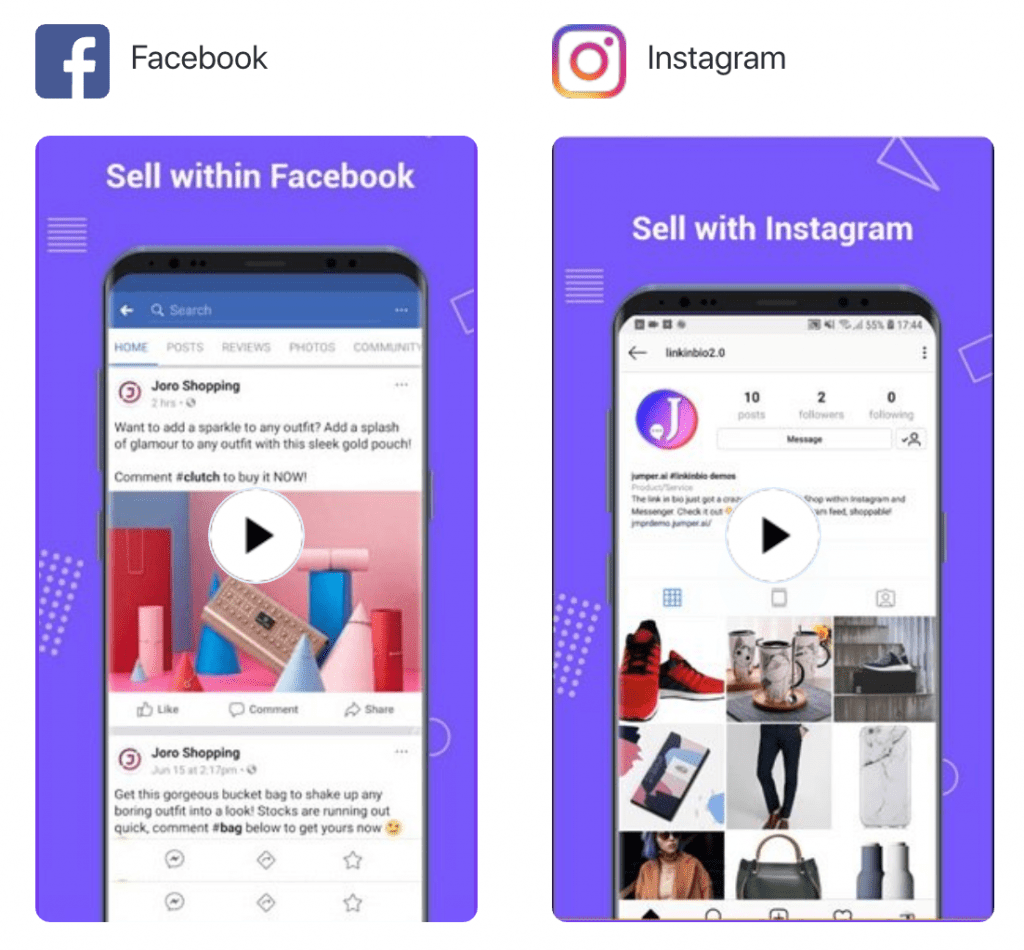 Conversational sequences can be extremely useful in collecting emails as the replies that your bot gives to the consumer can be based on their communication to you.
Additionally, with a chatbot – you can ask reviews and directly ask if the consumer has purchased your product.
4. A/B Test Your Facebook Ads
If you've been a Split Dragon user for a while, you know that we LOVE A/B testing. It's the only way to introduce the scientific process into ecommerce business. Similar to our A/B testing feature for your Lazada product listings (see our Lazada AB testing guide here), you should always be A/B testing your Facebook Ads to identify which is performing the best.
Don't just guess, follow the data and learn from what Facebook is telling you.
To A/B test your Facebook ads well, you need to structure your campaigns well though. This means audiences, offers, and ad messaging variations.
When you AB test, you should make sure that you only change one variable per test (either the audience, offer, or messaging). Make the variable be at campaign level and ensure each campaign has different objectives.
For testing targeting audiences, you want one campaign with two ad sets, each with a different audience, but with identical copies of ads (creative & copy).
5. Create Compelling Ads
There are many messages that you can communicate in a facebook ad but I always suggest to keep it simple, direct, and on-point with your brand messaging.
The most common advertising method that brands use is a high-discount promotion – for instance 50% off for the next few days.
Some best practices direct from Facebook are below:
Summary
The options that are available for sellers to market their products in Lazada are very limited. To overcome this, serious Lazada sellers should setup their facebook strategy. I hope that the tips that I provided in this article will help you get started. In the coming weeks, I will write a more detailed article that shows the different strategies you can adopt from within Facebook.