1. Introduction
The Lazada Q&A section was released on Lazada websites about 2 years ago but I continue to see product listings with very low quality Q&A section. When I see this, I can't help but think sellers are wasting a lot of money by being lazy and not optimizing this section of their product listings.
This Q&A section of your PDP is another opportunity to communicate trust and confidence in your product experience. 
The types of questions asked give you good guidance about what you should include in your product listing.
Additionally, the most valuable product questions should be made clear to your prospective buyers so they know the information needed in order to buy.
2. What and where is the Buyer Q&A section in Lazada?
The Buyer Q&A section is the portion of your product listing page where Lazada customers can raise questions about your products. Once a customer raises a question here, it is sent to the seller and to all previous buyers of the product.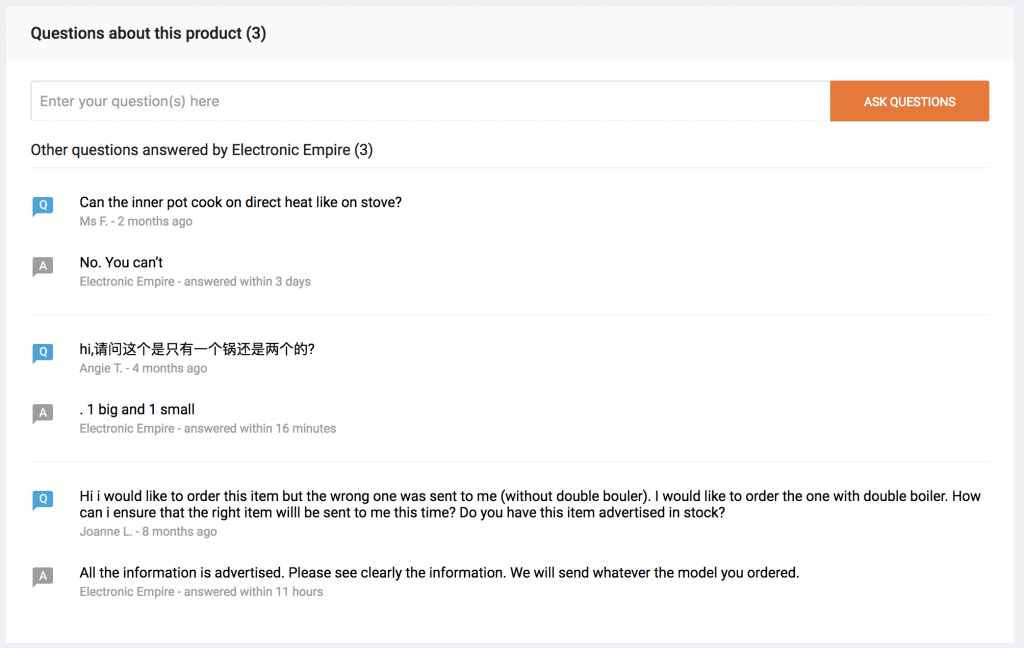 You should know that Lazada's goal with this feature is to make it easy for customers to have all the information they need in order to complete checkout.
One of the biggest reasons customers do not buy online is because the product detail page doesn't contain all the information customers need in order to feel comfortable buying.
And, as a seller myself, I know how it can sometimes be easy to forget some elements of your listing that are not clear. So it's a great feedback loop to sellers on what they can change to improve their product listings.
3. How can I optimize the Buyer Q&A section to improve sales and conversion rate?
Reply to every single question.
This should be straightforward. If you ignore a customer's question – what you are doing is losing a sale. Also, you are communicating to anyone else that you don't care enough about your customers to reply to their questions which makes it less compelling for them to buy your product. If you don't reply to your customer questions, then you should expect less sales and a lower conversion rate.
Always be polite, respectful, and honest.
As a seller, I know there can be challenging times with customers and sometime customers are quite unreasonable. 
But you need to stay calm and reply politely, respectfully, and honestly in all communications. 
Remember that your answer will stay on your product listing indefinitely! 
The last thing you want is to give future viewers of your product detail page a bad impression of your customer service.
So stay calm, stay professional, and show to everyone that you're a trustworthy and reliable seller.
Don't be shy about escalating an inappropriate question to PSC
If a question is particularly rude or detrimental to your listing, raise a support ticket to PSC and ask for them to remove it. It is best to ask PSC to remove bad questions that hurt your product listing trustworthiness rather than to sit and do nothing.
If the question really is inappropriate, PSC will remove it because it negatively impacts customer experience.
And, yes, I know working with PSC is not easy or fast but just deal with it as there is no other option right now. This is your business and has the opportunity to transform your life if you manage it well.
Use the Questions as a Feedback Loop to update your Product Listing (Images, Description, Title, Bullet Points, Price)
You can learn a lot from your product questions. Just take each question as an opportunity to learn what the market is thinking when they see your product listing. If they ask you a question about a product feature, then take that question and create a new product image to show that it has that feature or add it in the bullet points and product description.
If you keep doing this for each of your Q&A, then you will quickly address all concerns very clearly. This will improve conversion rate and reduce risk of customer returning it because of missed expectations.
Contact friends/family and have them raise good questions to you
If you want to ensure all your listings have questions, then ask friends/family to write simple helpful questions on your listings and then you can answer them. This will give the new product listings an element of social proof.
4. Summary
Lazada Buyer Q&A section on your product detail page is a very underestimated experience that you control. Be proactive and write good questions then answer them yourself. Be proactive and reply to all questions politely and professionally. Be proactive and update your lazada product listing when you get a good question. And if all else fails and you get a question that look bad, then raise a ticket to PSC to get support.
If you follow these tips, I can assure you that you will get more sales, more profits, and less returns than you would with basic Q&A.
If you have any questions, please let me know in the comment section! Happy selling and good luck!