If you are a marketer, you have probably heard about social selling. If you are a Lazada or Shopee seller, and you don't know what it is or even heard about it, this article is for you.

No, this is not about social media marketing and definitely not social media advertising.

But social media channels are the best tool to start social selling.
So what is social selling?
Social selling is making connections on social media and nurturing relationships with prospects. If done right, this will debunk the traditional cold calling and messaging.

In a survey done by LinkedIn, social selling leaders are 51% more likely to reach quota and 78% of social sellers outsell peers and who don't use social media.

Here's an example of social selling scenario:
Dave is selling pet supplies on Shopee. While scrolling through his Facebook, he sees a post from a woman named Sheila who is a new dog owner. She is asking for recommendations of the best veterinary clinic in town.
Dave has veterinary friends and connections, so he commented on Sheila's post, recommending his friend's clinic.
Sheila sees the comment, and checks Dave's Facebook profile, and sees that he has a pet store. Sheila has been wanting to shop pet products for her new dog but doesn't know where to begin and what to buy.
Meanwhile, Dave also saw an opportunity and introduced his best pet products to Sheila. Since Sheila wants to shop for his new dog, she made queries about dog products.
Dave then directed Sheila to his online store so she can shop with convenience. He also offered a free shipping voucher.

As you can see, there's no hard selling. Dave was able to leverage his connections, and at the same time build trust with his prospect because he did not out rightly say that he is selling.

Yet he made a sale!

People don't want the feeling of being sold to because somehow they think that a salesperson is just pushing to get their interests filled, and disregarding that prospects' needs.

Social selling is about helping and giving so you can build relationships, trust, and eventually loyalty. Social selling is the modern way of networking.

For a successful social selling, remember these 4 pillars:
Know the right prospects

"Why would a customer buy from you?"

Answering this question will help you narrow down the common characteristics of your potential market — this is called market segmentation.

Large markets can be divided into smaller segments based on geographic, demographic, psychographic, and behavioral characteristics.

This enables you to know what groups they are usually in, who they are following, their hobbies and interests, among others. Know what their usual problems are and how your product and service can be the solution.
Establish authority
Being an authority in your niche not only demonstrates your credibility and expertise, but it's also a certain method to make money.

Here's how you can establish authority:
Share valuable content, insights, and helpful tips
Be everywhere: Facebook groups, Instagram, use live streaming, and do a guest post. Remember, knowledge is power.
Support others! If you find somebody who shares a common ground, either a big leader or a small business, support their cause through shoutouts, tags, and shares. This is also a great way to connect with people.
Do advocacy about your niche or share a cause.

Your goal is to become the "one" that people turn to when they want to ask something about your respective niche.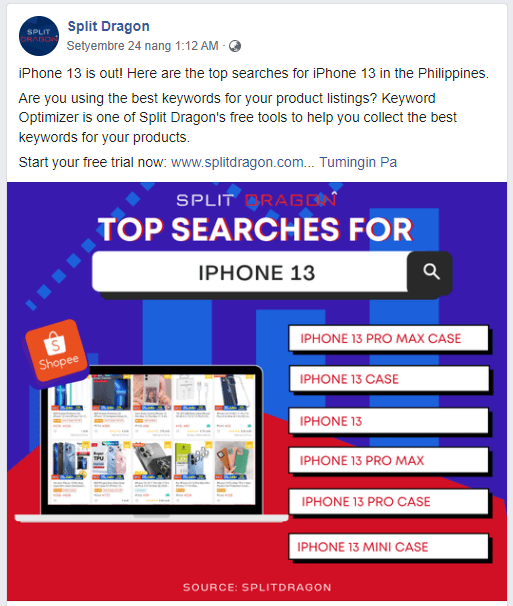 Split Dragon Facebook Page shares exclusive data to the audience about trending keywords of iPhone 13. This allows the audiences who are Shopee sellers to have a sneak peek at the features and benefits of having Split Dragon tools. 
Add value to your prospect
Social selling, at its core, is all about creating and building relationships. People are already bombarded with sales and offer regularly — and traditional cold calling is no longer effective. 
In fact, in a recent survey done by InsideView, more than 90% of decision-makers said they "never" respond to cold calls. Add that to a study by Baylor University where they found that the success rate of cold calls to appointments is only 0.3%.[*]
Once you can connect with the right prospects and establish your authority on your niche, engage and stay in touch with your prospects over time.
Take note of the golden rule of engagement: Add value to the conversation or their newsfeed. 
While you keep your brand professional, display your human side by being light and conversational. Be transparent and don't exaggerate your product or service. 
People love genuine conversations more than canned sales pitches. Just focus on solving your customers' problems.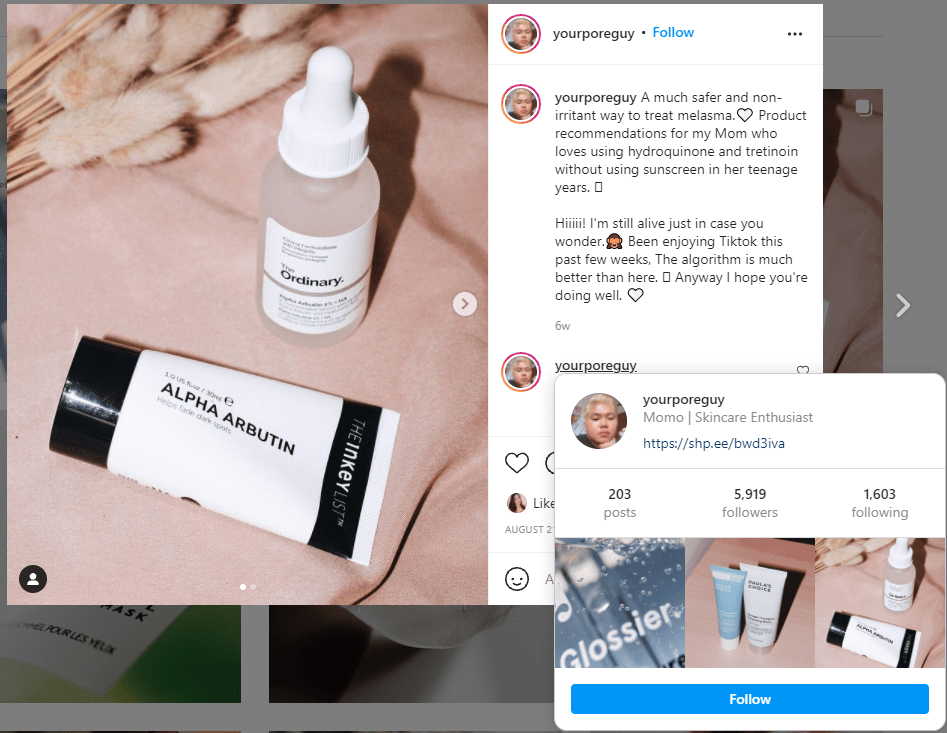 @yourporeguy runs getunreadywithme, a Shopee shop that sells Korean beauty products. He shares his mom's experience with the brands he featured in the post. By sharing his mom's experience he was able to highlight the product's features and benefits. 
Be patient and consistent
Social selling is not a one-way transaction. It's not even about solely selling at all! It's about helping your prospect. It is a slow, involved process because it's about building mutually beneficial relationships. Perhaps your target prospect may not buy anything from you, yet since you earned their trust, they will refer you to their other network.
So how do you set up yourself and practice social selling online?
5 Actionable tips for social selling
Know the relevant social selling platform for your business
There are several social channels you can use, depending on which audience you are targeting. For example, Facebook has extended its user base to all generations, while Snapchat, Tiktok, and Instagram tend to appeal to younger audiences. For business connections, you can use LinkedIn as the best social channel.
By determining where your ideal customers are you can effectively position your social selling there.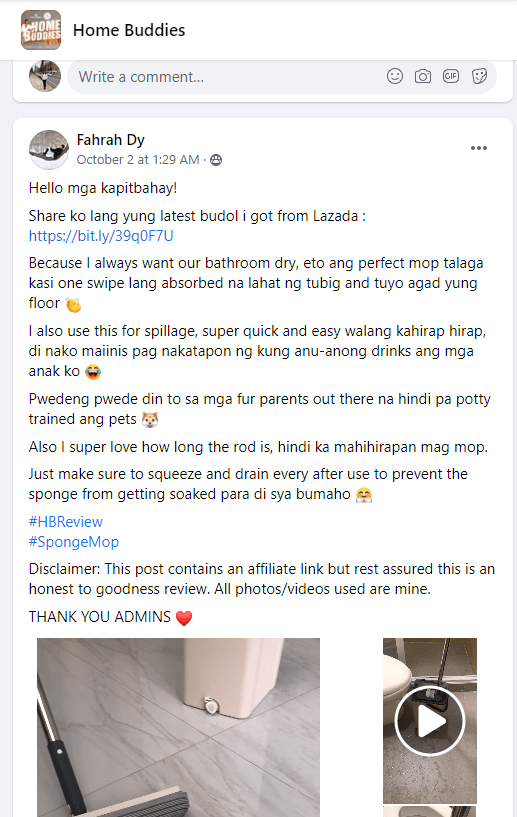 Home Buddies is a big Facebook community in the Philippines where the members share their DIYs and online finds with the group.
Keep your audience interested
Social selling is also about getting involved and growing the community you are in. While observing on social media can give you a lot of information, being able to participate or spark conversation enables you to catch their attention and eventually build rapport with your target market.
Also, always provide insights about your niche. If you are selling skincare products, you can share skincare tips, ingredients to watch out for, or even some new trends they should or should not try.
Keeping your audience interested will nurture their trust in you and your brand. They may, or may not buy from you but giving useful insights will make you their go-to source of information.
Learn social listening
By being involved and knowing conversations about your brand, you can see existing issues your customers or prospects are experiencing.
Social media is a known channel for customers to vent their frustrations about a certain service experience or product. Know what people are talking (or not talking) about your brand.
This is what social listening is. It allows you to respond to conversations and is also an important part of audience research.
Through social listening, you can also monitor your competitors and find out their successes and failures so you can inform your strategy.
Encourage customer feedback
Allowing your customers to give feedback shows that you value their opinions. This is also a great way to build a stronger relationship with them because you are creating the best customer service.
It also allows them to be more attached to your products or services. The best part? It encourages recommendations. Recommendations are the easiest and cheapest way to gain new customers.
Learn and improve
Any expert knows how to test, track and measure. So how can you measure your social selling?
Check out your content engagement rate – keep track of which conversations you joined and how much value you were able to share. Measure also the likes, comments, and shares you have.
Check if you are sending the right impressions through your content – again, not all social selling converts into sales but you must lay the valuable groundwork that will help you build a stronger and more trusting relationship with your followers through your content.
Click the links – encourage your followers to check out your blog or website too.
Check referrals – knowing the stem of the referrals you made while doing social selling, you can see which one works for who.
By measuring your efforts on social selling, you'll know which ones work and which strategies need improvements.
Start social selling now…
With the pandemic still happening around the world, almost all networking and relationships are now brought online, so now is the perfect time to start social selling.
Also, your potential market is already involved in social buying. Given the large number of individuals who use social media nowadays, the opportunity for marketers to make social sales is significant.
Split Dragon is a great tool to get insights data about Lazada and Shopee. You can use this data to give powerful insights to your prospective buyers. 
Check out our tools here: https://www.splitdragon.com/