Shopee is a marketplace eCommerce platform that operates in seven countries in Asia – the Philippines, Malaysia, Taiwan, Vietnam, Indonesia, Thailand, and Singapore. 
As we've written before, Shopee is an excellent online selling channel, especially for sellers who focus on the beauty, fashion, and home living categories. They also have a really great Shopee seller backend and we intend to write about it today.
Read further to learn about Shopee's Seller Center.
What Is The Shopee Seller Center?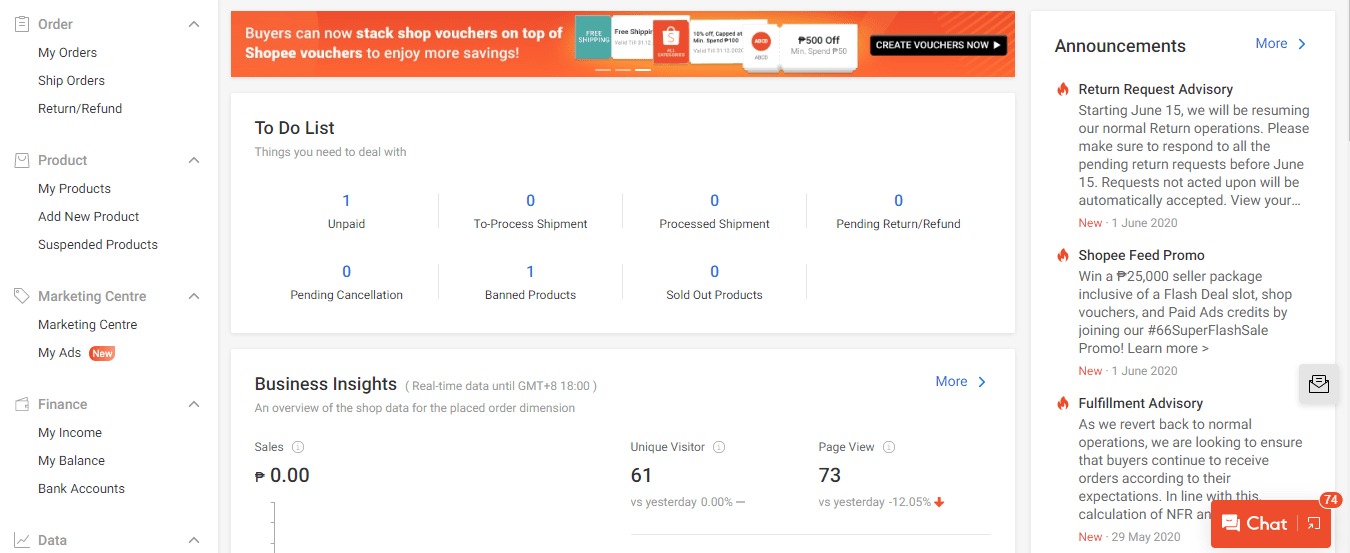 The Shopee Seller Center was developed so sellers can have an easy-to-use platform for creating their Shopee listings as well as customizing their business page among other things.
Apart from product and store management, you can also use to run promotions and ad campaigns. Running these campaigns lets you attract potential buyers to your products and storefront.
This is also where you can organize your sales and data. Certain features and functionalities are available to check your business performance on-the-go. 
Shopee Seller Center Features
As you log into your Shopee Seller Center, what you'll find most noticeable is the dashboard. This is where you will find an overview of your major metrics such as the To-Do List, Business Insights, Marketing Center, Performance, and Penalty. 
The Sidebar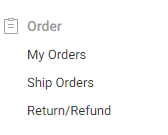 There is also a sidebar where you will find Shopee Seller Center's most useful features. Let's start with the Order menu. 
My Orders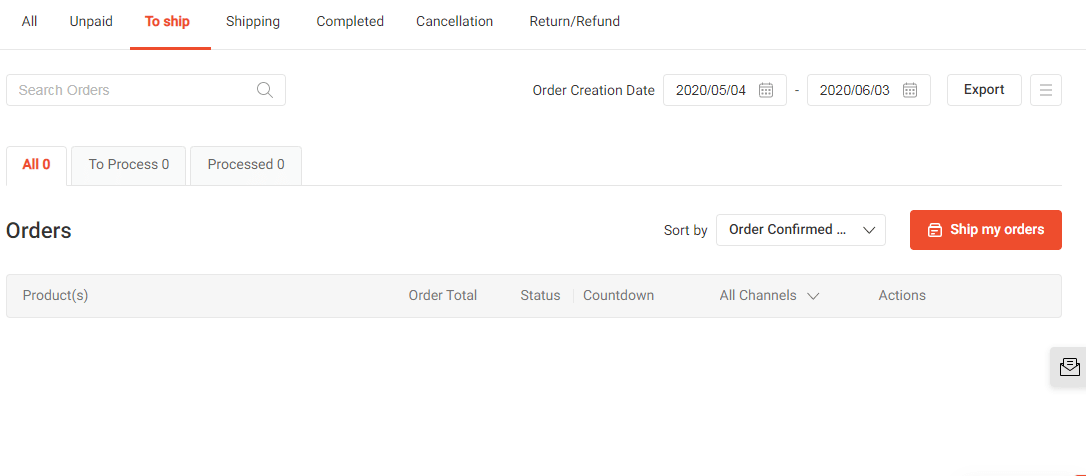 This is where you will find all orders you received in your online shop. 
You can go to the To Process tab to see which orders are in need of your attention. The Processed tab is where you will find products that have already been shipped. 
The status of your orders will be detailed here as well. The different product fulfillment statuses are as follows:
To Ship

Shipping

Completed

Cancellation

Return/Refund
You can export your data so you can keep an offline record of your orders. The calendar feature lets you look at orders that have been created at certain timelines. 
Ship Orders

You can go to this page if you want to send your products for shipping. There is an option to ship orders one by one or to do a mass arrangement shipment. 
Return/Refunds
This is the page that you will be visiting whenever you need to settle a return or refund order. You will know the status of the returned product here not to mention the amount that you need to refund to the customer.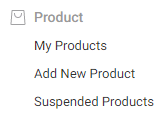 Under the Product menu, you will find My Products Add New Product, And Suspended Products. 
My Products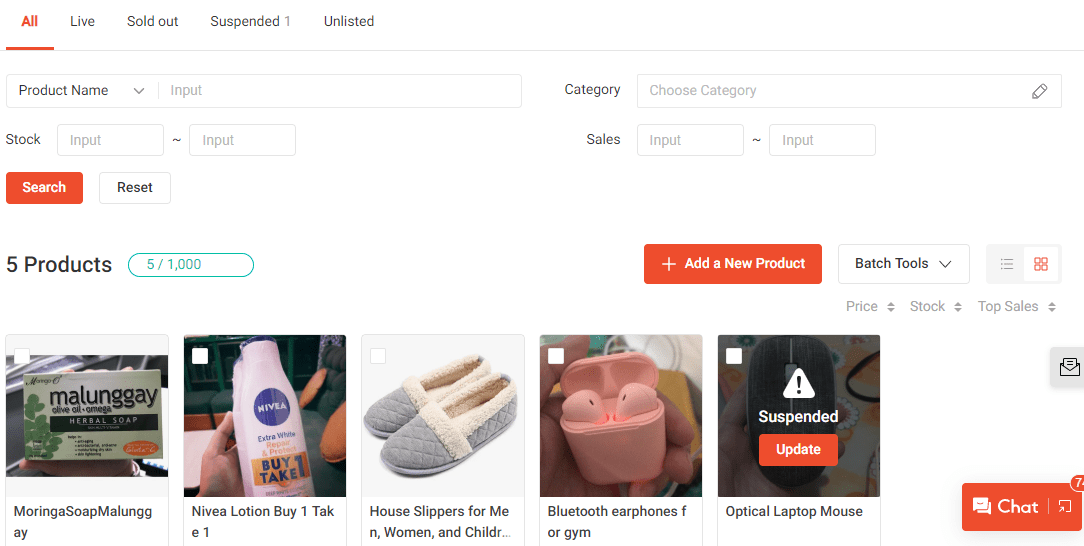 If you need an overview of all your products on Shopee, this is where you should look. You can check out all of your items that have been pushed live as well as the ones that are already sold out, suspended, or are unlisted. 

When you click on Add New Product from the sidebar, you will be automatically directed to a product listing page where you can enter the information for the item that you want to sell to your online store. 

But you can also find this feature on the My Products page. Simply click on the button as indicated in the image above. 
Suspended Products

This is where you will find the products that have been marked with errors by the Shopee team. If some of your product listings do not meet the T&Cs of Shopee, it will be temporarily marked as banned until you fix the error. After you edit the product listing, the Shopee team will review it again before it can be pushed live.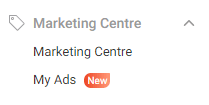 Under the Marketing Centre menu, you'll only find My Ads and another button for Marketing Centre but when you click the latter, you will find that there are more marketing options for you to take advantage of namely: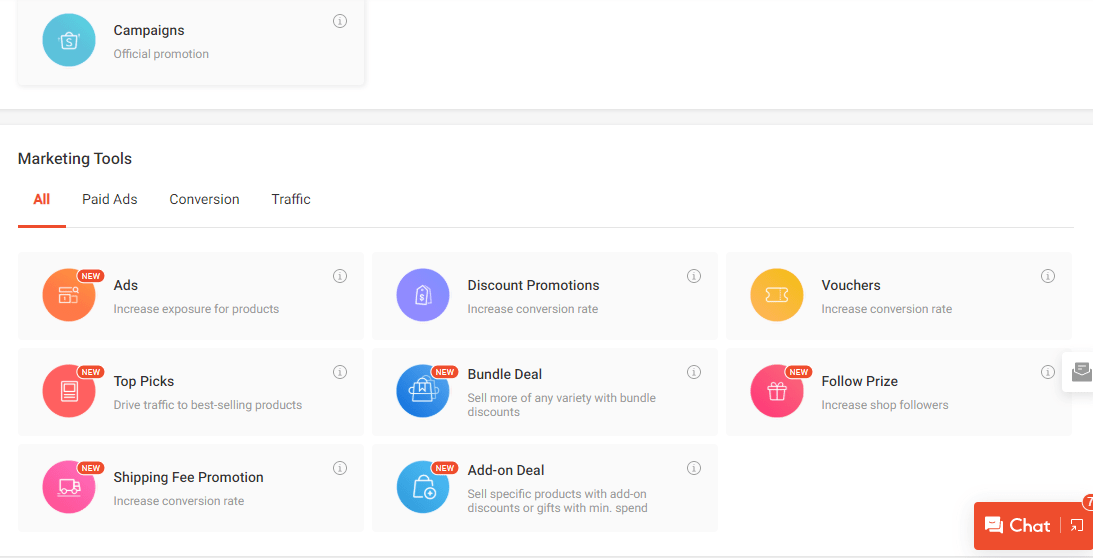 Campaigns

My Ads

Top Picks

Shipping Fee Promotion

Discount Promotions

Bundle Deal

Add-On Deal

Vouchers

Follow Prize
The My Ads on this page pertains to the one that you will also find under the Marketing Centre menu in the sidebar.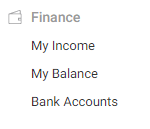 The Finance menu is where you can manage your store sales not to mention withdraw the funds that you have into your bank account. 
My Income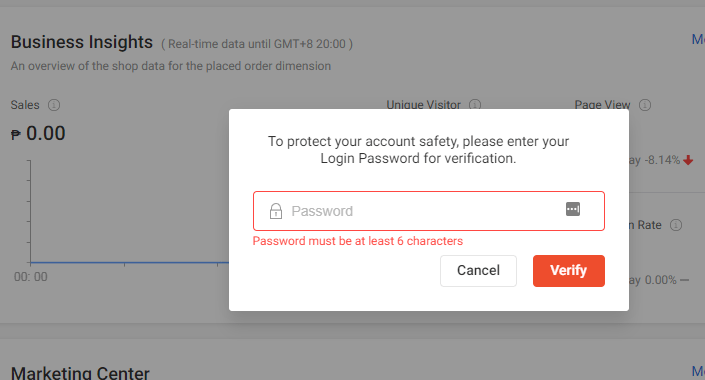 This section is protected since it contains the sales that you earned from your online store. With that, you will be asked to enter your account password to access this tab.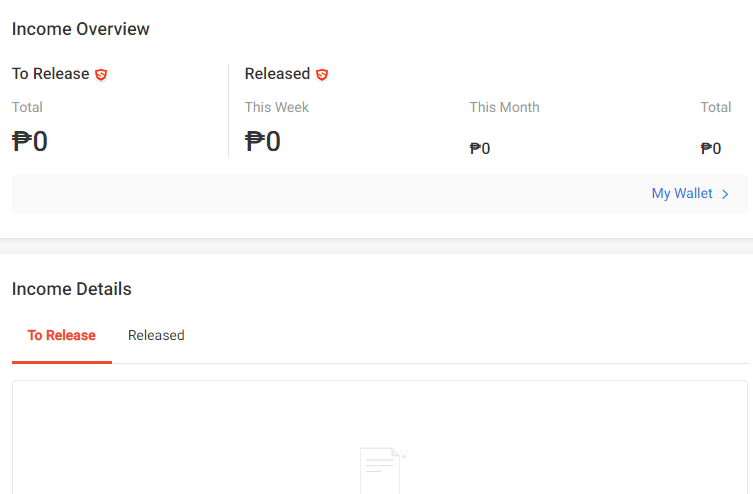 You can only withdraw your funds if it has already been confirmed that the product has been successfully delivered to the customer's address. 
In the My Income page, there is a To Release and Released tab. You can transfer your released funds into your bank. Meanwhile, you have to wait for delivery confirmation to touch the funds that are yet to be released. 
My Balance
As you go to this section, you will be asked to create a pin for your wallet. A code will be sent to your phone which will be your pin. Simply verify the pin and then you are good to go. 

If you want to withdraw your money, this is where you are supposed to go. 

You need to link your bank account where you want to transfer your money to. Click Add Bank Account.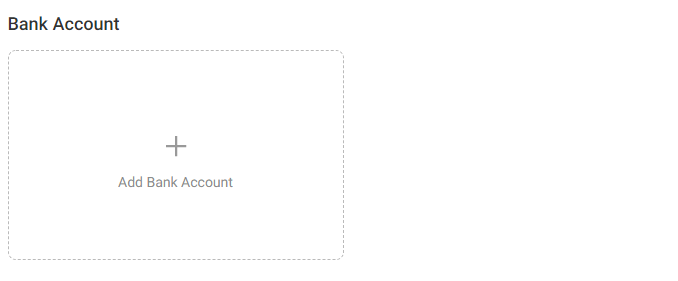 Tap on the box.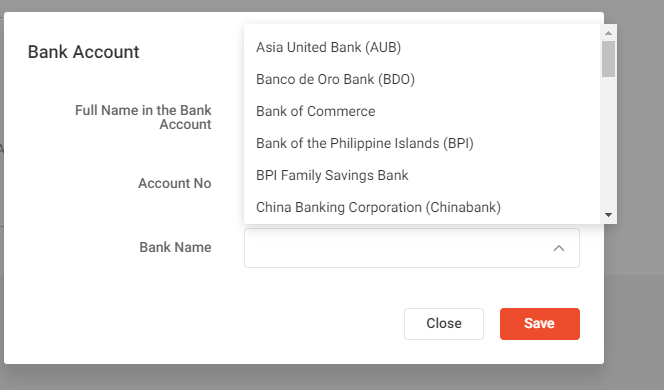 Enter the name you used in your bank account as well as the account number in the respective boxes. You can then select your bank name from the drop-down menu. Click Save. 

My Balance also lets you explore all your recent transactions. Filter them per order income, withdrawals, refund from order, adjustment, wallet payment, and ads credit auto-top up. You also have an option to export your transaction history for your record keeping. Use the calendar feature to look into specific dates.
Bank Accounts

This is where you can view all of your bank accounts. You can also add more bank accounts in this section. At this time of writing, Shopee does not provide any options for you to delete existing bank accounts.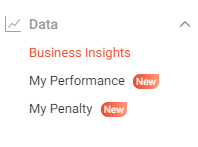 The data menu is where you can analyze your performance. The insights you will find here can help you determine future actions that will improve sales. 
Business Insights

Business Insights gives a numerical overview of how your online store is performing. It provides you data with regards to your sales, orders, conversion rate, sales per order, visitors, and page views.

You'll also get to see your best-performing products and categories here. This information will be useful in selecting items to put out for campaigns and promotions. 

Business Insights is the place you visit if you want to have a quantitative view of your current marketing effort. It will give you an estimation of the sales, units sold, orders, buyers, sales per buyer that you obtained through your ads and campaigns. 
You can review your current campaigns as well as the ones that had already passed through the calendar feature. For a more in-depth look at Shopee Business Insights, you can check out a blog post that we wrote about Shopee Business Insights- An Overview of Analytics Available in Shopee Seller Center.
My Performance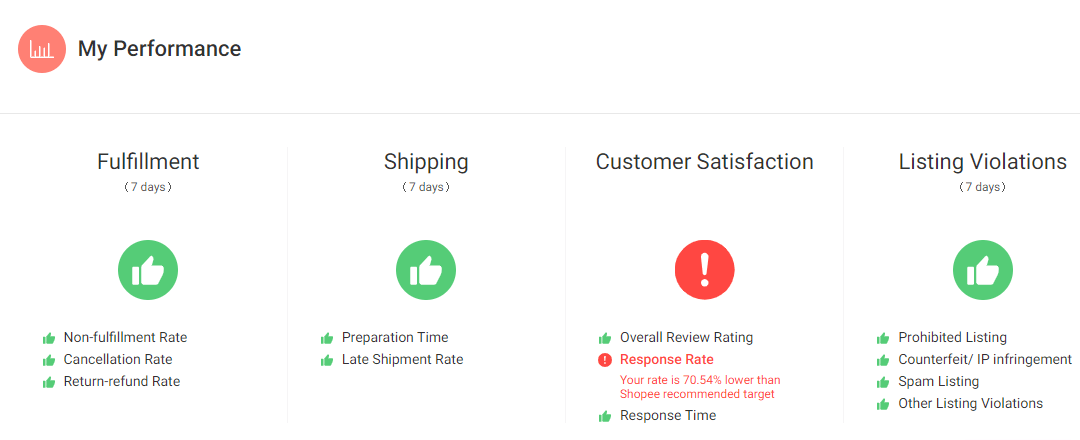 My Performance serves as your online store's scorecard. It provides you with your most updated rating in terms of various metrics namely:
Non-fulfillment

Cancellation

Returns and refunds

Shipping preparation time

Late shipment

Overall review rating

The response rate in customer chats

Response time in customer chats

Listing violations
Checking in with My Performance fills you in on whether or not you are a candidate for penalty points. You can also determine the factors that may have led to your recent penalty points. 
My Penalty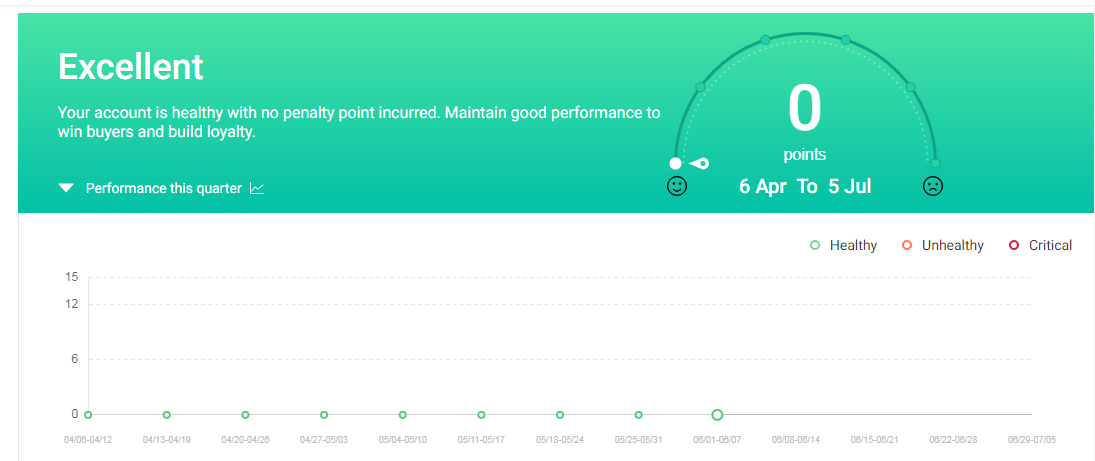 This is where you can view all of your penalty points. It will detail the date of when you incurred the penalty points as well as the type of violation and explanation as to why you incurred the penalty.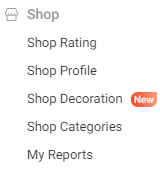 Shop Rating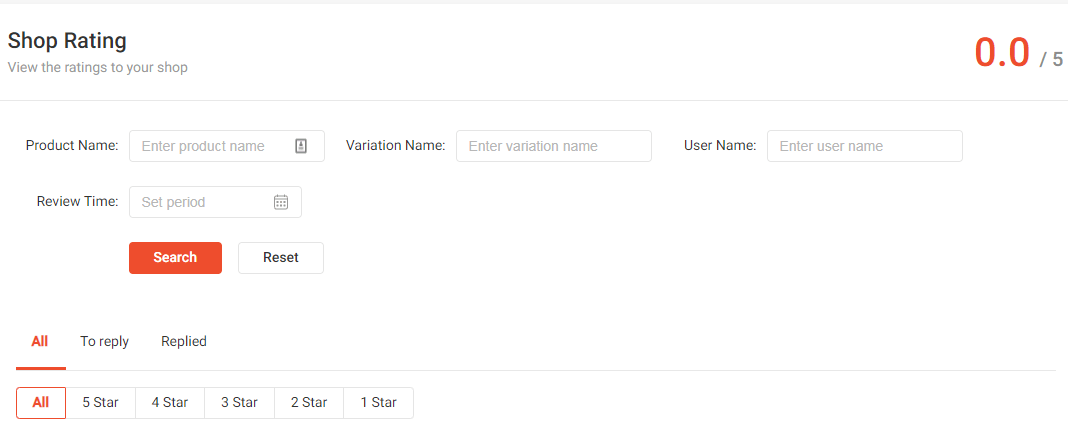 You will find your overall rating in the left-side corner of the page. There is an option to look at your reviews per product by entering the product name. To narrow down your search, you can also enter the variation name, the user name of the customer, as well as the review time. 
You can filter the review search per the review stars received as well as the ones that have yet to be replied to and the ones you have replied to already. 
Shop Profile
This is where you will find the basic information about your shop profile such as the number of products you have, shop rate, non-fulfillment rate response rate, and response time. 
You can also change your shop name, add images and videos, and update your shop description. 
Shop Decoration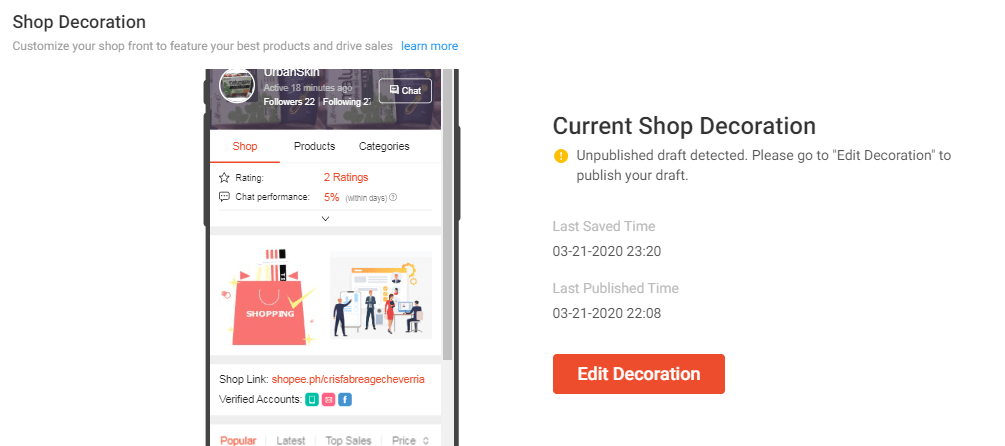 Shopee gives you the option to customize the appearance of your shop through Shop Decoration. You can add banners, videos, and carousels in your shop homepage. Shop Decoration also lets you put certain products into highlight (particularly product best-sellers as well as campaign candidates). To learn about this feature in greater detail, you can check out Shop Decoration – Complete Guide By Split Dragon.
Shop Categories

You cannot delete automatic or Shopee-made categories, only the ones that you manually create through the Add Customized Category option. If you don't want to use an automatic or Shopee category, you can simply make it invisible by clicking the visibility ticker. 
Organizing your product categories can help boost your sales as it makes finding your products easier on the customers' end. 
My Reports

The reports you will find in this section are just an organized version of the data found in the Order, Product, Marketing Center, Finance, and Data sections of the Shopee Seller Center app. 
In the My Reports, you will be able to view your reports in all of those areas from the past six months.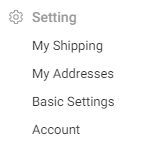 The settings menu is crucial and is something that you need to visit at the start of your registration with Shopee as a seller. 
My Shipping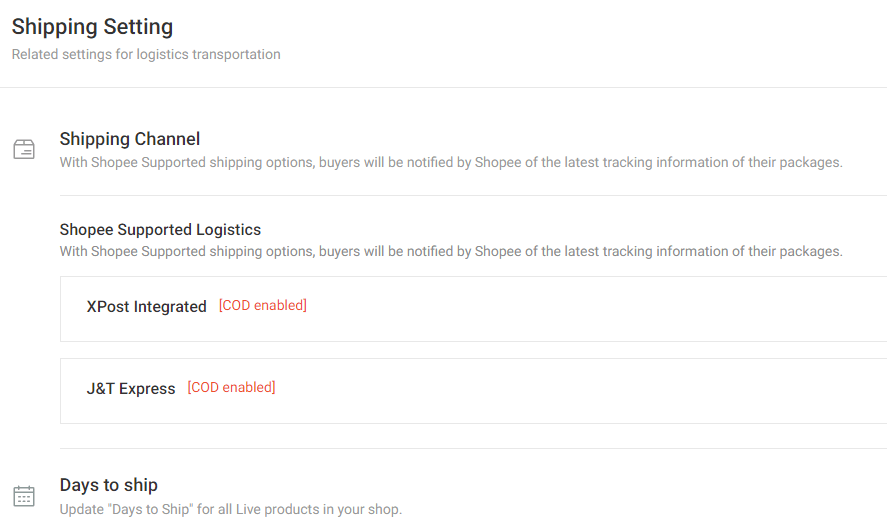 This is where you can set up the shipping channels that you want to support in your Shopee store.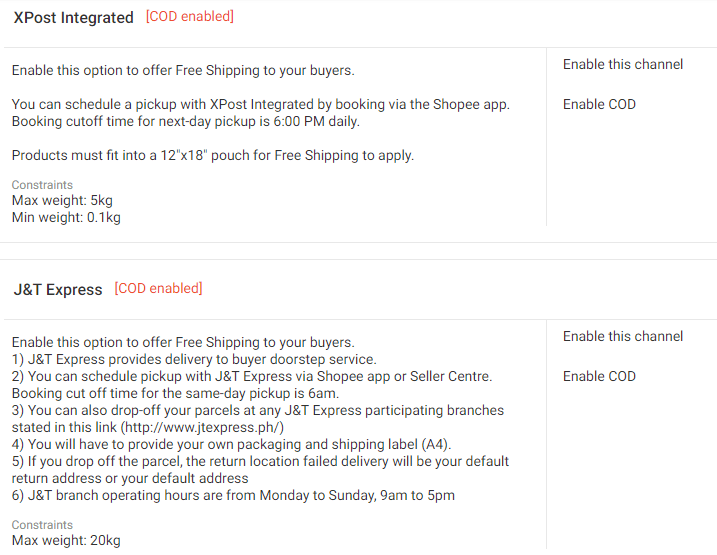 Each shipping courier has its own terms and conditions in operations. Make sure that you go through the T&Cs of the courier that you decide to enable for your store. 

You have an option to enable cash on delivery for the couriers you will be working with. 

You can inform customers of how long their products will be shipped from the day of order. This will enable you to set expectations with the customer. Click the Edit button from the Days To Ship section.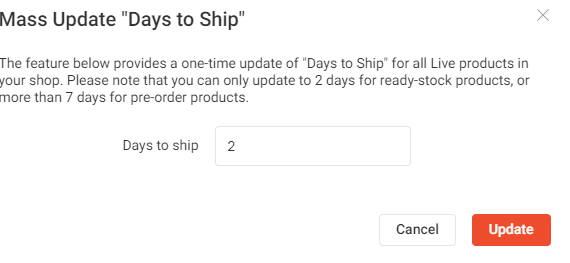 Enter a number and click Update. 
My Addresses

This is where you can set up your shipping, return, and pick-up addresses. You can create many addresses but can only set one to be your pick-up address. 
Click Add A New Address to get started. 

To set an address as a pick-up, return, or shipping address, select a current address and then click Edit.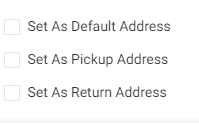 Tick whatever setup you want for the current address. Click Save. 
Basic Settings

You can safeguard your account in the Basic Settings. Under Shop Settings you can enable the shop protection feature. Shopee will be tracking suspicious activities in your account and will ask you to enter an OTP on your next login. The OTP is sent through your registered mobile phone number so that no one else can access the code. 
If you plan to go on a trip or if you will be inactive in your shop for a period of time, you can also enable vacation mode. When this feature is on, buyers won't be able to add your product into their cart. By choosing to be on vacation mode, you can prevent negative reviews brought about by prolonged shipments or lack of customer service. 

We've discussed in the earlier paragraphs how you need to create a wallet pin to access your funds. You can also manually create your wallet pin under the payment settings. There is also an option to update the current pin. 

Under privacy settings, you can hide your likes and comment activities from your followers. If you've been experiencing inconveniences from other sellers or buyers, you can block certain users as well.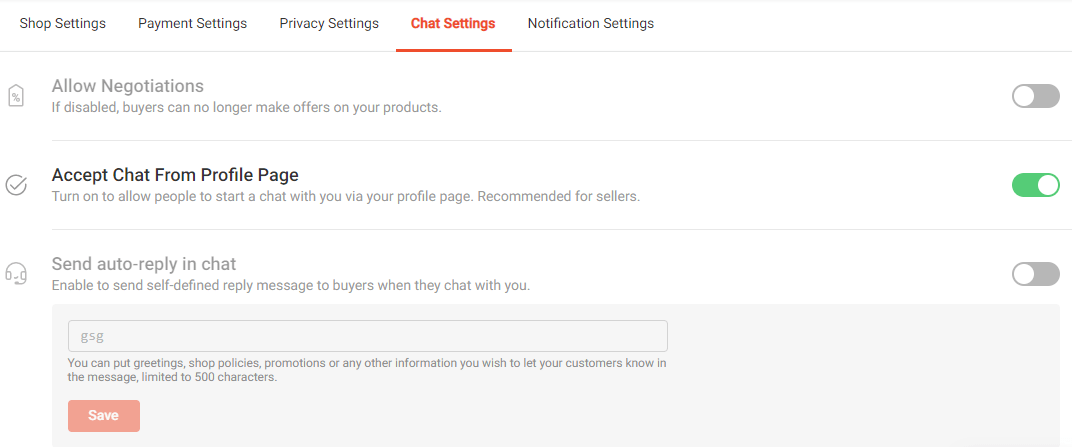 You can enable or disable the negotiations feature. Negotiation is the buyer's ability to send you offers about your products through chat. 
You can also decide if you want to let people message you through your profile page. This feature was created in consideration of buyers but as a seller, it benefits you to let people message you right from your profile page. 
There is also an option to set up an auto-reply in your chat messages. The purpose of this is to lessen the need to manually send replies to customers who inquire about general policies or promotions about your products. 
Notification Settings
This is where you can determine whether or not you want to receive email or push notifications. It is highly recommended that you turn your push notification on, at the very least, so that you are informed about orders. 
Account
This is where you can update the following information:
Profile

Email

Phone

Social media accounts

Password

Partner platform
Take note that you will be required to re-enter your password to go to this section for verification purposes. 
Conclusion
Getting a good grasp of the Shopee Seller Center can mean a lot to a seller who is trying to manage his online business. However, the seller center isn't the only thing you will be playing when you get into the online selling industry. 
Data plays a significant role in helping you heighten your profit. That is something Split Dragon can help you with. We are complete with resources and software that can provide you with the data that you need to determine your next move. Get in touch with us today and see what we can do for you!