Shopee Business Insights is an in-app feature in the Shopee seller center that lets sellers look into their shop's performance. The performance dashboard will give you an overview of how your shop is doing with regard to attaining your business objectives overall. There are also key metrics that can help you determine your top-performing products as well as how to boost your sales. 
Here is a concise summary of the essential things that you can do with Shopee Business Insights:
Identify insights 

Interpret trends

Look into your product level data

Have a better understanding of your sales metrics

Check up on your real-time store performance
Why Use Shopee Business Insights?
Just like how you would normally rely on hard data and research to strategize future actions for your bricks and mortar store, it is imperative that you do the same with your eCommerce business. By doing so, you ensure that your tactics are based on facts and business logic. While looking at your Shopee sales summary already gives you a good idea of how your online store is performing, using Shopee Business Insights enables you to have a deeper view of your current situation.
Here as some examples of how Shopee Business Insights become a leverage point in your business success:
It helps you understand your current position compared to your competitors

You will be able to see the connection in how previous actions impacted traffic and sales

The data will help you anticipate future potential challenges that you may face

It can help you create sales and business forecasts

You can determine actions that can be harmful to your business' interests
How To Access Shopee Business Insights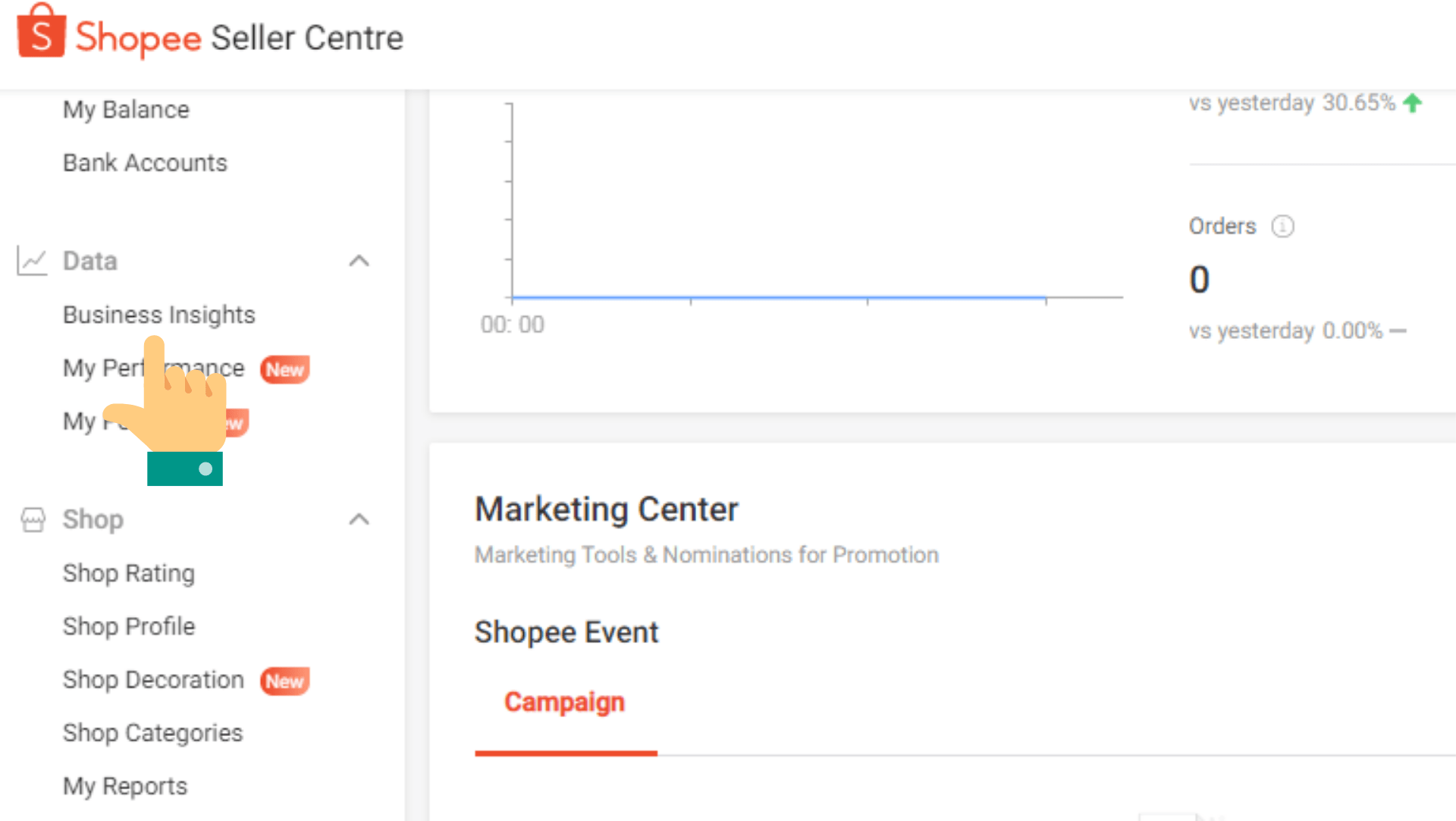 Simply log in to Shopee Seller Center. Under the Data side navigation, tap on Business Insights.
Overview Of The Shopee Business Insights Key Modules

Here is where you can view the overall performance of your key metrics. 

You will find comprehensive data on your individual products and the entire shop in this section. This also lets you perform product diagnosis in search of problematic products. 
Problematic products pertain to certain items that can potentially face sales or operational issues. By performing product diagnoses, you will be able to prevent or at the very least lessen customer dissatisfaction as well as loss in sales or your seller rating. 
Improvement Requirements For Problematic Products
As we mentioned earlier, problematic products can impact a seller in two ways: sales performance and operational performance. Let us first talk about sales performance. These are the particular issues that you can encounter in terms of sales:
Diminished views

Fewer sales

Poor conversion rate

Poor reviews



For the first three metrics, what you need to worry about in particular is the decreased sales and orders in your shop. To resolve this issue, it is necessary to do the following: (1) upload more images and improve your product description (2) join Shopee campaigns (examples are Beauty Bazaar and Home & Lifestyle) or other advertisement tools provided by Shopee such as add-ons, discount promotions, and free shipping promotions. 
As for the fourth product metric (which is poor reviews), this impacts the overall rating of your online store. Hence, it can also pull on your sales performance. To resolve this, you need to work on improving your customer service by replying to inquiries and concerns in a timely manner. You can also do this by making sure that all of the products that you sell are of good quality. 
These are the potential product issues that you should be mindful of:
High-return requests
It will be at the discretion of the seller if he will approve the return request. The approval of return or refund requests are usually on a case-to-case basis. 
High late shipped orders
According to Shopee's fulfillment policy, sellers can have a late shipment rate of up to 15%. If you exceed it, you will get one penalty point. 
High seller cancellations
If you exceed the cancellation limit of 10%, you can receive up to 2 penalty points due to the non-fulfillment of the order.

All the metrics shown above can result in a loss in sales but most importantly these product errors can result in lags in your operations and product fulfillment. 
To avoid it, here are some suggestions:

Make sure that you have sufficient stock of your products

Prepare your orders based on priority or deadline

Ship your items on time

Turn vacation mode on when you are on the road and cannot fulfill orders

Provide accurate descriptions so that customers have the right expectations for your product



Sales


If you want to look at specific data about your sales, this is where you will find it. The sales key module comes in three parts: visits, placed orders, and paid orders. 
Understanding The Sales Module Of Shopee Business Insights
To drive your sales, it is essential to have an understanding of three key metrics that make up your sales overview: visitors, conversion rate, and sales per buyer.
Your visitors pertain to the traffic or the number of people that interact with your shop or products at a given time. Your conversion rate is the percentage of people that went from visitor to buyer (successfully made a purchase). There are three steps in the conversion process: (1) visit (2) placed order (3) paid order. It is important for you to understand each step of this process as it lets you identify the strong links and weak links that have an impact in your completed sales. 
So, how do you attempt to boost your sales by utilizing the Shopee Business Insights Sales Module? 
Here is a formula provided by Shopee on how we can arrive at total sales:
Sales = Traffic (no. of visitors) x conversion rate (no. of buyers /no. Of visitors) x sales per buyer (total sales/no. Of buyers)

This is where you can see the real-time movement of your data in terms of sales trends, key metrics, as well as your top five products by sales. The live monitor is most useful during your campaigns since you will be able to monitor and keep track of your real-time revenue during that time. You'll also be able to observe consumer behavior to determine how effective or ineffective your campaign strategies are for future reference. 

You can access the Live Monitor on the dashboard. Simply click the Live Monitor ticker as indicated in the image above.


This portion lets you view the overall and more specific performance of your marketing or campaign efforts such as add-on deals, vouchers, bundle deals, discount promotions, follow prizes, and flash deals.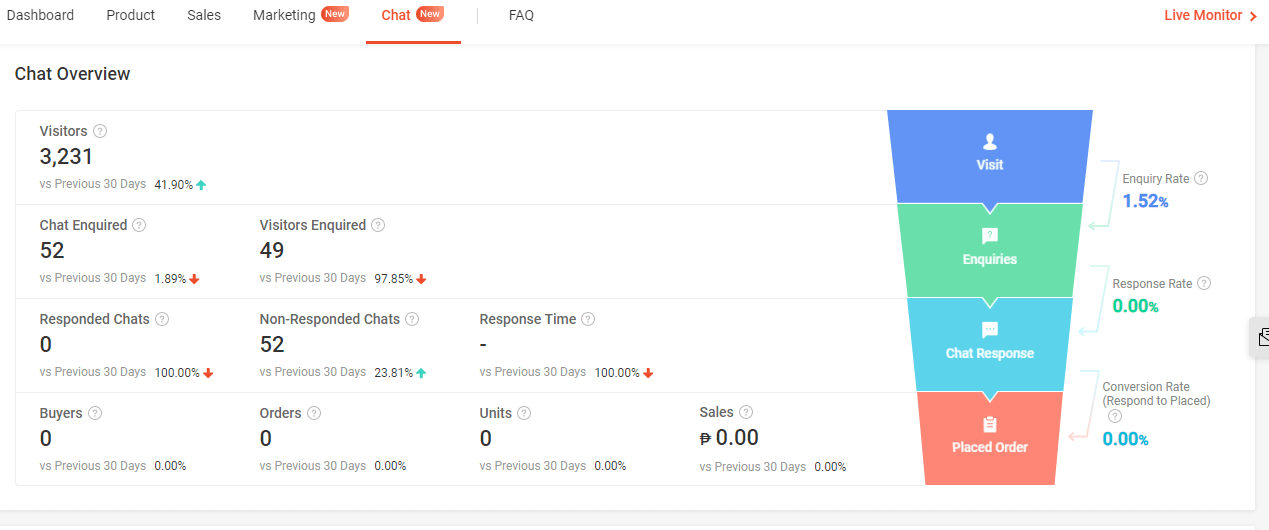 The chat module in Shopee Business Insights gives you the following data in the last 30 days:

Visitors 

Chat inquiries

Visitors inquiries

Responded chats

Unresponded chats

Response time

Buyers 

Orders

Units

Sales
The chat module also comes with its own conversion rate process which is as follows:

Visit

Inquiries

Chart response 

Placed order
By being responsive to inquiries and providing information that is helpful to buyers and visitors, you will be able to aim towards bigger sales. 
Using Historical Data
If you want to interpret trends or identify insights, what you need to do is set a process to frequently check and review your historical data. 
Viewing your historical data simply means going to the calendar feature and indicating the time period of the data that you want to look into. 
The Best-Selling Products and Category Ranking section are also considered as historical data because this information is acquired with respect to previous data. 
The Best-Selling Products section lets you identify winning products. You can in turn maximize the potential of these products by advertising them for special deals or campaigns. 
Meanwhile, the Category Ranking section lets you develop a strong brand by focusing on categories where you excel the most. 
What Is The Shopee Selling Coach For?
The Shopee selling coach is a new feature within the Business Insights module. There's nothing extraordinary in terms of functionalities. However, it is considered to be one of the most significant features of this module since it helps sellers identify growing areas of demand for products.
That being said, if you are planning to expand your Shopee store or if, perhaps, you are a newbie seller, the Shopee Selling Coach is an excellent go-to feature for you.
It analyzes your seller profile as well as your product listings. Based on the information that it obtains, the Shopee Selling Coach will create personalized insights data that is most relevant to your business.
These insights are divided into four categories:
Similar Products
Top Selling Products
Top Keywords
Trending Products
Want to stay on top of the competition?


Split Dragon offers support with your e-commerce needs using conversion-Focused tools and data-driven solutions.
Contact us today
to see how we can help you with tailored strategies that will drive your company's success!