Talking about product listings to anyone in the eCommerce industry is easy. 
Optimizing product listings and actually getting results is not.
Even though eCommerce is already conventional and competition is cutthroat, most sellers and brands still leave money on the table because they don't know how to optimize their product listing page.
Case in point: In some brands with many SKUs, you'll find product listings in eCommerce with copied content, spelling errors, and an overall lack of proper promotion of the product's features and benefits. 
These can hurt both the brand's image and its sales. 
Before we get into that, though…
What is product listing optimization?
Product listing optimization is a process that can help a product rank high in the search results. If you do it right, it can lead to higher traffic and conversions.
Essential Elements In A Product Listing
It's hard to optimize something you don't understand. So, before proceeding, let's check out…
The parts of a complete product listing:
Title 
A well-constructed and precise title tells the shopper what your product is, enhances its searchability, and boosts its visibility.
So, make sure to include these in your title:
Brand

Model

Specifications 
Examples:
Nike Air Force 1 '07 Triple White Men's Shoe Size 12.5 
Apple MacBook Pro 13″ Core i7 2.9GHz 16GB RAM
Klean Kanteen 32 Oz Insulated Bottle Black With Chug Cap
Anker PowerCore III Sense 10000mAH Black
Pampers Baby Dry Taped Diaper Newborn 40 x 2 packs (80 diapers) – (Up to 5kg)
Product images
Images are the easiest way to attract browsing shoppers. They help people visualize the product and help convey the colors, size, shape, quality, and quantity.
Descriptive product images will also give you an edge, especially if you are selling in a highly competitive niche. Plus, good images encourage social media sharing, which can help you garner more traffic to your online shop.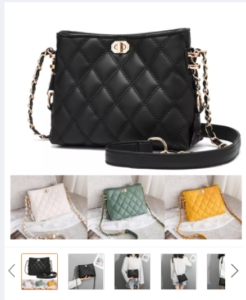 A descriptive image shows the different elements of a product, especially parts that are important to the shopper. For example, the image above illustrates the bag's many colors and how it would appear when worn.
Product descriptions
Product descriptions are where you connect with your customers. This is where you allure the shoppers and turn them into customers.
85% of consumers conduct online research before making an online purchase, and 76% read product descriptions as part of the research process.
Thus, it is easy to say that the product description is one of the most crucial parts of the product listing.
The product description helps reduce the disparity between the image of the product and the actual product, and therefore it (should) promote consistency.
Furthermore, product descriptions in marketplaces work wonders in SEO. With more characters allotted, you can utilize more highly searched volume keywords.
For some, copying product descriptions from manufacturers is a common practice, and while it's tempting, we are strongly advising you not to do that.
Let's say you have descriptive images to attract customers, a compelling product description should complement the images to ensure conversion.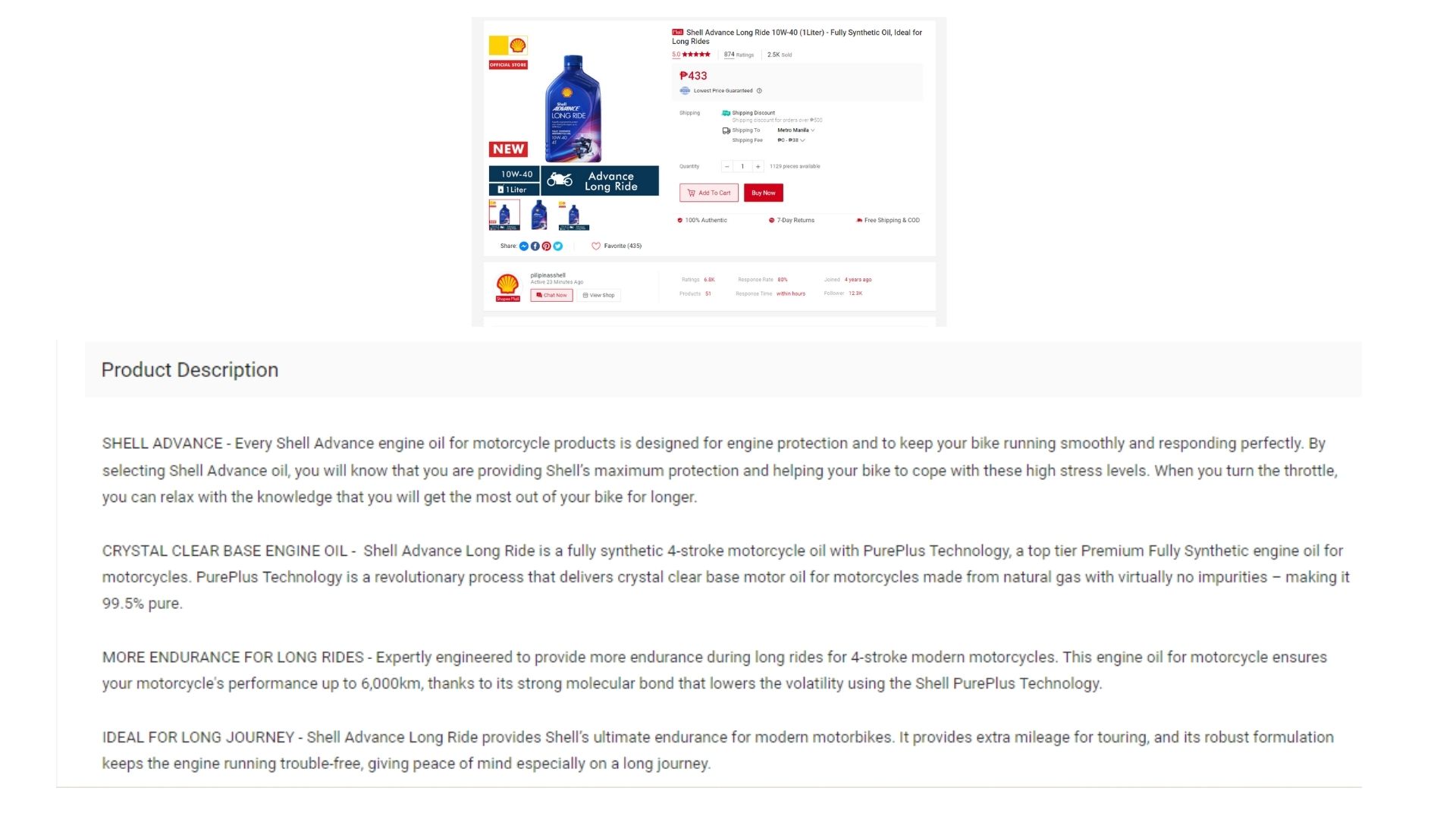 Why is product listing optimization so important?
All of us know that most online shoppers never scroll past the first page of search results. In other words, your product has a small chance to be discovered when you are on the second page. And if customers can't find your product, you can't generate sales.
Fortunately, there is a way to be on top and stay on top, and that is product listing optimization. 
What are the factors that affect product ranking?
Most marketplaces like Lazada and Shopee have a straightforward algorithm that identifies the most relevant products to the search queries. 
Here are the most important factors to consider when optimizing a listing:
1. Relevance in Keywords
Keywords are words or phrases a searcher enters into the marketplace's search engine. Keywords are a critical factor because they will lead the searcher to your products or shop.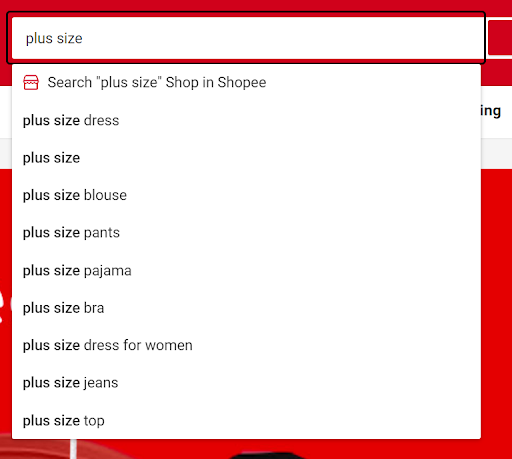 2. Product Reviews
In marketplaces, good performing shops with excellent positive ratings are given a "preferred" badge and most likely will show on the top search results.
A good product rating also helps in conversion as most people use product reviews as a shortcut to their decision-making process.
3. Sales
Of course, your increasing sales are the strongest proof that you are doing all the right things to rank your items. Moreover, if you have more sales, marketplaces like Shopee and Lazada are more willing to display your product listing since you are also contributing to their profit
Steps on how to do product listing optimization
Now that you understand the different parts of a listing, its role, and the factors that can affect your marketplace SEO, we will share with you how to optimize your listing.
First, here are the  essential tools you can  use for the optimization:
Keyword search tools
When optimizing your listing content, it's important to make sure that you consider the intentions of your consumer and identify the most common words or phrases they will use to find your products.
Yes, you can guess, but it's more effective and accurate if you use a keyword search tool to find the keywords your consumer would likely use. 
Split Testing
Split testing is used to evaluate which variation of your listing achieves a higher ranking and conversions. This helps you gain the most out of your listing and promotes conversions.
Competitor Tracking
While it's OK to track your competitor manually, having a tool that will give you timely alerts about your competitor's movement will ensure that you are on top of your game.
By tracking competition, you can identify the possible threats, plus you'll have a clear understanding of where and how to improve your listings. 
Step 1: Audit your listing
To be able to see what you can improve with your current listing, it's important to have a set of parameters. Here in Split Dragon, we come up with 6 parameters for the listing audit: 
Keywords used in all content

Number of Images used

Quality of images

Quality of the product description

Number of ratings and reviews

Pricing

Number of competitors
Step 2: Take note of the red flags
Now that you have the parameters, check your current listing and take note of your first impression.
You don't have to go item by item. You just need to check what's missing in the listing and take note of where you can improve. As a guide, you can use the following questions:
Is the title clear to the consumers?

Are the images clear and descriptive?

Does the description make them want to buy?

Are there any keywords used in the title and description?

How is the pricing compared to the competitors?

Does the product have enough ratings and reviews?
Manually checking your listing may take time especially if you have a high number of SKUs.   Use product analyzer tools so you can spend less time looking for issues in your listing and focus on actually fixing them instead. 
Step 3: Use keywords in your content
Now that you know the current status of your listings, it's time to optimize them using marketplace tools. 
If you are selling in Lazada, Shopee, or Daraz, Split Dragon can provide the keywords with the highest search volume.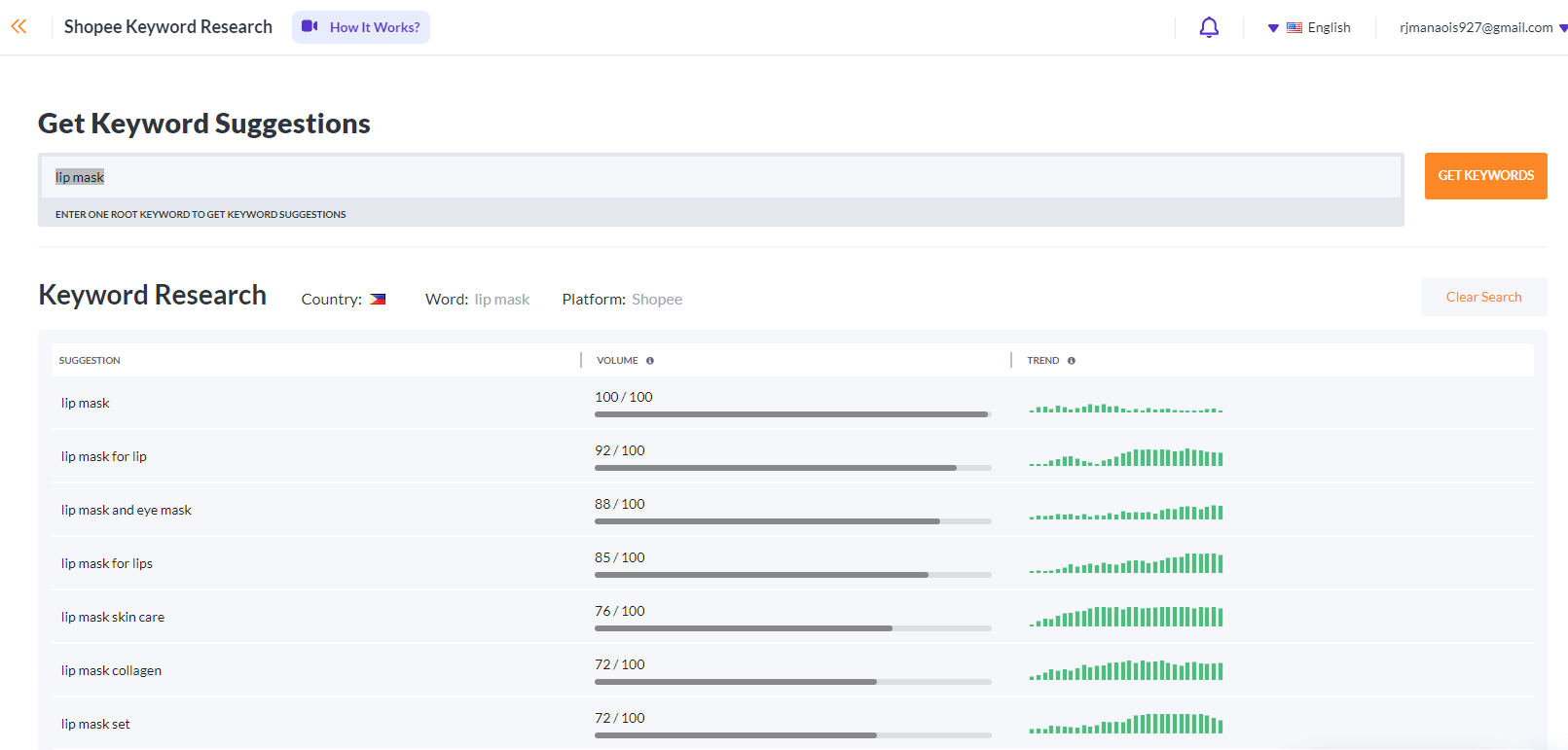 For example, if you are selling iPhone cases, just type in the keywords you think that shoppers will use to search for your item and click get keywords. 
Insert the keywords in your Title, Product Description (Key Features), and Bullet points.
Here's an example of a highly optimized listing from Laneige Malaysia. You can also copy this as a product listing template: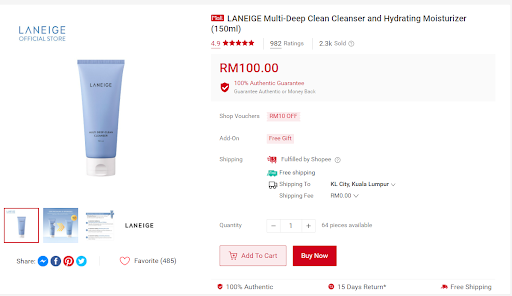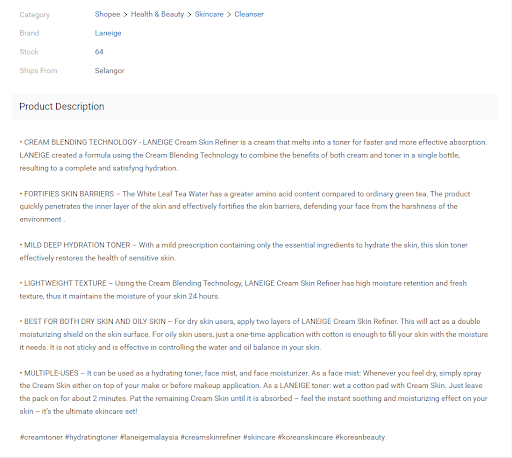 Step 4: Analyze listing quality
Analyzing listing quality helps you maintain high-quality product listings all throughout your SKUs, especially for sellers or brands who have a high volume of SKUs.
You can easily do this with a tool like Split Dragon's product analyzer. You can simply connect your Lazada or Shopee seller account and automate product quality scoring. 
The best part? You will have guided recommendations on how to improve your product quality and improve your product's search rank. 
Optimize your product using Split Dragon's complete toolkit
As eCommerce marketplaces lunge forward, you need to be active in making sure that your listing isn't just a waste of space.
Optimizing your listing also means you're optimizing your conversion rate. And with the kind of competition you're in, manual processes are no longer ideal. 
You need to be fully equipped with comprehensive tools that are easy to integrate into your seller account and tools that use data and insights straight from the marketplace that you're using. 
Need help in optimizing your listings? Contact us and one of our experts will reply to you as soon as possible. Meanwhile, if you are interested in what Split Dragon can do to help you sell better in Shopee and Lazada, check out what it does here.