What Are The Shopee Listing Violations?
Shopee strives to create a safe environment where both sellers and buyers can harmoniously transact with each other. With that, Shopee has established a system that will prevent bones of contention in the future in terms of platform usage. Shopee listing violations are categorized into three divisions namely prohibited listings, counterfeit and infringement, as well as spam. 
| | |
| --- | --- |
| Prohibited Listings | The term prohibited listing refers to the selling of products that are not in compliance with the Shopee policy |
| Counterfeit | This refers to the selling of products with a registered brand or trademark without authorization from the brand owner |
| Spam | This refers to listing prices, attributes, and keywords that are fallacious. Spam also includes listings that are duplicated.  |
 We will be discussing these listing violations and prohibitions in greater detail in the succeeding paragraphs. 
What Products Are Prohibited In Shopee?
Shopee has a separate rule on prohibited and restricted products depending on which country you are located in. It is the duty of sellers to make sure that all the products listed in their online store comply with the local law as well as the Shopee policy in one's location. 
Meanwhile, here is an across the board listing violation guide when it comes to Shopee.
Listing Advertisements
Shopee strongly prohibits listing advertisements. The only products you can list on Shopee are the ones that you intend to sell within the platform. Your product listings should not contain links to other websites and selling platforms.
Examples of Listings That Are Not Allowed On Shopee:
Service or company advertising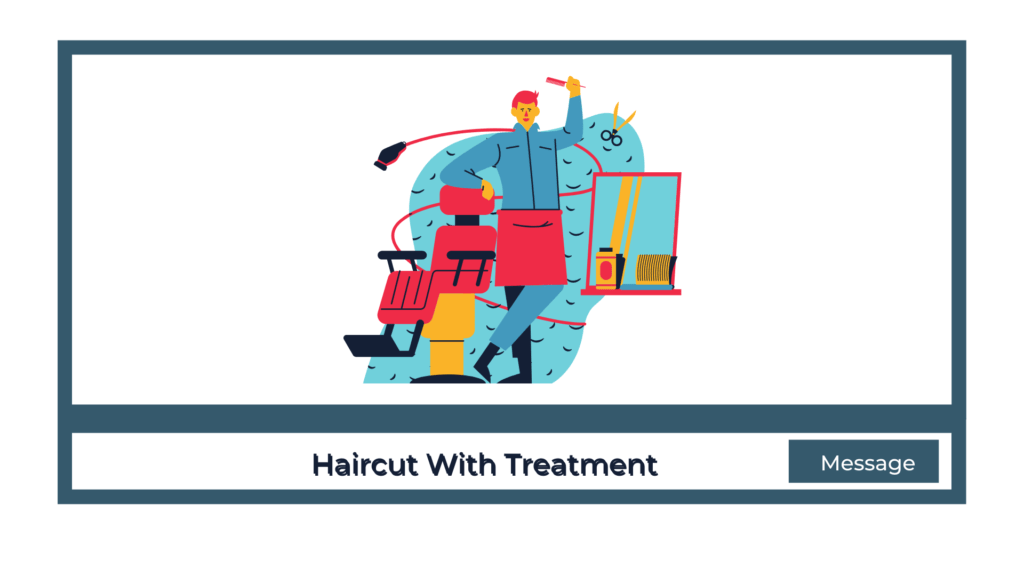 Looking for in-stock items/ job/ sponsorship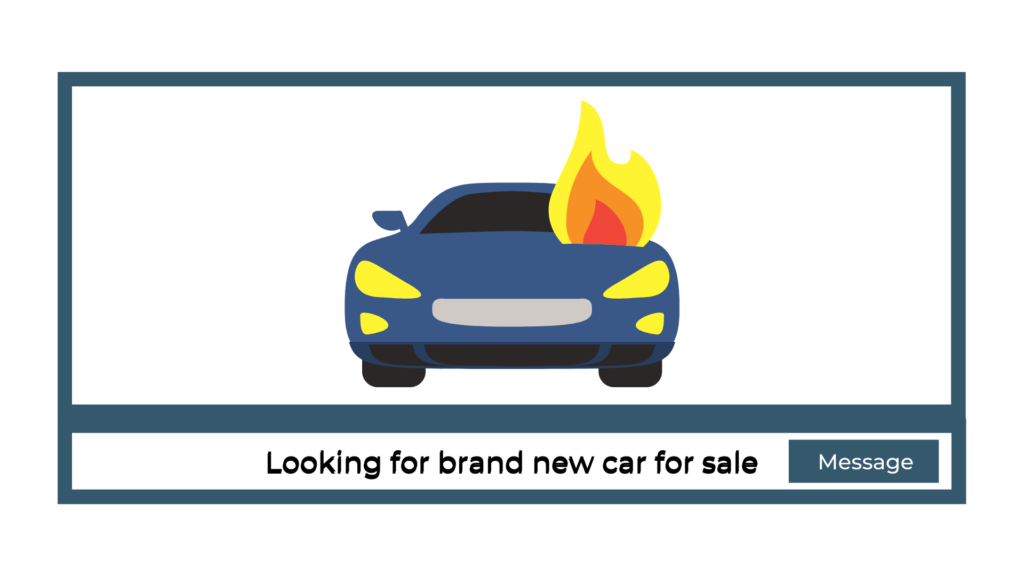 Sellers should only use the photos and description of the listing to provide information about the product. The listing should not contain information on how to contact them or any third-party for the purchase of a product. 
What You Can Include In A Listing:
Features of a product

Description of a product (color, material, manufacturer, etc.)

Instructions on how to use the product

Instructions on how to determine product sizes

Information regarding wholesale buying or pre-ordering
What You Cannot Include In A Listing:
Mobile information

Facebook link or information

Twitter link or information

Instagram link or information

WhatsApp links

Other websites

Other buying and selling platform
Sellers who list any form of advertisements in the Shopee platform will incur penalty points. We will be discussing Shopee's Seller Penalty System in the succeeding paragraphs in this article. 
Switched Listings
A switched listing is a form of an existing product listing that has been edited to sell another product. Some sellers usually do this to maintain previous positive reviews for a new product that they want to sell. 
Sellers are highly discouraged from creating switched listings since this misleads buyers. Unwillingness to comply will result in a listing deletion. The reviews that the seller got from the listing will be subject to deletion as well. 
Sellers are advised to delete an old listing and create a new one in case the seller no longer wishes to sell an existing product and would rather sell a new one. 
Aside from product listing deletion, a seller who creates a switched listing will also incur penalty points. repeats the offense multiple times, the seller's account will be subject to suspension. 
How Does Shopee Identify Switched Listings?
These are some of the things the Shopee team looks into when looking for switched listings:
Product title

Product images

Price

Product description

Category

Product attributes
The determinants of switched listings are not limited to what was stated above. The rest of the information is strictly confidential to Shopee only. 
Frequently Asked Questions About Switched Listings?
Can a seller edit his iPhone 6 listing and change it to an iPhone 7 listing?
No.  Shopee does not permit sellers to do so. Changing a product listing for a phone model still falls under switched listings. 
What will happen if a seller changes a listing for a t-shirt and turns it into a jacket listing? Both the products are categorized under Women's Fashion. 
This is considered a switched listing. The Shopee system will flag the listing for deletion. The seller will also incur penalty points. 
What happens if a seller changes a phone case listing into a listing for bags after it has been out-of-stock?
This is considered as a switched listing as well and will be flagged for deletion. The seller will incur penalty points. 
Are sellers allowed to change the color in an existing product listing?
Yes, sellers are allowed to do so. This is not considered to be a switched listing because the product is still fundamentally the same. 
Can a seller change the person modeling a product in a listing?
Yes. Shopee allows the use of alternative images as well as editing the existing images for a product listing as long as the main product being sold remains the same. 
Can a seller change the price, as well as the product description and title?
Yes. sellers are permitted to update product information everyone in a while since this boosts potential income. However, the product must be fundamentally the same. 
Misleading Discounts
This refers to a situation when a seller increases a product price prior to a promotion or discount as an attempt to boost sales without having to lessen the original price of the product.
Exaggerated discounts that have no real value on the buyer's end is considered to be price manipulation and thus is not allowed in Shopee. 
Misleading discounts makes buyers feel like sellers are practicing dishonesty and deceit towards them. This creates a false impression on customers. This will result in lesser people wanting to buy products on Shopee. 
To discourage sellers from engaging in such behavior, sellers will incur penalty points upon committing this offense. 
The Shopee team creates a regular schedule for monitoring all the products that sellers list on the platform. They are able to track misleading discounts through the sellers' promotional price and historical price log. 
What Are Counterfeit Listings?
Shopee makes a promise to buyers that all products on the platform are authentic. With that, the team prohibits sellers from selling counterfeit products in Shopee. The consequence of selling counterfeit items is product deletion. 
Counterfeit items are products that are an imitation of an already-registered brand or trademark. These items include (but are not limited to):
Fake products or replicas

Branded products or items that are of a registered trademark (Selling of authentic products is still considered counterfeit without the authorization from the company or owner)

Registered products that were created in similarity with an existing authentic product without the authorization of the company or owner

Branded or registered products that have been reproduced by someone other than the company or the owner itself
People that sell counterfeit items in Shopee will incur penalty points. Repeated offenses will result in a frozen account. 
What Are Duplicate Listings?
Duplicated listings or spam refer to two or more separate product listings that have little to no differences between them. Shopee prohibits sellers from engaging in spam listings. This is Shopee's way of maintaining a positive experience for all buyers. Shopee is able to do so by ensuring that no single seller dominated the product search results due to duplicate or spam listings. 
Sellers with spam listings will incur penalty points and will have their accounts potentially frozen or suspended.
What To Consider As A Duplicate Listing
Duplicate listings under different categories
Sellers are cannot post a smartwatch product listing on both the "watches" and "mobile and gadgets" category. Instead, they should publish their listings on a category that is most relevant to the product. 
Duplicate listings under different Shopee seller accounts of the same owner
A seller can only use a single account for selling products. If Shopee catches a seller having multiple shops, the team will consider the oldest shop as the original one and will, therefore, delete the succeeding shops. 
Duplicate listings of only minimal modifications to the images and listing details
Products that are of the same model and design with only little variations should be included in a single listing. Publishing different listings for similar products with slight variations are spam or duplicate listing. The rule is also the same for gadget accessories that are compatible with their different models. The seller should count the item one listing with different variations. 
Similar products with only a price variation
A single product should only have one listing. Sellers can include the differences in prices in a single listing as a price range. If a seller intends to create a discount or promotion, he can do even with a single listing. You can create discounts and promotions through Seller Centre. The new price will then reflect on your listing. 
Tips On How To Avoid Duplicate Listings
Include multiple variations in a single product listing

Make sure that you clearly differentiate the details of your product listings in the best way possible. 
False Prices
Price spam is an offense that sits under spam listings. Some sellers purposely give items an extremely low or high price. The purpose is usually to increase views without the intention of actually selling the product for that price. 
The system will ban or delete items with price spams. Sellers who engage in such an offense, on the other hand, will incur penalty points. 
Price spam is an act of deceiving and misleading customers. This is something that Shopee is strongly against. 
Sellers can include add-ons for a single listing in the form of variations. In that sense, the price of the product can change depending on which variations the buyers choose. 
If a seller chooses to include an add-on to the variations, the price of the variation should reflect the main product as well as the add-on. 
Here are some examples:
$1,000 iPhone

$1,300 iPhone + charger
Irrelevant Keywords
This refers to making a product title more click-worthy by using keywords that are irrelevant to the actual product. 
Sellers who spam their product titles with irrelevant keywords will incur penalty points. 
Shopee provides its selles with a standard title formula for products:
Brand + Product Name + Model
Some examples are:
iPhone 7 Plus Gold

Reebok Flexagon Energy TR Heritage Women's Training Shoes
What Are Pre-Order Listings?
Regular Shopee products have a maximum of two days shipment. This is the timeframe wherein the customer expects to receive the product.
In the case of pre-ordered products, the seller is given a longer time to ship the product. This is due to the fact that pre-ordered products need to be ordered by a customer before the seller obtains the item from his supplier.
Most of the time, buyers expect their orders to arrive immediately. Customers usually cancel their order if a product takes too long to arrive. With that, Shopee encourages sellers to only set a listing for pre-orders if it qualifies under these special circumstances:
The product is hand-made, made-to-order, or is a custom item

Legal clearance is mandatory prior to the shipment of the product

The product is of high value and thus there is a low amount of ready stock

Special logistic arrangements are should be ready before product shipping
Pre-Order Listings As A Requirement For Preferred Shopee Sellers (PS) And Official Shops (OS)
If a seller wants to qualify as an OS or PS, having pre-ordered listings are mandatory. However, prelisting ground rules still apply. Unless the seller is able to comply with the ground rules, he will not be able to maintain his status as either PS or OS. 
Sellers who are not after the OS or PS status can use pre-ordered listings as well. However, their listing quota will be reduced in case they are not able to consistently comply with Shopee's pre-ordered listing ground rules. 
Shopee's Pre-ordered Listing Ground Rules/ Policy
It is mandatory for all sellers to maintain a low percentage of pre-ordered listings. Non-OS or PS should only have pre-ordered listings below 10%. PS or OS status holders, on the other hand, cannot exceed 20% pre-ordered listings for beyond six days in the remaining 30 days. 
Sellers who fail to consistently comply with the required can have their OS or PS title rebuked or will be subject to a listing limit. 
| | | | | |
| --- | --- | --- | --- | --- |
| Metric | Definition | Applicable to  | Aim/Target | Penalty  |
| Pre-ordered listing% | Number of pre-ordered listings that are active versus the total of active listings overall | Sellers that aren't OS or PS titleholders | Less than 10% | Listing Limit |
| Days wherein the pre-ordered listing % have been exceeded | The number of days in a single month wherein the pre-ordered listing exceeded 20% | OS and PS titleholders | Less than 6 days | Exclusion from PS or OS status |
How Do You Know If You Exceeded A Pre-Ordered Shopee Listing?
Just follow the steps below.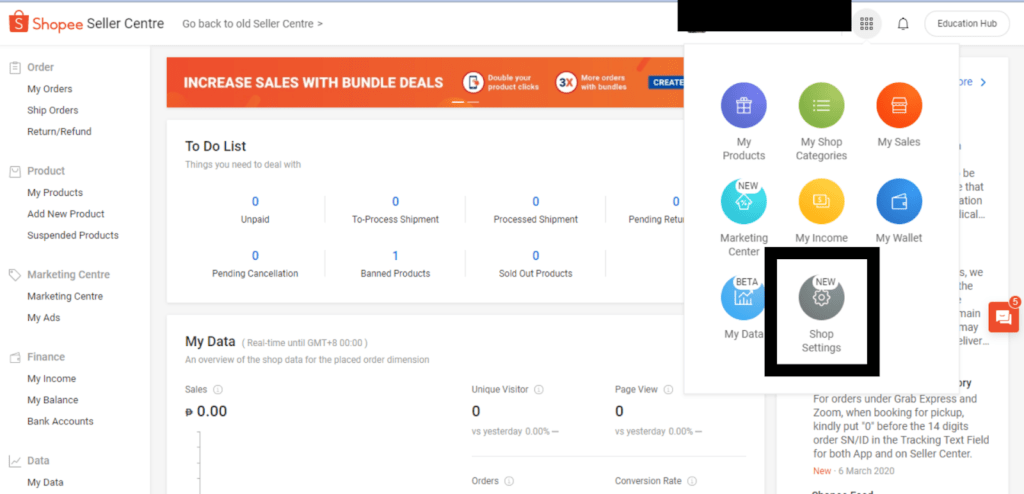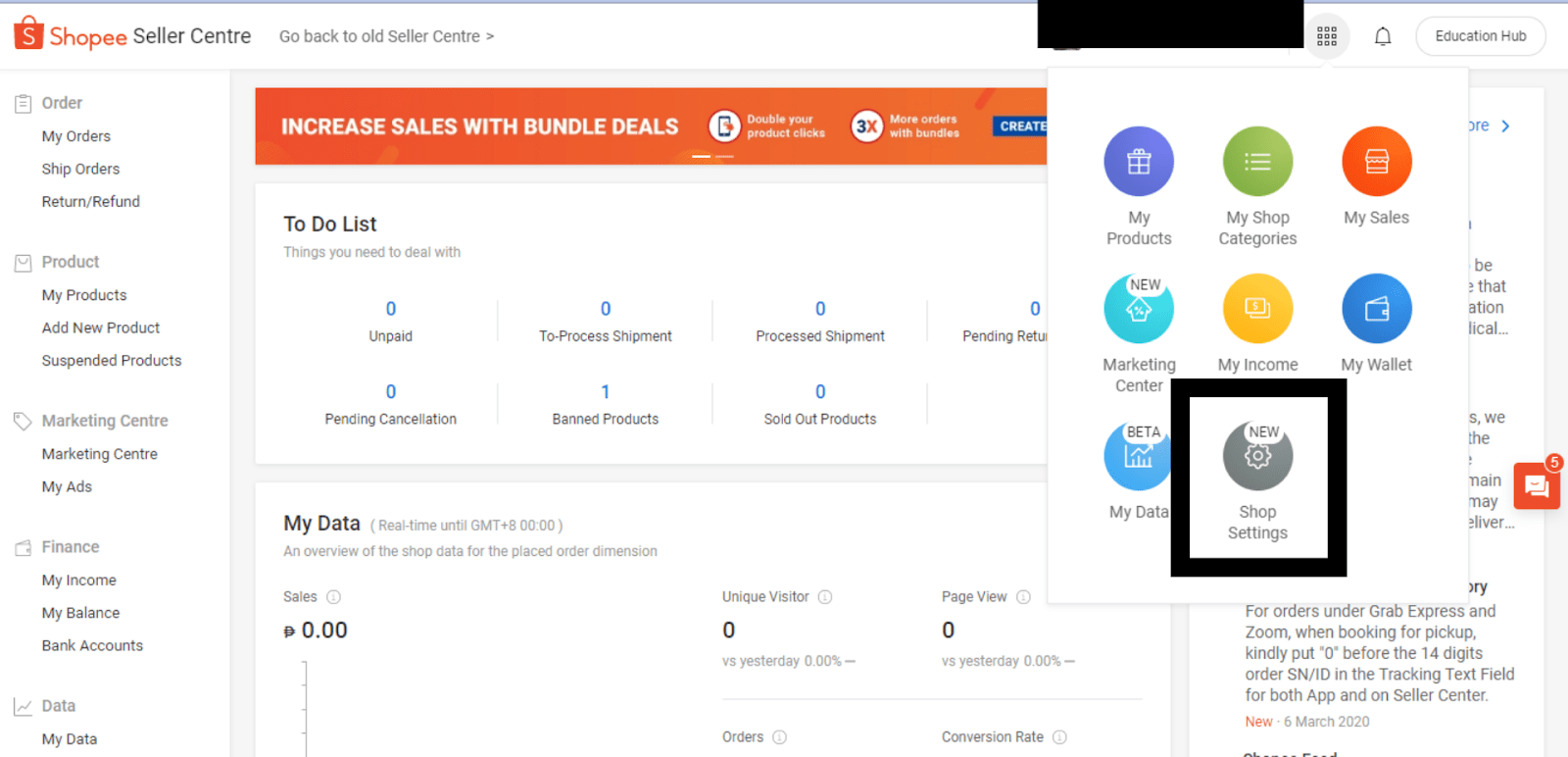 Go to Seller Centre and click shop settings.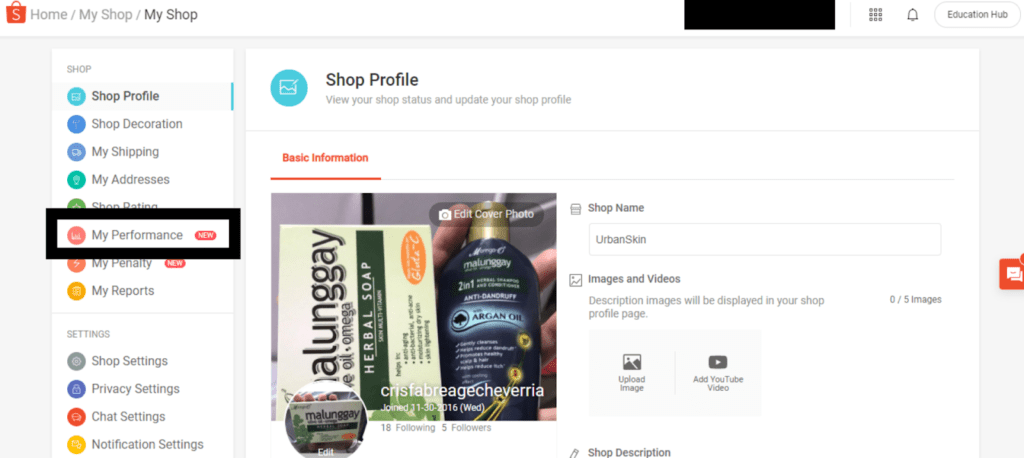 Go to My Performance.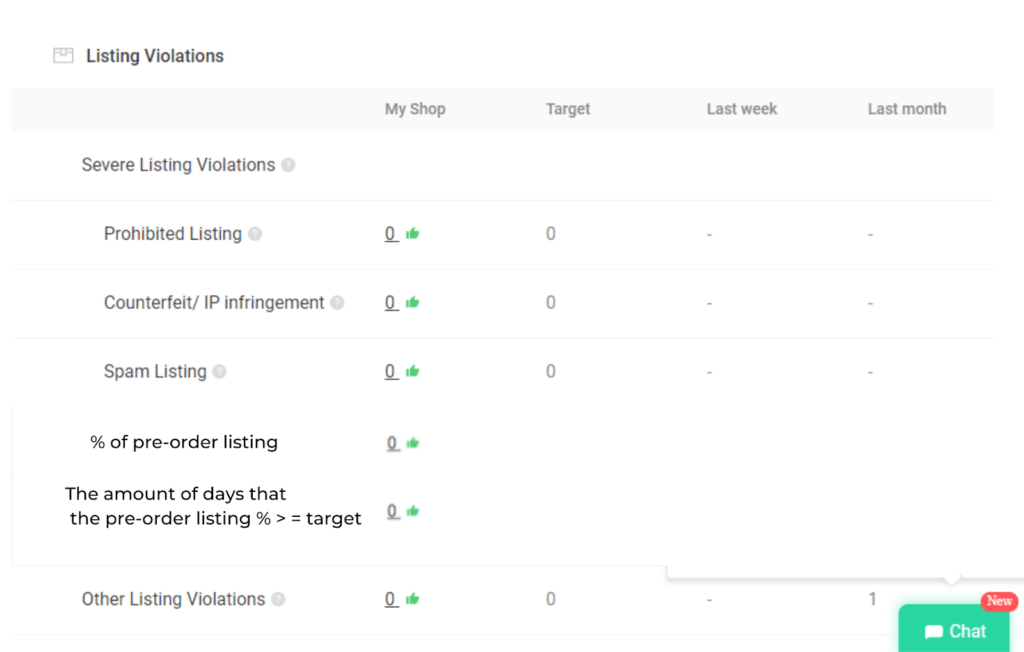 You can find your pre-order listing % as you scroll down to listing violations. If you are a non-OS or PS seller and your pre-order listings are above the target, your listing limit will be down to 500 on your first penalty point.
So, what happens if you create more listings than your listing limit? Shopee will deprioritize your listings with zero sold count and will no longer become visible on product searches or on your shop page. 
What Are The Consequences Of Committing Shopee Listing Violations?
When a product listing violates one or more of the Shopee listing violations, that particular listing will be subject to suspension or deletion. 
Each time a seller violates a listing code that resulted in a deleted or suspended listing, he will also incur a penalty point. You will learn more about the penalty points below. 
Penalty Point System
Once a seller has violated a listing code, the seller will receive a notification about the matter. He will be able to edit the said listing to make it comply with Shopee's standards. All elements that violate the policy needs to be changed or deleted. 
If the seller is unable to do so, the product listing will be deleted and the seller will incur a penalty point. 
A seller who goes against listing violations will incur 1 penalty point. Also, re-uploading a product listing after it has been banning or deletion due to listing violations, the seller will incur another 1 penalty point and will have the listings deleted once again. 
Once a seller has attained a high number of penalty points, he will be subject to 2 penalty points on his next violations. 
Shopee Listing Limitations
Shopee sellers are categorized on specific tiers every Tuesday. The Shopee team uses the tiers as the basis for the sellers' listing quota. 
New shops that joined Shopee for less than a month with no more than five completed unique orders will have 1,000 as their listing quota. 
Sellers who have joined Shopee for at least a month and have at least 5 to 100 unique complete orders have the label Medium Shops. These sellers have a 3,000 listing quota. 
The ones who have been with Shopee for at least a month with more than 100 orders have the label Experienced Shops tier. They have a 5,000 listing quota. 
As we all know, Shopee gives high-performing sellers the Preferred Shopee Seller status. Preferred Shopee Sellers have a 10,000 listing quota. 
The Official Shops are the highest tier and will have 20,000 listing quota. 
This is how sellers get their listing quota. However, once the seller violates a listing code and incurs penalty points, he will also get a listing limit as a consequence. 
The listing limit only applies to sellers who are not OS or PS sellers. 
As mentioned in the previous paragraphs, a seller will have a listing cap of 500 once he incurs his first penalty point. 
The listing cap tightens as you incur more points. 
Once you incur three points, you will have a listing cap of 200. As soon as you accumulate 6 points, you will have only have a listing cap of 50 as a result. 
The listing cap will apply to a seller who has violated the listing code for approximately 28 days. After this period, your listing quota will be reset. 
What's your experience with product listing violations? Let us know in the comment section.