Convincing people to pay for products they can't physically experience immediately is an undertaking every marketplace sellers and marketers face. To establish credibility, they need to improve their products rankings on search results using descriptive images, compelling product descriptions, and garnering online product reviews.
In eCommerce, online product reviews are treated as digital word-of-mouth, written and posted by people who've experienced using the products.  These reviews help online shoppers evaluate the products based on what people say about them online. And a lack of customer feedback is actually a major reason for a high cart abandonment rate.
However, it's also important to note that these reviews are made by unknown individuals, with different situations and circumstances. That said, many are questioning how much trust we can put in online product reviews. Moreover, there are growing numbers of fake reviews online. How should online sellers deal with it?
This article will talk about the role of online product reviews, and what exactly consumers want to see in the reviews to make better decisions. 
Role of online product reviews in eCommerce Marketplaces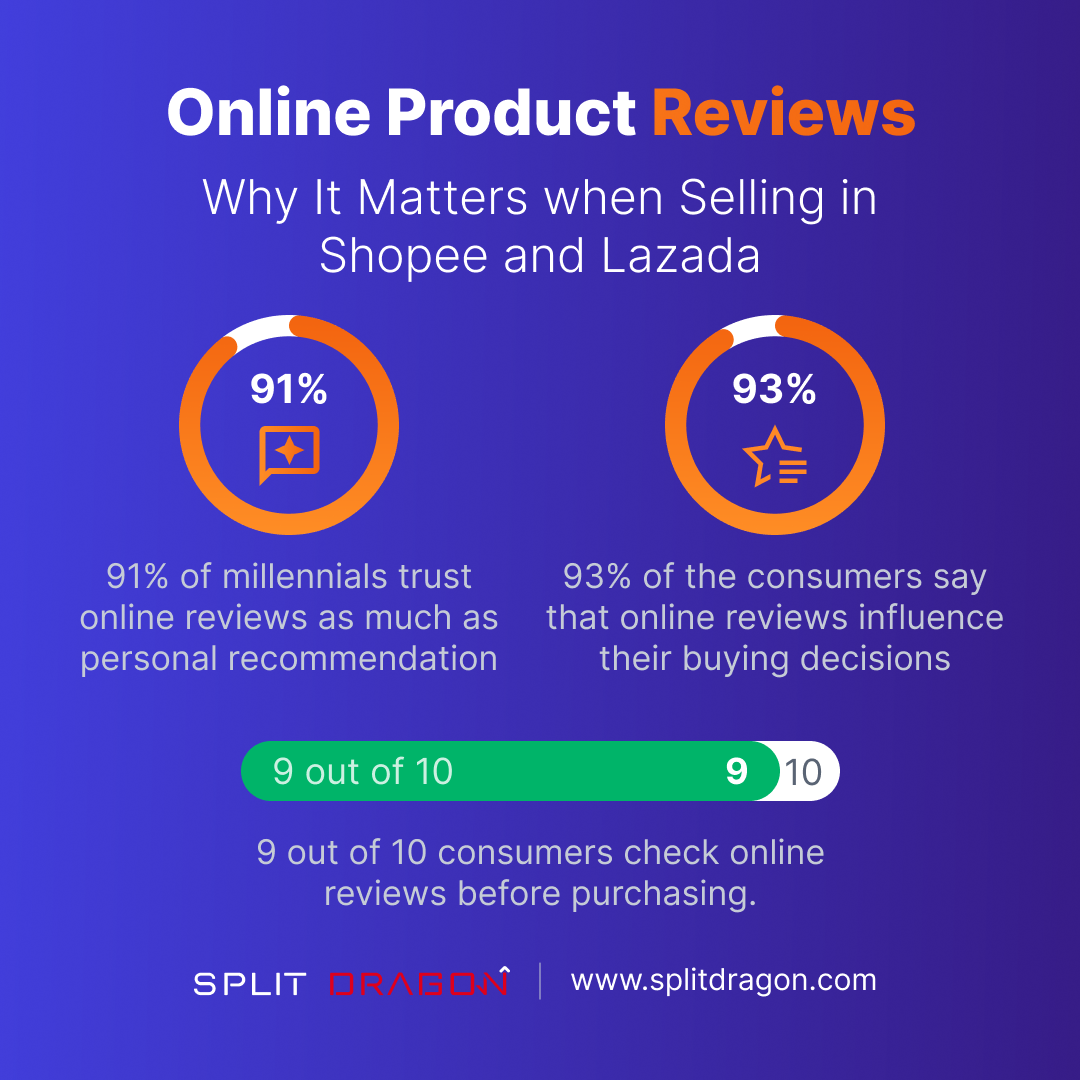 Reading and checking ratings gives shoppers a clear idea about the product and helps them decide whether it's worth buying or not. And according to Trustpilot, 9 out of 10 consumers check online reviews before purchasing. 
But the role of online product reviews does not end there.
They can also:
Improve SEO
When selling in online marketplaces, one of the major concerns is how to drive traffic to your products. While it's important for sellers to focus on improving SEO by optimizing product titles, images, and product descriptions, reviews also play a huge factor in SEO.
Marketplaces like Lazada and Shopee use rating systems to identify which products to recommend. They promote a fast-buying process, which works well with impulse buyers. Thus marketplaces would endorse products that fit exactly what the users are looking for.
This means the better your online reviews are, the bigger the chance that your product will be recommended and land on top of the search results inside the marketplace.
Effective in selling marketing
We've established how important reviews are for the customer. Now let's turn it around and use those reviews as a sales and marketing tool.
If you already have tons of reviews, it's easy to say "just pick out the best ones and use them in your marketing campaigns."
But which reviews are the "best ones?" What kind of review should you actually use as a sales and marketing tool? According to a study by Canvas8, they've identified 3 things that are essential in a review:
Realness – a 5-star rating seems just too perfect and can be seen as fake by many
Recency – consumers believe that companies change over time — either for better or worse — thus they see recent reviews are more accurate.
Relationships – customers want to be treated as humans. And when they're treated as humans, good relationships are built, which makes them more forgiving of mistakes. There's usually little to zero tolerance when it comes to mistakes in marketplaces, but customers who have a good relationship with the sellers give them a chance to manage those mistakes and show how responsive they are to complaints.
Builds trust and credibility
Marketplaces are known to be infested with fake items since there are rarely any consequences for selling fakes, aside from being banned from the site. They can also always reestablish themselves any time to continue selling.
That said, online product reviews prove that you've successfully provided a service or sold a product to other people. This social proof helps combat fake product sellers.
Reviews can counteract doubts planted in a consumer's mind. 91% of millennials trust online reviews as much as personal recommendations. Moreover, 93% of these consumers say that online reviews influence their buying decisions. On the other hand, it also protects your business from fake sellers.
Customers can see additional details about you as a seller and the product in the review section. This includes other aspects that may fall outside of your services like the choice of courier and the state of the item when they receive it.
Online reviews are powerful tools for influencing buying decisions. Since these details are coming from people who already purchased from you, they are more likely to believe it, thus helping build trust and credibility in your business.
Gives your customers the power to voice their opinions
Online reviews give your customers a direct line to you and vice versa. It gives power to them to express or voice out their side of the buying story, and other potential buyers will see this as social proof.
Moreover, hearing your customer's feedback and insights will help you improve your business. As mentioned earlier, customers are most likely to trust reviews that show mistakes and blunders because it lets them see how your business deals with them. If they can see that you're able to handle these inevitable challenges gracefully, it will give them a sense of relief and more confidence in your brand.
How to leverage your online product reviews
The importance of online reviews is obvious, but knowing why they are beneficial and how to use them to your advantage are two different things.
Here are five tips on how you can put your product reviews to work:
1. Identify keywords used by your customers
Finding relevant keywords for your product is not easy. That's why it's essential to have a keyword search tool to correct and enhance your marketplace listings. However, aside from tools, you can also extract keywords directly from your customers through their reviews.
Besides, the best data are those insights coming from those who already experienced your product. By reading your reviews, you can identify keywords and phrases used by your customers and integrate them into your SEO campaigns.
2. Increase positive brand awareness
There are dozens of ways to increase brand awareness. But one of the most effective and influential is through online product reviews.
This is where online reputation management comes into play. ORM is the process of crafting effective strategies to shape public perception of your business. It can make a better impression on your prospective customers and help counter negative comments effectively.
Moreover, a well-managed online reputation can convert visitors to customers by showing them how you are handling your communications in a positive way or showing a positive business image.
3. Create an effective marketing campaign
Nothing beats the voice of a happy customer, so make sure that you leverage that. Create content out of it and share it on social media. You can either share a long post or upload a video on YouTube. Reviews are a great source of how most customers feel about your product and you can highlight such insights during live selling.
Studies are showing that social media has a great impact on impulse buying — something that you can use in your favor.
4. Turn them into ad creatives
One of the best things about using reviews as a content marketing tool is that you no longer need to hire big production firms for your ads. They're already enough to convince your prospective customers about how good your product is.
Turn these reviews into ad creatives for wider reach.
5. Use the voice of the customer in the product information
Again, reviews give a detailed context about your product. And, in some cases, there is information that is not easy or isn't allowed to be included in your description such as claims and guarantees.
For example, unless you have approval from the Food and Drug Administration, you cannot say that your product can help with weight loss (and even if you somehow get approval, some marketplaces just simply don't allow it). However, if such information comes from actual users, then it's easier to convey the message, plus it's more believable.
6. Increase engagement
You can't avoid negative reviews. When selling in marketplaces, there will be plenty of hiccups and glitches that can turn a pleasant shopping experience into a negative one for your customer.
Good thing marketplaces like Lazada and Shopee use ratings instead of just thumbs up or down options.
However, it doesn't mean that a 2-star rating won't affect the rest of your reviews. The good news is that this is your opportunity to show off your customer service skills and increase your engagement.
So aim to respond within 24-48 hours to the review. Make a short apology if necessary, but focus the majority of your energy on addressing the issue as quickly and fairly as possible. Also, remember that once you hit the submit button, you cannot edit it.
4 Tactics to get positive online product reviews
What if there's no review yet? What if you just launched a product that nobody's tried? Below are one of the most effective tactics to gain positive reviews.
1. Ask your customer
The best and easiest way to get a review is to simply ask for one. After the purchase, you can leave a message asking the customer to leave feedback. You can even say how much this would mean to your business.
You can also ask your customers questions. For example, you can ask them what made them interested in your product, what are their biggest concerns about their purchase, and what else they would like to see improved.
Aligning your questions will help you get valuable insights and relevant reviews.
2. Give incentives
Some customers are reluctant or are just not interested in giving out a review. To assist sellers with this, marketplaces like Lazada and Shopee reward buyers who write reviews.
On the other hand, you can also encourage your buyers to leave reviews by giving out incentives yourself. In today's information era, people love to share good things on the internet, and receiving a bonus gift can motivate them to share their buying experience. And it also doesn't hurt that recent research says they're more likely to write a positive review.
Just make sure that your freebies are useful or worth sharing or they will reflect in your review.
3. Make online product reviews easy to do
Some buyers are not interested in leaving a review because they find it inconvenient. While you can't influence this when you are selling on eCommerce platforms like Shopee and Lazada, you can still encourage reviews in other channels.
For example, if you have a Facebook Page, you can ask them to leave a quick review there. Or you can also do quick polls on Twitter. This way aside from gathering more customer insights, you are also promoting your product on other platforms.
4. Personalize your response
95% of shoppers don't want to talk to a robot when they're shopping. Moreover, 63% of Millennials say that they would pay more for improved personalization.
The key to building a loyal customer base is communication. And if you just use canned responses in your feedback without putting a little bit of personalization, it will leave a robotic impression on your customers.
Your goal here is to have good customer retention. And customer loyalty is a result of a positive experience.
By providing a personalized response, you are also showing your accountability and commitment in public, which is a very important touchpoint in shaping a potential customer's perception of your business.
How to deal with fake reviews?
Negative reviews stick out like a sore thumb and sometimes these reviews are not even real. The good news is that only those who have logged in to the accounts and purchased the products can leave reviews in Shopee and Lazada.
Unfortunately, there are sellers who buy fake reviews to boost their sales on marketplace platforms. That said, Lazada and Shopee put a clear policy for sellers who are using fake reviews, fake followers, and fake likes to boost their sales.
Meanwhile, you can report reviews in question on other channels like Google and Facebook.
Build customers' trust through reviews
Word-of-mouth has long been a sales pillar since the inception of capitalism. However, eCommerce is now part of our daily lives, making online digital marketing the next powerful marketing frontier.
Make sure that you are using it to your advantage to boost your sales.
Want to learn more about how to win with online marketplaces? Join our Facebook Community. We tackle everything about marketplaces in Southeast Asia. Follow us on Facebook for more eCommerce tips and updates.