Lazada Product listings are the only part of your business that you completely control – it's a good thing too because it's also what drives your sales upwards! 
To put it simply, good listings result in search conversions that turn to sales and more profit. You'll see that most successful marketplace sellers agree with that sentiment.
So how do you make a good listing on Lazada and what are the key elements of a Lazada product listing?
1. Product Title
Your product title is indexed in Lazada search results and arguably the most critical determinant of product sales success. To create a quality product title, you need to have the right balance between readability and SEO.

Objectives:
Contain necessary keywords to appear in buyer search results
Sufficiently describe product so buyer will click on it in search results and category page and arrive at product detail page (PDP)
Sufficiently describe your product so your customer will buy it from the product detail page (PDP)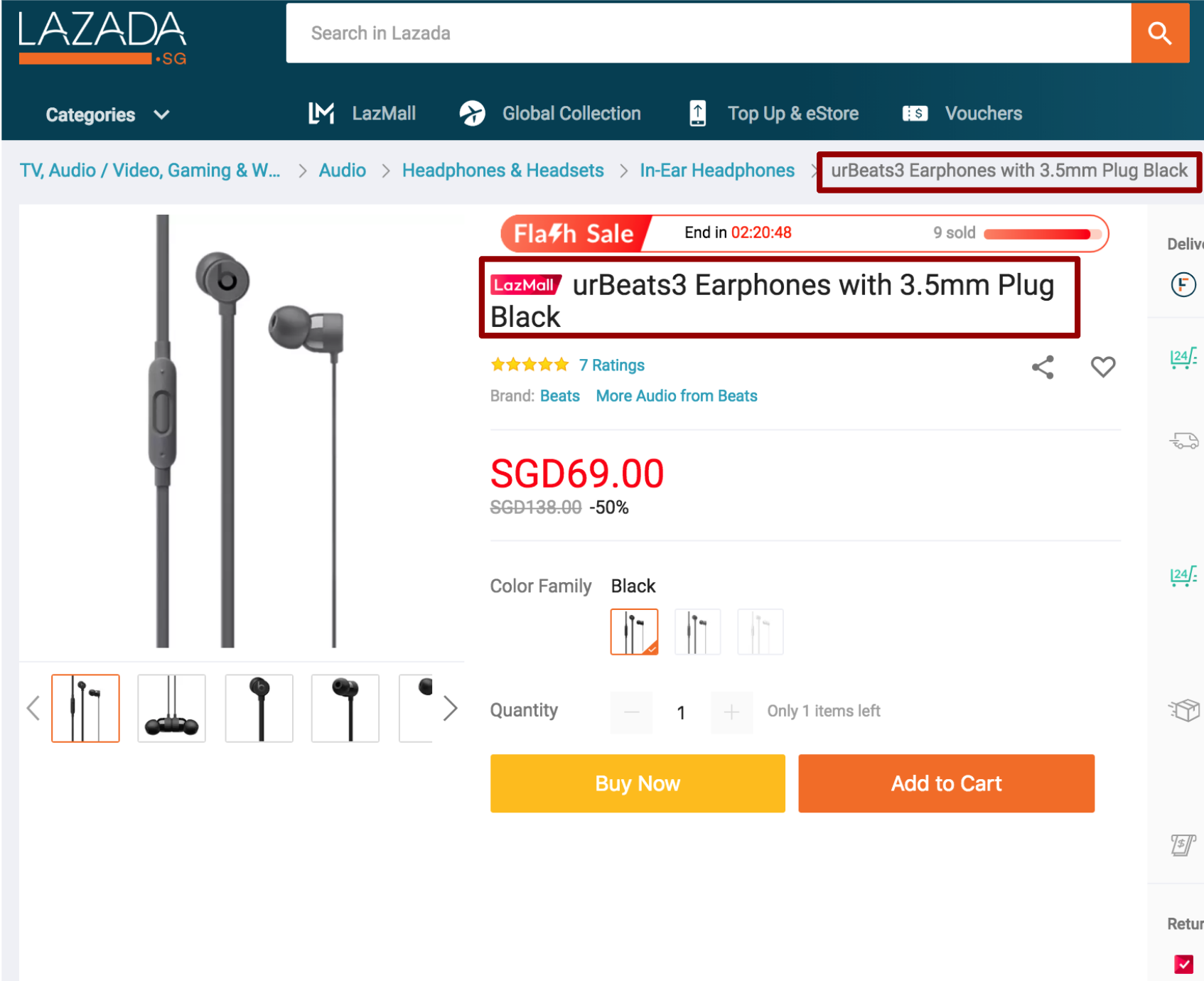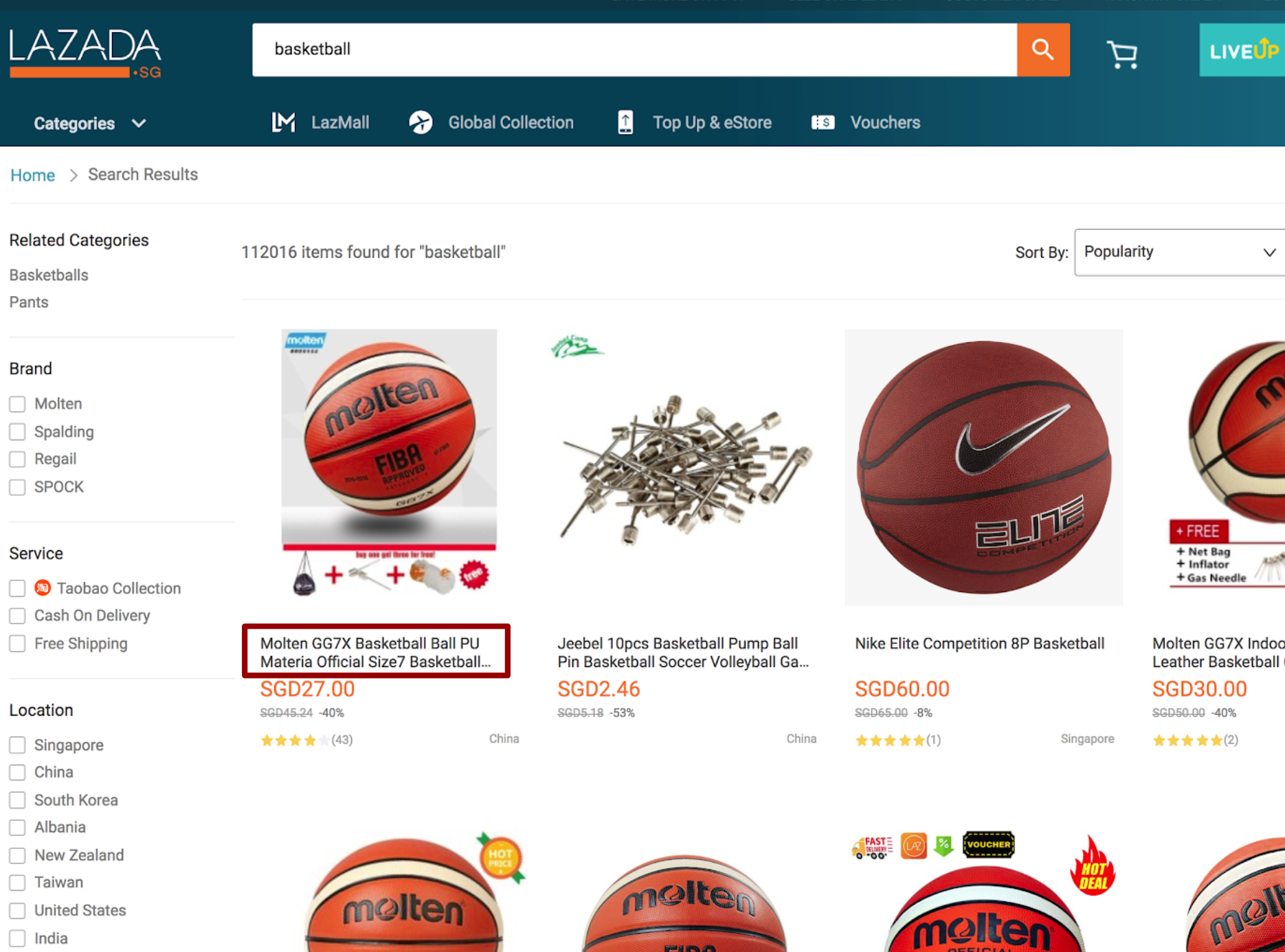 Best Practices:
Make sure you include most critical search terms in your product title (nearest to the front of your listing as that's where it has the most impact)

Example Product Title: Apple Slicer – Choose 5 Colors – Keyword Keyword Keyword Keyword

If you have multiple variations, state that in your product title.

Example Product Title: Apple Slicer – 5 Colors Available – Keyword Keyword Keyword Keyword
What Product Title mistakes do most sellers make?
Not doing keyword research before creating a product title
Poorly balancing Keyword stuffing and Readability
Not including target keywords at front of product listing
Not including enough keywords in your product listing
2. Product Image
Your product image is displayed in search results, campaigns, lazada advertisements all over the web (outside lazada website), and in the product detail page. To create a quality product image, you need to have high-fidelity image with white background that clearly allow buyers to view details of the product and know exactly what is for sale.

Objectives:
Contain necessary product detail to describe what's for sale
Be high-quality image so buyer can view product details
Motivate buyers to click on product from search results and category view pages to see more information on product detail page.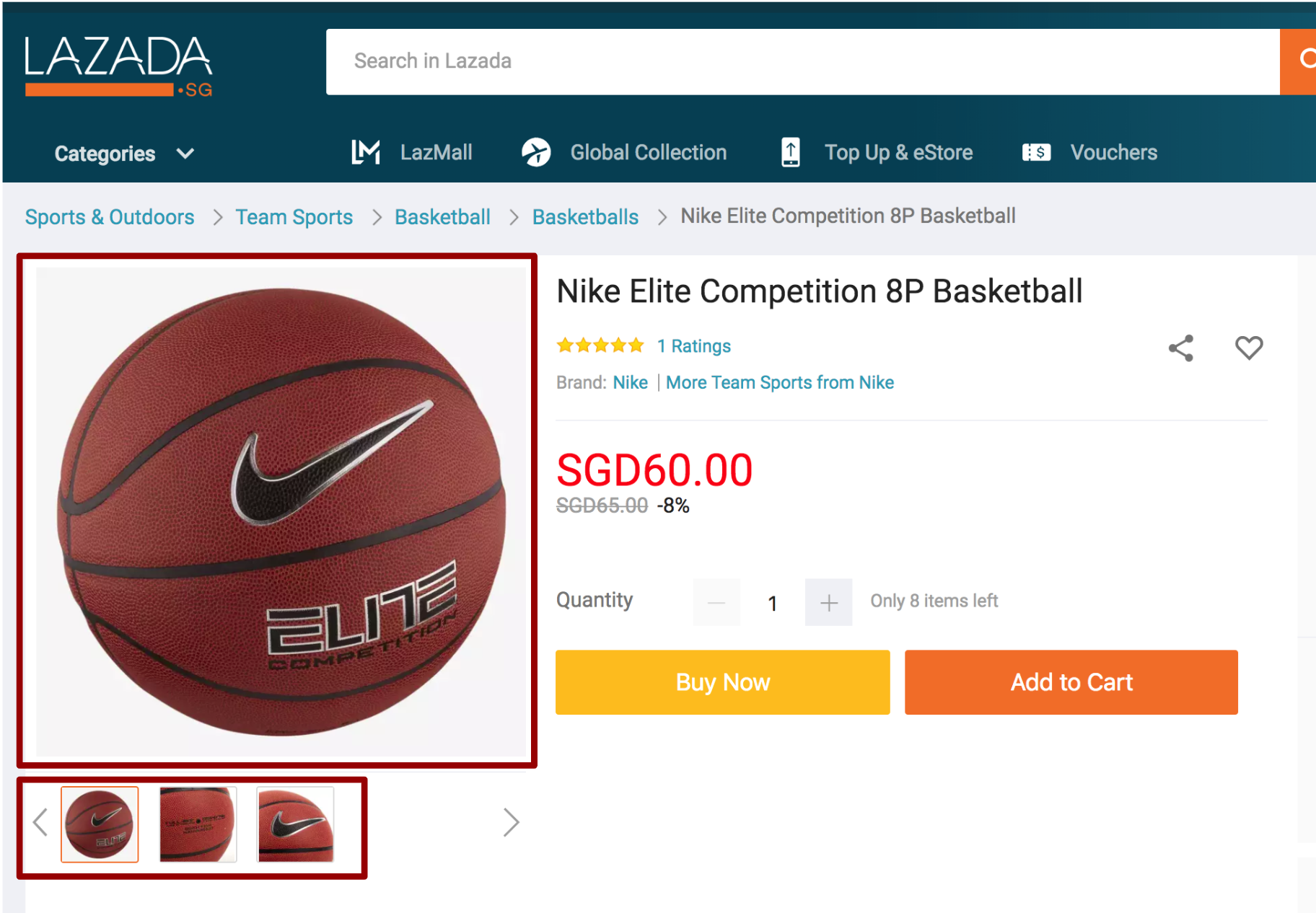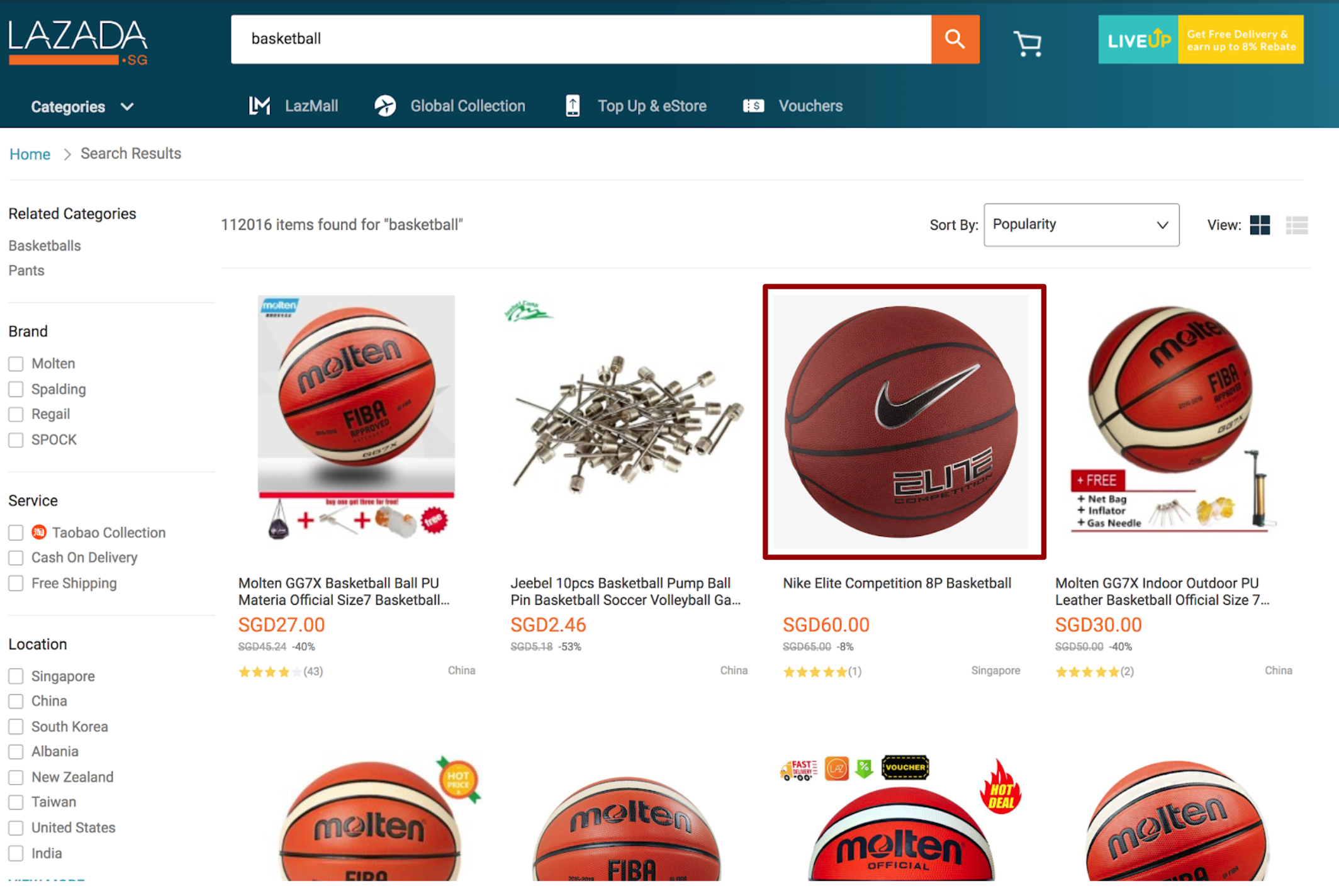 Best Practices:
Include high-fidelity product image (1000px X 1000px) with all white background so product can be zoomed-in
If your product is a bundle, include images of the bundle and not a single unit.
If your product is available in multiple variations, include variation details (show multiple colors).
Include more than 1 product image – outlining the product from different angles.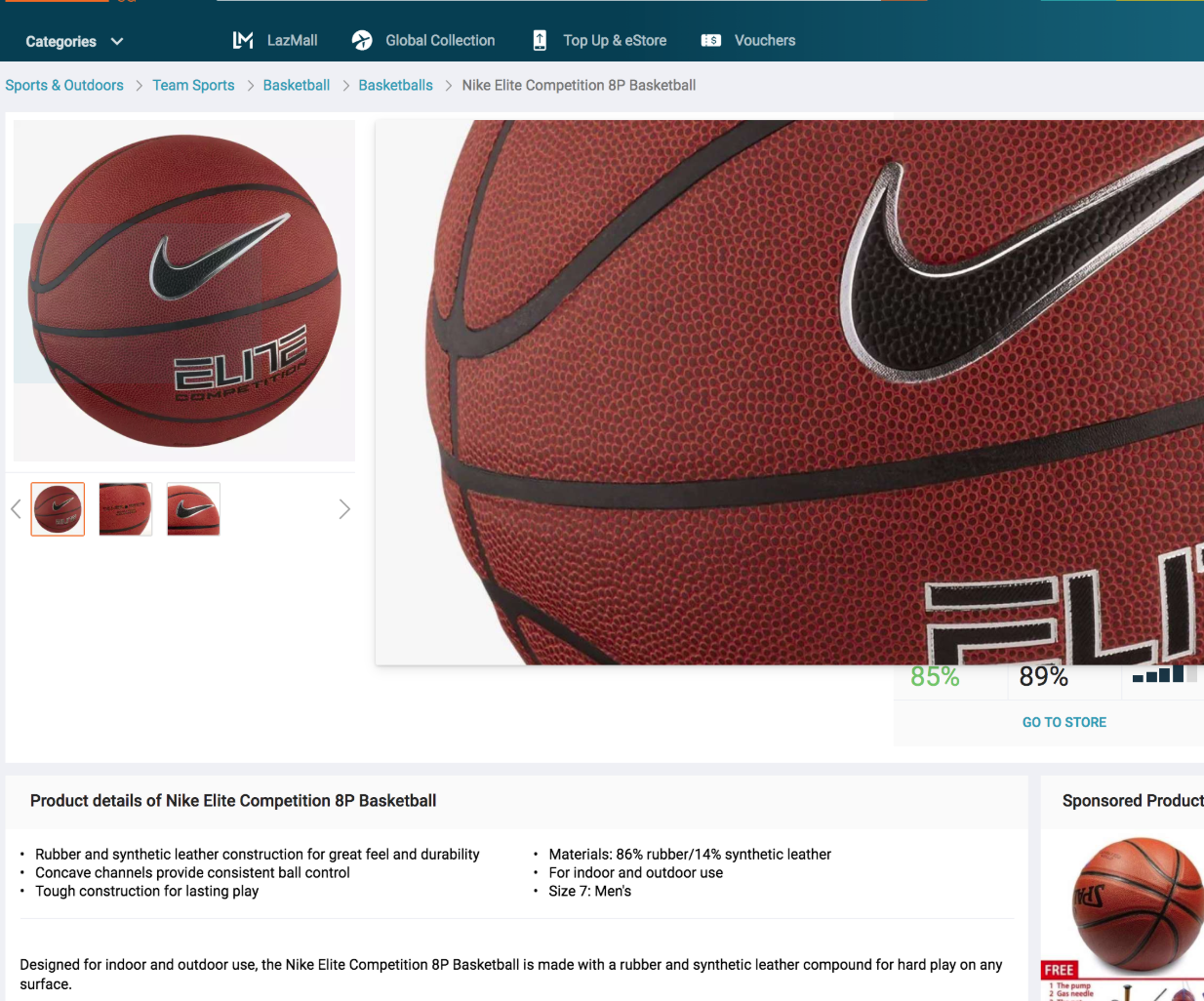 What Product Image mistakes do most sellers make?
Non-white background image
Product image is not large enough to allow buyer to zoom
Does not communicate product details well enough
Is not differentiated from other sellers product images (forcing you to compete on solely product price)
3. Product Short Description
Product short description is only displayed on the Product Detail Page so it's primary purpose is to convert viewers into buyers.
Product short description should be 4-8 bullet points that describe your product. You can think of these as your unique value propositions for the product.
Your short description bullet points should be key selling points that will convince the seller to buy your product. Product short descriptions are indexed in Lazada search at limited value so you should add keywords here.

Objectives:
Convert product detail page viewers into buyers.
Describe the value of the product to the user
Describe the features of the product to the user
Describe any special promotions, deals, or terms
Provide a short summary of the products features and value to buyer/user
Find and include keywords in short description to boost search rank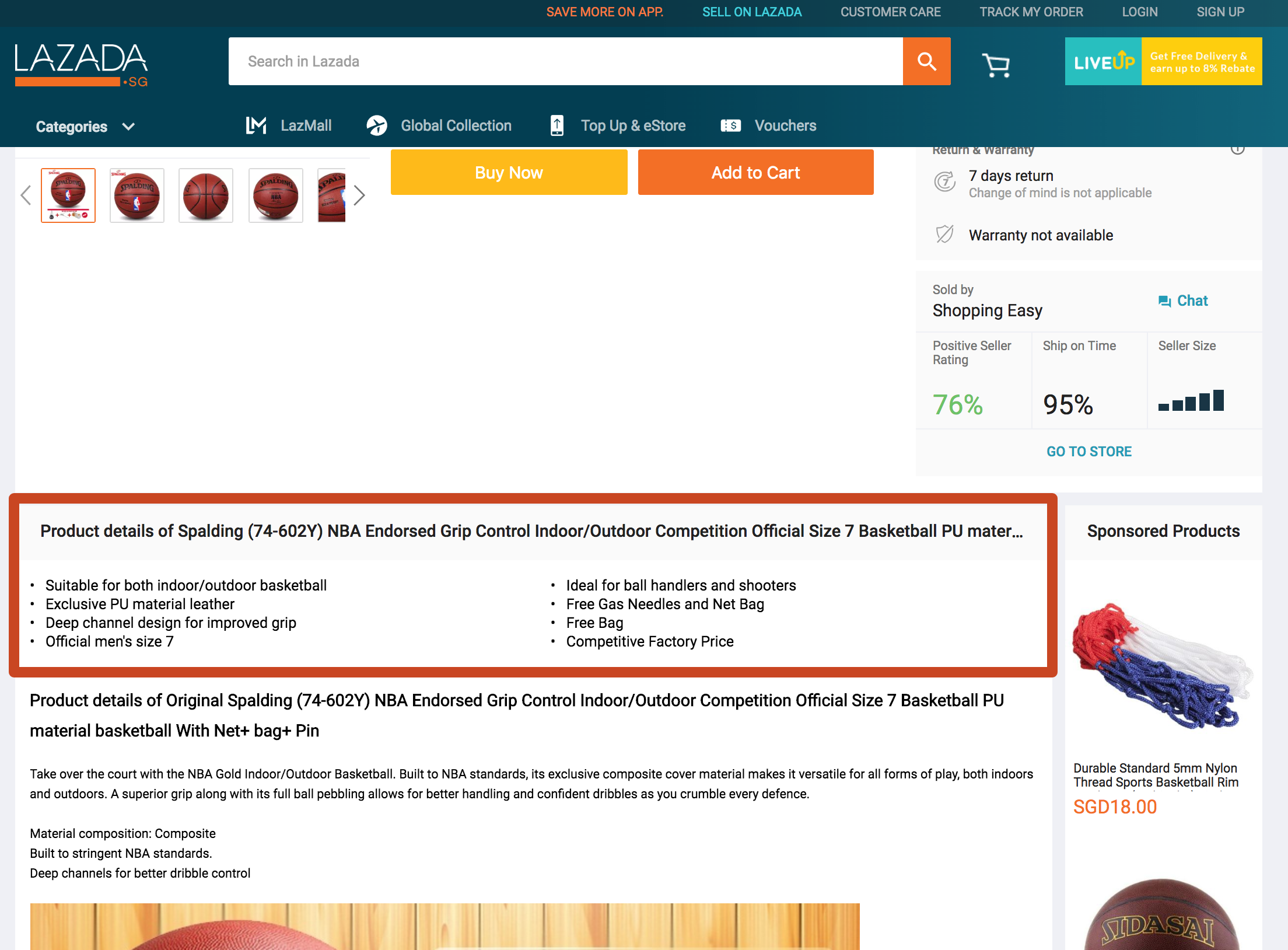 Best Practices:
Start your product short description in short, sharp statements and then extend description after that:



Example Product Short Description:

Top-Rated Phone 2018. This phone is etc etc etc etc etc.
Touch-Screen. Clarification of previous statement goes here etc etc etc.
Save 70% compared to In Store. Clarification of previous statement goes here etc etc etc.



Include keywords in your short description.
Use as much space as feasible in short description to optimize keyword boost.
Include keywords in your bullet points to minimize risk of Lazada seller center truncating your description and needing to work with support to resolve.
What Product Short Description mistakes do most sellers make?
Not providing short description in bullet point format
Not balancing readability and keywords in short-description
Not doing keyword research
Not adding enough keywords in short description and losing search rank
Boring mundane writing at beginning of each bullet point instead of strong calls-to-action.
4. Product Description
Product description is only visible in product detail page so the content here should be focused on converting viewers into buyers.
This is where you will write your long-form content. Both images and text are supported by Lazada seller center for product description so both should be used to optimize your product description.
The product description is not indexed by Lazada search engine so it's not critical to include keywords here. It's only relevant to communicate precisely what is the product.
Lazada provides a great tool to help you build a good product description without needing to use HTML coding. That tool is called Lorikeet.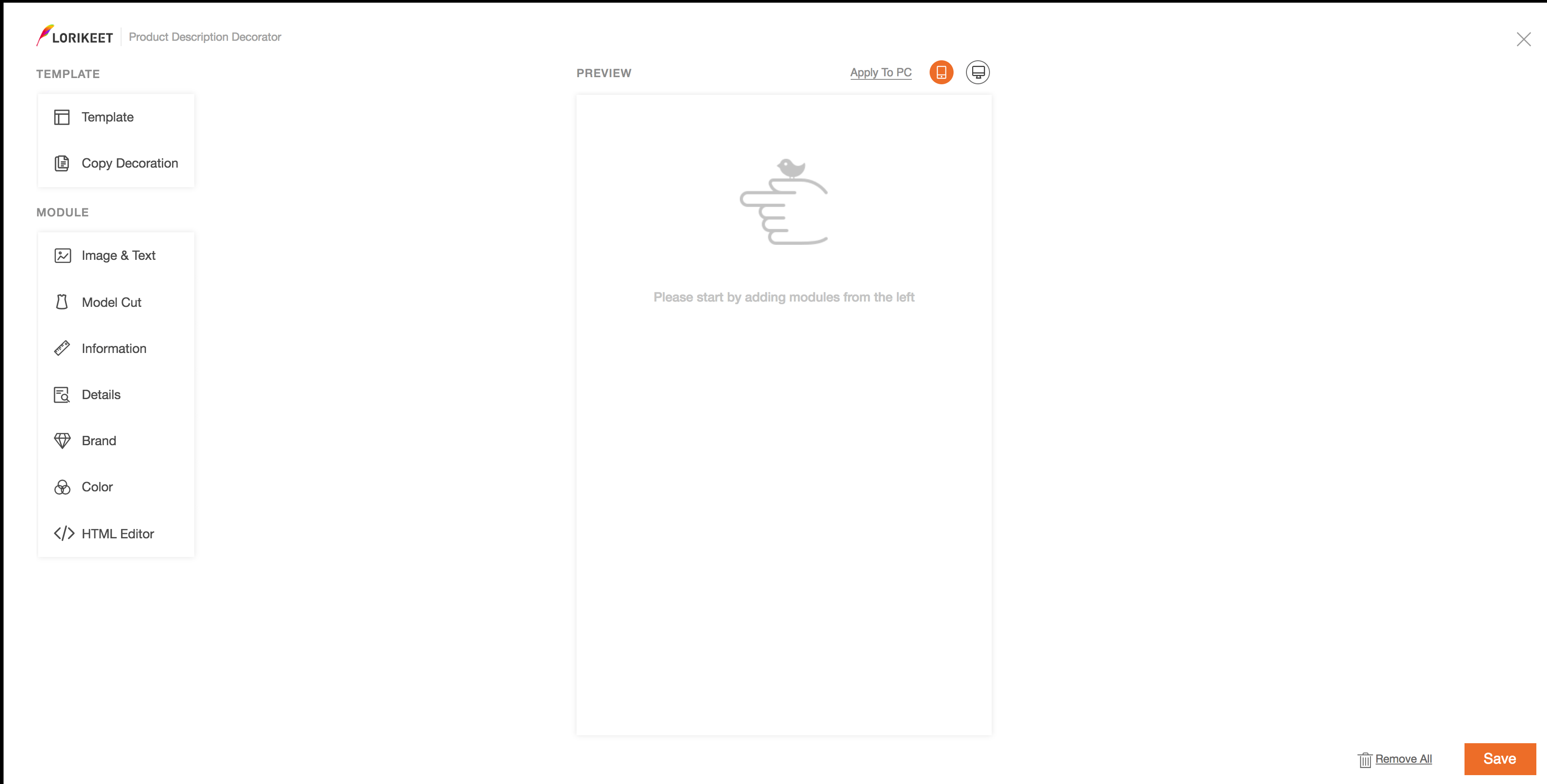 Objectives:
Convert product detail page viewers into buyers
Sufficiently communicate all core value propositions and features of the product
Ensure that the customer knows exactly what they will receive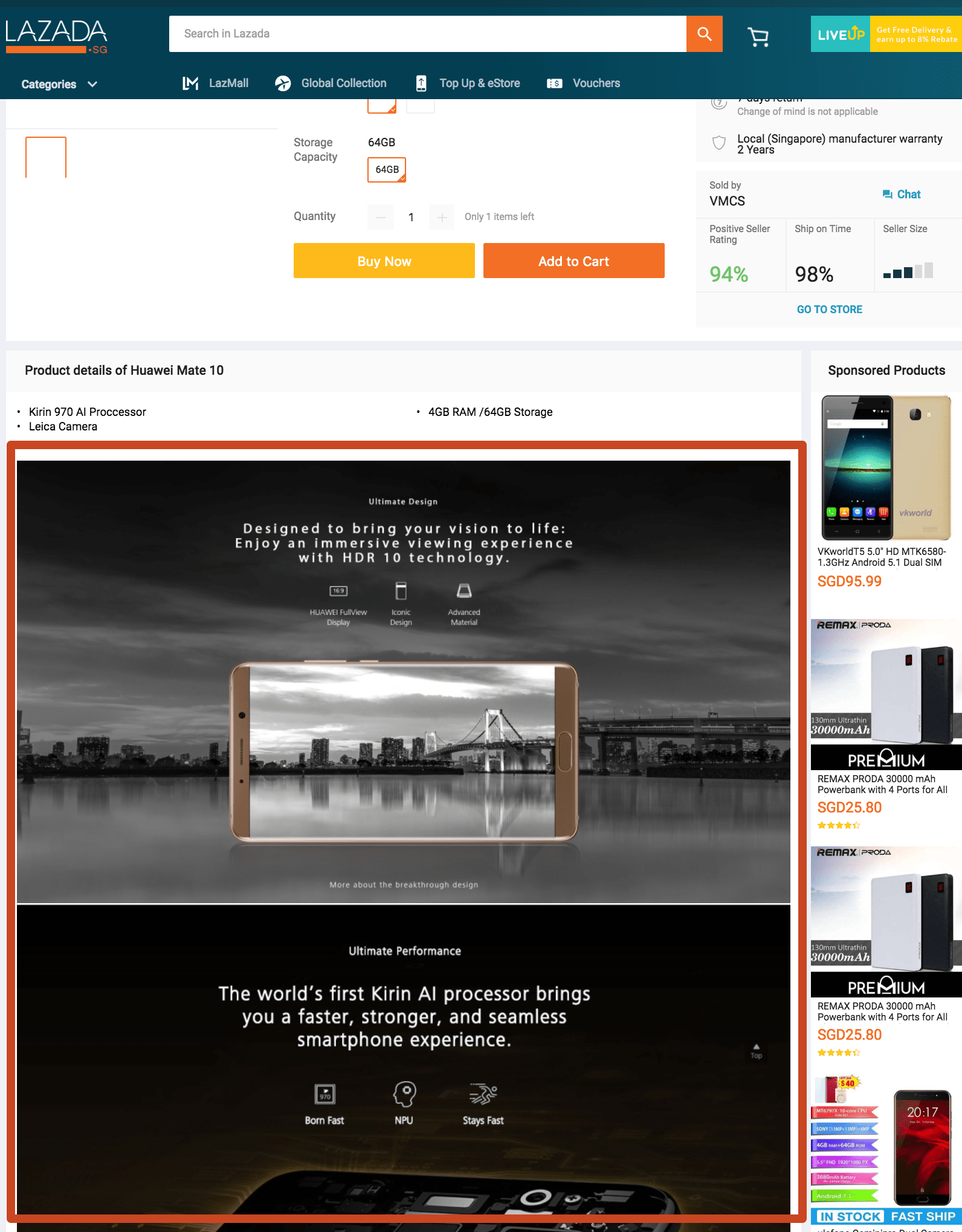 Best Practices:
Focus on both values and features in your product description
Include images and text in your product description
Aim to make your product description as 'professional' as possible
Include only product-related information.
Write clearly and concisely.
Make sure the description matches your product images
Avoid meaningless adjectives
What Product Description mistakes do most sellers make?
Not including sufficient description to help the customer understand what is included in the product and what is not included
Trying to keyword stuff the product description instead of focusing on readability and text/images that will help convert the viewer into a buyer
5. Product Price (Price and Sales Price)
Lazada product price is composed of two attribute values – product price and product sales price.
Product sales price has a start date and end date so it may or may not be active. If sales price is active, then you will see price with a strike thru it.

Objectives:
Offer a compelling price to customers
Communicate a discount to entice buyers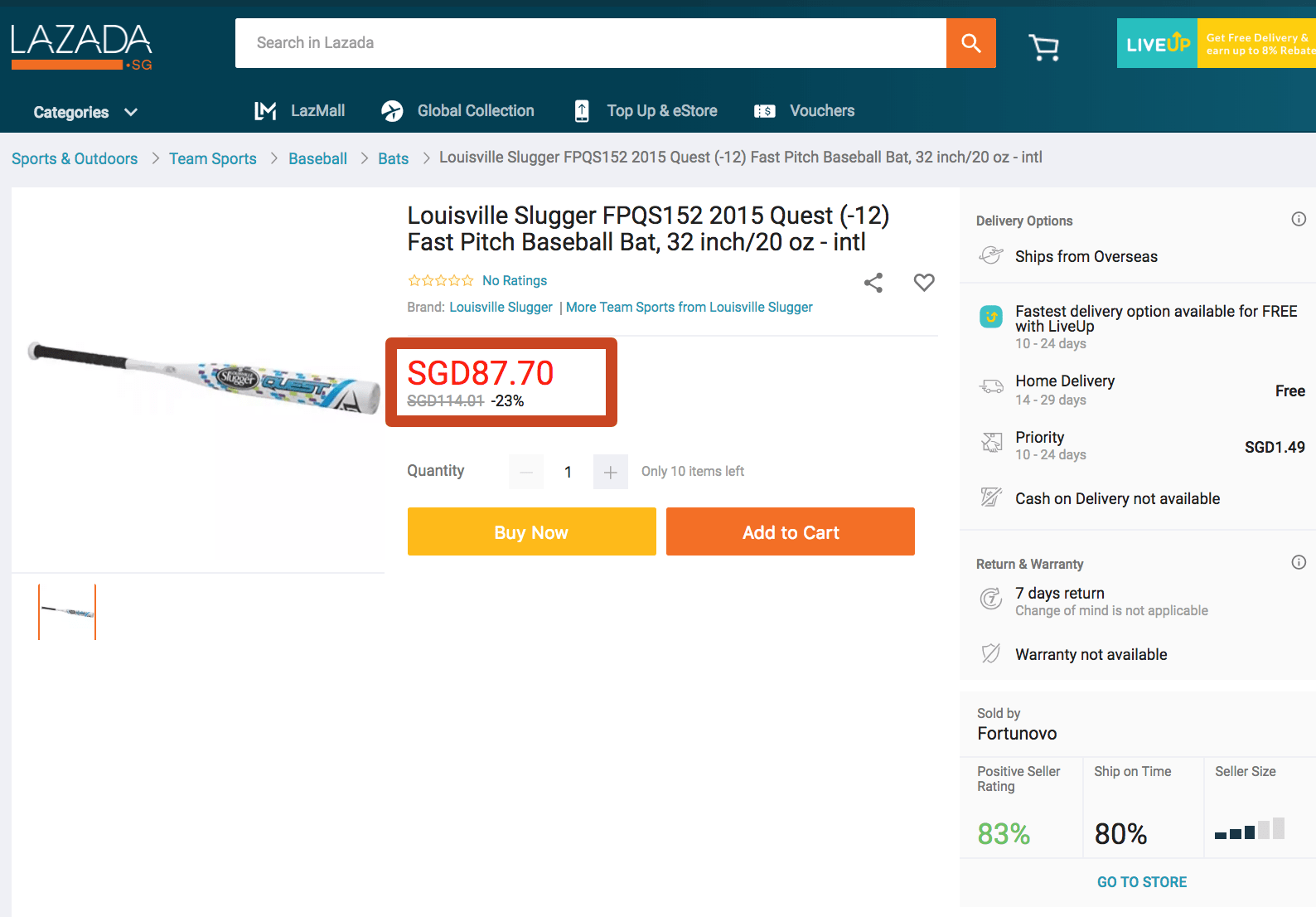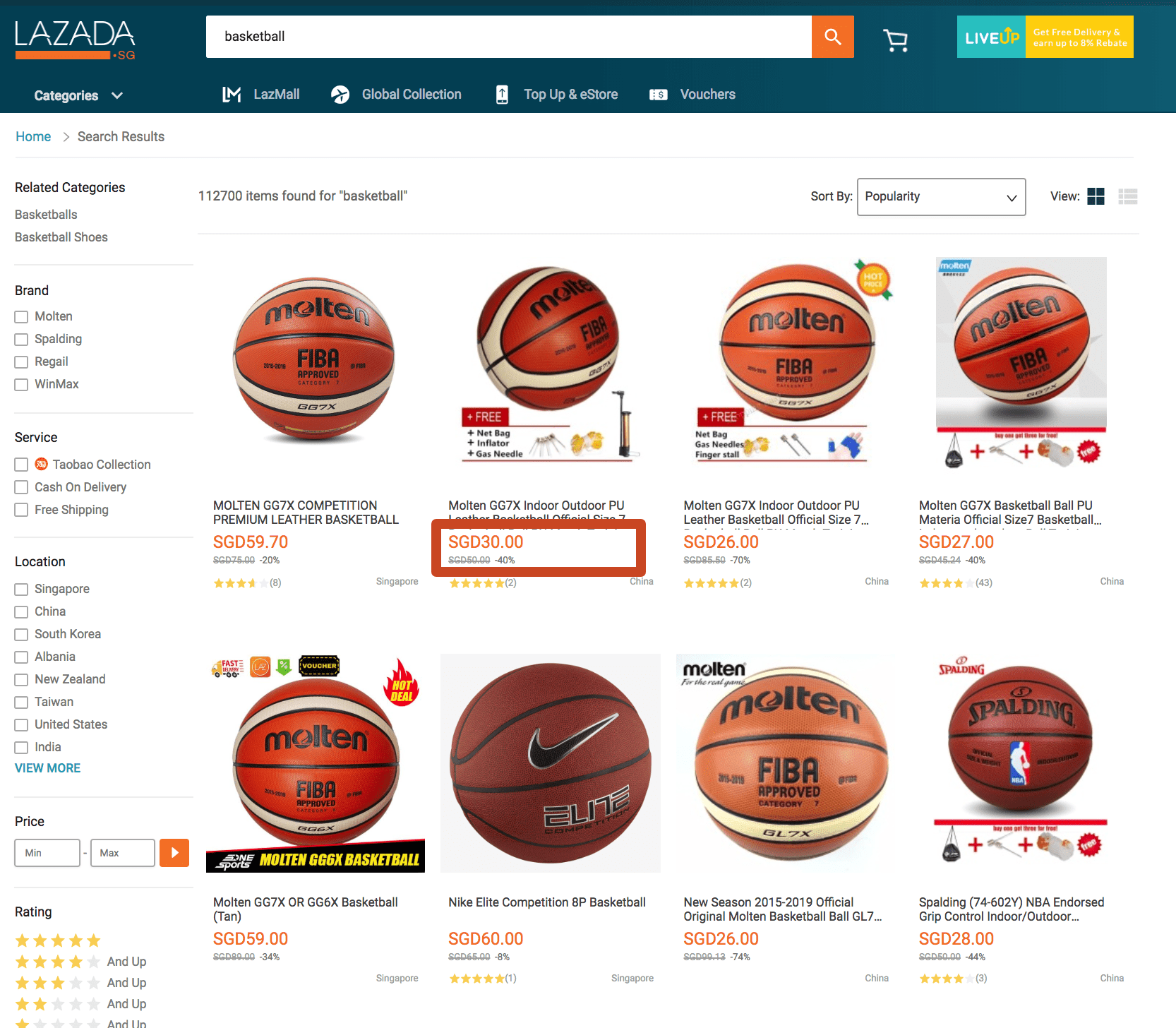 Best Practices:
Include both price and sales price to communicate psychologically discount
Ensure your sales price end date is set well into the future so you do not mistakenly lose your sales price (causing price to accidentally go up)
What Product Price mistakes do most sellers make?
Not setting sales price active
Setting sales price too high, making the gap between price and sales price seem artificial
6. Product Category
For product category, this is quite simple. You want to add your product category to the category that you understand to have the most traffic.

This is because product category impacts in-category search results. It's common for buyers to search for a specific product and you don't want to miss the opportunity of getting a product view because you've added your product to the wrong category.
You also have a great opportunity to get traffic via category navigation (which is quite common in ecommerce marketplace). This navigation method is outlined below: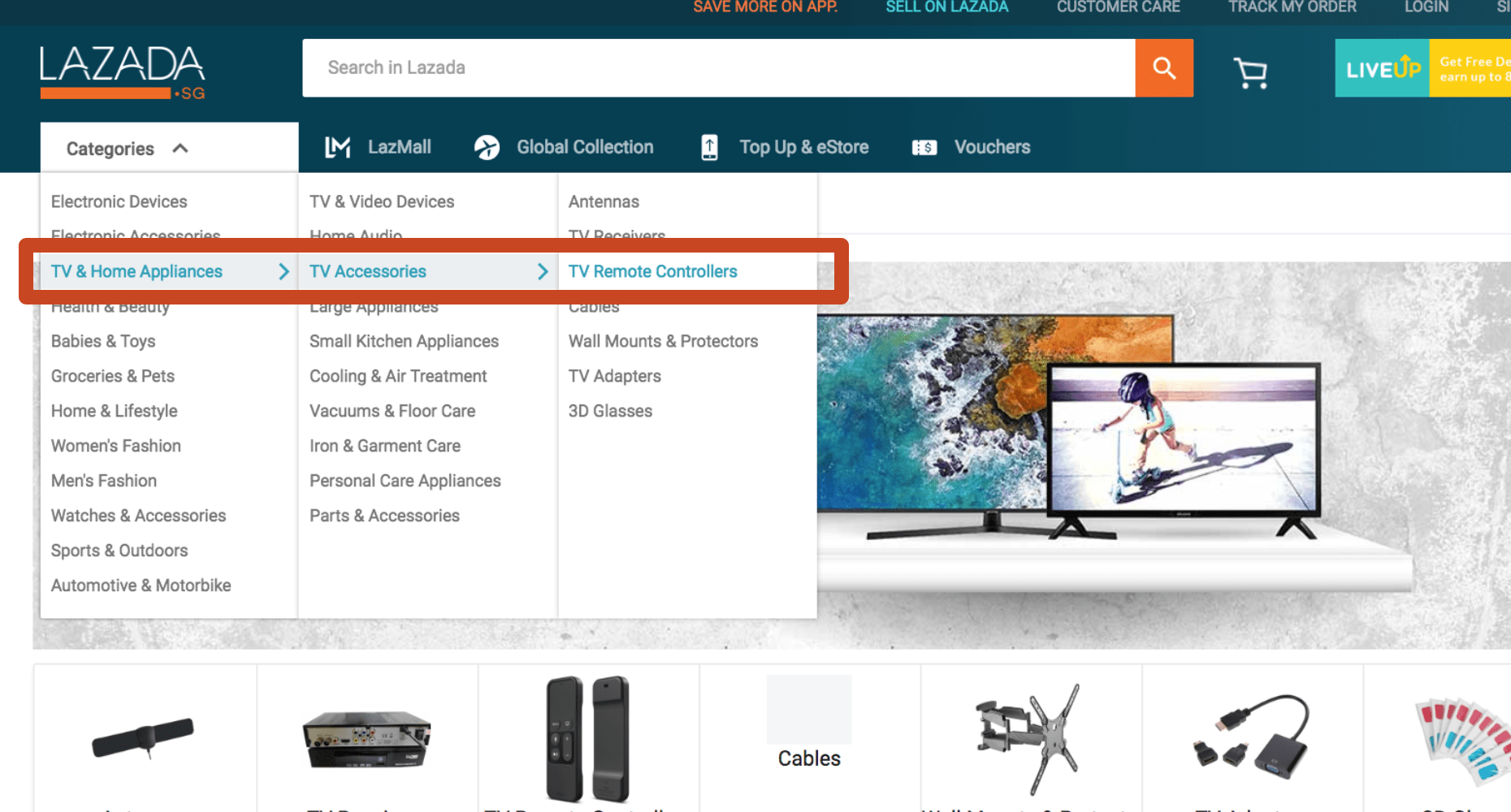 7. All Other Product Attributes
For all other attributes, these have less impact on SEO and conversion rate. That doesn't mean that you should leave them null.
Product quality is measured as completeness of product listing and this will impact your search rank if you have products with low quality score.
So you will want to populate all attributes during product creation (even the ones with not such a high value) as it will improve your attribute fill rate and, in turn, your product visibility via filters on the side of the search and category results.
Don't underestimate the filters on side of search results. Buyer use these and you don't want to miss out by leaving your attributes null.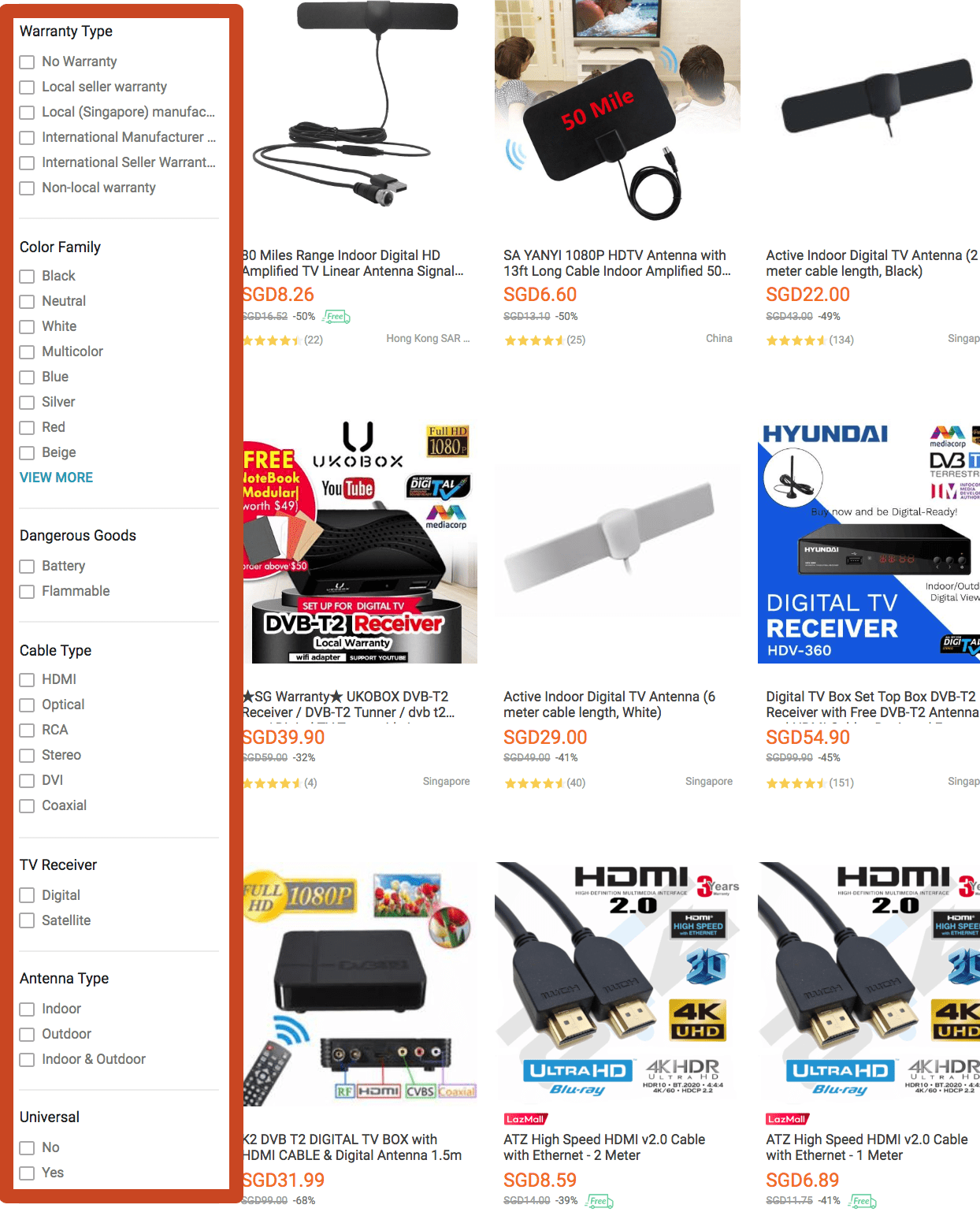 The best way to remain on top of the competition is through optimizing your current processes. As you follow our CEO's tips here, you'll see a considerable improvement both in your back-office operations and your front-end, enticing your customers to have you as their seller of your choice!
Want to know how to boost your sales?

Split Dragon offers support with your e-commerce needs using conversion-Focused tools and data-driven solutions. Contact us today to see how we can help you with tailored strategies that will drive your company's success!