How well are your product listings ranking?
When you're competing against thousands of sellers…
 And you know every seller's doing all they can to have a high product rank…
You'd want to know how your own listings stack up. 
Now before we jump into the how-to's, let's take a look at how marketplace algorithms work first.
Understanding Marketplace Algorithms
Unlike Amazon's complicated A9, Lazada, Shopee and other marketplaces in Southeast Asia have more straightforward product rank search algorithms.
They provide the most relevant products after a search query is done. And their product recommendations are based on relevancy and popularity.
The marketplace's goal is to provide the best shopping experience by making the purchase process convenient, quick, and easy.
So when you're selling in online marketplaces like Lazada and Shopee, you need to focus on these goals:
Appearing on the first page of search results 

Get the shopper to click on your product listing. Have them actually buy your product. 
That said, you are competing for visibility and a high ranking on the search results page.
What is Product Rank?
Product rank shows that your product appears in search results and how much your product is selling. If your product ranks #1, that means it's currently the most purchased product in the marketplace.
Also, 92% of searchers will choose a business on the first page of the results. In other words, your product ranking can heavily influence the number of sales you can make in a day.
This makes tracking your product rank essential because it will give you an idea of how visible your products are on Lazada and Shopee. 
4 Benefits of Tracking your Product Rank
Search engine optimization is a competition. And knowing where you stand in a competition is the first step to winning.
Here are 4 benefits of tracking your product rank:
1. Know how your listings perform
Tracking your product rank will give you a snapshot of how the marketplace thinks about your product listings, and how it measures up to your competition.
And while it's still worth optimizing every aspect of your product listing, it doesn't hurt to know which optimization efforts are working. 
Marketplaces pay attention to how you craft your title, how accurate your images are, and how you make use of the description box. This assumes, of course, that you already know the most relevant keywords to use. 
2.
Update keywords when necessary
The online marketplace deals with thousands of searches daily. To ensure a high product rank, you need to use the most accurate and updated keywords in your listing. 
Truth is, not all keywords will work for you and that's OK. Having access to product rank data will give you insights into which keywords need to be updated and which ones are giving you high organic traffic. 
3. Make informed decisions
Product ranking should be examined on a frequent basis to spot and comprehend any changes. This way, you can take corrective action if necessary. In an industry where numbers play a significant role, guessing is not an option. Thus, tracking your product rank will give you the right data on how to strategize your campaigns and listings to rank better. 
4. Improve your sales
Online marketplaces are accepting sellers nonstop so you need to be vigilant and confident in your product rank search strategy if you want to keep earning.
By incorporating all the benefits of monitoring your product rank, it helps you boost your listings to the top, which increases your conversion rate. 
The best part is that SEO works nonstop. Once your product appears in the top search results, it will continue to do so as long as you maintain the good standing of your shop. 
Tracking your product rank is a cost-effective marketing strategy where you will reap long-term benefits. And you can maximize this using automation tools like Split Dragon's search track ranking tool.
But before we dive into that, let's talk about the factors that contribute to your product's ranking. And let's also check out some product rank search best practices that you can consider. 
Shopee product ranking factors
For Shopee, product ranking displays the top-performing products in terms of page views, units sold, and product reviews. 
Here are the ranking factors that matter to Shopee:
Your digital assets are optimized
What are your digital assets inside Shopee? These are the product data which includes:
Title

Product description

Product image

Pricing

Review
While these are basic information to fill up in your listing, it still requires special attention because your digital assets contain everything about what you're selling. And optimized digital assets will help improve your product's discoverability. 
You are a preferred seller
Shopee preferred seller is a program that provides an advantage to sellers in recognition of their excellent sales and operational performance.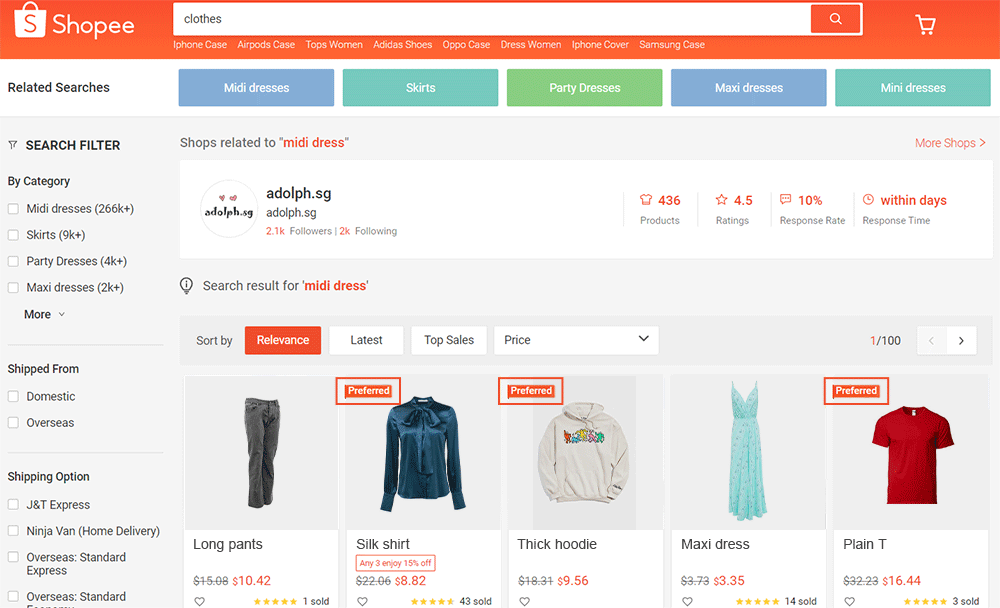 Aside from gaining buyers' trust, being a preferred seller can boost your search ranking and reach more potential buyers.
The tough part about this is that Shopee selects the preferred seller. But to qualify, you'll need to: 
Have a strong sales record

Offer excellent customer service

Fulfill all orders quickly and reliably

Comply with Shopee's seller policies and maintain a clean penalty record

Achieve high shop and product ratings
Maximize Shopee marketing tools
One of the main drives of Shopee is its promotional campaigns. These campaigns cater to 3 different business objectives: 
Boost Sales with Promotion

Engage with Your Shoppers

Increase Your Shop Traffic
That said, Shopee features prominent shops and provides perks to shoppers to further promote, engage, and boost products.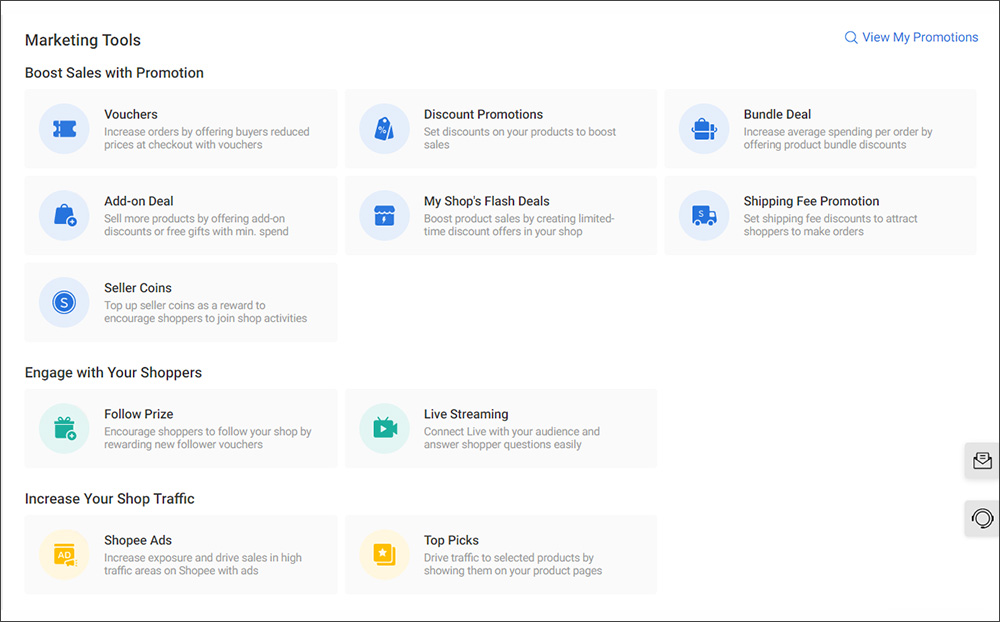 Lazada product rank factors
Lazada product rank factors are almost the same as Shopee. But at its core, Lazada's ranking factors involve:
Relevance in product title and description

Sales for the last week

Sales during the last  30 days
Improved seller picks
Seller Picks is a free promotional tool designed to empower sellers by optimizing SKUs (Stock-Keeping Unit) for product SERPs (Search Engine Results Pages) and advertising.
Basically, you will select products to be boosted in terms of search visibility. The products in Seller Picks will have a guaranteed 95% increase in page views. 
Increased visibility
Making an effort to ensure that there's an increase in product visibility is very important in Lazada (else, nobody will see your product). How do you do this?
1. Make sure you upload clear images
Lazada requires at least 3 clear and descriptive images. Since shoppers cannot directly touch and experience your product, your images need to be able to fill in that gap. 
2.  Post descriptive information about your product
Allow your customers to know more information about your products by writing long descriptions. Describe the purpose of your product, its unique selling features, and other useful information such as warranty, ingredients, and disclaimers. 
3. Complete Key Product Information
Key product information is the specifications of your product. These attributes serve as filters for the shoppers to find the products easily. 
Product performance
Lazada relies heavily on customer behavior when it comes to product search and findability. Sometimes you might wonder why Lazada is showing fewer items in the catalog compared to what you have listed in the Seller Center. This is because SKU (product)  performance is measured through how customers behave whenever they encounter your SKU. 
This means, the more valid clicks and orders, the better the ranking. So how can you control this? Well, you cannot. But you can influence it by lowering your price or having good product content.
Automate with Split Dragon's Search Rank Tracking
Both Lazada and Shopee can track your product ranking but you have to do everything manually. And let's be honest here, tracking your product rank is a long tedious process, especially if you are selling on both platforms. 
But with Split Dragon Search Rank Tracking tool, you get easily view the search rank for all your products. Not just that, you can also view the search rank history of each product and keyword over time.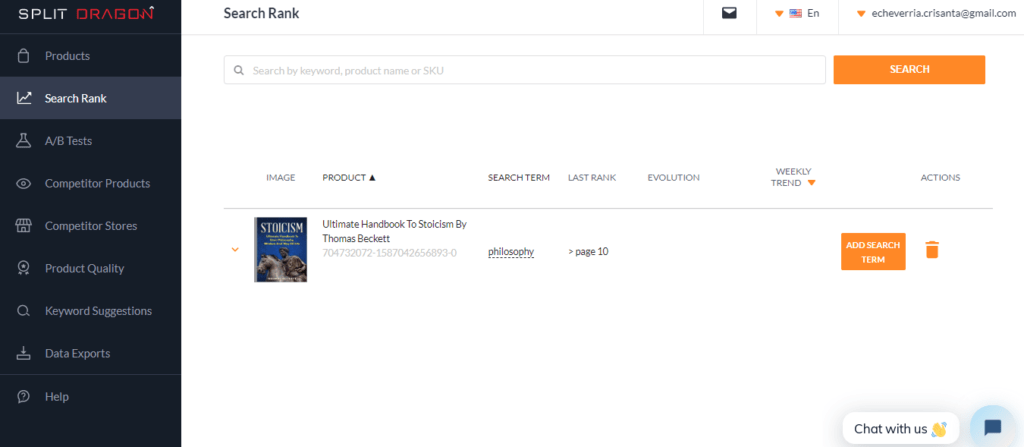 Search rank for all your products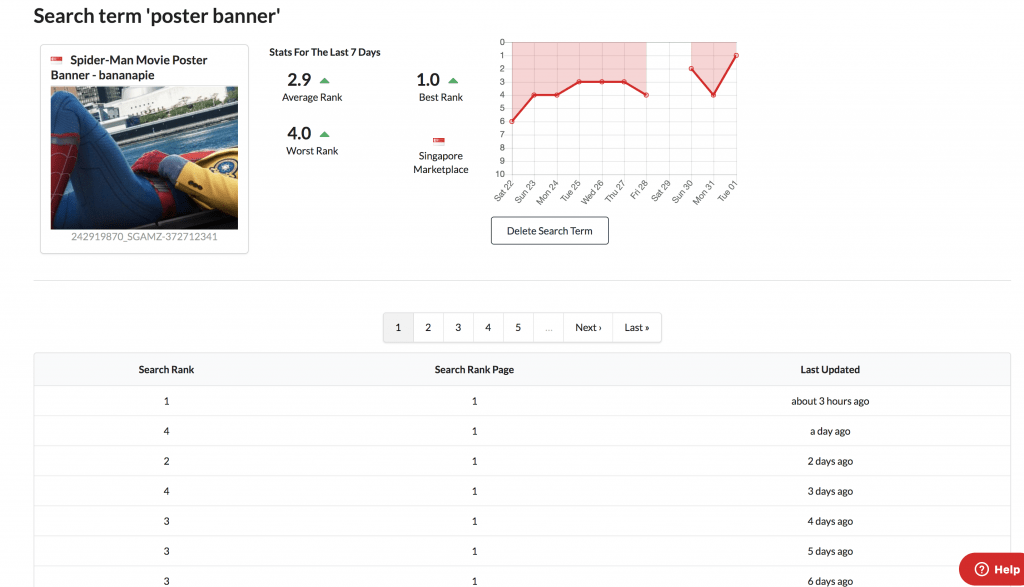 How to set up search rank tracking in Split Dragon
Setting up your Lazada and Shopee account in Split Dragon is easy:
If you don't have an account yet, you can sign up for a free 7-day trial.
2. Choose what platform you want to conduct the search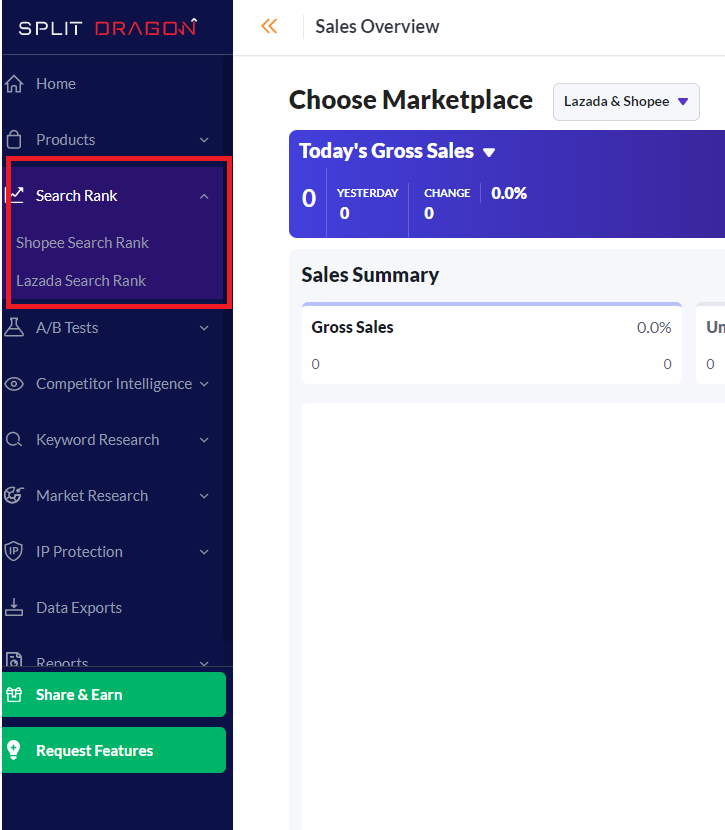 3. Enter the keywords you want to track and then click "enter"

Here you will see the current rank of your product and its evolution over the past 7 days. If you want to see more details about the product and its ranking, simply click on the description and you will be brought to the dashboard where you can see an overview of the product including the title and description. Scroll down and you will see the product's performance and its ranking.

4. Get email updates
You will receive detailed historical reporting on how your listings are performing
5. Make informed decisions
Aside from saving yourself time doing manual tracking, you can also start making informed decisions on how to improve your listings.
Appear first on Lazada and Shopee search result
SEO is not a one-time goal but an ongoing process where you need to adjust and re-evaluate strategies.
Tracking your product rank can guide you on how to increase your traffic and conversion. However, you cannot do all of these without using a tool. 
That is why here at Split Dragon, we want to help sellers do more by providing system support and tools like keyword search and search rank tracking. 
The best part is that it is specifically made to improve Lazada and Shopee SEO. It gives you actual data that you can use to win the marketplace.
Sign up for a free trial or contact us if you want to know more about our services.