People now rely on their smartphones for almost everything. This makes getting into online marketplace businesses like selling on Shopee more appealing. Because, unlike traditional businesses, most of your target market is right at your fingertips. 
The limitless possibilities and opportunities are certainly enough to make some people curious.
But before you start daydreaming about the possible revenue, here's the real deal:
Having an online presence in big marketplaces doesn't always guarantee success, and it's not for everyone. 
In fact, 90% of eCommerce start-up businesses fail in the first 120 days.
Why?
The top 3 reasons are poor online marketing at 37%, a lack of online search visibility (or SEO) at 35%, and having a very small market for their products also at 35%. In case you're wondering why, when you add those 3, you get more than 100%—it's because the business owners surveyed could choose multiple reasons.
Going back, we also believe that having a limited understanding of how online marketplace selling works is a key factor in why most online businesses fail. 
If you want to improve your chances of becoming part of the 10% who are successful in doing business online, particularly on Shopee, this article is for you.  
How to (effectively) sell on Shopee in 7 steps
To ensure a better position in a competitive market, here are seven steps you should take: 
1. Get to know your market.
Shopee has grown to be one of the most popular marketplaces, not only in Southeast Asia but also in other parts of the world. 
How did they do that?
First, they know Southeast Asians love doing almost everything on their smartphones. Given that, they focused on mobile marketing and advertising. 
And it worked.

Shopee's mobile-first strategy has been a key factor in the company's expansion throughout time. 
This is also true when it comes to selling your own products on Shopee. Don't just create content and hope that it will go viral and your target market will get hyped up to buy your products. 
Get to know who you are marketing to and what will get their attention. Learn what platforms they are most active on and study their buying behavior. 
When you are doing business on the internet, treat information and data as your holy grail. 
Now that you know who your target market is, it's time to turn your attention to your products. 
Is your product solving your target market's frustrations? What other problems are you trying to solve?
Answering these questions will help you narrow down your target market, so you can create a strategy for how to reach them. 
2. Find the "right" product.
While there is no one size fits all definition for the "right" product, we can say that one of the criteria for having a "right" product is it needs to be a profitable product.

And one of the possible indicators of a profitable product is it can sometimes solve a painful problem.
Let's take a look at such a sample below: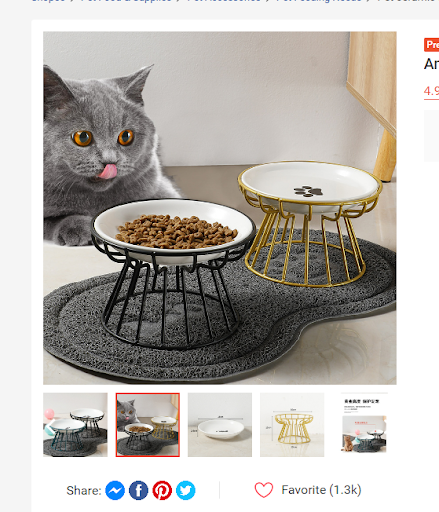 Many cat owners are wondering why their pets won't eat all of their food. And they can see that most of the leftovers remain on the sides of the food bowl. 
It turns out that cat whiskers are very sensitive, and attempting to reach the sides of a deep food bowl could cause them discomfort. And that can be a painful problem for cat owners.
However, if you use a wide and shallow plate, cats can finish their entire meal on that plate without having their whiskers bump on the sides. 
The product also comes with a stand that allows the food dish to be raised for a more comfortable dining position, and its design is lovely.
Now, even if you already know all of that, finding the right product will still take time. You will have tons of research and comparisons to do, and by the time you choose a product and a supplier, new products may already be available. 
To find the right product faster, you can use a product research tool.

Split Dragon's market research tool features a Shopee Sales Database, which gives you access to millions of product listings taken from Shopee. And it can provide you with information about the highest earning products inside Shopee with just a few clicks.

Now that you know who your target market is and you have identified the product that will solve their pain points, it's time to plan the marketing approach.
3. Set up a marketing plan
"If you fail to plan, you plan to fail."
As mentioned in the beginning, the biggest reason why eCommerce startup businesses fail is that they have poor online marketing plans and strategies.
Marketing strategies are important since they will help you establish your goal and determine how to get there.
Besides, if you have no marketing plan, most likely your business will take a different path, therefore it will take longer to achieve your success — not to mention it's going to be more expensive.
So what makes a good marketing plan? 
A good marketing plan is:
Market-oriented – you need to make sure that people will like and trust your product. Aside from preparing strategies for getting your customers' attention, you also need to be able to maintain a good connection with them.

Product-focused – to create a product-focused strategy, you need to fully understand all the benefits of the product you're selling i.e.: what problems it solves, its design, and most especially its pricing.

Measurable – setting measurable goals will help you track your progress. And progress is not just measured with sales. It also includes tracking your engagements, users, visits, clicks, inquiries, and so forth.
4. Create your brand
Marketplaces like Shopee, Amazon, and Lazada have now become increasingly important to brands since marketplaces can bring tremendous traffic and high visitor engagements.
In short, marketplaces are great places for brand awareness and exposure. On the other hand, branding is also important because it helps with your business identity. Thus, you can also dictate or create an image as to how people will perceive you.
To create a brand, you will need: 
A logo – your logo will represent your business. If you find out what best suits your business, It will help people remember. Moreover, a well-built logo will validate the professionalism of your business. Therefore, when you design your logo, make sure that it aligns with the business that you're in.

Font – this may surprise you, but fonts are actually an integral part of branding. Your choice of font will have a huge impact on the impression and "feel" of your business. Just look at the image below to see exactly what we mean.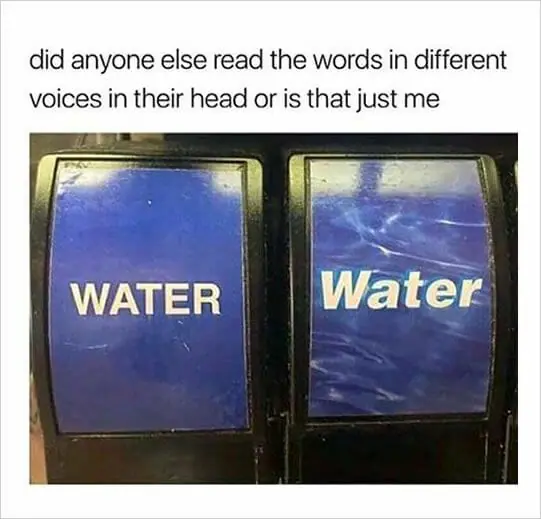 Packaging – packaging is no longer solely for protection. It is now an important factor that

drives brand perception

. Aside from the fact that it will support your branding, well-thought packaging will also improve your customer experience.

Product images – your product's photos will help set the tone of your brand. If you've ever bought products online, you know that product photos are a big factor when it comes to purchasing decisions. Your photos should highlight the best features of the product. To learn more about how to optimize your product's images and to ensure that you are following the rules,

take a look at our product image guide

.
5. Outsourcing suppliers
Just like product research, finding the ideal product suppliers is one of the biggest pain points when it comes to selling on Shopee or any marketplace.
Regardless of the size of your business, the question of "Where am I going to find suppliers?" will bug you from time to time. 
What makes it harder is that you can't rely on only one supplier. You'll need at least 2-3 for backup.

Knowing that you can start your search in these places:
One way of finding a supplier without leaving your house is to visit online trade directories. The most popular are Alibaba.com, Exporters.sg, and Santandertrade.com. And if you have a particular product that you want to stock, visit the manufacturer's website. Most manufacturers have local and/or regional distributors you can tap into.
Another way to look for suppliers online is by joining communities and forums. Aside from suppliers, these places give you the added bonus of acquiring  other information, such as the current high-selling goods.
If you're really serious about being the first to stock the latest products and find the best suppliers, attend trade shows. There, you can compare products and have a better chance at negotiating fair prices.
There's no harm in taking a look at the product's packaging to determine the manufacturer or where it came from.
Once you have a number of suppliers, you can narrow them down using this list: 
An ideal supplier should:
Have a price range you can afford

Reasonable minimum order quantity

Offer samples

Offer easy payment options

Serve your region

Be easy to work with and be reliable
6. Create your Shopee Seller Account
To be able to start selling on Shopee, you must have a Shopee account.

This is perhaps the easiest part when it comes to selling products on the platform. 
Once you've created a Shopee account, access the Shopee Seller Center through the Shopee website.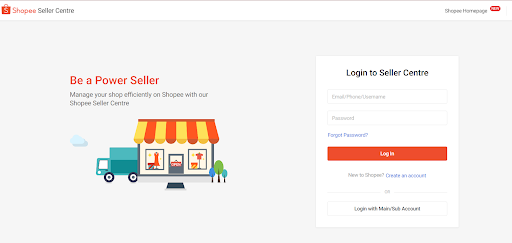 Then fill in your phone number and complete the verification process.
Note: Your products will not show up inside the Shopee marketplace if you do not complete the verification process. 
Once you're inside the Shopee seller center, create your shop profile by adding your: 
Shop name

Images (and videos if you have them)

Shop description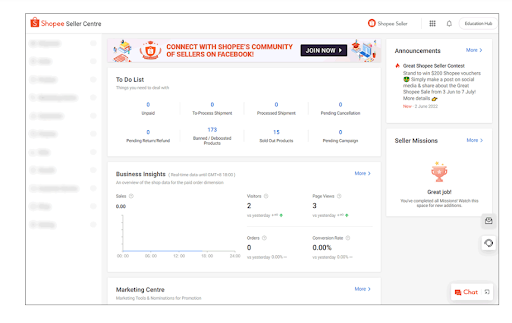 Inside the Shopee Seller Center, you can monitor your products, chat and respond to the buyers, see order status, product performance, marketing tools, and a lot more.
If you're setting up your Shopee Seller account through mobile, follow this guide.
7. Publish your product lists
Once you've set up your seller account, you can now publish your listings!

Here's a quick overview of product listings: 
Product Name > Categories > Basic Information > Specifications > Sales Information > Shipping Information > Additional Information > Publish. 
Important tips:
Product category
Selecting the most relevant category for your product is crucial. Before publishing your listings, make sure that you are familiar with how.
Product naming convention
Avoid keyword spamming and unnecessary symbols. You can follow this naming convention for uniformity: 
Brand + Specifications and Type + Model
Product images and videos
Always use high-resolution images and videos. And again, make sure that it highlights the best features of your product by adding multiple angles.
Product Description
Optimize your list by adding relevant keywords in the product description. Write a detailed product description to answer the most commonly asked questions about the product, help shoppers be more confident in their purchases, and save time on answering the same questions over and over.
Strategize before you sell
Anybody can set up a Shopee seller account, but not everybody can execute strategies to sustain their business. 
We always emphasize the importance of gathering information and using data to position businesses ahead of their competitors.
The steps we mentioned may require time and attention, but it doesn't have to be difficult. We at Split Dragon have created tools to help you dominate the marketplace.
Interested to know more about Shopee selling?

Talk to us! You can also join our community where you can share your sentiments and ideas while gaining knowledge on how to sell better in Shopee.