Product selection is a crucial step in becoming a successful Shopee seller. It results in energetic growth for big brands and is the kind of push small businesses need to propel forward. Below is a comprehensive guide on how you can find the best products to sell in Shopee. 
Why Should You Sell On Shopee?
While having your own eCommerce store does have its merits, here are some known benefits of selling on a marketplace like Shopee:
There Is No Financial Burden
By using Shopee, you will be able to start selling online immediately with no upfront cost. In comparison, if you decide to run your own eCommerce store, you have to pay for the domain, hosting, and the development of the website (which is something you're not readily prepared for if you are a small business)
When you start an eCommerce store, you have to build up interest and traffic from scratch. Meanwhile, if you become a Shopee seller, not only do you get to establish your online store free of charge but you also get to enjoy free traffic (which means that you will immediately have an opportunity make sales at the beginning of your launching)
You don't have to worry about logistics
If you have an eCommerce store, you have to voluntarily pair up with certain logistics services to aid you in the delivery of your products. Meanwhile, as a Shopee seller, you just have to take your pick and then you can have your product picked up or dropped off when you receive your first order. 
Free Live Streaming Platform
Live commerce or live streaming is currently the most popular way to market and sell products online. Even without Shopee, you can still participate in this trend but if you do, you would be limited to the following:
Social Media Live Streams
Live Stream Functionalities That Are Embedded In Your eCommerce Website
Sometimes, the disadvantage of social media live streams is that some audiences on Facebook, for instance, do not have purchase intent. So, you may elicit interest which could increase your following, but it will not always result in an immediate increase in conversion rate. 
Meanwhile, embedding live stream functionalities into your own website can be costly and will require lots of maintenance. 
With Shopee, you have the tool and audience (with the right intent) at your disposal. For an in-depth review of Shopee for online sellers & brands, check out our post Lazada Vs Shopee: Unbiased Comparison. 
How Can You Be A Successful Shopee Seller?
As one of the leading marketplaces in SE Asia, Shopee offers a lot of opportunities when it comes to making sales. But at the same time, it is also pretty competitive. Finding the best products to sell on Shopee is important but to really stay competitive in the market, you need the following. 
Well-Optimized Product Listings
Your main images should be high-quality because this can encourage or discourage a buyer from adding your item to their cart. You also need to sprinkle your product descriptions with properly targeted keywords. 
As mentioned, you need to sprinkle your product listings with keywords at the right places. By doing so, you will increase your search rank and you will appear on the first page of Shopee SERPs (search engine results pages). 
We recommend using the Split Dragon Keyword Research tool. 

All you have to do is to log in to Split Dragon and then go to Keyword Research > Shopee Keyword Research. 

Type a root keyword and then click Get Keywords. 

From the results, you will get the most searched keywords on Shopee along with search volume and trends. 
Once you've selected a keyword for your product listing, we strongly recommend that you also make use of the Split Dragon Search Rank Tracking Tool. This will enable you to stay updated about your current positioning in the market. 

Go to Products > Shopee Products. Identify the product based on your keyword research and then click the three dots beside the product. Click Track New Keywords.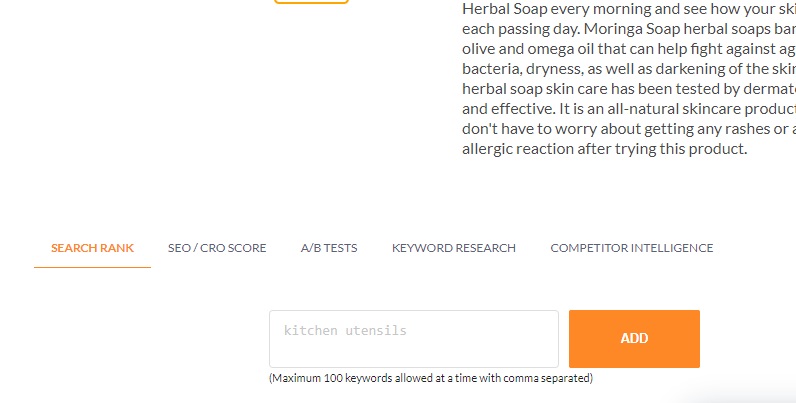 Under Search Rank, write your keyword and then click Add. 

Split Dragon will then track your search rank for that particular keyword. You can find the results on Search Rank > Shopee Search Rank. 
Increasing the search rank is already an act of marketing in itself but to see maximum results, you need to pair your marketing with both organic and paid techniques. 
While you are increasing your search rank, you also need to market your products on social media through Facebook pages and Facebook groups. At the same time, it would also be a good idea to run Shopee MyAds or Facebook Ads during strategic times of the year such as big shopping holidays. 
One of the ways to stay competitive in your niche is to be constantly aware of what your competitors are selling. 
We recommend that you use Split Dragon Market Research Tool. 

Go to Market Research > Shopee Sales Database. Select your country and then choose your market category.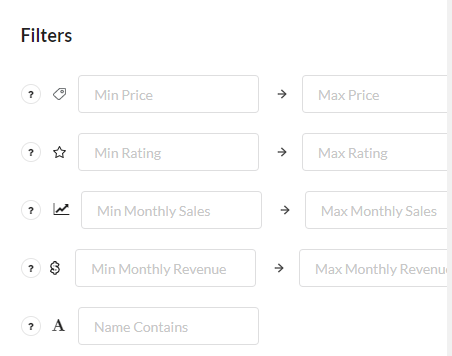 Go to Filters and then type the name of the brand of your competitor on the A textbox. Click Search.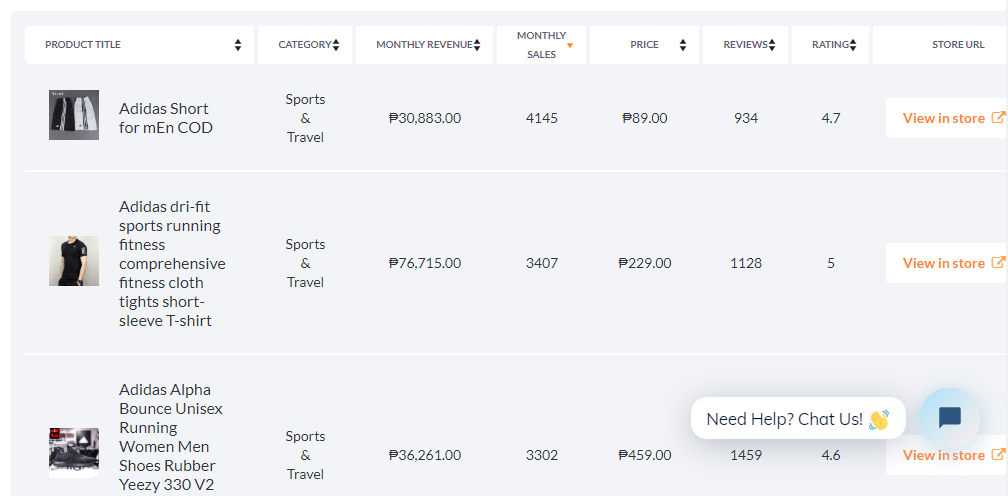 From the results, you will see the product name as well as the monthly sales and revenue of your competitor from that particular item. 
Why Should You Find The Best Product To Sell On Shopee?
When it comes to online selling, more is not always better. This means that if you sell many products, it does not always equate to better sales. Product selection is crucial in the quality of the leads and conversions that you'll be getting in the future. Here are the specific reasons as to why it is important for you to find the best products to sell on Shopee:
It Will Help You Identify Your Target Customers

It will help you determine your competition

Your product selection will be your foundation for how effective your sales will be

Proper product selection will  help your business become more sustainable in the long-term

Studying your product as well as your customer base will help in ad targeting
The Downsides Of Selling The Wrong Product
If you are unable to conduct proper research and find the best products to sell on Shopee, you could be at risk of experiencing the following:
Short-term sales will be slow-moving 

Long-term sales will be difficult to achieve

You will have a hard time aligning your customer base to the benefits your product has to offer

You'll sell a product that customers don't need or want

You'll be competing with the wrong competitors (if you're small business and your competitors are all big brands)
Factors To Consider When Finding The Best Products To Sell On Shopee
When it comes to finding the right product for your Shopee business, there are certain factors that you need to consider. These are as follows: 
What Are The Competitive Products On Shopee?
Even though the number of products you will find in Shopee is limitless, you only need to focus on the ones that are considered to be competitive because these are the ones that will actually lead to sales. 
We highly recommend conducting market research through Split Dragon to see a list of your potential leading products. Obtaining this list will be a step forward in selecting which products you want to dive into. For an in-depth overview on this, you can check out our post on How To Do Market Research For Shopee. 
What Complementary Products Can You Sell?
If you are a beginner at online selling, you might be tempted to sell products that have the most sales and revenue. While this looks like a sound decision at the time, it is not always a good idea to compete with big brands. 
If it's your first time introducing a brand to the market, you will have very little edge against your competitors. With that, what we'd recommend you to do is to look at complementary products of what big brands are selling. 
For example, if a perceived competitor is selling Apple products, you could look into introducing a product accessory that can only be used on Apple items. Since Apple is a well-known brand, you can include its name in your copy or marketing and at the same time, you will be able to introduce a product that Apple don't have (and is something that Apple users will be interested in).
Is The Market Still Sustainable Or Too Saturated?
Some niches can appear to be lucrative but a lot of times, this is only because the brands selling these products have already been around for a long time that they are already considered to be a pioneer of the niche. 
When a new brand enters the market, it has to compete with all the big name brands and would. Since you are selling a similar product, coming up with a USP (unique selling proposition) can be a challenge. 
Market saturation for a product happens when the volume for a product is already maxed out. Hence, newcomers will not make as much profit as they expect. 
Here are some tips on how to tell if a product has become too saturated:
Potential Demand Is Declining
To check the potential demand, you can go to Google Trends. 

In the example above, you can see that in the past 5 years, there has always been a demand for baby pacifiers.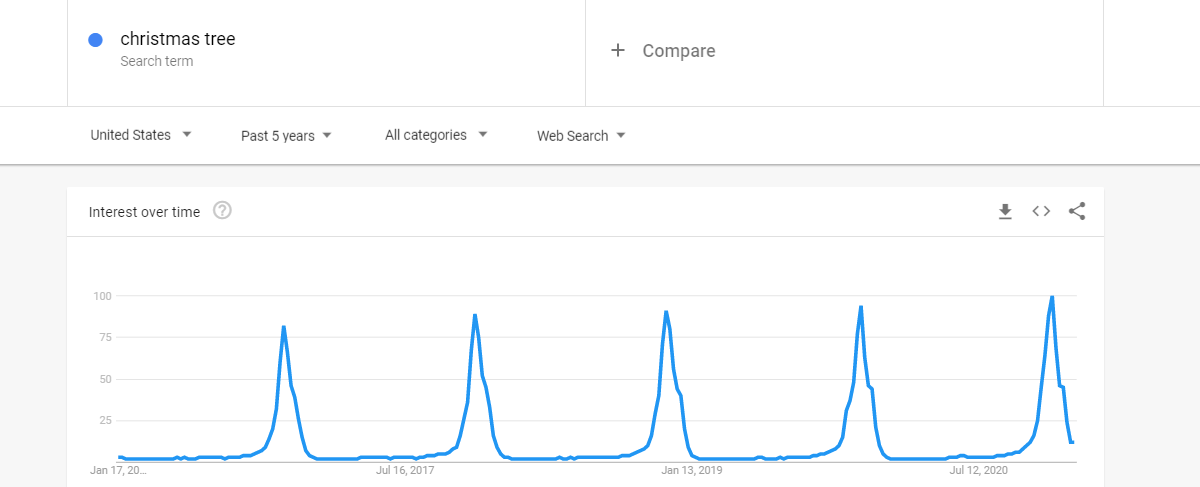 As for the Christmas trees, you can see that the demand for it is not very consistent (since Christmas trees are a seasonal object of interest but this is just to point out the importance of market demand in product selection).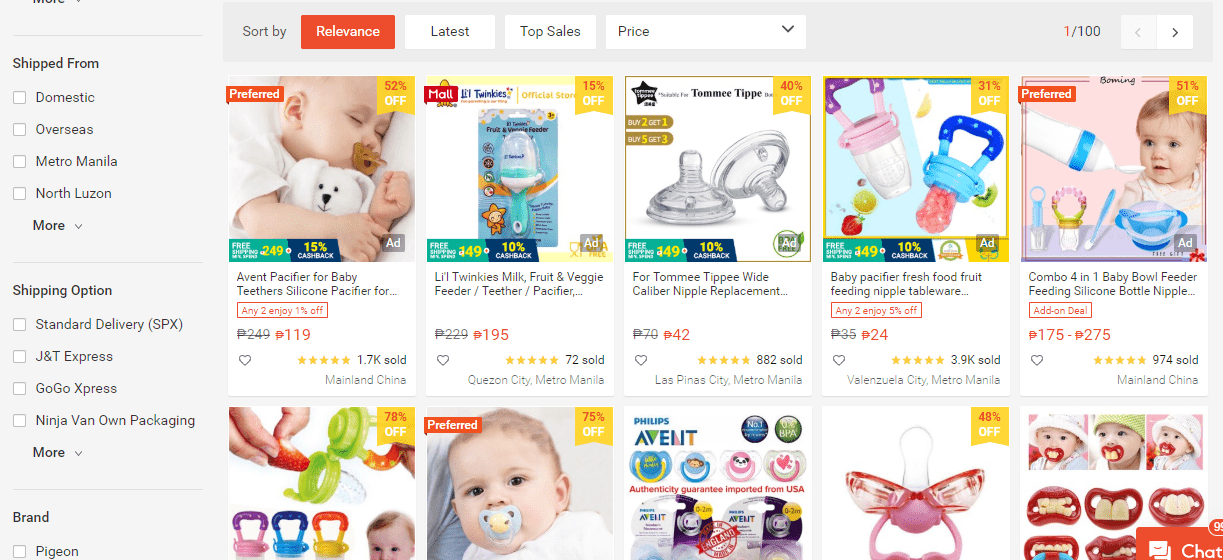 You can see your competitors by going into Shopee and searching for your product in the Shopee catalog. Take a look if you can offer a better USP or a more competitive pricing. If not, the best move would be to remove this product from your list.
Does It Satisfy A Long-Term Need/Want?
To enter a sustainable market means selling a product that people will want/need in the long term. There are products that rise into the trend for a couple of months but once the time passes, it is no longer as profitable. 
While short-term sales are part of the game, the foundation of your business should be geared towards long-term sales. Hence, the need for a main product that is not just a trend but is also something that potential buyers will still want to look into after the trend dissipates. 
How Much Will Be The Cost & How Much Will My Margin Be?
To determine the profitability of the product, you need to start looking at your pricing strategy. Add up your potential costs and pricing margin. For a more intensive discussion on pricing strategies on online marketplaces, you can read our post on Pricing Strategy For Lazada And Shopee Sellers Based On Different Triggers/Events.
What Categories Sell Best On Shopee?
When you are looking for a foothold in the market, becoming familiar with the marketplace's top-selling product categories is always a good place to start. Shopee's top-selling product categories are as follows:
Baby products

Home appliances

Accessories

Mobile phones

Healthy and beauty
8 Different Ways To Find The Best Products To Sell In Shopee
Below are 7 proven ways to identify the best products to sell on Shopee:
1. Conduct Market Research
In finding the best products to sell in Shopee, we recommend doing a market research. Split Dragon has a market research tool exclusive for the Shopee platform wherein it allows you research certain data about the product niches. 
Here is what you will be able to do with Split Dragon Shopee Market Research:
Select country of interest

Select a product category 

Type the name of a competitor (Optional)

Search
From the results, you will be able to see all the products being sold in a category or products sold by a specific brand. 

Basically, what you will get from the results are the:
Product title

Category name

Monthly revenue

Monthly sales

Price

Reviews

Rating

Store URL 
Using this data, you will be able to strategize what product to launch to compete with the products of other brands. The latter is also useful when you start thinking about your pricing strategy. 
2. Find A Customer Pain Point & Connect It To A Product
Customer pain points are always worth paying attention to. What leads people to have purchase intent is when they have a problem that certain products are able to solve. 
Active Hound is one of the brands that thrived due to having a product that solves a customer pain point. The owners, Lucy and Zak, noticed that many pet owners were continually frustrated with how expensive dog toys did not have enough durability to withstand wear and tear. This was what inspired them to create a line of ultra-durable dog toys. 
Here are some pointers on how to create a product based on a customer pain:
Select a niche 

Break down the niche to a specific product that interests you (one that you think is profitable)

Find it on Shopee

Read customer reviews

List down the common sentiments of customers regarding the product

List down your perceived reasons as to why customers are having this problem

Think of potential solutions for the problem

Create or introduce a product revolving around that resolution
3. Capitalize On Popular Hobbies
Solving a problem or satisfying a need is not the only to create or introduce a profitable product. You will find that people are more than willing to invest in a trade or hobby that they are passionate about. 
People's willingness to buy items that they need for their hobbies is an excellent qualifier for product selection. 
Hand Band Pro is one brand that sells products based on people's hobbies and interests. They sell fitness grips to crossfit enthusiasts who want to continue having intense workouts without having calloused hands. 
Here's a complete resource where you can find hobbies as a baseline for identifying your market product. 
4. Observe Early Trends
Brands that are considered market leaders usually gained their status not because they are the best in the industry (although quality is also a factor) but because they were one of the pioneering brands of the market. 
By catching trends early on, you have the opportunity to be the first in the market and you will have a chance to establish your brand as a market leader. Since there is little competition, you will have an edge in terms of digital marketing. Ad spend will be lower and your organic SEO will be more abundant. 
However, you need to be wary about the differences of a "fad" and a genuine trend. Fads also has financial gains tied to it but eventually, the demand will fizzle out. Meanwhile, a genuine trend has long-term business opportunities. 
Knox Labs marketed their cardboard VR headsets early on. They just experimented with the idea on a simple landing page and were surprised that they were able to sell 500 headsets and in 2015, they were able to make about $3 million in sales. 
Here are a few suggestions on how you can observe the market for early trends:
Reddit – you can find forums about pretty much everything unders the sun including eCommerce trends

Social Listening – this can be as simple as looking at what people are talking about in Facebook groups or the trending hashtags in Twitter

Trend Hunter – it is considered to be the world's largest, most popular trend community.It will help you identify consumer insights and opportunities

Google Trends – you can take a look at how popular a topic is at a given moment as well as in periods of time. 
5. Read Customer Reviews On Existing Products
There is always a wealth of opportunities you can find from customer reviews. If you already have a store that has gained a lot of traction, you might want to take the time to read some of your customer reviews. There could be a mention of a trend or feedback that can give you ideas for your next product launch. (By the way, if you ever need some tips on how to successfully launch a new product, check out our post on How To Successfully Launch A Product In Shopee.)
If it's your first to run an online store, you could search for customer reviews on your target competitors. For instance, if a competitor was selling a Lego set and on one of the customer reviews, someone said that he had a hard time constructing a robot from the blocks all by himself, a good idea for a product would be to produce a toy similar to Lego blocks. But your version would be for constructing a unique object for each package. For instance, one is for doll sets, dog sets, robot sets, and many more. In each box, there is also an instructions manual so that people don't have to build from scratch. 
Reading customer reviews is most useful if your intention is to create a brand that manufactures your own products or if you plan to launch a new model for a current product. 
6. Find Selling Opportunities Through Keyword Research
Another great way to look for products to sell is to conduct keyword research. That way, you will get a statistical perspective on what potential customers are looking to buy. 
Here's how you can get started. 
First, go to Split Dragon Market Research Tool: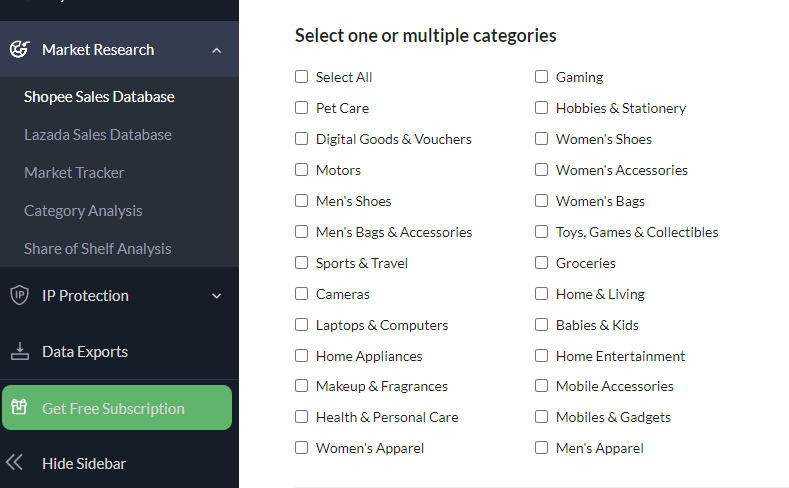 Select the product category you are interested in. If you haven't selected a category just yet, you can go ahead and select all. Click Search.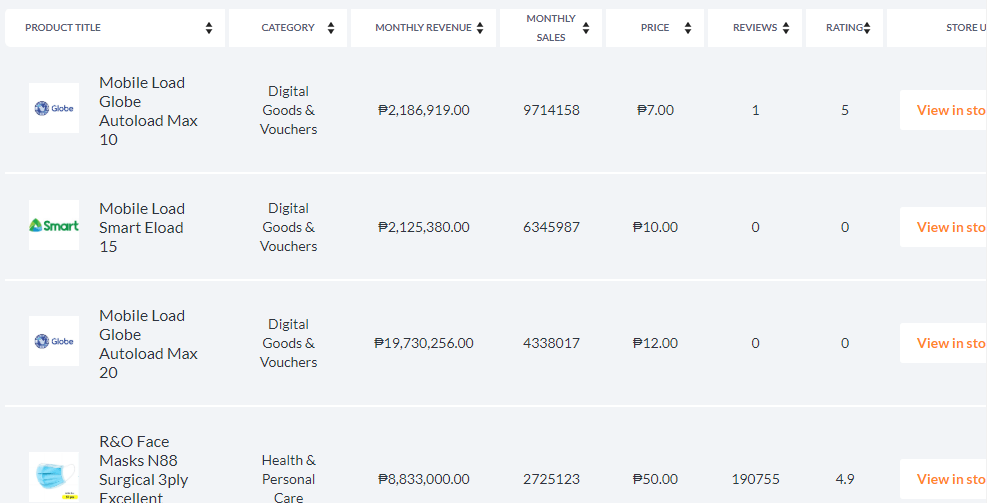 On Monthly Sales, tick the downward arrow. The page will refresh and then it will sort the product results from highest to lowest in sales. You can start to do your research from there. Select a niche or product that you are interested in. Open the URL to your favorite product pages. 
The next step is to move into keyword research. Go to Keyword Research > Shopee Keyword Research. 

To begin the keyword research, type a root word into the text box and then click search. The results will show you the most searched terms on Shopee along with the search volume and trend chart. 
Take note that you don't have to limit your keyword research to the specific products that you've chosen during the market research. An alternative would be to:
List down the products that interest you

Think of similar or complementary products in relation to the product of interest

Conduct keyword research based on the complementary products

Compare search volume and trends for the main products and complementary products you chose 
7. Look At Complementary Products Of A Niche You Are Interested In
Shopee itself is an amazing tool for product selection.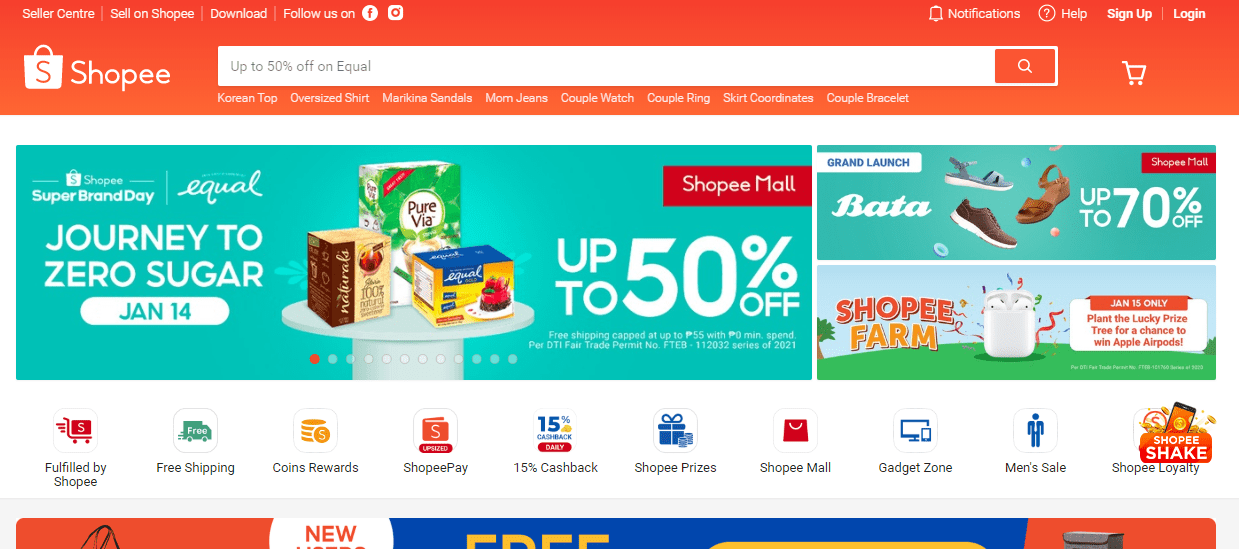 Switch to incognito mode and then go to Shopee. You cannot use your main Shopee account because it will use your own personal history and your research will no longer be accurate for product selection. 

Type a general term such as school supplies or electronics.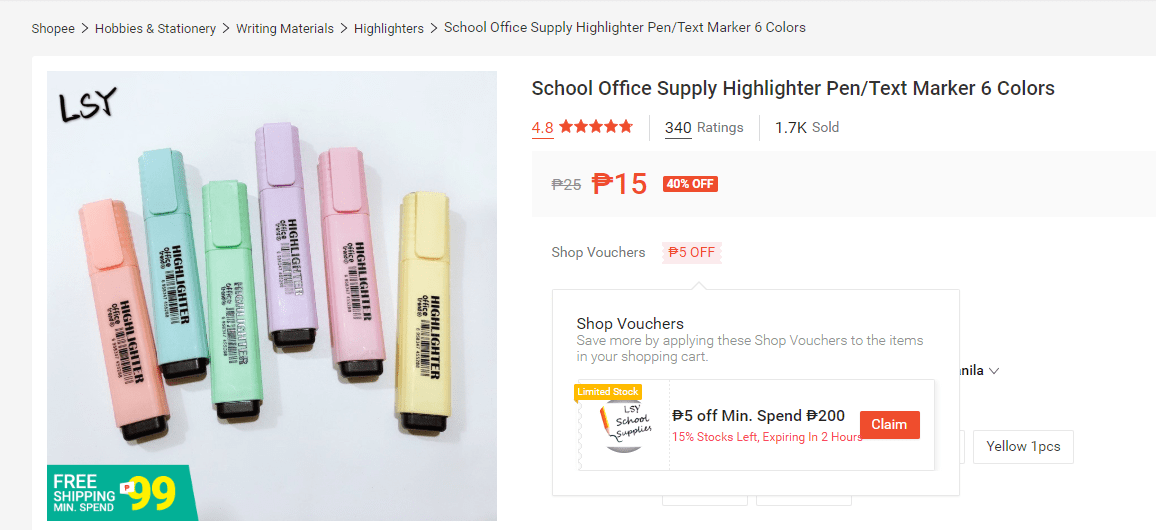 Click on a product and pay special attention to Similar Products and You May Like.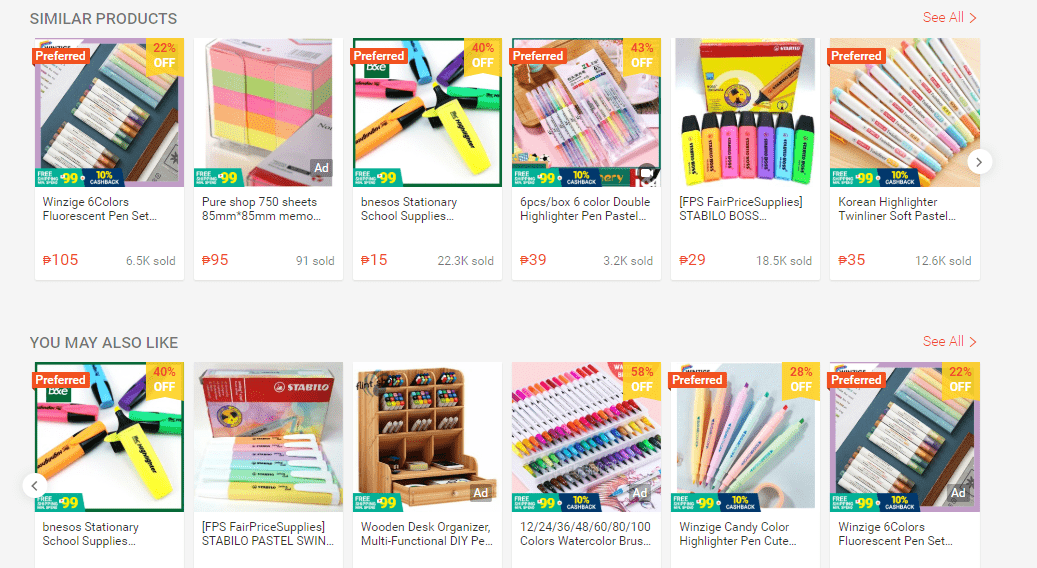 From there, you will find one to three suggestions that could qualify as a product that you can sell. In our example, the complementary products suggested were wooden desk organizer (for felt-tip pens) and colored memo pads. 
8. Shopee Top Products
The most straightforward way to find the best products to sell on Shopee would be to consult Shopee itself.
Once again, go to incognito mode and then go to the Shopee website. On the homepage, navigate to top products.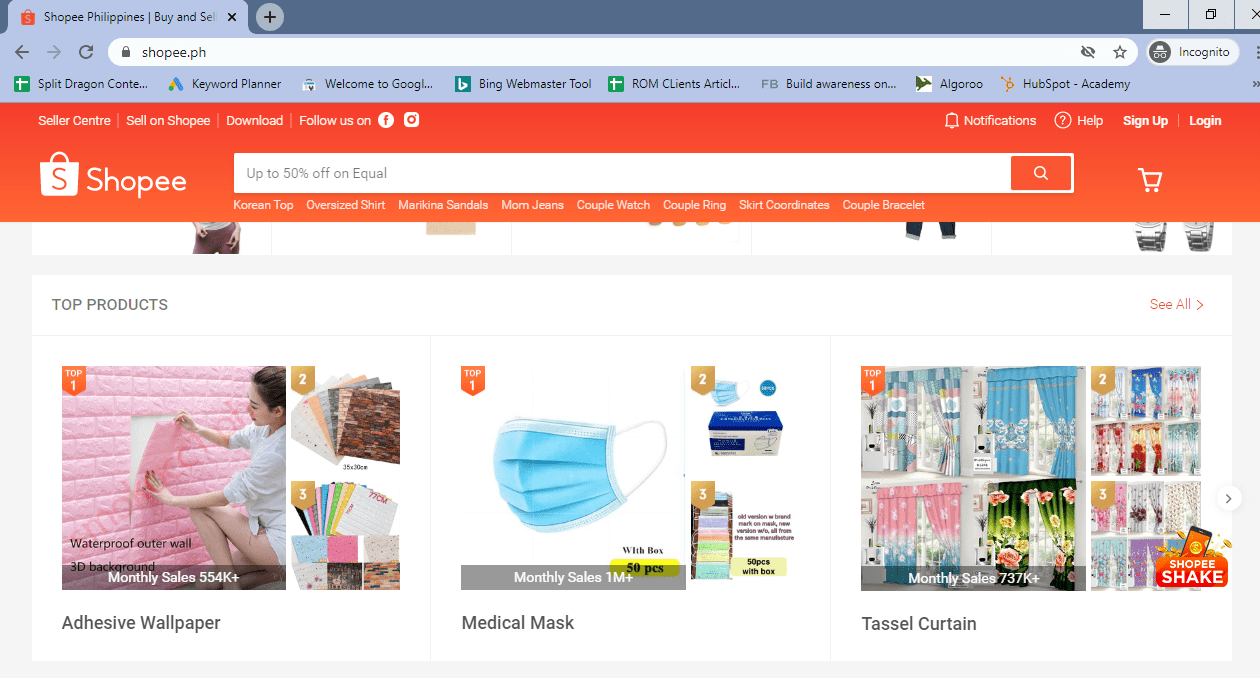 From here, you will find a selection which Shopee labels as products with the most sales. Due to buyer demand, these products have a high chance of being profitable granting that you market them correctly. 
Bonus: How To Find Suppliers For Your Shopee Business
As a bonus, here are some quick resources on how you can find suppliers for your Shopee business. 
Transact With Shopee Co-Sellers 
There are Shopee seller Facebook communities you can join where you can network with other Shopee sellers. You can publish a post saying that you are looking for suppliers and interested parties will comment on the products that they are selling. 
You can also purchase products in bulk from Shopee but  we recommend reaching out to Facebook communities instead because this will give you a chance to network with other sellers. Knowing that you will be purchasing in bulk and that you are a seller as well, you might even be able to negotiate for a discounted price. 
Try Dropshipping
Dropshipping is a retail fulfillment method wherein the seller does not have products in stock. Instead, the seller will purchase the product from a third-party and then the latter will ship the item directly to the customer. 
When you dropship, you don't have to bear the risk of losing a lot of money from not being able to find the best products to sell on Shopee.
Dropshipping is a lot more straightforward for eCommerce stores but you can still use this method with the following tools:
Dropify – it is a dropshipping service in the Philippines that caters to Lazada and Shopee sellers
Kumoten  – considered to be the largest dropshipping automation system for Shopee/lazada sellers in Malaysia
Alidropship – a dropshipping service that goes beyond Shopee and Lazada. This is your dropshipping alternative if you are a seller outside of the Philippines and Malaysia. It caters to dropshipping globally. 
That's it for our finding the best products to sell on Shopee ultimate guide. If there's something you want to add to our list, we'd love to know in the comment section.