In our Lazada vs Shopee piece, we've conducted in-depth research and compiled an unbiased and impartial comparison of the two biggest marketplaces in SE Asia (Lazada and Shopee) to help you logically assess which platform will best serve your business' needs.
History Of Lazada
Maximilian Bittner founded Lazada way back in 2012 along with Rocket Internet (backer of Lazada). From 2012 to 2013, they raised funds with the help of prominent investors, JP Morgan being one of them. 
In 2014, it was able to launch its first marketplace in Singapore. In the end, this proved to be a great move but during the initial phase of the project, they experienced enormous amounts of losses. 
At this time, people still prefer shopping from brick and mortar stores. There also weren't enough people who owned a debit or credit card. As a result, they found it difficult to compete with companies like Amazon and Alibaba. 
2016 became a turning point for Lazada. By then, Alibaba decided to acquire a controlling interest. The latter also backed them up financially. And on top of that, Lazada was allowed to leverage Alibaba's IP Protection platform. 
Now, Lazada has 155,000 sellers and 3,000 brands that sell to consumer bases across the regions. It has 300 million SKUs available on its platform and considered to be a marketplace leader in terms of wide product variety.

History Of Shopee
Forrest Xiaodong Li first founded Shopee back in 2015 under the SEA corporation. It started as a consumer-to-consumer (C2C) marketplace. Eventually, it was able to move into a business-to-consumer (B2C) hybrid model. Since then, it has expanded to Thailand, Malaysia, Vietnam, Taiwan, Indonesia, and the Philippines. 
Shopee rapidly expanded in 2019. On September 23 of that same year, Shopee officially opened a six-story regional headquarters at Singapore Science Park. It is 244,000 square feet and is six times larger than their previous office. 
This building was previously used by WeWork. Shopee arranged the necessary negotiations to be the new tenants of the building to accommodate their expansion which will make room for about 3,000 employees. This expansion was also what pushed the company further into the digital economy. 
Shopped also pioneered the use of escrow payments within marketplaces to provide more security at the end of both buyers and sellers. 
Website User Interface Of Lazada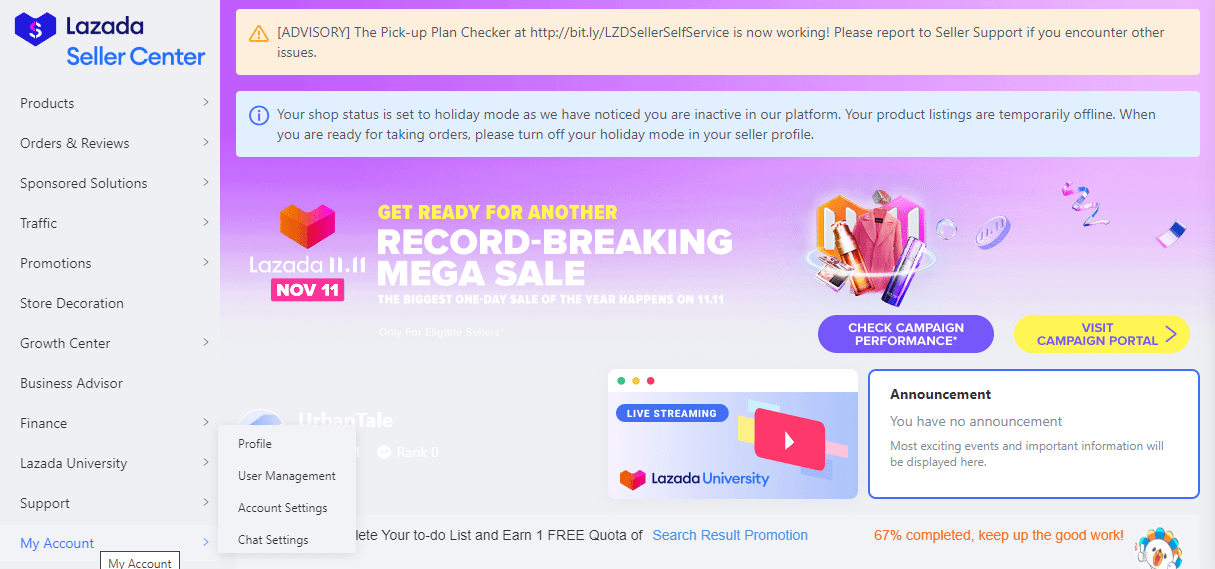 In discussing the user-friendliness of an online selling marketplace, it is vital to understand the user interface. 
Let us begin with Lazada. Lazada's interface makes it possible for every seller to navigate through various places such as :
Products

Orders/reviews

Traffic

Sponsored campaigns

Promos

Business advisor – analytics tool integrated into the system
Of course, those are the most important but Lazada also provides you access to some additional tools that might come in handy such as:
Store Decoration

Growth Center

Finance

Lazada University

Support    
The interface of the Lazada seller center is user-friendly in terms of intermediate sellers. However, for people who have just entered online selling, it may take a couple of practices to fully grasp the functionality of the site. 
Despite that, Lazada makes up for it through Lazada University where newbies can make use of training resources for being a Lazada seller. There's also the Lazada Service Marketplace where sellers can outsource online-selling services such as creating a professional store design or creating banners for campaigns or live streams. 
Web User Interface Of Shopee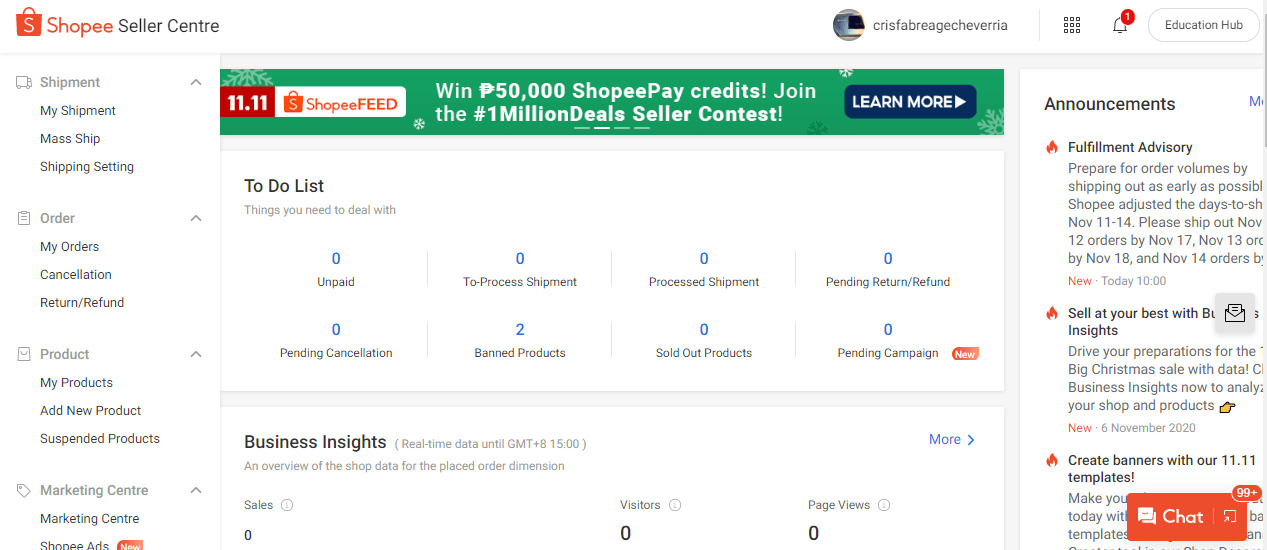 Now moving on to Shopee. In terms of the website user interface, Shopee is more seller-friendly compared to Lazada. As you can see in the image above, the user interface of the Shopee seller center is more straightforward. 
It's a suitable selling platform for the layman who is not familiar with most technical terms associated with sales. 
An example would be the analytics section of both Shopee and Lazada. Shopee is more specific in calling this section Data (Business Insights, Account Health). Meanwhile, Lazada calls their Data section Business Advisor. The name is more sophisticated but not a lot of newbies would understand what this is for if they come across Business Advisor. 
Lazada Mobile Seller App
Figures show an increasing number of smartphone users year per year. It's not so surprising it becomes possible to do almost anything with your phone including selling in marketplaces like Lazada and Shopee.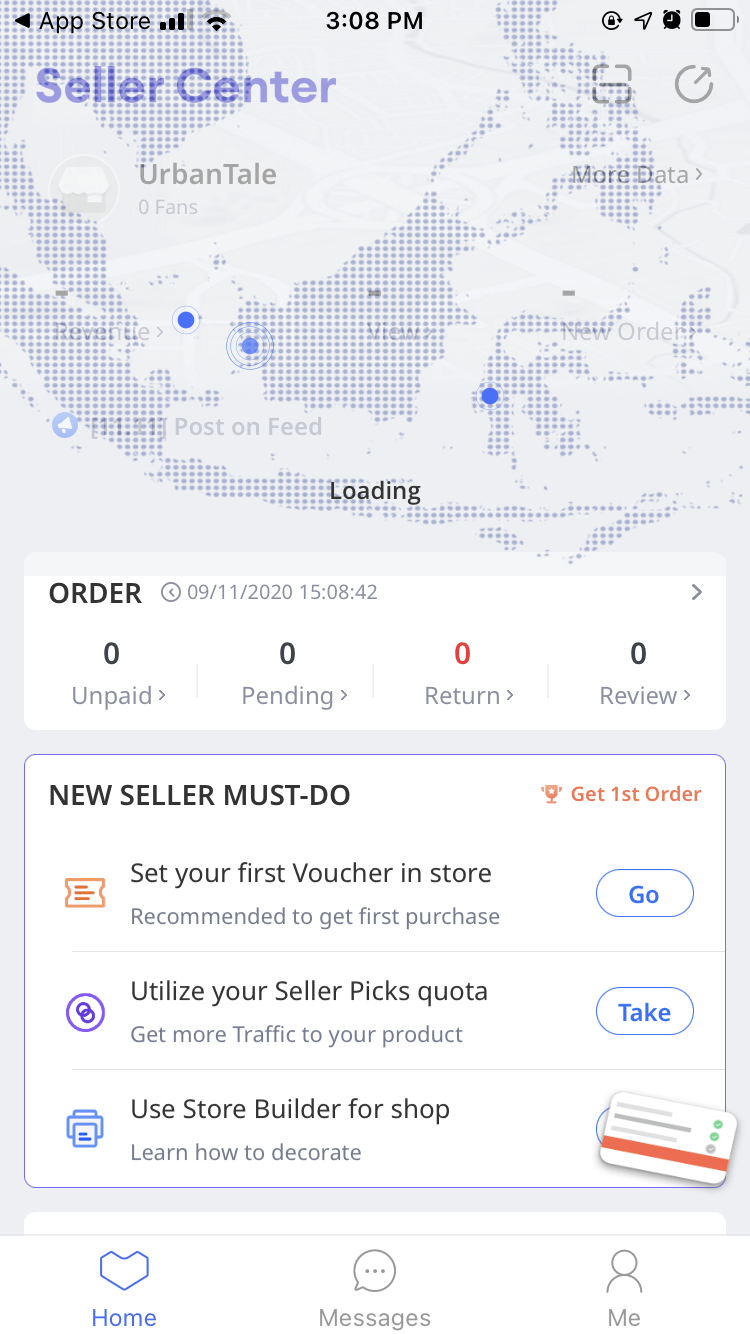 Let us begin with Lazada. As one of the leading "buy and sell" platforms in SE Asia, Lazada has moved towards mobile shopping. This means that its platform enables customers to shop using only their phones.
There is a Lazada mobile app that is downloadable for both Android and iOS users so that they can shop on the go. 
And to support their vision for mobile shopping, Lazada also has to increase business opportunities for sellers so that they can also sell products on the go. 
In comparison to the Lazada seller app and web interface, we can say that the seller app is more user-friendly and convenient. 
It has a clean interface and is quick to load. What can you do within the app? 
Design your store

View your business analytics

View campaigns

Add products 

Monitor orders

Create vouchers

Chat with customers
However, if you want to talk with customer support, you cannot do it within the app. You will be redirected to a link that will open your phone browser. 
Shopee Mobile Seller App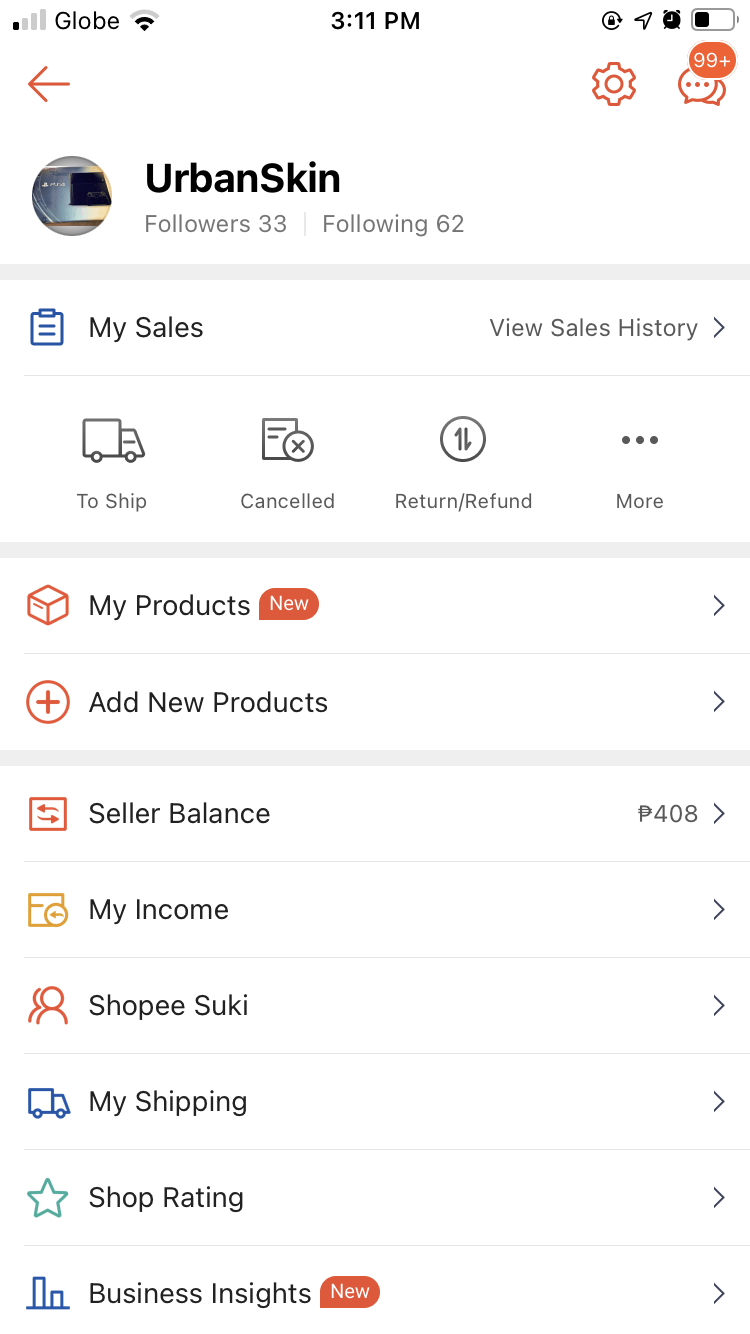 Meanwhile, the great thing about Shopee is that it has already integrated the buyer and seller app into one. 
The Shopee app lets you do the following:
Create product listings

Edit your currently listed products

Look at business insights

Enable or disable shipping couriers

View your seller balance

Withdraw funds

View your shop rating

Join the Shopee Suki Program

Look at your Shopee Suki or performance 

Chat with customers

Talk to customer support
Compared to the Lazada seller app, you can chat with customer support straight from the app and will not have to be transferred to a mobile browser. 
Can You Sell With Just Your Phone?
The Shopee app and the Lazada Seller app lets you sell products even if you are just using your phone. 
You can push your product listings live just by using your phone. However, during the processing of orders, you will need a computer and a printer to print out the waybill. If these aren't available, you have two alternatives:
Go to your nearest computer or internet shops to have the waybill printed

Opt for drop-offs when you fulfill your orders. You only have to print your own waybill if you choose for your courier to pick-up your orders from your home
As for the marketing of your products, the Lazada seller app lets you create vouchers and join promos straight from the app. Meanwhile, the Shopee app does not give you an option but you can still create promos and vouchers for your customers by logging into your Shopee seller center account through your mobile browser. 
Partner Support Center vs. Shopee Customer Service
Below is a comparison of Lazada and Shopee in terms of availability, ease of contact, and how complaints are resolved.
Availability
The Lazada PSC is available from 9 am to 7 pm from Mondays to Saturdays excluding holidays for your CS concerns. 
If you have a more technical concern, you can also send a ticket via the email form, and then the CS team will get back to you in 24 to 48 hours for an actionable solution. 

You can find it in the help center of the Lazada Seller Center. 
Shopee, on the other hand, is available 24/7 if you contact them using the Shopee app. However, they do not have live chat support for people using the web to access the Shopee seller center. But in regards to that, you can still contact them via a landline.
Ease Of Contacting Them
Due to Shopee's live chat support that's available 24/7, Shopee is easier to contact in comparison to Lazada because if you send them a ticket, they will have to get back to you in 24-48 hours. 
How They Resolve Your Complaints
In the span of the 24-48 hours of your waiting time for the response of the Lazada team, they will escalate your concerns to appropriate departments and then reply back with a resolution. If the team needs further information, they will email you with questions and then share the info with the respective departments. 
On the downside, there are cases when it takes the Lazada CS more than 48 hours to resolve your concern. There are also occurrences when the team marks your tickets as resolved even though your concern hasn't been concluded yet.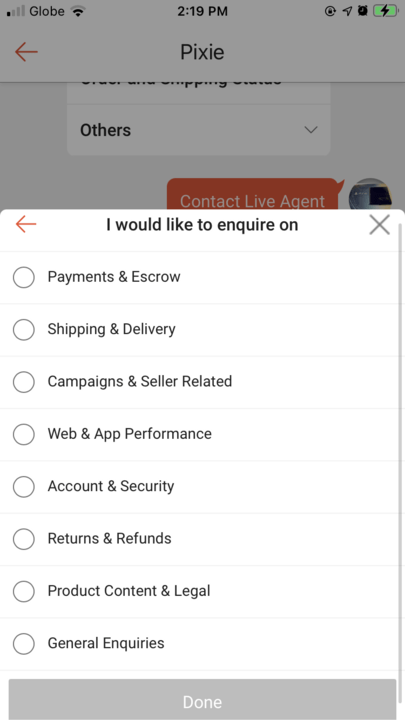 Meanwhile, what happens when you contact the Shopee live support is that you will be required to select the category which your concern falls into. 
That way, the agent that is assigned to you is knowledgeable about your issue. The assigned agent will try to resolve your concern to the best of his abilities. If your concern requires more technical knowledge, he will then escalate the issue to higher departments and you will be advised to follow up with them in 1-2 days. 
Picking Up/Dropping Off Of Parcels
For Lazada, the standard procedure is to drop-off your parcel at a nearby drop-off point. There is also an alternative to have your parcels picked up but first, you need to meet a minimum of 20 orders per day as a requirement.

If you reach that target, you can reach out to the Lazada team via sending a ticket to request pick-ups. There is a waiting time of 5 days to be counted on the pick-up list. 
However, there are some inefficiencies at the end of LEL Express. You have to constantly check back with CS because LEL Express doesn't always pick up your items on time or at all. This can lead to breaching of SLA for ship-on-time and cancellation rates. 
Meanwhile, Shopee is more welcoming to sellers when it comes to having their parcels picked up. If you receive an order, you will have the option to choose to drop your item off at a nearby center or to have it picked up. Select a pick-up date and then confirm. However, your prescribed schedule will still be up to confirmation of the courier team. It may be re-adjusted depending on pick-up quotas. 
Which Has A More Efficient 3PL Partner For The First Mile?
Based on statistical data, Lazada wins the popularity game against Shopee with 32 million monthly users while Shopee only has 16 million monthly users according to a 2019 iPrice report. 85% of all Lazada orders are picked up and delivered by LEL Express. Meanwhile, the rest of the count is handled by Lazada's partners.  Meanwhile, Shopee evenly distributes orders throughout all its courier partners. Due to the high demand for Lazada + the limited courier choices vs Shopee's even delivery options, Shopee is more efficient in terms of 3PL partners for the first mile.
Delivery Time Frame To End Customers
The delivery time frame for Shopee and Lazada is 2-5  days for local orders. Meanwhile, for overseas deliveries, the customer will receive the parcel between 5-14 days. 
Finance And Ease Of Payout
How do you receive your payout for both marketplaces? For Lazada, in terms of payment release, there is a cut-off of Thursday last week and Wednesday this week. This means that all orders that have been tagged as delivered during Thursday of last week and Wednesday of this week will be released to your bank account Thursday of this week.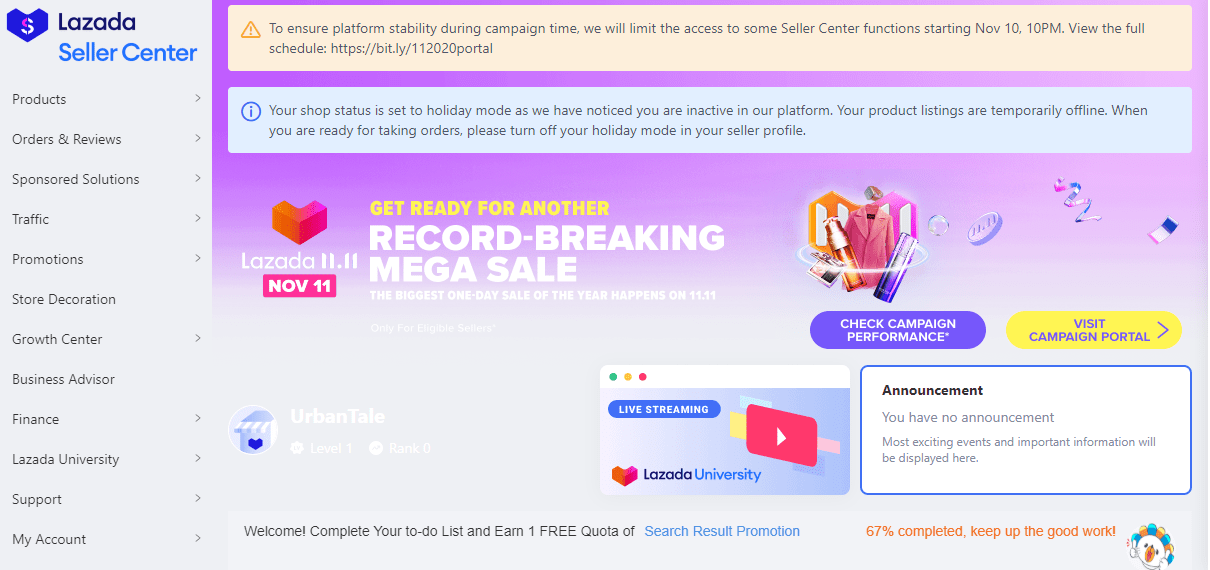 To start receiving your payout, you have to update your profile information. Simply go to Lazada seller center and then hover over Account and then click Profile.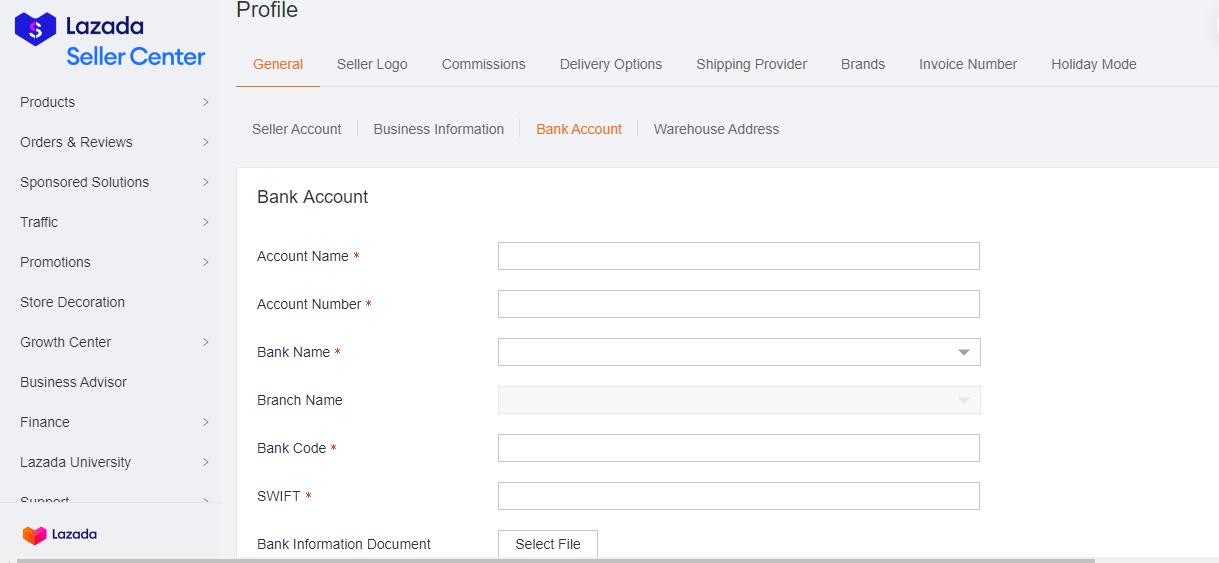 Under Bank Accounts, enter your bank details and then save. 
For Shopee, payment for each order will reflect on your balance after the customer has tapped "order received" or after the Shopee Guarantee period. 
If the payment has already appeared on your balance, it is up to you if you want to withdraw it immediately to your bank account. 
To link your bank account, simply login to the Shopee seller center and then click Bank Accounts in the sidebar. Take note that you will be asked to enter your account password for security purposes. 

Click Add Bank Account.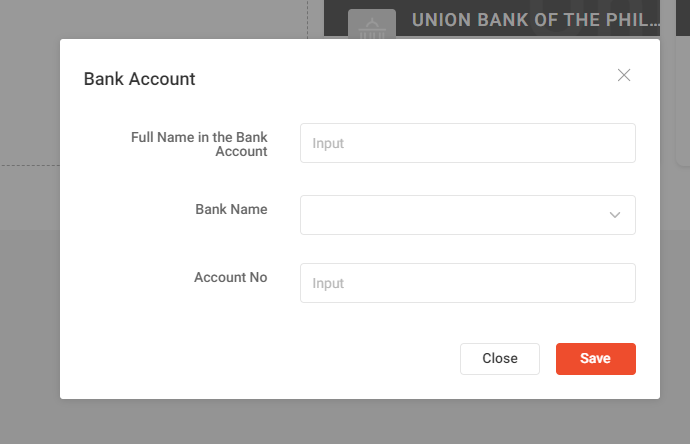 And then enter your full name as stated in your bank account, select the name of your bank account and your account number. Click Save. 
You will receive a confirmation code on your mobile number to verify the update on your account details.
Once you have successfully linked your bank account to Shopee, you will be able to withdraw your funds into that account. The transfer will be processed and will reflect on your bank account within 2 to 3 days. 
Lazada – Ease Of Finance Reconciliation For Lost And/Damaged Parcels
Lazada lets you file a seller claim if you find that you shipped a product that was lost or damaged by the courier. 

To do that, simply login to the Lazada seller center and then go to the Help Center. Go to the "form" link.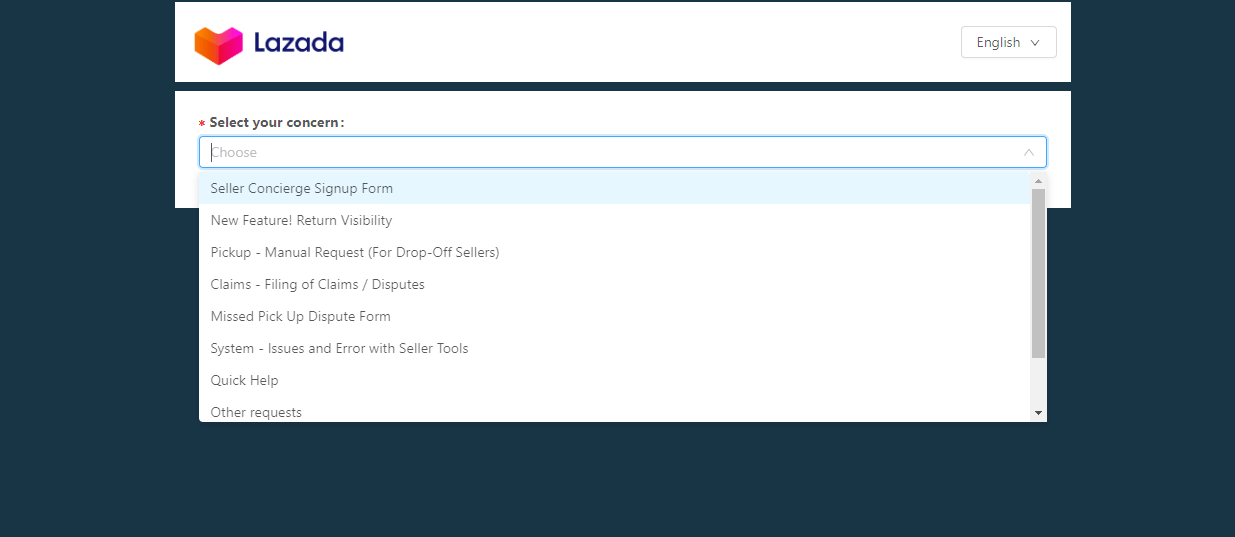 Select "Claims – Filing of Claims/Disputes.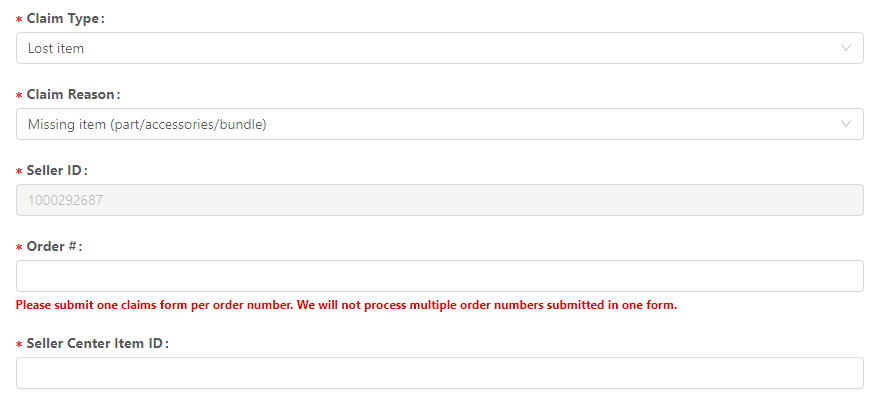 Enter the required details.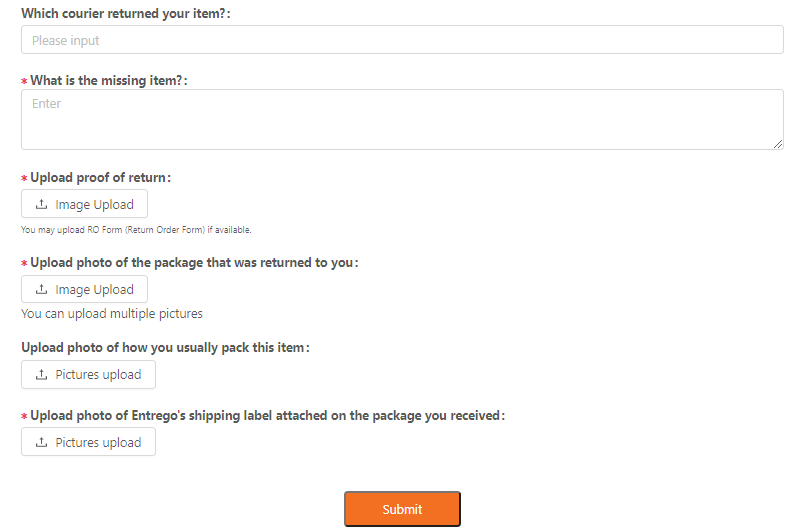 After that, you can click Submit. 
Reminders before filing a claim:
If your product was tagged as lost, wait for two business days to see if the amount of your lost item was credited to your statement of account. Otherwise, you can go ahead and file the claim.

In the event that an item has not been returned to you yet after failed delivery of customer return (non-DRTM), you only have 45 days from the day of shipping to file a claim. After this time period, you will no longer be accommodated
There will be a status change in your file claim after 2 to 3 days. Otherwise, you can send a follow-up email to the team. 
Despite the expected 2 to 3 days wait in file claim statuses, there are cases when disputes can be on-going for a span of 2 months due to the enormous user base of Lazada. 
Shopee- Ease Of Finance Reconciliation For Lost And/Damaged Parcels
Let's talk about Shopee now. Shopee lets you file for seller claims if your parcel falls under the following categories:
Damaged goods after the courier picked up the item

Wrong items or swapped orders

Missing or incomplete orders

Lost orders
Take note that you have to file the seller 25 days after the parcel was delivered or returned. In the event that you have to file a seller claim, contact customer service, or your relationship manager. 
For damaged orders, you have to provide the following evidence:
Photo of the parcel before it was delivered or picked up by the courier

Airway bill or proof of delivery

Photo showing that the item was wrapped in bubble wrap or any protective material that aligns with the guidelines of Shopee

A photo that was taken by the customer of how the packaging of the parcel look as it was received

A photo that was taken by the customer showing the appearance of the product upon receipt

A detailed description of the condition of the packaging and product as it was received
For wrong orders or swapped items, provide the following:
Photo of the outer packaging before it was shipped or picked up by the courier

Photo of the item before it was shipped out

Image of the outer package received by the customer

Image of the wrong item received

A detailed description of the issue
For missing and incomplete orders, attach the following as evidence:
Photo of the outer packaging before the item was shipped

Attach photos of the item before it was shipped

Image of the outer packaging received by the customer

A detailed description of the concern



In case of lost orders, you have to check first your seller balance to see if the amount has been paid to your account. 
If payment has not been made, you can reach out to customer service and they will be the one to escalate the issue.
In some cases, the courier will inform you that the package has been lost but it has not been tagged as lost in the system yet, what you can do is provide the following:
A tracking number or delivery receipt

Order ID

Confirmation from the courier that the package is lost (this is optional)
The approval of these claims will be made between 5 to 7 days from the day of escalation. You will receive the payment on your seller balance between Tuesday to Thursday. 
Lazada Payout Issues
Some of the concerns on Lazada payouts are as follows:
If you are a new seller, you have to wait for three cut-off periods before you can receive your first payout

Shipping fee overcharge – what happens is that if the seller fails to accurately state the size and dimensions of the product, there will be a shipping fee overcharge that the team will deduct on the statement of account of the seller

There can be delays in payout during hectic seasons like 11.11 sales
Shopee Payout Issues
Meanwhile, Shopee's payout process is different from Lazada. When a customer purchases an item on Shopee, the payment will be left on an escrow and then it will only be credited to the seller once the customer has confirmed receipt of the item or after the Shopee Guarantee period ends. 
Once the customer confirms receipt or after the Guarantee period, the payment will reflect on your seller balance. From there, you can withdraw the funds to your bank account. 
As of this time of writing, the only issue with Shopee payouts is the marketplace's connection to the banks. 
Upon requesting a withdrawal, the team will process your funds within 2 to 3 days. There are rare cases when you still won't receive your funds on the fourth day due to operations of the bank or if the bank has a cut off (during holiday seasons). If that's the case, simply contact the Shopee CS for a follow-up and the money will reflect on your balance in one or two days. 
Which One Is Better?
When it comes to which marketplace is more seller-friendly: Lazada vs Shopee, Shopee wins the race. On the other hand, both Shopee and Lazada have their perks. 
For Lazada, it is enormous traffic. With more traffic comes more sales. 
Meanwhile, if you are looking for the best user experience as a seller, not only does Shopee provide you with easy payout methods, it also provides more security through its Shopee Guarantee as well as its swift response to seller claims. 
In that way, despite it having a relatively lower customer reach in comparison to Lazada, it's a perk in the sense that the team is capable of resolving the most common concerns of sellers. The combined perks of Shopee enables you to better manage your business remotely.