eCommerce saved both consumers and businesses during the height of the pandemic.
As we see the end of the pandemic, consumers' expectations have hit all-time highs. They are now keener on having a personalized experience. They prefer brands with a commitment to environmental sustainability. And always seek quick product shipping, discounts, and a hassle-free shopping experience. 
Brands in all scales are trying their best to catch up. 
This only shows that 2022 is not a year to slack off. Forecasting possible 2022 eCommerce trends is an ideal way to prepare. Especially if you want to sustain your business growth in Southeast Asia, specifically in online marketplaces like Lazada and Shopee.
Based on the present economic trend and the previous years' eCommerce performance in Southeast Asia, here are 10 eCommerce trends to watch out for.
#1 Continued adoption of online shopping
Without a doubt, online shopping is still going to be the main thing in 2022. But this year, the growth opportunity no longer lies in urban consumers alone. Emerging consumer populations in 2nd and 3rd tier regions are becoming a new target for growth avenues.
According to the e-Conomy SEA 2021 report, 60 million new digital consumers emerged in the last quarter of 2021. Thailand and the Philippines have the highest proportion of new users. 
The pandemic may have increased usage frequency and spending on digital services. But we can also attribute the growth to the fast internet penetration in the SEA region.
That said, some challenges are still in need of addressing. This includes infrastructure, logistics, and skilled laborers. 
The role of the government will be crucial to address the said challenges. The best example is the fast-growing eCommerce in rural areas of China
The government of China paved way for the eCommerce to reach rural areas with its policies. It also developed programs for workers and provided digital and physical infrastructure. 
This effort resulted in $2 trillion annual sales in the eCommerce market.
#2 Data analytics will play a crucial role
In 2020, consumers shifted into buying basic needs online as that felt safer than going out. Now, as we see the end of the pandemic, it's more of a convenient choice. 
Businesses are now making sure they have an online profile and internet presence. They don't want to miss out on massive opportunities. And they also want to enhance consumer choice. 
So, to stay competitive, you will need data analytics. 
They will help you create more effective marketing campaigns. And you can make better decisions because you know what your customer really wants.
One of the best examples of data analytics is the use of product research in marketplaces. It will allow you to know which items are hot without spending so much time doing research. 
Split Dragon's market research tool for Shopee shows you the top products in each category. And it only takes one click. 

Another very useful tool is keyword research. 
With a few types and clicks, you'll have the keywords with the highest search volume. Also, you can easily optimize your listings. This will make you confident that your product will show on the top search results.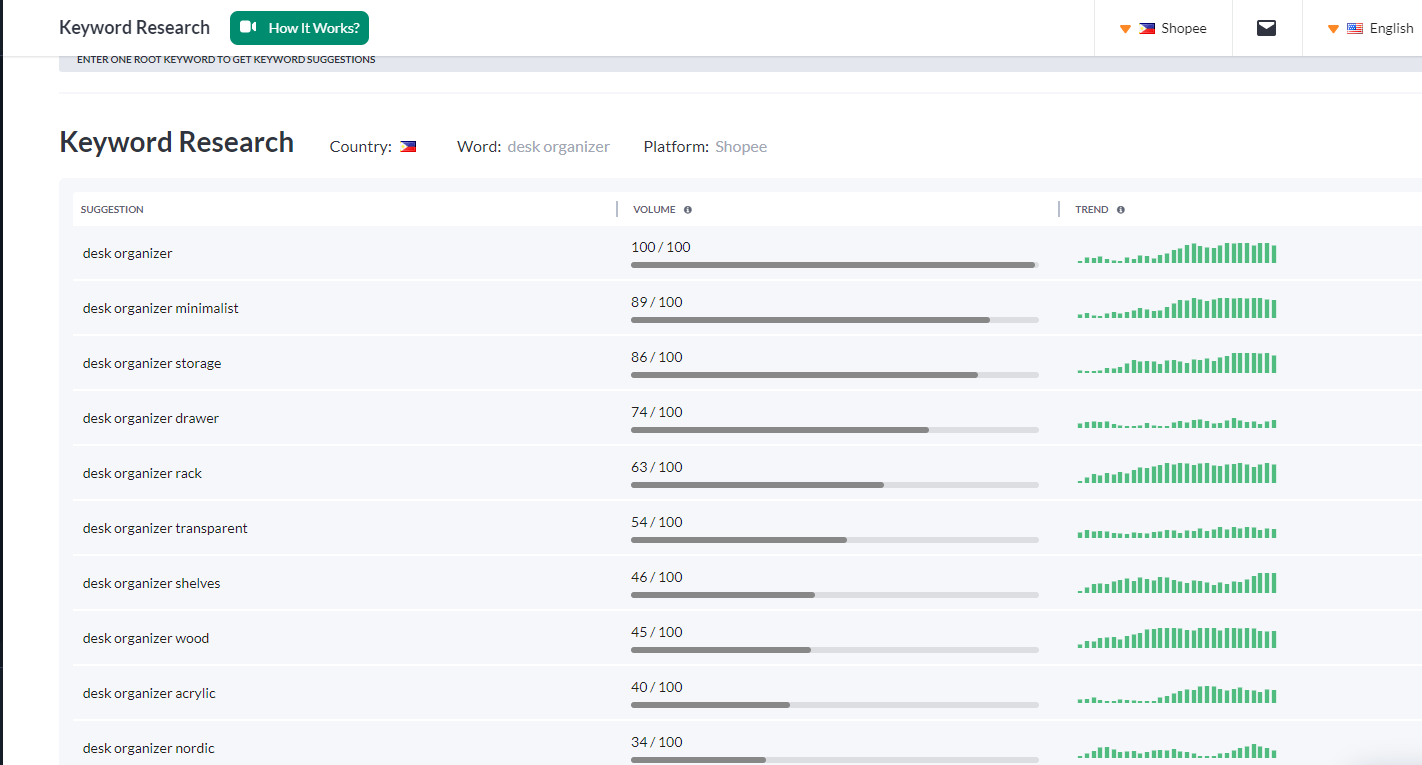 #3 Improved data security
2021 was the year for data breaches. The top 3 cybersecurity breaches happened in the biggest tech companies including:
Facebook – 553 million accounts

LinkedIn – 700 million accounts

Cognyte – 5 billion records
Adding to the list is the latest iOS15 hack that took place in a competition in China and the hack happened in just 15 seconds flat.
These breaches have impacted the manufacturing sector, health sector, financial services, and even government and professional services
This year won't be any different and the cyber threat landscape will continue to expand and evolve.
In turn, we will also see the rise of cybersecurity solutions in the eCommerce arena. We can expect serious coordination between the government and private agencies. It's in their best interests to crack down on organized cybercrime activities.
#4 Continous growth of D2C
The increased adoption of Direct-to-Consumer (D2C) in Southeast Asia will continue to flourish. Brands in this region should focus on providing a unique shopping experience. One that sets their brand apart. 
Selling directly to consumers will give you access to invaluable customer data. You can use that to drive innovative strategies. And also to personalize customer experiences while staying true to your brand's values.
This year, eCommerce will be more data-driven than ever. To win this market, brands need to make data and technology a focus in their organization.
#5 Rise of social media eCommerce
In recent years, social media became a powerful tool to market an eCommerce business. Now, social media platforms like TikTok and Twitter are boosting their aim of becoming a shopping destination.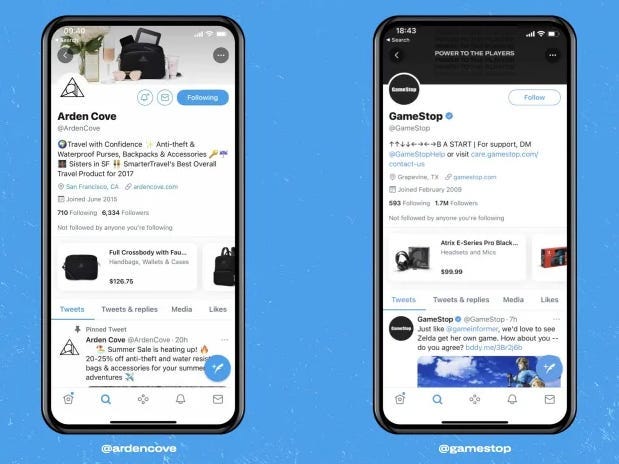 This is not new. Instagram has already been blending eCommerce functions in its platforms since 2019. And Facebook followed shortly in 2020.
But competing against large eCommerce platforms is not an easy battle. Especially since consumers expect a seamless online shopping experience. Not to mention discount vouchers and fast (and often free) delivery service. 
The good news is, social media platforms are at an advantage when it comes to big data. 
Through data analytics, social media platforms can create more intuitive marketing campaigns. And introduce products that best resonate with consumers' interests.
#6 Dominance of visual commerce in marketing strategies

Online, the selling proposition is convenience and practicality. Offline, physical retail can offer eye-catching product displays, banners, and even head-turning aromas. 
But the problem is, thousands of products bombard the online shopper. 
So, how can your eCommerce and marketplaces ensure recall and memory? Enter visual commerce. 
Visual commerce is about creating enticing product imagery. And powerful messaging that engages and converts.
Take live-streaming for example. Livestreaming allows the sellers to show off the unique features of the products. They can also answer direct questions from the audience. This makes it more engaging, thus increasing the chance to convert. 
Brands are also leveraging Augmented Reality and 360 viewing to engage their audiences.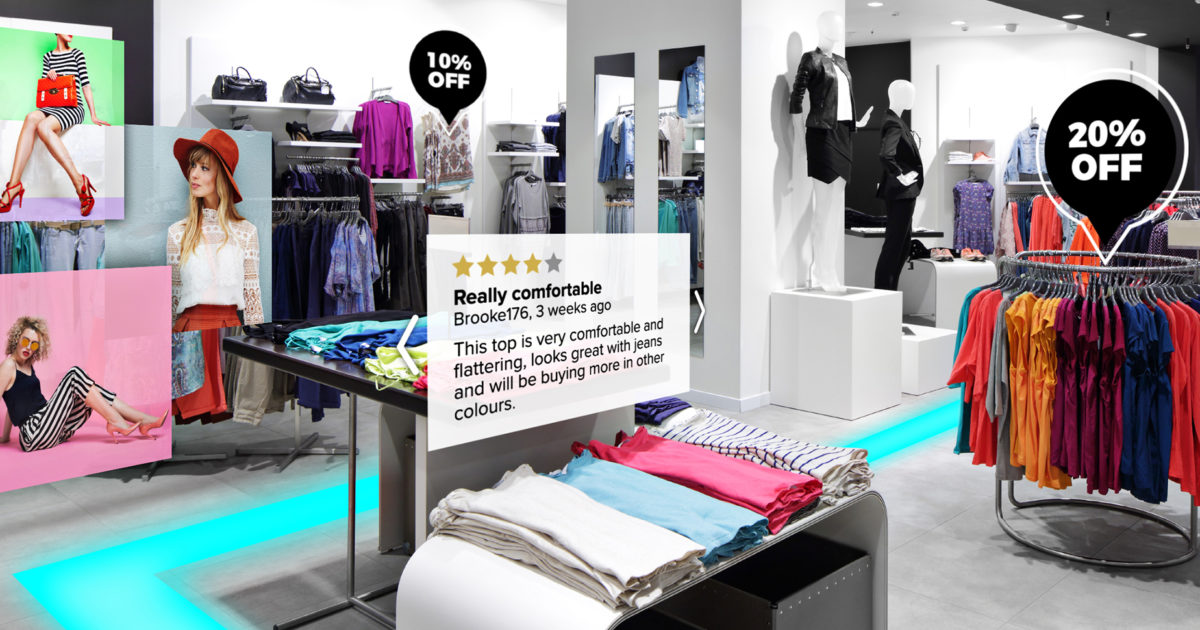 Virtual commerce is not only an effective tool for memory retention. It also influences the way consumers shop and interacts with the products they view online.
#7 More and more competition on marketplace eCommerce
Post-pandemic, online marketplaces have continued to exceed all expectations. Now, we are looking at the next level of eCommerce with the rise of aggregators.
Most sellers in online marketplaces are either small entrepreneurs or side-hustlers. 
If their product generates too much demand, they usually struggle to keep up. This is one of their potential downfalls.
Enter eCommerce aggregators. 
Aggregators are third-party sellers and small businesses acquirers in the eCommerce landscape. They look for those who have hot products but are struggling to scale up due to a lack of finances.
If a small business gets a high valuation from an aggregator, it can go head to head with big brands. Which results in more advanced competition.
#8 More ad spend directed to marketplaces
Given the above, it's safe to predict an increase in ad spending towards marketplaces. 
Aggregators are filling in the gap between big brands and small-time sellers. To stay on top, big brands will spend more and more on ads, making the competition more expensive.
Speaking of ads, it's important to note the growing role of advertising technology as well. Ad tech helps brands (and agencies) identify targets, deliver, and analyze digital campaigns.
It tells you which platforms are likely to give you the best results. This decreases ad spending and wasted efforts compared to advertising on all platforms.
Aside from ad tech, marketplaces are adding other new features to help businesses. These include the integration of voice assistance and tools that enhance back-office productivity.
#9 Brands to do more sustainable eCommerce
The promotion of environmental stability has never been stronger. In fact, an independent study revealed that 81% of consumers favor brands that commit to it. 
Sustainable eCommerce ranges from business models to product ingredients. Let's take a look at some examples below: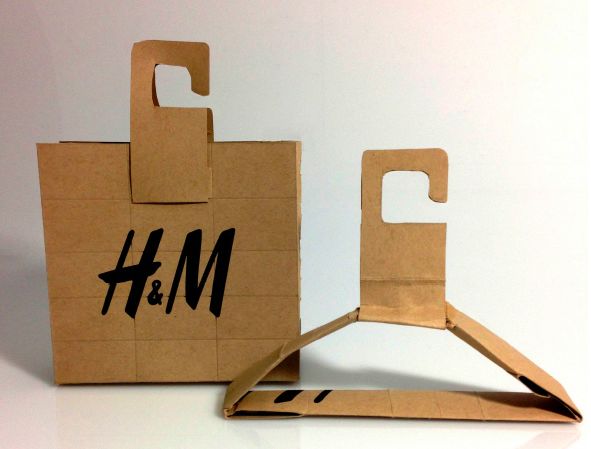 H&M is using a unique sustainable packaging concept that includes a recycled paper bag that transforms into a coat hangar.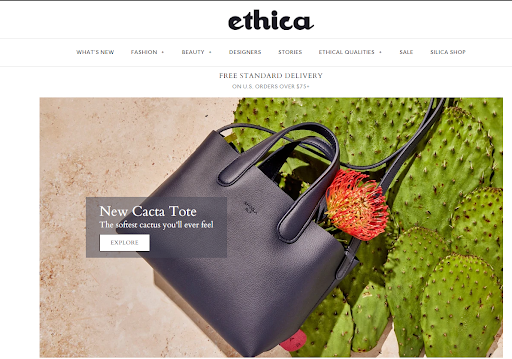 Ethica is an online retailer that promotes ethical fashion. Their products are sustainable, handcrafted, and even vegan. They use sustainable packaging as well and use carbon-neutral shipping.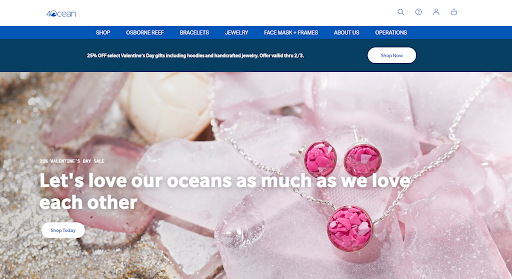 This accessory shop is dedicated to cleaning the ocean by pulling 1 pound of trash in every purchase. Their campaign made a huge impact resulting in global headquarters and they operate 7 days a week. 
If you are the customer, it's hard to say no to such an endeavor. 
Aside from a positive marketing impact, going green will ensure that your brand can be experienced by future generations as well.
#10 Global supply chain issues are here to stay
Border lockdowns and restrictions have eased. But many companies around the world are still battling supply chain bottlenecks.
Unfortunately, a lot of experts believe that they will get worse before they get better.
These supply chain disruptions have increased shipping costs. Marketplace sellers are shouldering these costs, leaving them with thin profit margins.
On the bright side, this supply chain issue and inflation are not permanent.
The pandemic exposed the vulnerabilities in our global supply chain. Companies have had to reevaluate their disruption-mitigation strategies. And come up with better resilience measures to recover from the situation.
Split Dragon marketplace recommendations for 2022
Split Dragon works directly with data and analytics. We share our best practices with our clients to help them excel in online marketplaces. 
Here are our recommendations for riding 2022 eCommerce trends. 
#1. Practice data-driven decision making
Setting up an online store is relatively easy but sustaining it can be challenging. That's why you need relevant tools to stay competitive. 
One of the best tools to use is the customer information you can gather in your online store. 
The amount of data that can be collected has never been greater than today — and it's only logical to leverage it.
Data analytics will give you an edge for your business to stand out. 
By making decisions using data, you are guided with relevant information and evidence. This allows you to better see and understand the impact of your decisions.
You'll be able to innovate and create new business opportunities. And avoid taking huge risks. 
Moreover, being armed with deep insights will also improve your judgment. This will help make you a better leader in your company. 
#2: Offer multiple options
Personalization and customization are now a priority for online businesses. So providing multiple options at every touchpoint can be an advantage.
You could offer different product variations, payment options, and alternative shipping choices. 
Having the power to choose makes the customer feel more in control. And it increases their satisfaction.
That said, you must also avoid offering too many options. Because it will only overwhelm your customers.
Finally, consider indecisive customers. This means you need to offer default options to make it easier for them to buy. 
#3. Offer hassle-free returns
One of the keys to happy customers is hassle-free returns. This may be a leap of faith but the truth is, you can't afford to not do it. 
67% of shoppers check the return policy page before making a purchase. Customers want to know that they can easily get their money back if they don't like the item. Knowing this helps them shop with more confidence.
The upside is that a smooth return process can foster repeat customers. And customer loyalty is something you want to achieve in this line of business. 
#4 Be adaptive
If there's one quality you need for your online business to survive, it's adaptability. 
And to be adaptive, you need to be updated with the current trends in eCommerce. You must embrace new tools to make your back-office efficient. You need to be consistent in evaluating your business processes to improve. And you must find opportunities – and be open to external – to innovate and meet new customer behaviors and preferences. 
If you're serious about improving your visibility in marketplaces, you'll let your data dictate your next move. We partner with agencies and brands in scaling their marketplace operations through Competitor Intelligence, SEO & Conversion Rate Optimization, Data, and Analytics.