You know that you need to bring your A-game if you want to get a slice of the eCommerce pie from platforms like Lazada.

You also know that using data-driven strategies can help you beat the competition. And you know the type of product you choose to sell is one of the most important things you need to consider when setting up your online business.
But it can be overwhelming when there are so many options available — over 250 million according to Devex.
So, instead of asking, "What product should I sell," go a level higher and ask "What are the top-selling product categories in Lazada?"
Read on if you're curious to find out.
What makes Lazada a great digital platform for online sellers?
Before you even choose a product category, you need to know if the platform you'll be selling on sets you up for success. And Lazada's online selling platform won't disappoint you in that aspect.  Lazada features an ecosystem that supports your sales growth, which continuously pushes the boundaries in revolutionizing your selling experience.
The seller center features several innovative tools that can boost your traffic and sales and has guides on how to use them to become top merchants on the platform. Of course, this is expected since they are also depending on sellers like you to profit.
That said, you can count on this Alibaba-owned company to keep coming up with cutting-edge solutions and ensure your success in this industry.
What are product categories and why are they important?
A product category is a group of closely related items.
For example, the "Smartphones" category contains only mobile phones as they are closely related (as opposed to protein bars or dishwashing sponges):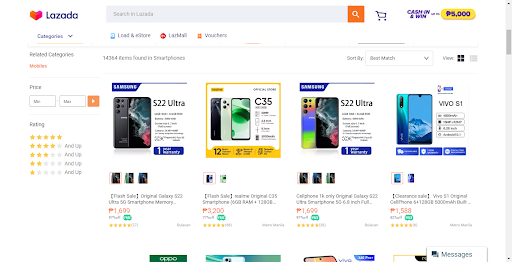 Product categories help you not only to organize collections of related products but also allow you to analyze and gauge their market performance.
This analysis can give you a deeper understanding of your customers' experiences, market trends, and competitors' info.
Also, conducting a thorough analysis as part of your product category study helps you make more informed decisions when it comes to making adjustments, which will give you a competitive edge over your competitors.
What are the best product categories for each SEA region?
Each country has its own popular items due to its different consumers' demands. 
However, it shouldn't come as a surprise that there are some similarities in product categories across borders. 
Because even if consumer desires continually shift, there are universal basic needs that are present wherever your customer might be.
Lazada Philippines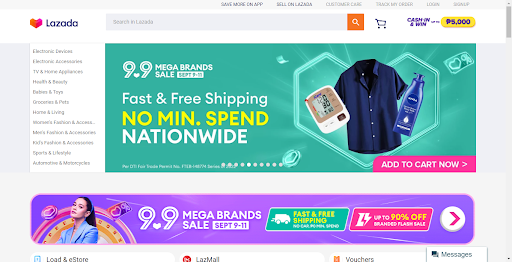 The future of eCommerce in the Philippines looks promising as the consumers' demand for user accessibility and extensive product choices grow rapidly. 
Last year, it's 73 million online active users contributed the most to the $17 billion eCommerce market sales in the country, according to the International Trade Administration.
And the country's changing consumer behavior pushes for the upsurge of digital app usage.
These categories are popular right now:
Health and Wellness
This niche has dramatically improved its sales due to the global pandemic. 
It has continued to soar because consumers are more cautious than ever before in protecting their health. 
Health and Wellness is predicted to have consistent growth over the years and this supposed trend is a sure staple for many years to come. 
Consider selling the following items in this product category: vitamins, food supplements, detox teas and juices.
Personal Care
The demand for beauty products will never cease to slow down as physical appearance still takes a huge market share. 
Beauty products had an increase in trend in the middle of 2021 and continue to make a significant mark in 2022.
Here are some of the best items to sell in this category: mineral sunscreen, gua sha, and false eyelashes.
Home and Living 
During the height of the global pandemic, we were all forced to quarantine and stay at home. Consequently, we began to focus our energy on creating and improving our home space. 
People started making home improvements and adopting new decorating ideas. Even when many employees take on hybrid work situations today, there is still a strong market share taking their home designing seriously.
These are some of the items that are continuously popular this year: home beddings, carpets, and towels.
Lazada Malaysia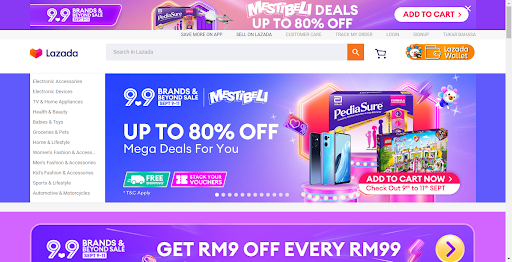 According to the Commission Factory, more than one-third of Malaysians over the age of 15 engaged in internet commerce from the year before January 2022. And online purchases of consumer goods climbed by 40.4%.
Consumers shopping online will only continue to increase. And the potential for online sellers to earn consistently is noteworthy to consider.
These are what's hot in Malaysia right now:
Groceries
As a result of the past nationwide lockdowns, more Malaysian consumers are purchasing food online. Cooped up in their homes during the global pandemic, the locals continue to enjoy their picked-up habits, even after the country reopened to the new normal. 
Many prefer to shop online because they find it convenient, fast, and cheaper than going to a supermarket. 
Plenty of small grocery vendors populated Lazada which made their goods available to online shoppers. 
Customers primarily bought dried goods in this category to stock their pantries, including snacks, instant noodles, and instant coffee.
Baby Products
Baby-specific items are always going to be in high demand. Many parents enjoy spoiling their babies so it's no wonder that this product category has a stable market share. 
You may want to explore this option if you're starting as an online seller.
Some of the popular items here are baby carriers, early learning toys, and baby clothes.
Digital or Electronic Products
DataReportal says there are 29.55 million internet users in Malaysia out of a total population of 32.98 million. To say that this is an astounding penetration rate is an understatement.
Given that, this product category will probably remain competitive and profitable for many years.
Here are some of the top items you can sell that guarantee consumer interest smartphones, USB drives, and power banks. 
Lazada Singapore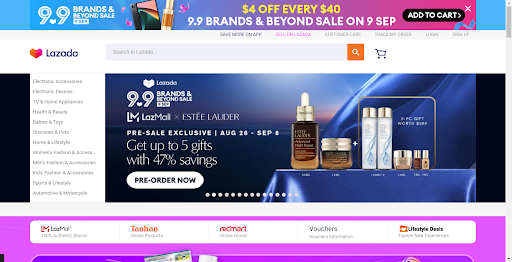 Singapore's eCommerce market is projected to reach $10 billion in 4 years as the country is considered one of the richest in the SEA region. 
It's no surprise that it's the second country next to China in the biggest spenders in the digital market.
The categories below will give you an idea of what to sell:
Consumer Electronics
This product category has a strong consumer appetite that will remain for years to come. 
It's inevitable for end users to keep up as technology advances and pushes its limits by the minute. Consumers can be expected to mobilize their lifestyle as technology progresses. 
This trend isn't exclusive to the Singapore market. It's also one of the top product categories in other countries, too. 
The most purchased items in this category are game consoles, phone screen protectors, and wireless earbuds. 
Women's Fashion
The rise of fast fashion as we know it will continue to be popular. More consumers prefer the convenience of getting their hands on the latest trends at budget-friendly prices.
As expected, women's apparel will always take a top spot in the market, since most women prefer to shop online for ease and convenience. 
You're almost assured of steady sales throughout the year as the drive for fast-evolving styles will always be in demand.
Best to keep an eye on the popular items before each season and make sure you can satisfy the demand for changing fashion trends.
Some of the best-selling products in this category are dresses, shoes, and handbags.
Personal Care
This is one of the product categories that will most likely remain essential in consumers' ever-evolving lifestyles.
The primary cause of this growth is the generational shift, as more young customers enter the digital market.
Social media and eCommerce are driving up demand for cosmetics and beauty items. And the most popular items in this category are facial cleansers, facial moisturizers, and perfumes or colognes.
Lazada Thailand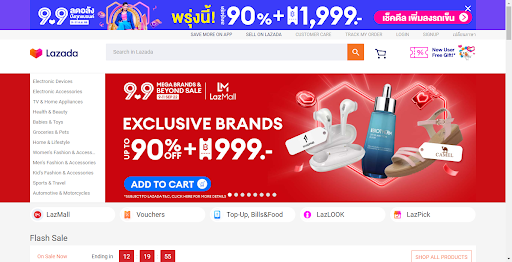 Ecommerce is poised for significant growth in Thailand over the next few years. By 2022, eCommerce sales are expected to reach $22.20 billion, up from $3.9 billion in 2017. 
This boom is being driven by several factors, including the increasing use of mobile devices, the growing middle class, and improved logistics infrastructure.
Here are some of the trending categories in Thailand:
Personal Care and Well-being 
Thailand is renowned for offering inexpensive cosmetic surgery procedures. So, it should come as no surprise that Thais place a high value on physical appearance.
Using the Lazada app, many local products are able to successfully sell online. 
When the popular and most anticipated event on the app, the 12.12 sale, occurred in 2021, face masks, food supplements, and collagen lotions were the most popular items purchased on the shopping site.
Lawn and Garden 
Many locals enjoy spending time outdoors and take them as a serious hobby, and as such, lawn and garden items are in high demand. 
It's also typical for many to view gardening as a way to not only unwind and take in the surroundings but also as a way to potentially make money from their harvests, may it be selling flowers or fruits.
Popular items in this category include garden tools, plants, and lawn care products. 
Fashion Apparel for Men and Women
When it comes to finding great deals, Thailand is one of the most popular shopping destinations to go to. 
Many startups in the fashion sector travel there to purchase items either to sell online or in physical stores back home.
So, it only makes sense that clothing will always be in demand in this country. 
A recent analysis from the eCommerce research company eMarketer predicts that the Thai online fashion sector will expand by about 30% over the next five years. In the last biggest annual sale in Lazada, there were over 1.2M fashion items sold. So the potential for exponential sales is huge.
Among the popular items in this category that you can sell are clothes, shoes, and accessories. 
Final Words
You may still find it challenging to differentiate and pick the right product category to sell for your online store. 
However, there is a solution that can effectively take out the guesswork when choosing a product category..  
Split Dragon can help shape the branding of your store, allowing your target consumers to distinguish you from a wide range of merchant selections and it can also help you with scaling your business.
Sign up for a free trial to start getting more sales and outranking your competitors.