Doing eCommerce business in the most digital era yet has a lot of benefits. If you leverage tech, you can be more productive and resilient, and have a faster time to market.
Yet, eCommerce is also a hypercompetitive industry. So you need to be quick, transparent, and always ready for your customers.
Competition is essential in any business. But, what if you're in a business where there's a new competitor every day selling the same products? Then you're gonna need to put competitor analysis first.
Or you'll risk stunting your online shop's growth. 
What is eCommerce competitor analysis?
eCommerce competitor analysis is the process of identifying your competitors and gathering and understanding their selling and marketing strategies. 
Its purpose is to anticipate your competitors' moves and stay one step ahead of them. 
Here, we'll talk about how to do a competitor analysis, what to look for in a competitor, and how to use the data you gathered to your advantage.  
But before we go to the how-tos, here's how your store can benefit from competitor analysis strategy. 
Benefits of competitor analysis in an online marketplace
The online marketplace is one of the industries known to have the most intense competition between sellers. So, you always need to be at your A-game, especially when it comes to marketing and presenting your business to your target customers. 
Here's how competitor analysis can help your business:
Identify your shop's strengths and weaknesses
Your shop will excel in some areas while occasionally falling short in others. But, more often than not, you'll look past this, unless it gets pointed out by your customers. And by then, it'll already be too late. 
To identify your strengths and weaknesses, you need to see your competitors through the eyes of your target customers. 
Once you see how your customers perceive your competitors, you'll know where your business stands in the marketplace.
And this data will help you strategize and craft an image of how you want your customers to see your online shop and its products.
Also, knowing your limitations will allow you to identify the areas where you need to improve. 
When you know all of these,    you can use them to achieve great things for your business. 
Gain a better understanding of your customers
It takes time and humility to truly comprehend what your customers want. You need to listen, communicate, and observe them to effectively market and sell your products to them. 
Doing an in-depth analysis of your competitors will reveal areas where your market is underserved. From there, you can adjust and expand your offerings to provide a better customer experience in those areas.
Be up-to-date with the latest trend
Learning from your eCommerce competitors will help you identify emerging trends and foresee changes in the market and capitalize on them. 
If you look at your competitors closely, you'll see that some of them get plenty of traction when they take advantage of the trends. Of course, this assumes that hopping on the trend makes sense for what they're selling. 
Do consumers still value freebies? Or do they prefer discount coupons? Do your profit margins continue to make sense for what you're selling? Or should you compete against your direct competitors on price??
Continuously keeping track of your competitors ensures that you remain on a competitive landscape. 
Make informed decisions
Whether you're just getting started or you're already further along the business cycle, your ability to make informed decisions is always crucial. Since you'll gain more knowledge when you do competitor analysis, you'll be more confident while making decisions.
Competitor analysis is not just a process but it's also a tool that can help you avoid expensive mistakes like investing in the wrong product or giving time to the wrong resources.
It also helps set a benchmark for your future growth. By looking at both your small and big rivals, you'll see where you're headed and what success or failure will look like. 
How to do a competitor analysis for eCommerce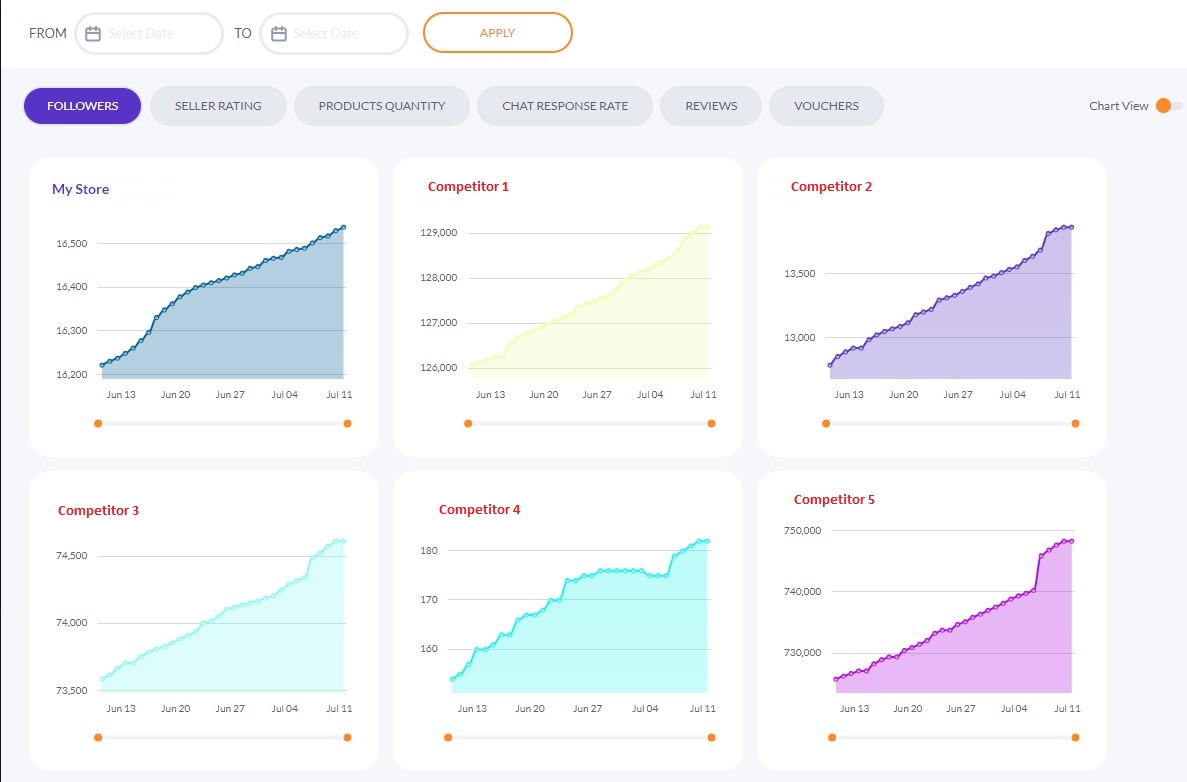 You can understand the growth and strategies used to increase followers inside Split Dragon
Doing competitor analysis can be tedious because you'll be processing a lot of information and analyzing the various aspects of your competitor's business.
To make it easier for you, we will point out the.

6 areas to focus on when doing an eCommerce competitor analysis:
1. Sales
2. Pricing
3. Product Listing
4. Keywords
5. Market share
6. Promos/vouchers
And now that you know what to look for, here are
6 steps for doing a competitor analysis:
1. List and categorize your competitors
You might think that you just need to pick shops that sell the same products as yours and you would be right. In addition to that, you need to know which shops are worth devoting your time and attention to getting the most out of your efforts..
Generally, there are 3 types of competitors: 
Direct competitors sell products or services similar to what you offer to the same market. These are the first sellers or businesses that come to your mind when you think of your competition. 
It's like Shopee VS Lazada or McDonald's VS Burger King VS Jollibee.
Indirect competitors are businesses that are in the same category as yours but offer different products to solve the same problem.

If you are selling workout clothes and you have a rival that sells fitness accessories, you fall under the same Fashion category to solve the same problem but with different products.
Replacement competitors provide a substitute for the product or service you offer. Although what you sell is different, you both want to address the same problems.
For a seller of speakers, a seller of headphones can be considered a replacement competitor. Consumers could buy headphones instead of speakers because they decided that they want to get the sounds they're listening to directly to their ears. 
Replacement competitors can be more challenging to accurately identify.  Because sometimes the consumers themselves don't know what they want until they see both products and weigh in their preferences. 
Fortunately, all of these can be learned as you go along and identify your competitors. You'll probably discover more than you expected. Yes, it can be intimidating but it's also exciting! 
2. Know your competitor's sales tactics
Finding out how your competitors are selling can be tricky. You'll need to dig deep and analyze how they're selling their products.
To help you dig deeper, answer these questions while you're doing your research:
What online selling platforms are they using?

How do they build trust with their customers?

What are the reasons their customers are buying from them?

What is their monthly and yearly revenue?

What vouchers and coupons do they use?

What are the possible advantages of their tactics?

How about the potential disadvantages? 
Answering these questions will help you strategize your sales tactics accordingly. However, adjust your tactics only if it makes sense for your business. Remember, not all plans or tactics are applicable to your brand.
3. Take a look at their pricing and how often they change it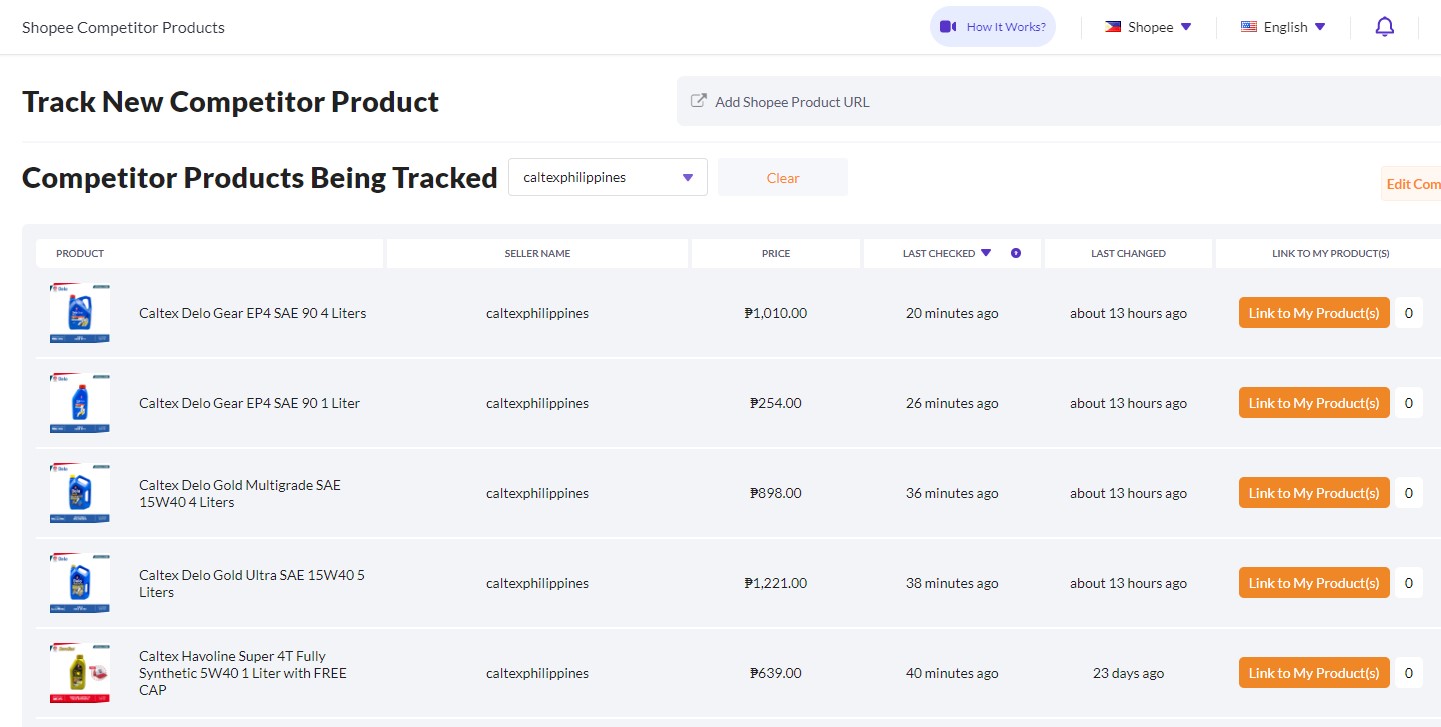 Split Dragon's Competitor Tracking Tool in Action
You already know that pricing is crucial when selling in marketplaces. And, you also already know, that there's a lot to consider when putting a price on a certain product.If you notice that there's a huge gap between your pricing and your competitors', take a look at other factors. Perhaps your products have more features or your products are made of better quality — you can highlight those to avoid competing purely on price.
Your goal here is to keep up with the product's pricing in a way that both feels reasonable to your prospects and makes sense for your business.
4. Analyze your competitor's product listing efforts

How you design and display your product listing plays a significant role in how online shoppers interact with your product or shop. 
Your product listing may convince the customer to complete a purchase on the spot. Or it could also turn them away if your listing looks suspicious or lacks compelling content. 
What to do?
First, analyze your competitor's product listings and check if they are optimized for your marketplace's search engines. 
How do they construct their title and description? How do they arrange their product photos? Do they rank well in search engine results?
Second, check the keyword gaps in their product listings. 
Keywords are the words or phrases that customers type in the search bar when they are looking for a product. Good keywords help listings get optimized and appear high in the search results. 
So, check if they have ranking keywords that you don't use, and also check if you have ranking keywords that they don't use and make the necessary adjustments.
5. Quantify your competitor's market share
Market share is the sales measured as a percentage of an industry's total revenue. The value of a business's market share is relative to its competitiveness. 
In other words, products with a big market share mean that they're the leading products in that online marketplace.
Quantifying your competitor's market share inside the marketplace platform will give you perspective on how well they're doing in their online operations. An online shop with a rapidly growing market share means its revenue is also growing faster than its competitors.
6. Analyze how they use discounts and vouchers
Almost all online retailers promote their products by offering discounts and vouchers as part of their marketing strategy.  That said, very few customers expect to pay full price for products that they purchased online. 
Vouchers and discount coupons are considered revenue machines when used wisely. And knowing how your competitors are distributing their discounts and vouchers will give you a glimpse of their marketing strategy.
Also, it would be better if you could see how much they've spent on their discount vouchers so you can compare and check how much they are willing to pay.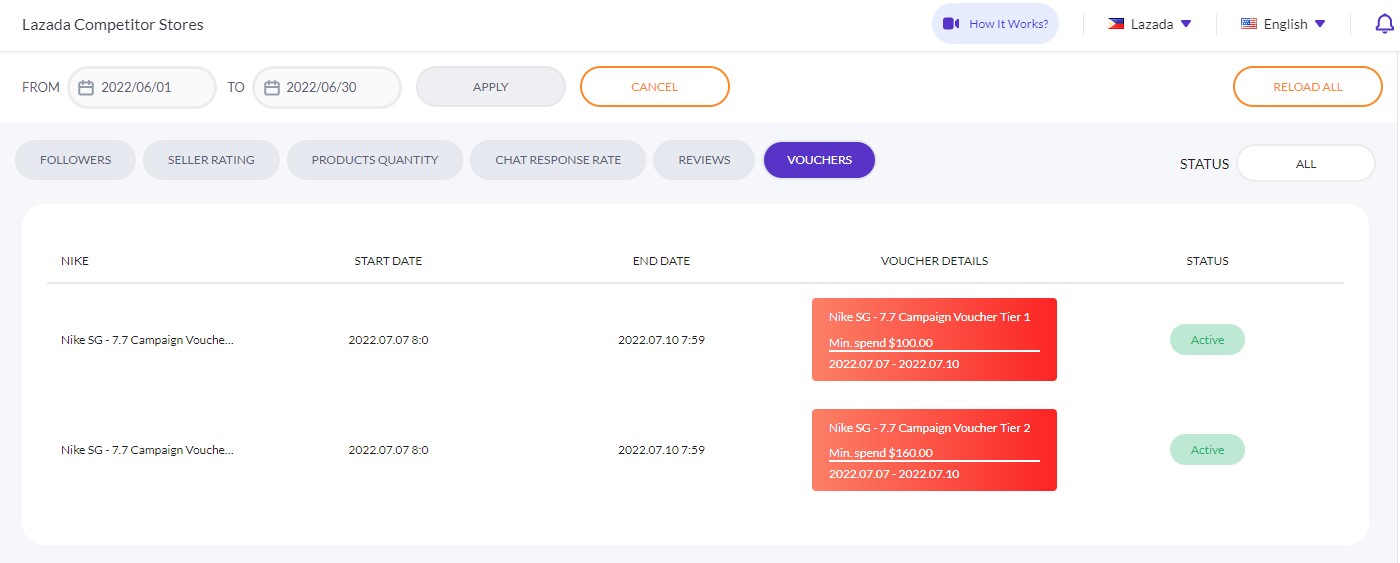 See all the vouchers your competitor is using inside Split Dragon
Be a Top Seller with Competitor Analysis
With more online stores opening on online platforms, it gets harder and harder to find new customers. However, if you invest in long-term strategies like competitor analysis, you are also paving the way for your business to get a lifelong reward. 
Need more help analyzing your competitors? Try Split Dragon's Competitor Tracking Tool for free to automatically track and get updates on what your competitors are doing with just a few clicks. 
And if you have any questions on competitor analysis, you can ask us here.