Have you ever imagined yourself becoming busy because of the increased order volume, adding new products to your shop, or joining a new venture?
Exciting isn't it? This means that your business is growing.
And as a Lazada and Shopee seller, your biggest task is to take your business to the next level.
However, there will be a lot of work involved. From marketing to shipping, improving customer experience, and everything in between. 
These are important tasks that at first, this seems like doable and not a time waster. But once you add all up, it puts a strain on your business process and productivity.
And when the issue of productivity is not addressed, it can create a significant impact on your customer satisfaction. 
It also means that it can be a significant challenge in growing your business.
To balance everything, you must consider automation.
Yes, for startup businesses, it can be a luxury. However, for growing businesses, automation is a must have. 
Thousands of Lazada and Shopee sellers are using Split Dragon to automate their online selling. In this article, we will show you how automation using Split Dragon can increase your sales while still giving a great customer experience. 
What is eCommerce Automation?
eCommerce automation, in its broadest meaning, is the use of technology or software to perform various operations for you instead of requiring someone (or yourself) to do so. Now that most businesses are moving towards digital commerce, there's already a number of automation software to use, including Split Dragon. 
eCommerce automation is best for basic, repeatable, and dangerous tasks that must be completed regularly.
Take a look at these automation advantages and see which ones can be applied to your business:
Eliminate manual data entry 
Data entry requires a lot of time and effort. But did you know that nearly 60% of workers estimate they could save six or more hours in a week if their repetitive jobs were automated?[*] 
That's equivalent to an entire workday. 
Moreover, manual entry is prone to human error – a kind of risk you don't want to take for your growing business.
In a case study by Sapio, most return orders and order errors are caused by two major factors: 
Human Error – This includes incorrect product selection, purchase entry, shipping information and account data entry;

Incorrect information displayed online – This includes the incorrect display of products, inventory, related products and pricing. 
With automation, you can avoid mistakes, plus you can free up employees' work so they can focus more on other important tasks. 
Optimize product descriptions
Competition is tough when you are selling on multi-vendor platforms like in Lazada Shopee. You can see several sellers selling the same product as yours. 
So how do you make your product stand out? 
Through optimized product descriptions and titles. This means that you need to insert the highest search volume keywords so that your products will land on the first page of Lazada or Shopee search results. 
Moreover, your products need to be listed accurately. Online shoppers rely on your listings to learn more about the product. This is your opportunity to reassure them that they are purchasing the thing that they want. 
However, many merchants find this time-consuming. Sometimes, they just copy the description from the supplier, which almost every time, lacks the compelling aspects to help the buyer decide.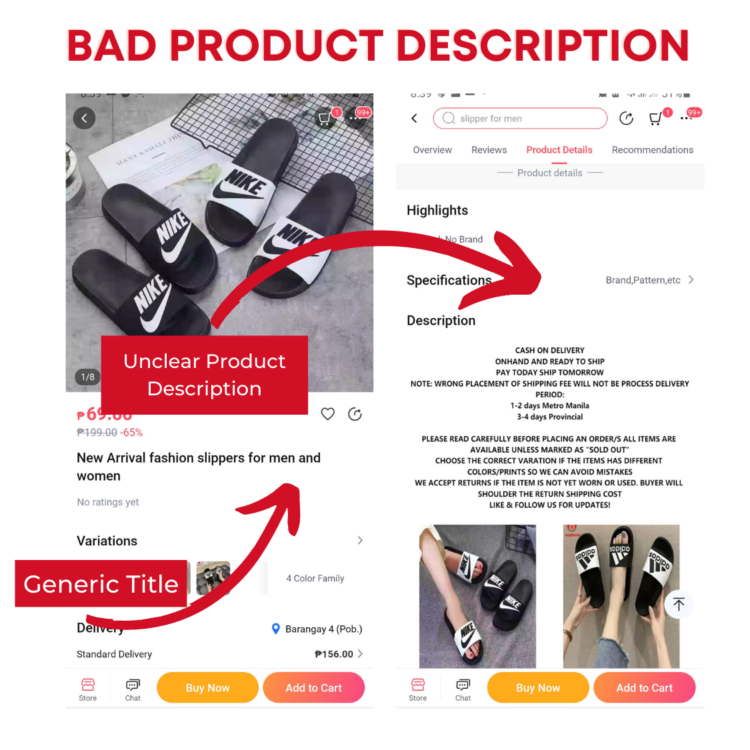 With automation, you will be confident that you can maximize your product titles and descriptions, plus it ensures that you have clean and accurate details. 
Split Dragon, for example, can help you find the right keywords to use for your product listing. Simply enter a keyword, and suggestions will begin to flow in seconds. 
Simply fill in the most popular search terms in your title and description, and watch your product's visibility and traffic grow!
Track competitors
Whether you like to not, identifying who your competitors are and knowing what they are doing is crucial for your business.
By understanding your competitors, you will have:
An understanding of their strengths and weaknesses and compare them to your strengths and weaknesses

An idea about your advantages against your competitors

Data that will help you develop effective competitive strategies

A bigger picture of what your target market still needs in your niche
But keeping track of your competitors saps a lot of time. After identifying who your competitors (and indirect competitors) are, you need to begin collecting information and analyze them. 
If you are competing against several competitors, it is unrealistic to keep track of all of them. 
Here's where automation comes in.
A competitor's research automation can help you identify which sellers are selling the same item or category. Moreover, it would be great if the automation tool will also notify you when your competitors change anything on their listing. 
Product and supplier search
One of the struggles of Shopee and Lazada merchants is to find the most profitable products to sell and where to find them. 
There are already thousands, if not millions of products already listed in Shopee and Lazada, and countless private label opportunities to consider. But to be an effective seller, you must have an innate awareness of the wants of your customers.
This is where you need to do a product and supplier search. Also called market research, it plays an important role in the process of product development.
Your goal here is to know what products appeal to the customers and how similar products have performed in the market.
If you want to do this manually, possible steps will include:
Create your lists of possible products on a spreadsheet

Check the price of each product, who their suppliers are, their ranking in Shopee and Lazada, pricing and just gather all the intelligence possible about each product. 

Now that your sheet has all the updated information, you will then get busy comparing each product's estimated profitability – including fulfillment costs. 

Last, is to compare: which products offer the highest profit margin, and which ones don't? 
Altogether, this process will definitely take some time, yet it's too important so you cant set this aside. 
Making an informed decision is always an advantage for your business. However, if you are already busy, why not automate it?
Automating market or product search can help you speed up the process of combing through hundreds of products. It helps you choose the most profitable items with the least amount of investment. 
Most importantly, it saves you time. And time is money. 
Other benefits of eCommerce automation:
Makes your business customer-centric
Automation allows you to focus more on your customers. And no, this is not just about offering a great product or a superb customer service center. Being a customer-centric business lives and breathes customer experience to the point that they become a part of customers' daily lives. 
And one of the ways to become a customer-centric business is to adapt to technology like using automation.
The best example is when merchants can provide a personalized response to each customer review. Since you already take repetitive tasks from your employees, they now have the time to find ways to increase customer retention and provide superb customer service.
Be consistent and accurate
One amazing thing computers and AI's can do is that they can be precise, consistent, and accurate. 
With automation, you just need to set it up according to how you want them to perform and the software will take care of it. Compared to having everything done manually, you no longer need to constantly track just to make sure there's no human error. 
Access to valuable business information
Automation also gives you access to valuable business data at the right time. eCommerce is an ever-changing and growing industry and having the intelligence and insights will help you make well-informed decisions as you adapt to the changes. 
Split Dragon automation tools to integrate with Lazada and Shopee Flow
Split Dragon understands the importance of automation especially in a competitive platform like Lazada and Shopee. 
We focus on helping the sellers and brands reach maximum conversions with these automated tools:
Keyword Research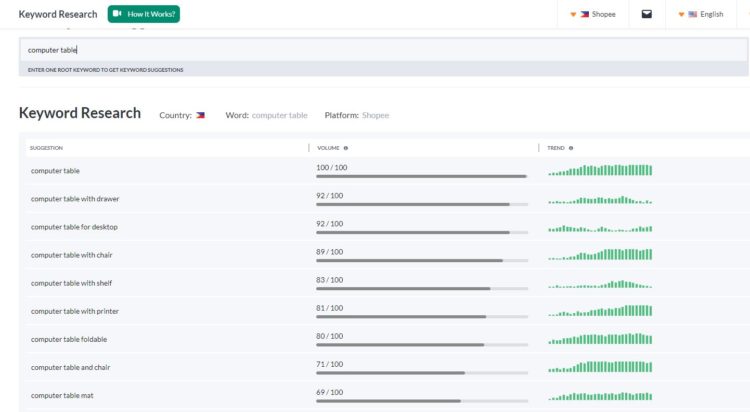 Get hold of the highest searched keywords in your niche based on actual Lazada and Shopee data. Aside from helping you rank first on search results, it can also help you write smart content since you already know the keywords to put in your title, description, and bullet points. 
Marketing Research
Also based on Shopee and Lazada data, our Market research tool allows you to easily find the best products to sell in the marketplace. 
You can also customize the search using the custom filters, or simply check the category you want to explore.
This will save you time from doing research and finding the products with the highest sales and growing demand. 
Shopee Autoboost
Shopee auto boost is a shop feature that allows your products to be on top of the search results. However, you can only boost up to 5 products every 4 hours. Moreover, you need to manually boost each product. 
But with Shopee Autoboost, all you need is a single click and your listing is boosted 24 hours. This means your products will have continuous exposure and you can grab those views nonstop without the constant check-ins. 
Simplify your business process with automation
Automation is all about simplifying your business process so you can focus on what you do best. 
Now that you understand the power and possibilities of eCommerce automation, let's take your business to the next level. 
Check out all our Split Dragon features and sign-up for free! No commitment, no upfront payment is required and you can cancel anytime!