Online marketplaces can easily go beyond sea borders in terms of selling and importing. That is why an estimated 1.8 Billion people worldwide have purchased goods online.
If you are looking for a selling platform that can reach various regions without breaking your bank, selling on online platforms is an excellent choice. 
And in Southeast Asia, some players dominate the e-commerce industry: Lazada vs Shopee.
Both e-commerce platforms played big and made it to headlines at the height of the pandemic.
In this article, let's have a look at how they performed in 2020 and how Shopee, a newbie in the e-commerce industry, became Lazada's biggest rival. 
Let's take a look at Lazada first. 
Lazada Quick Rundown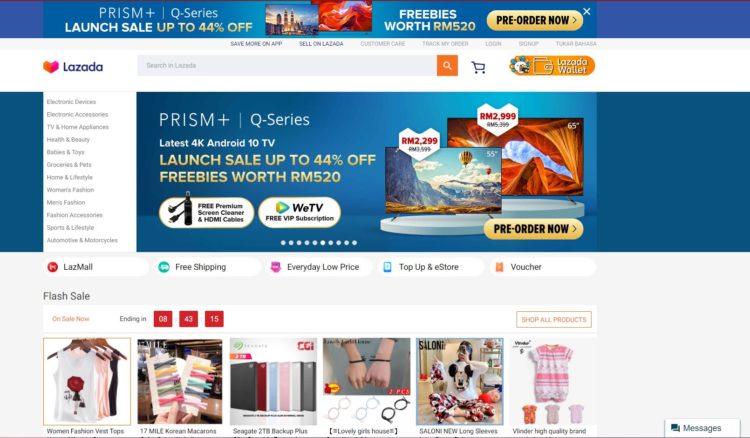 Founded in 2012, Lazada pioneered the e-commerce setting in Southeast Asia, following the footsteps and business model of Amazon.com. 
Headquartered in Singapore, Lazada is a retail e-commerce store that started in electronics. Later on, Lazada added more categories like home appliances and fashion and continued to expand its assortment of products. 
But it was an uphill and rocky climb for Lazada. 
Internet penetration is slow, especially in non-metropolitan areas in the Philippines, Indonesia, and Malaysia. Moreover, third-party sellers are not sold in the idea of online selling. 
Good thing, economic growth comes with technological advancement – and this includes the high demand for internet accessibility.
It was in 2016 when Lazada took off and established itself strongly in Southeast Asia after it was acquired by Alibaba. Surprisingly, its highest monthly active users are based in the Philippines, Indonesia, and Malaysia.[*]
Shopee Quick Rundown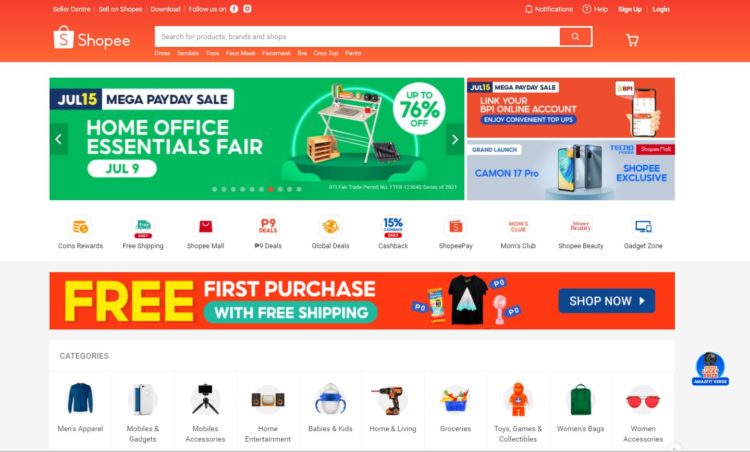 Shopee entered the e-commerce industry in 2015.
Technology is already striving and the internet, as well as smartphones, are widely available. Plus, the rise of mobile wallet in Southeast Asia promises a huge potential for this app-based platform. 
But with a business model that is a head-to-head competition with Lazada, it was seen as a David and Goliath affair. 
Many Shopee stakeholders sold their shares due to a lack of confidence that Shopee will grow bigger. 
In 2018, SEA Ltd, the mother operator of Shopee, and Southeast Asia's biggest gaming platform disclosed a quarterly loss of 250.8 million in three months.[*] 
This was twice bigger than the 92.1 million in the year earlier. All of these investments are allotted to build their mobile-centric e-commerce platform.
In 2019-2020, the venture paid off and Shopee became the largest pan-regional e-commerce platform in Southeast Asia. 
How did they do it?
Let's find out. 
Dram
atically increased their active user base
Despite the economic recession brought by the pandemic, Southeast Asia added 40 million internet users, and one of three users is generated by new shoppers.
Lazada's active user base
Let's take a look at Lazada's active user base: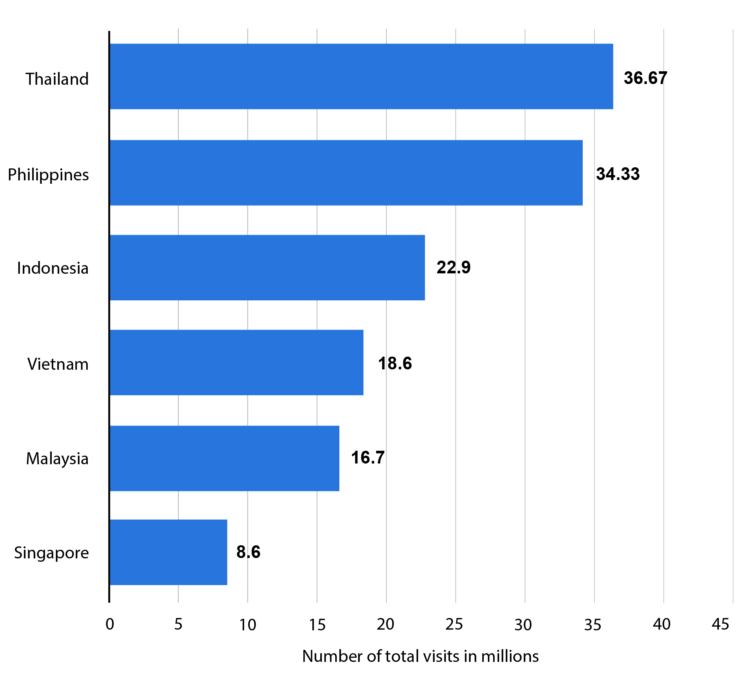 Lazada has over 100 Million monthly active users and 80 Million annual active consumers. This is a 200% increase since Alibaba took over Lazada.
They've strengthened their position in Thailand with 36.67million monthly visits and 34.33 million monthly visits in the Philippines. 
Their campaign for their digital payment called Lazada Wallet reaped an increase of 35% in Malaysia. Their third-party online sellers in Vietnam also increased 150% and are still growing. 
Shopee's active user base
Now let's take a look at Shopee: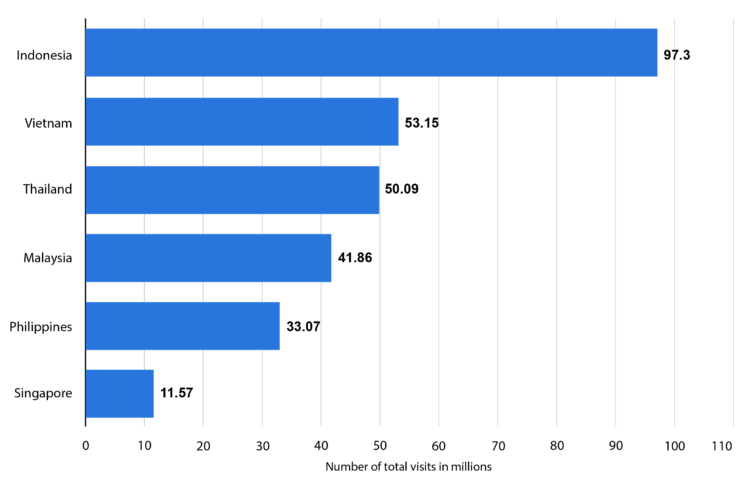 As of June 2020, there were over 290 Million monthly visits from all over the Southeast Asia region, with the majority of visits coming from Indonesia. 
In just 5 years, Shopee became the most downloaded app, ranking first in Taiwan and Southeast Asia, and ranking third globally in the Shopping Category.
Here's what they did:
Just like Lazada, Shopee started with aggressive and overwhelming advertising throughout Southeast Asia.
However, operations slowed down during Lazada's transition from Rocket Internet to Alibaba. Lazada also failed to address uneven and irregular availability of products in Southeast Asia, resulting to slow and frequent delays in delivery. 
Meanwhile, Shopee focused on partnering with local wholesalers, especially within the Chinese business circle – a move that Lazada's European executives tried to avoid. Shopee also poured their money to increase traffic and sales volume, which eventually led to the accelerated development of local delivery services.
They've also partnered with local celebrities and commissioned high-profile endorsers in every specific region.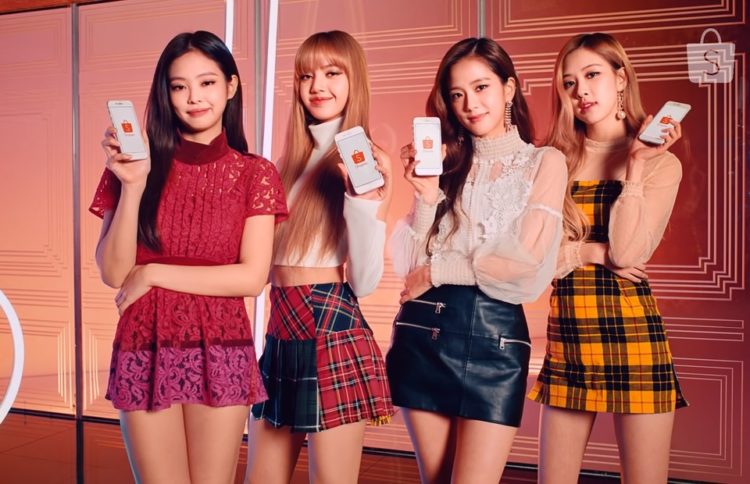 The biggest collaboration they had was with BlackPink, allowing them to penetrate the mobile first-generation Gen Z and Millennial demographic. 
Takeaway: At first glance, one can blame the transition of Lazada's top executives, however, the main problem is Lazada's inability to provide consistent products especially in local regions, allowing Shopee to takeover in terms of product availability and delivery.
Supported merchants with fun selling features and incentives to boost sales
Promotions and marketing strategies are essential to successfully reach customers and eventually drive up sales. 
Lazada's biggest promotion in 2020 happened during Singles Day or 11.11. This is a 24-hour shopping marathon that started in China and eventually was adopted by retailers in Southeast Asia. 
Fulfilling Lazada's promise of significant traffic, over 400,000 small to medium sellers across Southeast Asia enjoyed the huge online exposure, setting a record of 40 million customer visits in just one day. 
Moreover, sellers who adopted Lazada's core seller tools (Seller Picks, Instant Messaging, Lorikeet PDP Decoration, and other promotional tools) saw 25% growth in their sales.
Meanwhile, Shopee continually updated the Shopee Seller Centre with new features. They also teamed up with Google to launch Google Ads with Shopee. 
Shopee also opened a new door for the brands to access specialized marketing tools and boost their online presence. They enhanced their Shopee Live in an effort to allow sellers to reach and engage their customers more. The In-app Games are also designed to address the growing consumption of mobile video content. 
Those who participated in Shopee Live and Games experienced a 75% increase in sales. 
Lazada vs. Shopee initiatives during pandemic
Both Lazada and Shopee made an effort to offer support to their sellers and merchants during the pandemic.
In the Philippines for example, Lazada offered P100 Million worth of incentives during their Bounce Back Together campaign to financially aid SME's especially those who are selling high-demand items like food and medical supplies. 
Shopee also offered a Seller Support Package to help businesses digitize and kick-start their online business through online seminars and webinars. They also held the 9.9 Super Shopping Day where sellers and brands receive increased traffic and visibility thru exclusive engagement tools like Shopee Live and Shopee Feed. 
Focused on customer experience  
Lazada and Shopee equally understand the importance of having mobile-friendly and customer-friendly apps, with both platforms allotting a huge amount to improve mobile and website user experience. 
Customer service and direct messaging to sellers are available on both platforms and are part of their seller's performance rating to encourage sellers to be more receptive.
Lazada's increased connection
During Lazada Investors Day,  they have increased social engagement using their Social Tools. Product views also increased by 100%, thanks to its improved product and user matching. 
Lazada localized their stores with 1,000 languages and dialects  to connect to almost 650 million users with 1,000 languages and dialects. As a result, they've seen an increase in spending power among the middle class and expect more growth by 2030. 
Shopee's shoppertainment
On the other hand, Shopee focused on improving their gameplays, live streams, and collaboration with micro-influencers. Their marketing is more personal and relevant. Aside from partnering with hyped and big stars, they are also extending their approach to less "distant" icons like vloggers and tiktokers. This way, consumers can relate and associate themselves easily with the app. 
For example in Indonesia, Shopee has a dedicated section for Islamic products and services. In Vietnam and Thailand, where the majority of the consumers' buying habits are heavily influenced by celebrities, Shopee highlights stores that sell items used by top celebrities. 
They believe that shoppertainment (in replacement of in-store experience) has a huge potential and continues to evolve.
Improved after sales performance
It's undeniable that after-sales is crucial especially when shopping online. Deliveries need to be fast as it has a great impact on customer experience. Refunds and returns are also expected, meaning it is an additional cost for any e-commerce company. 
Here's how Lazada and Shopee performed:
Lazava vs Shopee Delivery
Lazada promises 3-5 days depending on the chosen delivery service. On the contrary, Shopee promises 1-2 working days on local orders (time and date depending on the region). For overseas deliveries, buyers from Lazada will have to wait up to 17 days, while Shopee's maximum waiting time is up to 16 days.
Lazada vs Shopee Customer Service
Live chats are available on both platforms. However, Lazada does not have a direct phone line, making it hard to discuss complicated issues. On the other hand, the Shopee has a customer service phone number that is open from Sunday Monday 8:00 PM to Sunday 10:00 PM.
Lazada vs Shopee Return and Refund Policy
Both platforms have quite similar refund policies. Returned items can be processed when the Return Warehouse receives the item and has gone through a quality check. For Shopee, it takes 3 to 7 days to process while Lazada is between 7 to 14 days.
All things considered, Lazada and Shopee allow direct communication between the seller and buyer, making it easier to settle after-sale disputes.
All things are considered, each platform's performance will reflect on their sales and revenue.
Let's have a look at Lazada vs Shopee market sales:
Impact on their s
ales and revenue
Right off the bat, Shopee significantly outpaced Lazada when it comes to the number of visitors in a month. However, Lazada still pocketed more with US$16.322 billion in revenue.
On the other hand, Shopee garnered $6.2 billion, but this is still seen as strong growth, as it translates to a 74.3% increase compared to the previous year.
In terms of valuation metrics, let's take a look at their mother companies:
SEA Limited, the owner of Shopee and the leading gaming and digital entertainment company in Southeast Asia is valued at $98.4 billion, while Alibaba, the world's biggest e-commerce company, exceeded $1 trillion.
Lazada vs Shopee, so who's the winner?
In terms of overall performance, Lazada is still leading however Shopee is following very closely behind. 
Whenever Lazada holds promotional activities, delayed deliveries are common and unexpected stockouts become frequent. 
Probably because Lazada is a new subsidiary, and its management has not yet been ironed out well across multiple countries. 
While Shopee is doubling their effort in growth, engagement, setting trends and inclusivity, they also need to focus on evaluating their sellers to ensure credibility and build trust with the consumers. 
But as long Shopee keeps on bringing personalized marketing strategies and consistent with their product selection and availability,  there's no doubt they could be the next leading e-commerce platform in Southeast Asia. 
Planning to start selling on Lazada or Shopee?
We covered a detailed and unbiased comparison about selling in Lazada vs Shopee here.