This is the second part of a two part series on how to improve your Lazada sales. You can find part 1 of Lazada sales improvement tips here. 
The dream of every seller is to increase revenue. Revenue growth is essential to every other thing in business. It determines how well you can expand, how much profit you make, your ability to meet your expenses and stay liquid.
In this article, we will be looking at the tips and tricks you can use to increase your revenue on the Lazada platform. There are three primary success factors that will determine how well your revenue can grow – assortment, pricing strategy, and promotion.
1. Assortment
Assortment is the process whereby you sell products in various categories and sell different models of one product in the same category.
So instead of selling one model of a "wristwatch", you can sell ten different models with some minor twists and turns in the features.
Benefits of Assortment
Improves Impressions: Assortment increases your rank potentials on the product search rank. Instead of one of your products competing with the other products in that category, you have multiple products competing in that category. It gives you greater leverage and increases your impressions.
Improves Conversion: If a customer clicks through your product but does not find that particular model of your product interesting, they would leave. But with good assortment, there are other models that the customer can compare and evaluate. It, therefore, increases the chances that you will convert the customer.
Increased Customer Satisfaction:  The less disappointed customers are more satisfied. Instead of a customer leaving your product page, with good assortment, he or she can choose other models of that product that will satisfy his or her needs.
Tips: You can use the Split Dragon product quality score and Lazada product rank tracker to keep an eye on your performance in the search engine.
Assortment Best Practices
Assortments at the top of the page are the ones getting the most clicks and the quality of your assortment is the big determinant of how much revenue you make from your store. So make sure to increase your stock of that model and prioritize it in your marketing.

Don't just create assortment of any product. Create assortment of products that are selling fast in the market.

For example, for the "wristwatch" product of a seller below, there are four different models of the product "Mini Focus Top Luxury Brand Watch…".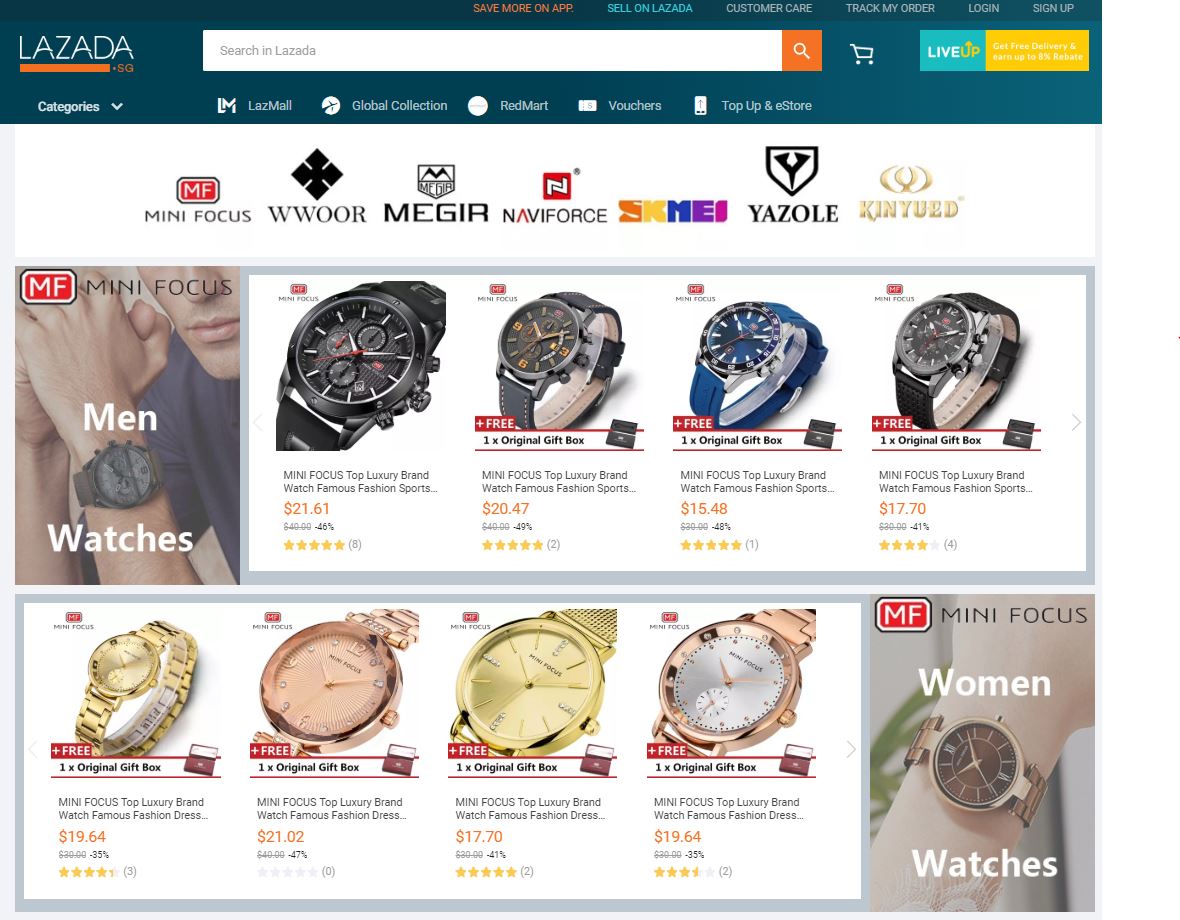 Create different models of that fast selling product and on the product detail page of your listing, ensure the other models are visible for easier comparison. In the example of the "Mini Focus Top Luxury Brand Watch…", the long description of each model shows the variety of different models so the interested buyers can choose from.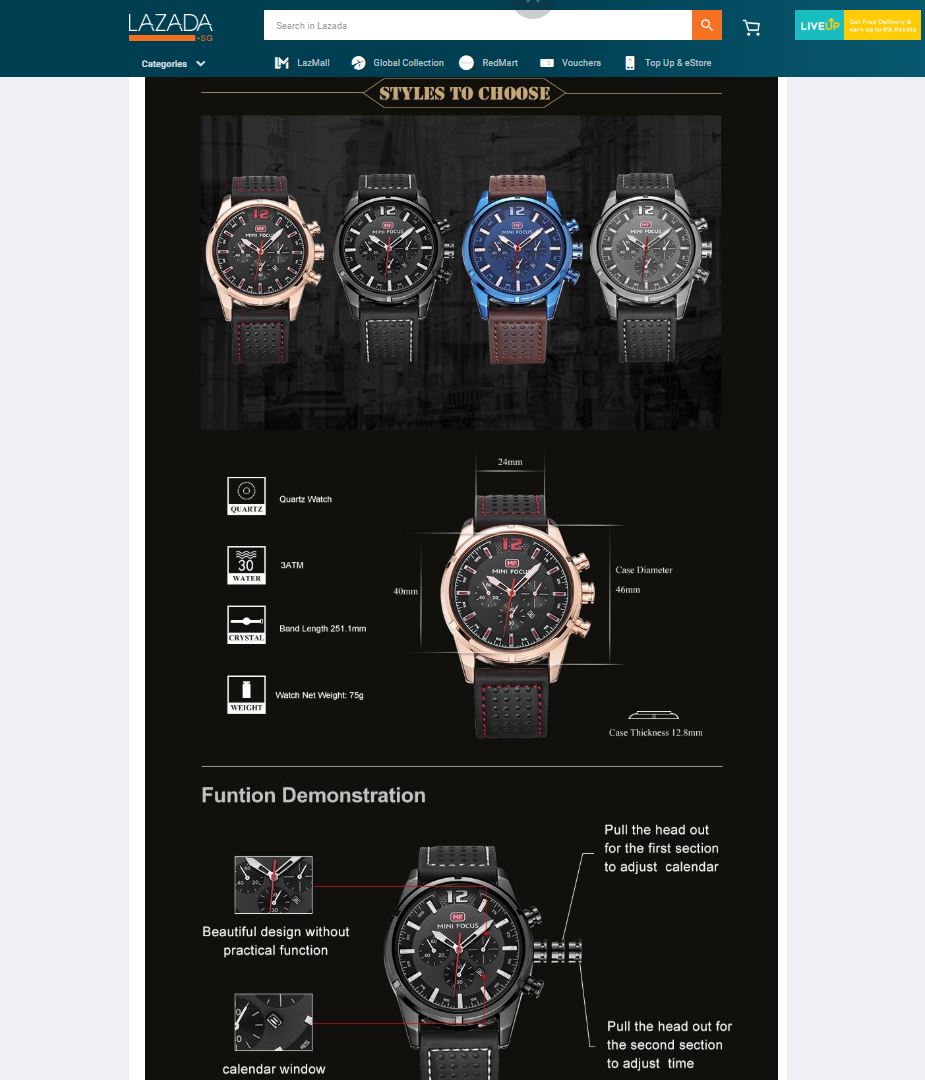 2. Pricing Strategy
Pricing is one of the important elements of the Lazada seller marketing mix. The price of your product affects impressions and conversions. When your product comes up in the search engine, the price will be one of the elements displayed. If your price is not competitive, your CTR will be very low.
This is why it is important to give discounts and create special offers. Offering discounts regularly will improve your earning potentials on Lazada.
There are 3 ways you can do to ensure your sales price is set fairly when comparing to the market price:
External price check – make sure to check the market price with both online and offline stores.
Price check on Lazada – check the price of your competitors' products through both category search and Lazada's search bar.
Provide discounts – discounted price always attracts customers, especially in Southeast Asia. This helps you to be more competitive and to participate to promotion campaigns to boost more visibility for your products.
3. Promotion
There are different ways to promote your product and increase its visibility.
Join Lazada promotional activities: Lazada makes promotional offers on special events and occasions. The goal of the promotional offers is to increase buyer activity. When you register your product for the Lazada promotional activities, you will increase the visibility of the product and make more money.
Promotional Offers: In line with your pricing strategy, ensure you offer regular promotional and special offers on your products to increase demand and revenue.
Other tips and tricks
To gain a better competitive advantage over your competitors, we suggest you to follow these additional tips.
Use Independent Marketing
While ranking in Lazada search results is critical (and you can follow our step-by-step guide on how to rank your products in Lazada search result from Split Dragon here) Don't 100% depend on ranking high on the Lazada platform. 
Promote your store through your website too. Engage in content marketing to increase traffic to your website and send that traffic to your store by creating blog posts, or develop social media platforms for your store, like Facebook, Instagram, LinkedIn, etc. 
Get Backlinks to your store
Backlinks will help to increase your store popularity and increase your sales. The benefits in having backlinks to your stores are:
Increase in traffics and new customers to your product listings on Lazada;

Make customers aware of online purchase availability; 

Leverage alternative payment methods;
Here are a few ways you can get backlinks to your store:
Get links from guest posts or social media posts.

Use links to your store as your email signature.

Get links from

your products and store through articles on your website. 
Conclusion
By following these tricks and tips, we hope you can significantly increase your sales and revenue, grow your business and brand, satisfy your customers, and achieve your goals and objectives.
Is there anything you want us to add or you think we have omitted anything? Kindly share your thought in the comment section.  If you like this article and felt it is helpful, please sign up for a free trial at Split Dragon today and let us know your thoughts. Alternatively, please share this article with your friends.