We have introduced a blog post on how to find the good keywords for your product listings using Lazada Search Recommendations. In this blog post, I introduce you to the new strategy on how to research and find powerful keywords phrases by learning about your top competitors. You can implement this actionable keyword research strategies today, whether you have a brand new product or a mature listing.
Why are keywords so important in Lazada marketplace?
The reason I keep coming back to the search terms is because: having the relevant keywords helps leading the potential buyers to your products on Lazada search results. For example, when a buyer is looking for "whitening peel off facial mask", as a seller for this product you should have relevant keywords of "whitening", "peel off" and "facial mask" in your product listing, instead of "facial cream", "anti-aging", or "moisturizing".
So how do you know what is relevant to buyers?
One of the good ways to be relevant to the buyers is to be as detailed in your product listing as possible, so the buyers can quickly find the right products they are searching for on Lazada search. Make sure to include the variants of your products, such as color, size, functionality, etc. so your products can be found with specific searches from the potential buyers.
For example: you are selling whitening blackhead facial peel off mask. Which keyword phrase is more relevant?
moisturizing anti-wrinkle facial cream
whitening peel off facial mask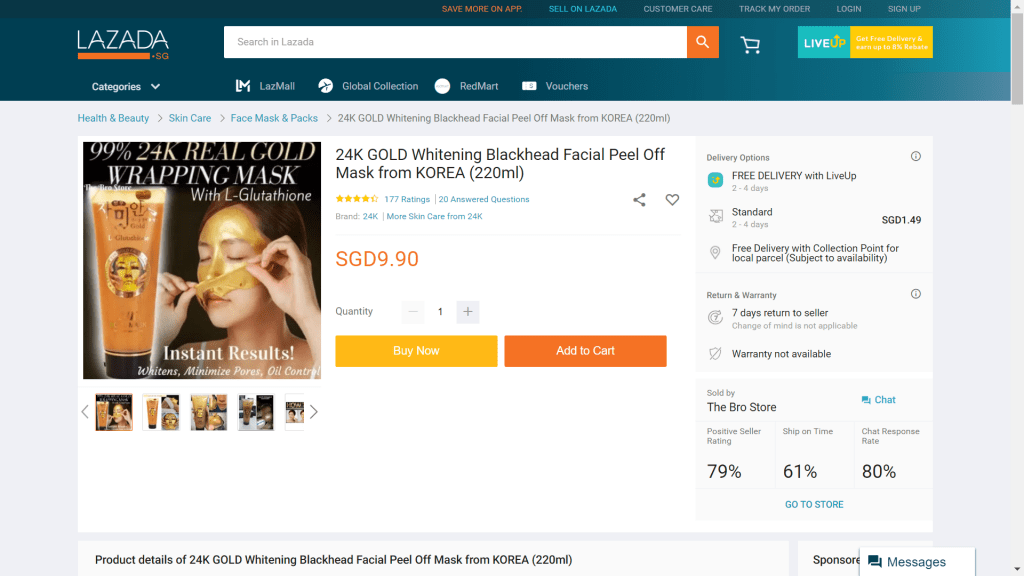 Clearly, product listing B is more relevant as it accurately describes the main features of your products. By including the main features and other relevant variants (in this example: "24K Gold", "whitening", "blackhead", "from Korea"), you help navigating the buyers to the specific product they are looking for.  
What are my top-selling direct competitors performing well for?
The next step to understand what is relevant for the buyers is to understand your direct competitors. It is always critical to review competition and know what your competitors are selling, how you are differentiated and how your pricing compares to the competitors. Never underestimate the importance of studying for competition since Lazada's algorithm is all about existing demand, trends and performance. The more you understand and learn about your competitors, the better you are at understanding your target market and improving your own product listings.
One common mistake when learning about the competition is to research on only one top-selling competitor. To avoid this mistake and for a more accurate research, always use multiple top-sellers that are as close as possible to your product. Here are four steps to keyword success from learning about the competitors.
Four steps to keyword success
1. Identify four top-selling products from your top competitors based on these criteria:
For example, you are selling 24K Gold Whitening Facial Peel Off Mask.  You need to identify the top four products and only choose competitors on Lazada search results that fit the criteria below:
Form

: peel off, facial mask, 20K Gold

Function

: whitening

Price

: +/- SGD 10.00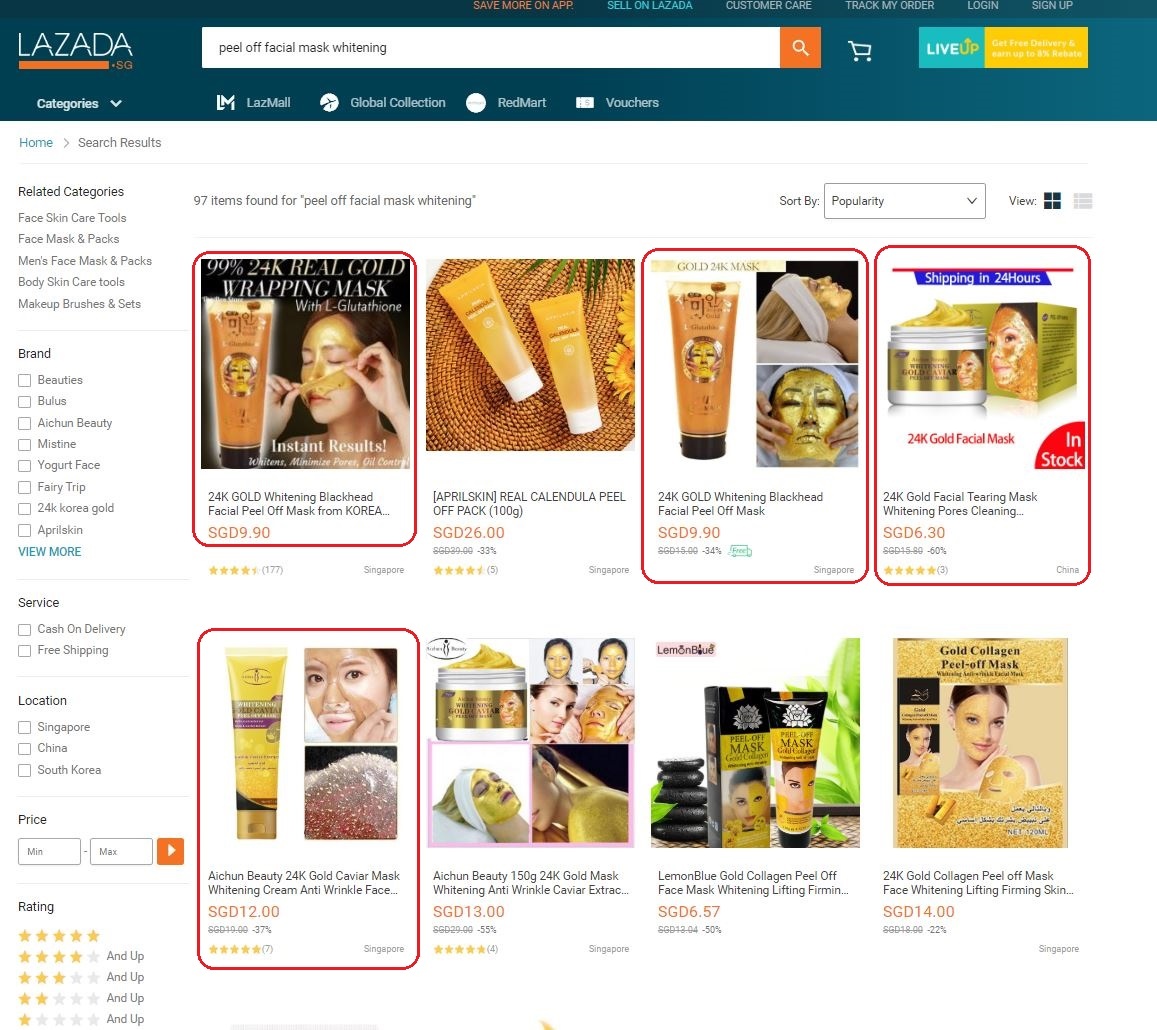 2. Identify the 10-15 keyword phrases that your top competitors are all getting sales
Look into each of these products and identify 10-15 keywords your competitors are using. In this example, the keywords for all these four products are:
24K Gold, whitening, blackhead, from Korea, anti wrinkle, caviar/ caviar extract, blackhead, moisturizing, peel off, mask/ tearing mask, pore cleaning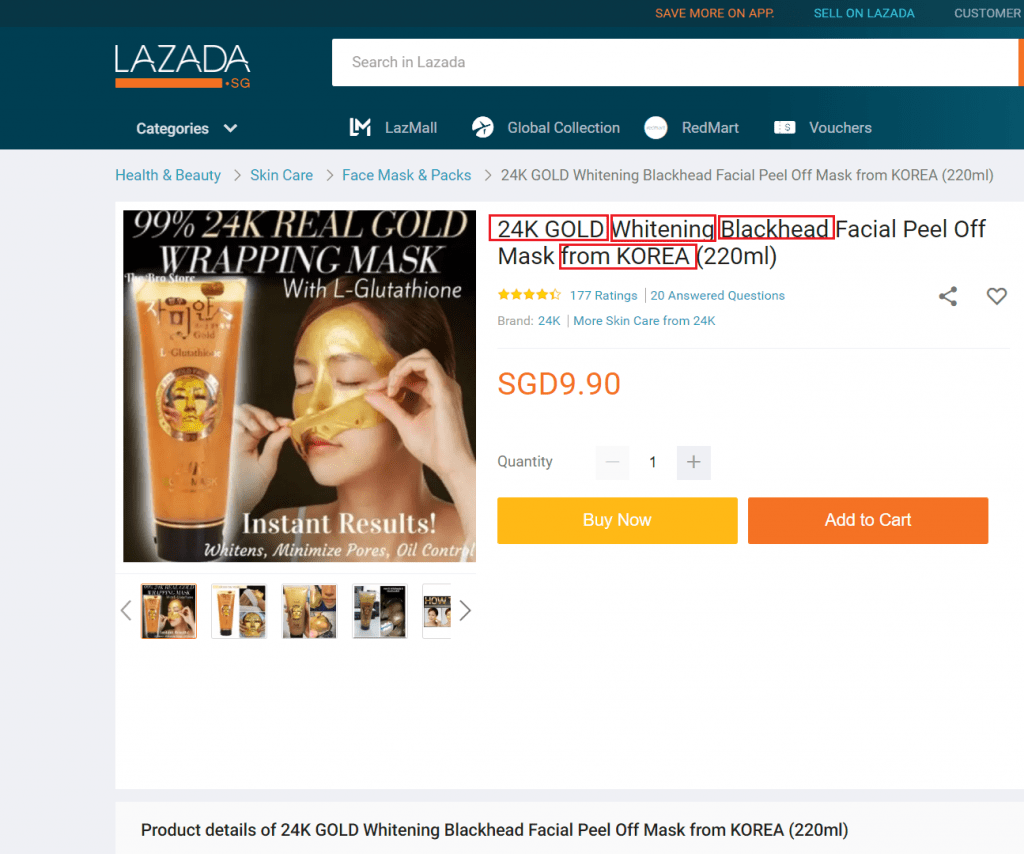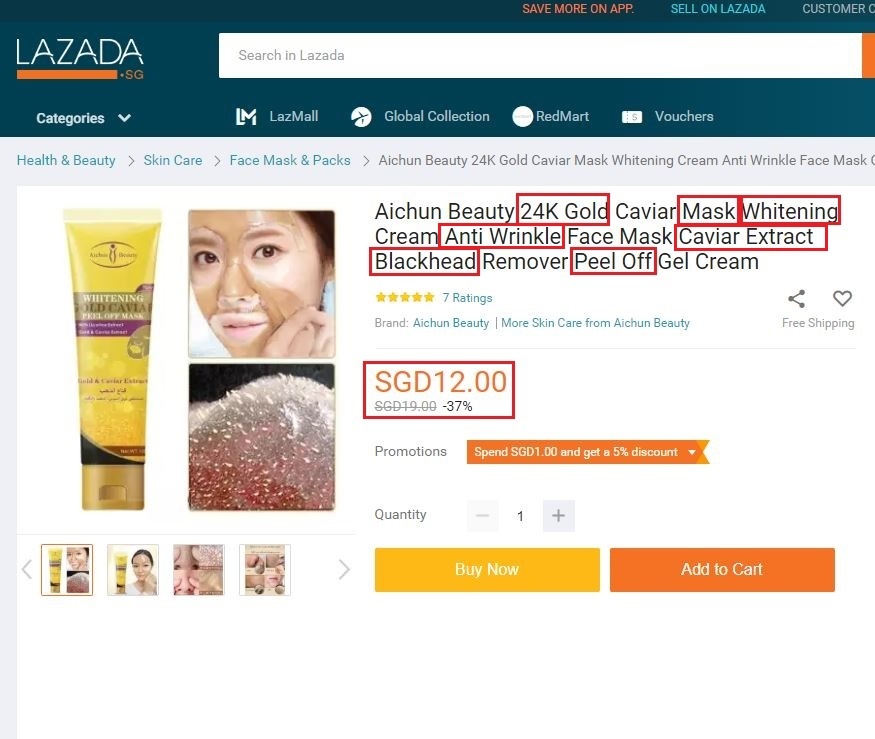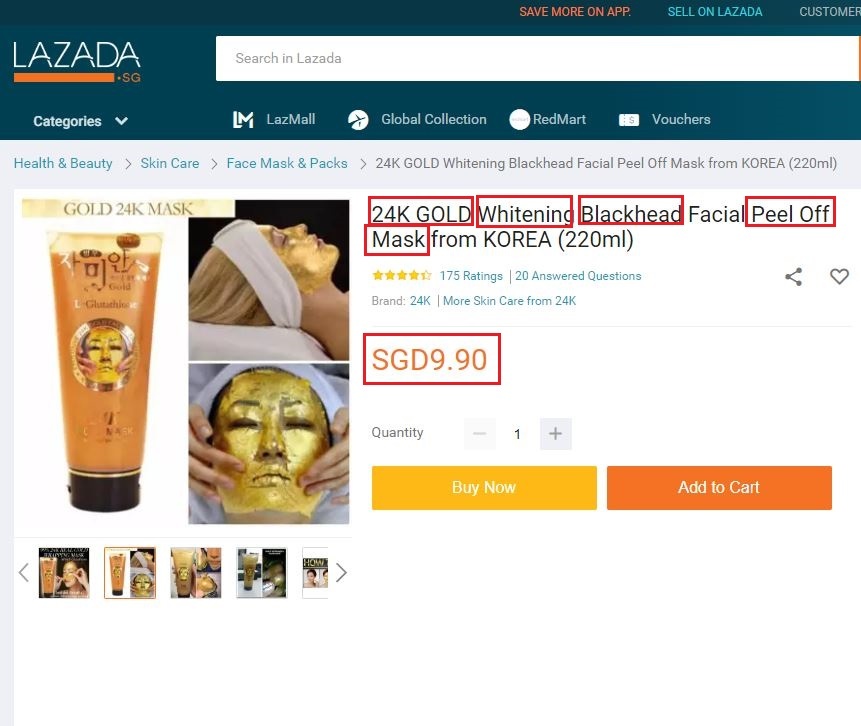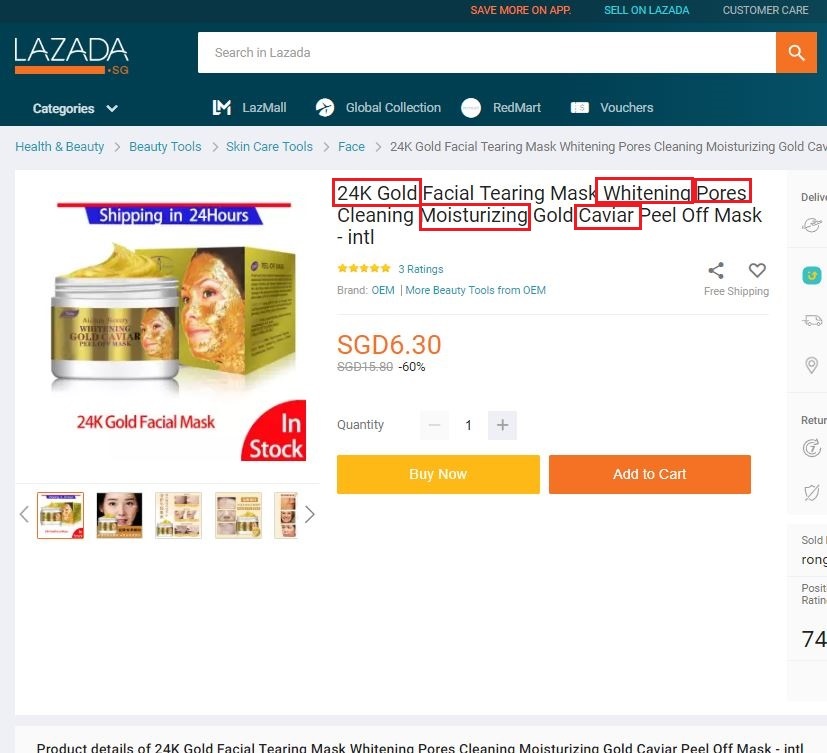 Now you know these are the valuable keywords that your competitors are using to generate sales, so you can apply them to your product listing. Make sure to use the keywords that are relevant to your product features and functionality.
3. Use other criteria to pinpoint other keyword phrases you want in phrase form in your listing.
Another way to looking for valuable keyword phrases from the competitors is to look at competitor product reviews to find emotional connection opportunity.
Let's look at the product review example of one of the top four facial mask products below: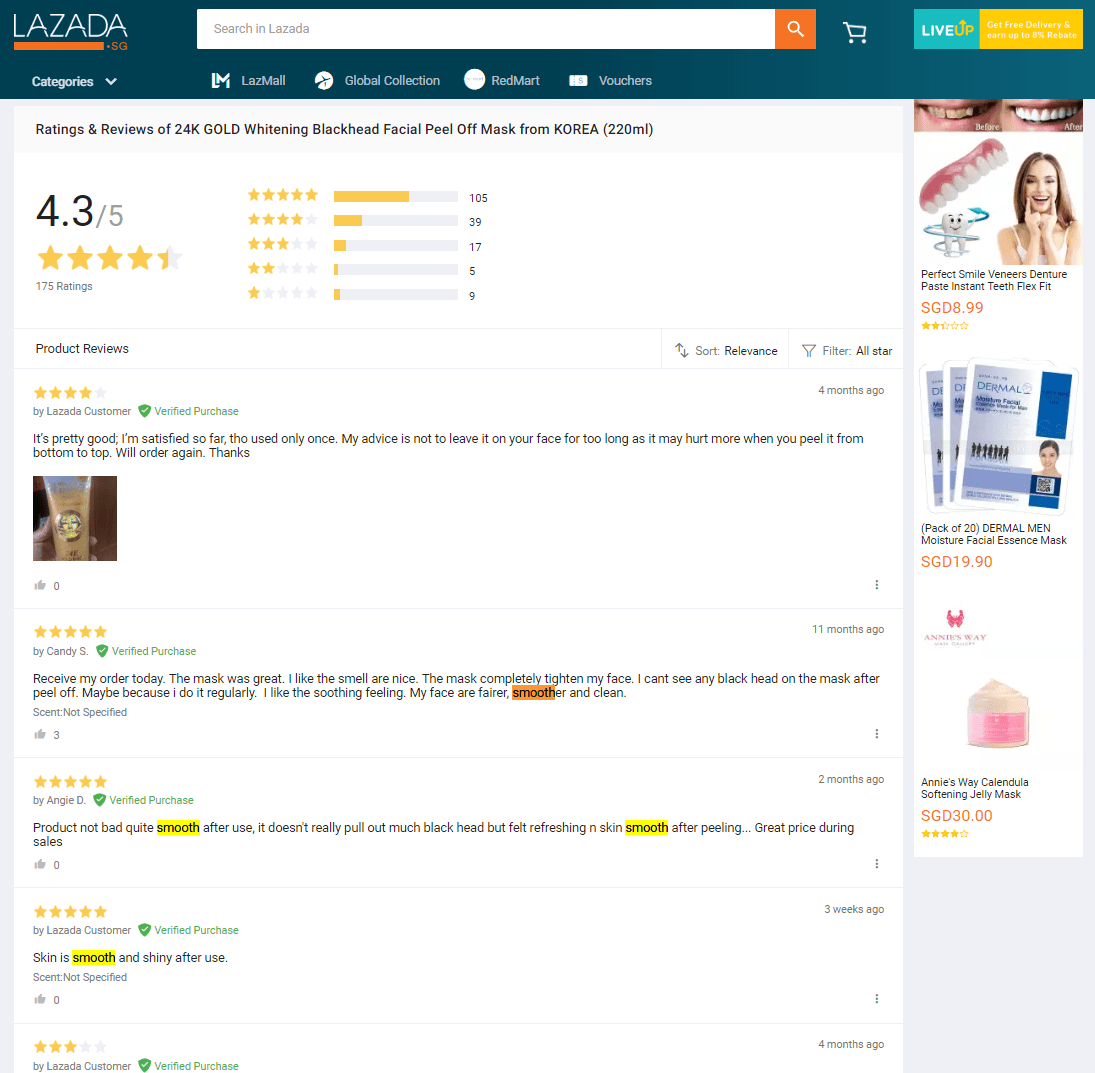 Most of the reviews mention "smooth" as the result after using the peel off facial mask. So besides the keyword phrases above based on the competitor's Form and Function, now you can include another valuable keyword "smooth" in your product listing.
4. Write your product listing
After researching about the competitors and collect 10-15 high quality keywords from their product listing and product reviews, you now can write your product listing. Some of the tips for are:
Be detailed in including the main keywords describing product features, functions and variants in your product title and product description. 

Write out the emotional connection bullet points using the keywords you found in competitor reviews. 

For example: Are you looking for facial mask

to remove

blackhead

and leaves your skin clean and

smooth

after peeling off?

Track the search ranking results after using the new keywords in your product listing to see which version generates the most sales. You can use 

Split Dragon

to automate the search rank tracking of your keyword or keyword phrases, so you stay up-to-date on your keyword performance and make adjustments to improve your product listing quality.
Hope our new keyword strategy help you improve your product listing by learning from the top competitors. If you have any questions, please feel free to leave comments in the section below.