For automation to work, it is imperative for users to have a good understanding of the features that make up the software that they are using. In line with that, we created this easy-to-understand guide to help new Split Dragon users grasp the basic functions of Split Dragon as well as how to use them. 
What Is Split Dragon?
Split Dragon is a software that specializes in providing Lazada and Shopee sellers the tools they need to create an automated process for their SEO (search engine optimization) and CRO (conversion rate optimization) activities.
Benefits to Lazada and Shopee Sellers
Simply put, using Split Dragon gives you these benefits:
Better time allocation for more important business priorities
Let's say for instance that you were to track your search rank or keep an eye on your competition. These are tasks that you can do on your own but it will consume a lot of time and energy. This is because to get your real search rank, you have to manually search for your target keywords on Lazada/Shopee. You also have to do the same to know your competition, combing through each of the search pages. It may take you an additional two or three hours daily trying to monitor your search rank whereas, with Split Dragon, you'll have no time wasted since your SEO/CRO processes will be automated. 
What this means is that you will have more free time to concentrate on the main operations of your brand.
Faster Implementation strategies
Split Dragon has a strategy for marketplace SEO and CRO that is already automated for ease of use on sellers' end. Therefore, you are able to implement these processes almost immediately. 
For example, if you want to track the performance of your competitors, you only have to provide the store URL of the competitor, and then Split Dragon will notify you every time there are changes in the store or in specific products. You will be notified through email. 
This will be an ongoing process and you will continually be able to monitor your competition while focusing on your usual operations. 
You will be able to keep track of what works and what doesn't
Split Dragon has an AB Testing feature that lets you automate the testing of two or more variations of a title, product description, image, or pricing. 
Similar to all other features of the software, this will also be automated. You will receive a notification if the test results are ready. 
The results will remain to be saved in your account so that you know which ones are the winning and losing variations. 
Protection from counterfeit sellers
One of our key features, the IP Protection tool, will help you identify sellers that sell the same products as you. So, if you are a brand, you will be able to identify the ones that you have authorized as a reseller. 
For the ones that are counterfeit sellers, Split Dragon will provide a template that you can use to send to the sellers informing them about the intellectual property offense. 
How Long Until Seller Sees Results
SEO
Using Split Dragon, you will be able to see improvements in your search rank in as fast as three to five days. 
If you are new to the platform and have only made little sales to this day, we recommend that you take advantage of Keyword Suggestion Tool, AB Testing, and our Market Research tools as this will help you precondition your product listings for better sales and reviews. These two factors are crucial in improving your search rank in the Lazada/Shopee SERPs. 
CRO
This one is determinant. When your SEO tactics have already taken effect and you have already optimized your product listings for better click-throughs and buys, you will then see your conversion rate go up.
Dipping your feet in the waters – Split Dragon 7 Days Trial Period
Time is of the essence of the business side of things. That is why automation is truly a great step forward in running a Lazada or Shopee store. 
We know that investing in new software to use for a business venture needs to be based on informed decisions. That is why we offer a 7-day trial period for new users. It is a way for you to test the waters, to see if Split Dragon can provide you the results that you need to boost your sales up a notch.  
What Can You Do In Your 7-Day Split Dragon Free Trial?
Track Competitor Stores
We have a proprietary tech that tracks the following data:
Reviews

Followers

Vouchers

Chat response rate

Ship on-time rate
Every time changes are made on these competitor stores, you will receive an email notification. From there, you will be invited to check a link where you can access the overview and information about this particular competitor store. 
You can use this information to compare your performance with your competition. You can drive insights and conclusions from the data and come up with a strategy that will lead to better positioning and sales. 
Competitor Store Tracking Tutorial
Click Competitor Intelligence. Under that, select either Lazada Store Tracking or Shopee Store Tracking, whichever applies most to you.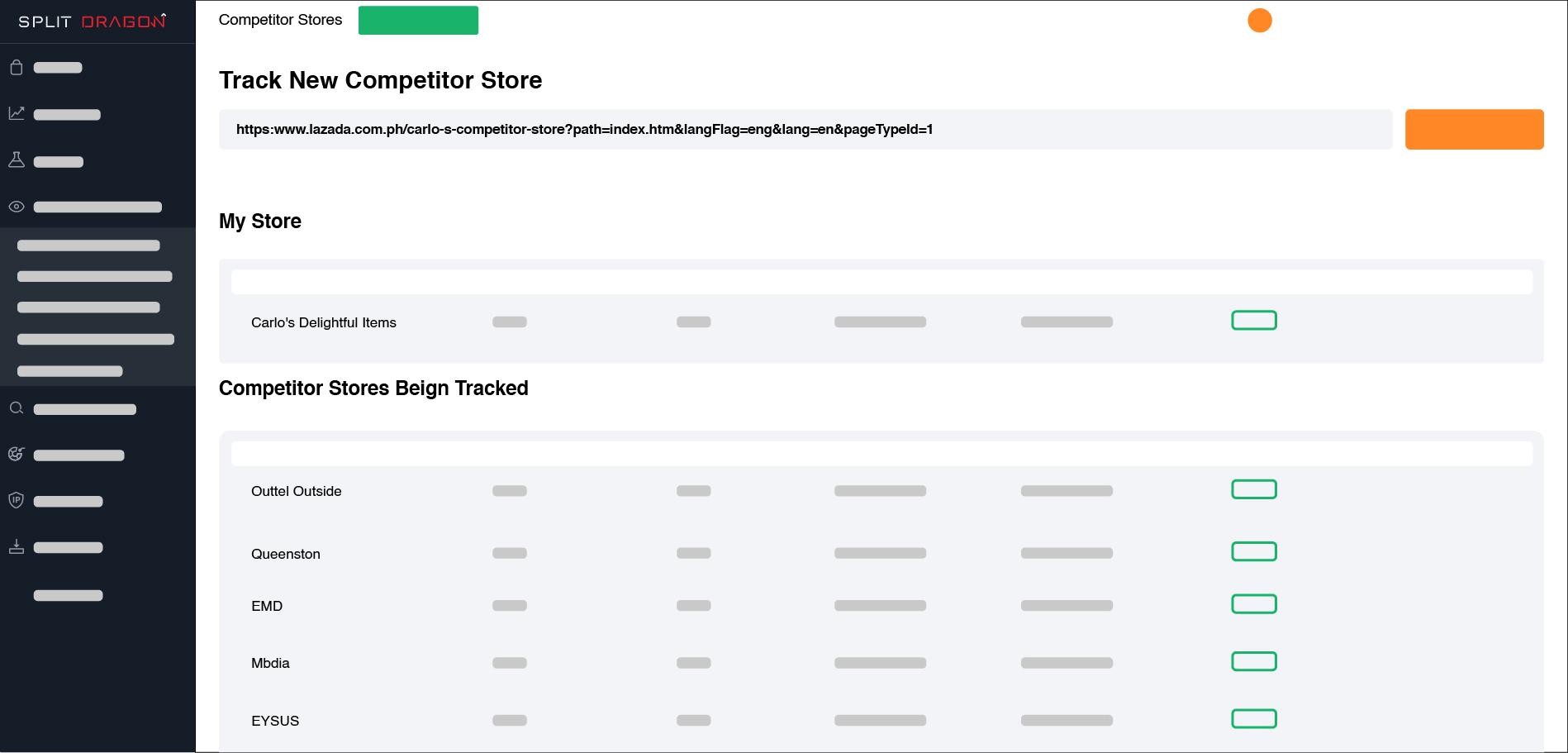 On this page, you will see a text box where you can paste your competitor store's URL. Click Start tracking and then the tech team will start to onboard the information.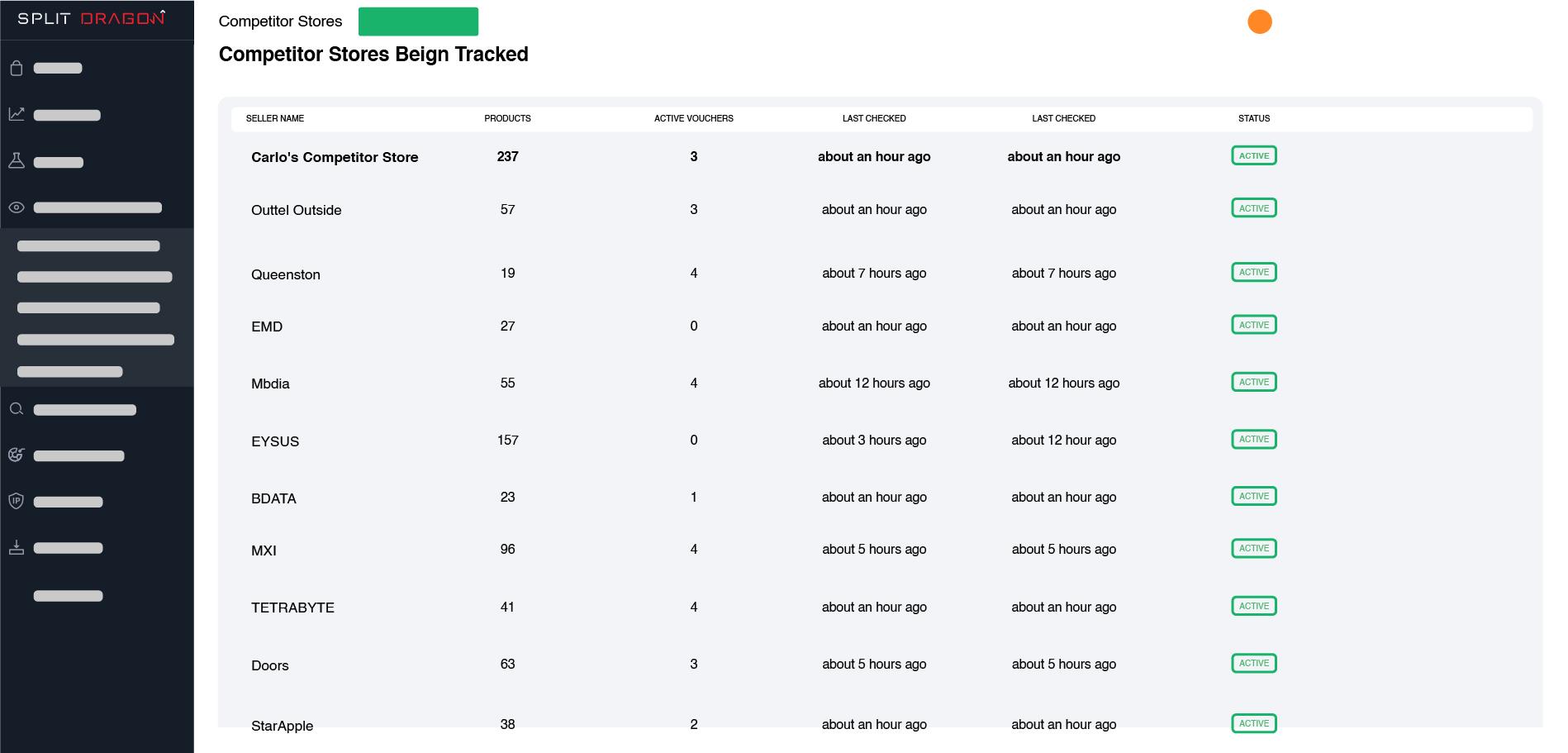 Once the information has been processed, your added competitor store will appear under Competitor Stores tracked.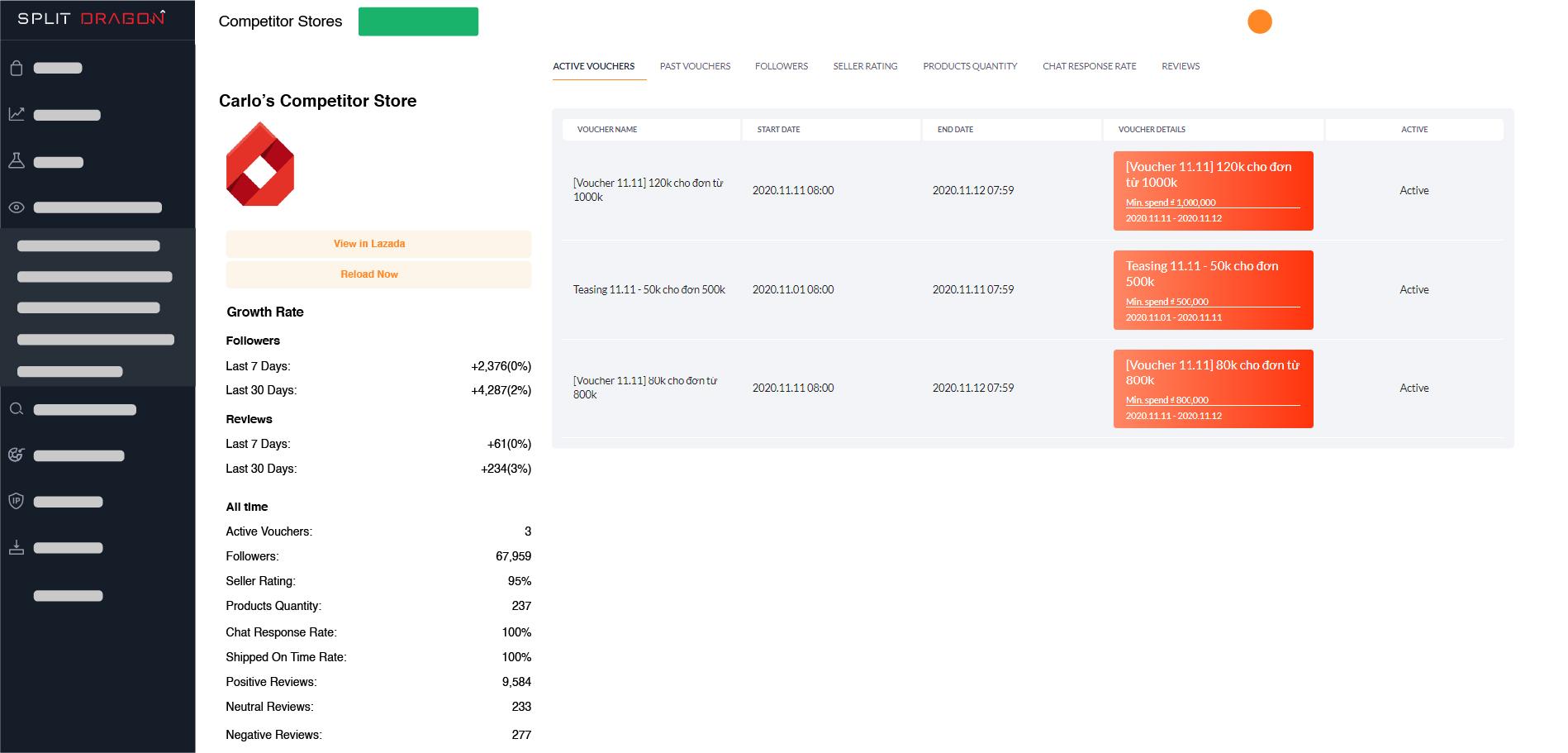 When you click on a competitor store, you will gain access to the following information:
Active vouchers

Past vouchers

Followers

Seller rating

Products quantity

Chat response

Reviews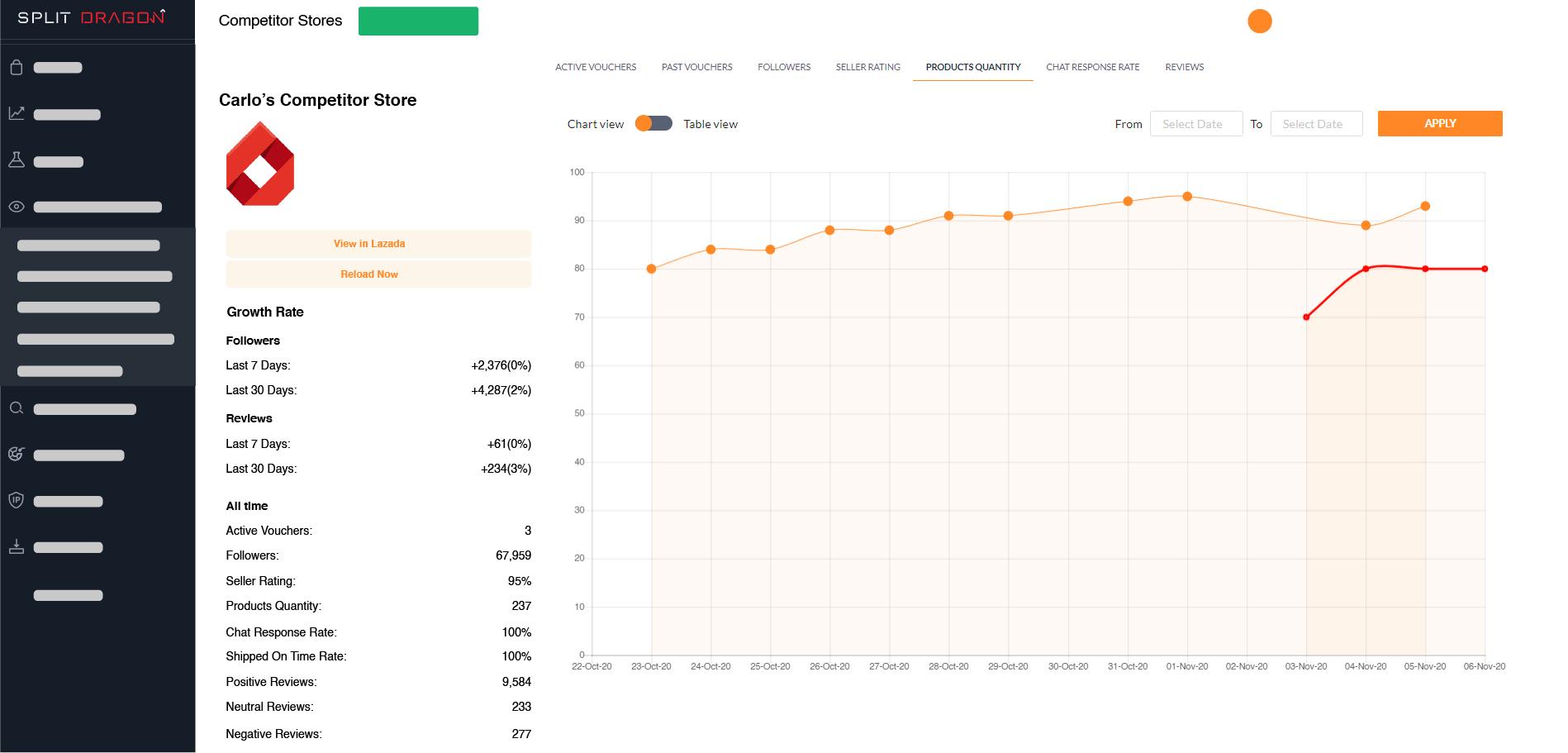 You will be presented with graphs to fill you in on the performance of your competitor. Therefore, you can compare your current positioning.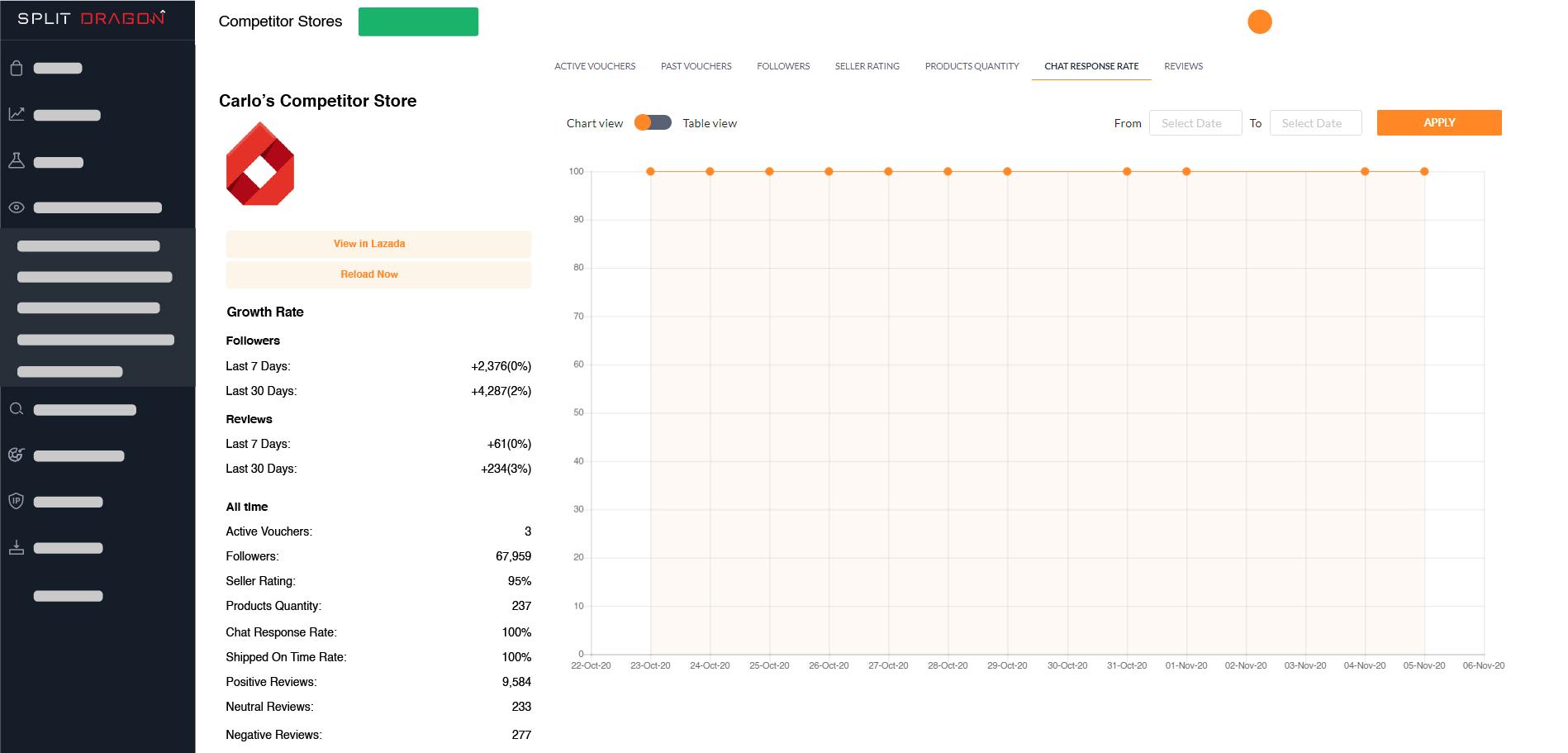 By doing so, you will be able to identify parts of your strategies that need to be revamped in order to maintain or surpass your current position.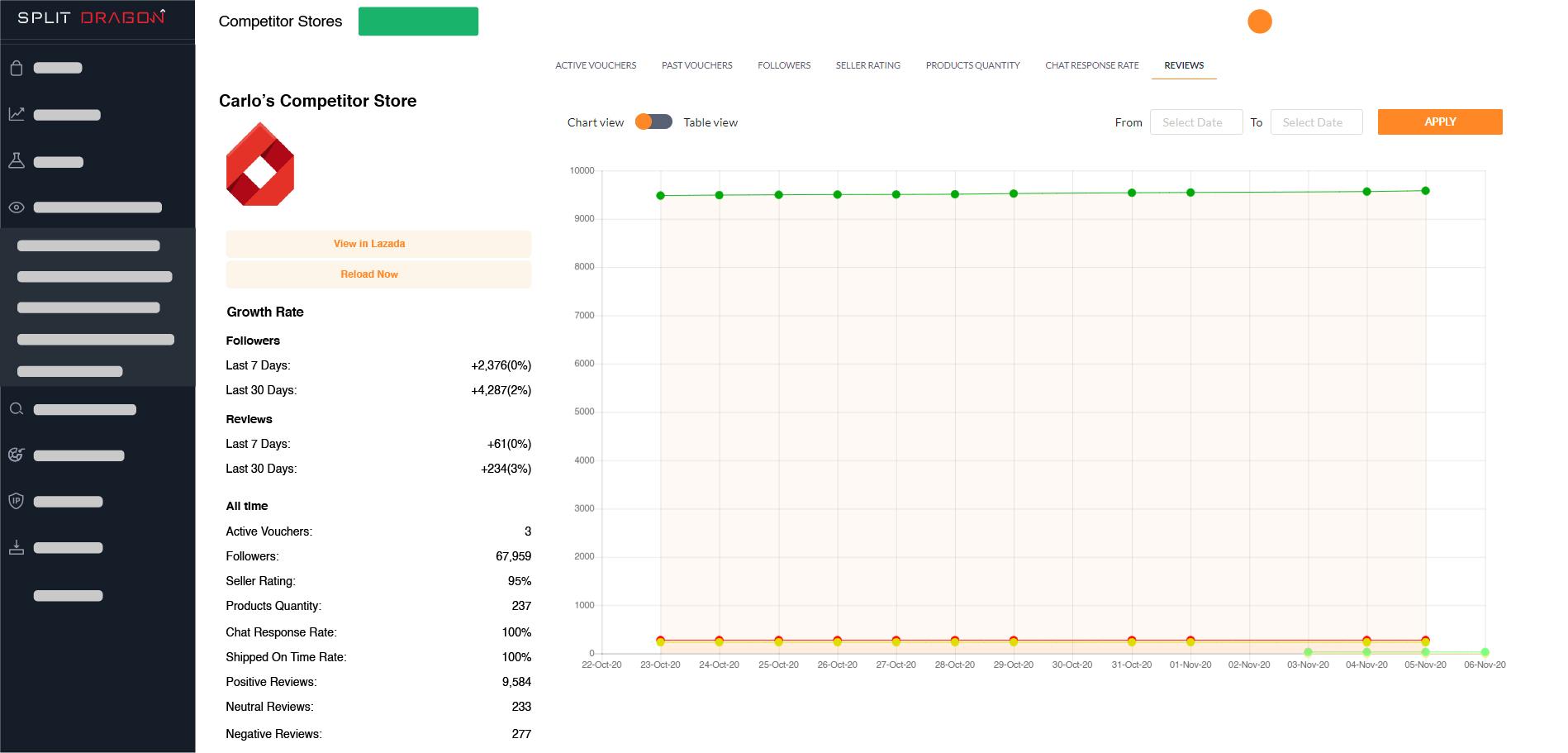 Track Competitor Products
The same proprietary tech team is in charge of tracking competitor products. The difference between store tracking and product tracking is the category. 
Competitor stores usually belong in the same category. Meanwhile, there are also brands that don't share the same niche as you but they sell products that are closely related to yours. 
For example, if you are selling food supplements and then there is another brand that sellers coffee. This seller is not your direct competitor but if he is selling low-carb coffee or Keto coffee, then that specific coffee could become a competitor product against your food supplements that are intended for weight loss. 
By tracking your competitor products, you will be able to identify brands with whom you should be comparing yourself in terms of sales performance. 
It lets you create a metric by which you can calibrate your strategies. At the same time, you can also learn from these competitions and will help you make better-informed decisions in the future. 
Competitor Products Tracking Tutorial
Under Competitor Intelligence, Click  Lazada Competitor Products, or Shopee Competitor products, whichever applies.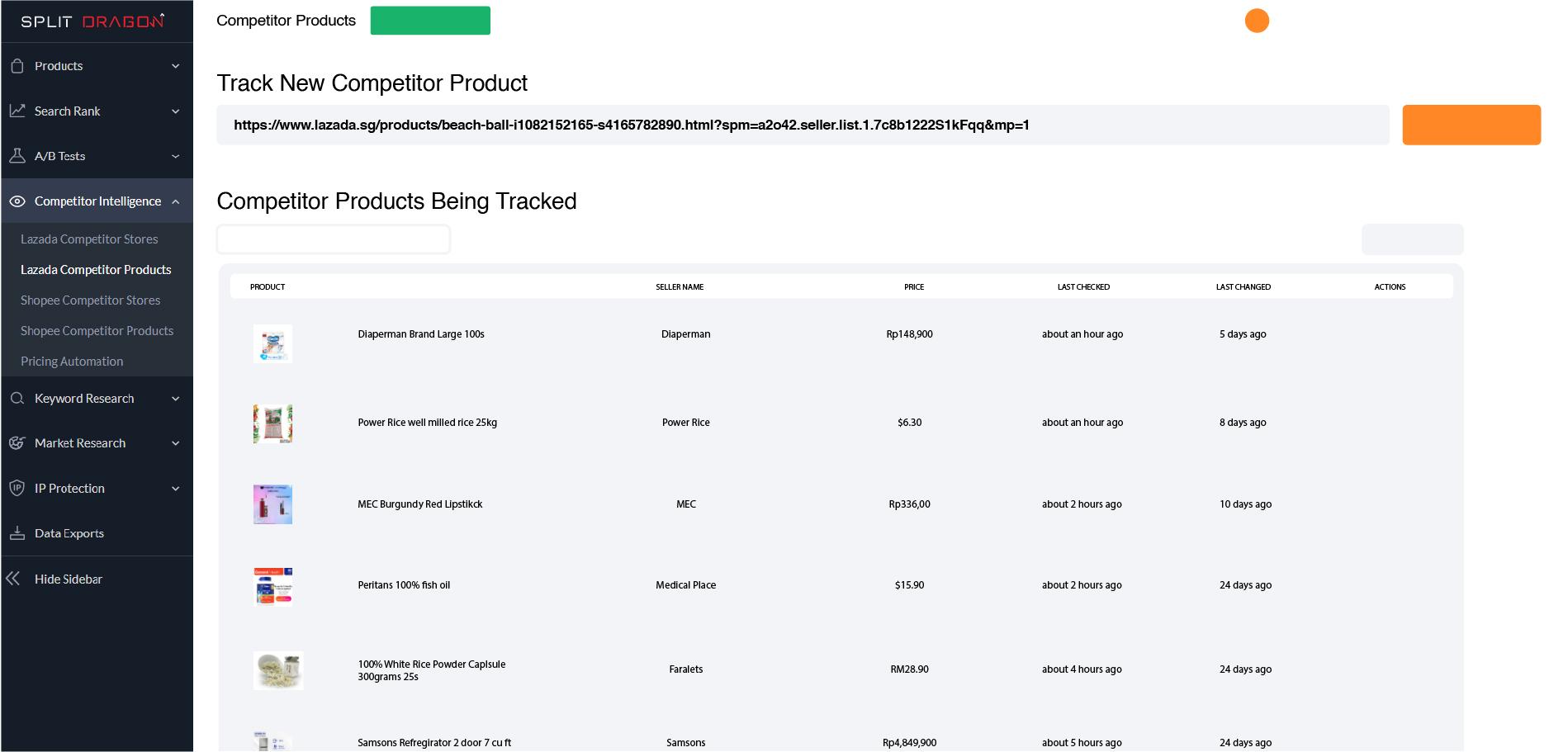 Copy and paste the URL of the product that you want to track and then click Start Tracking.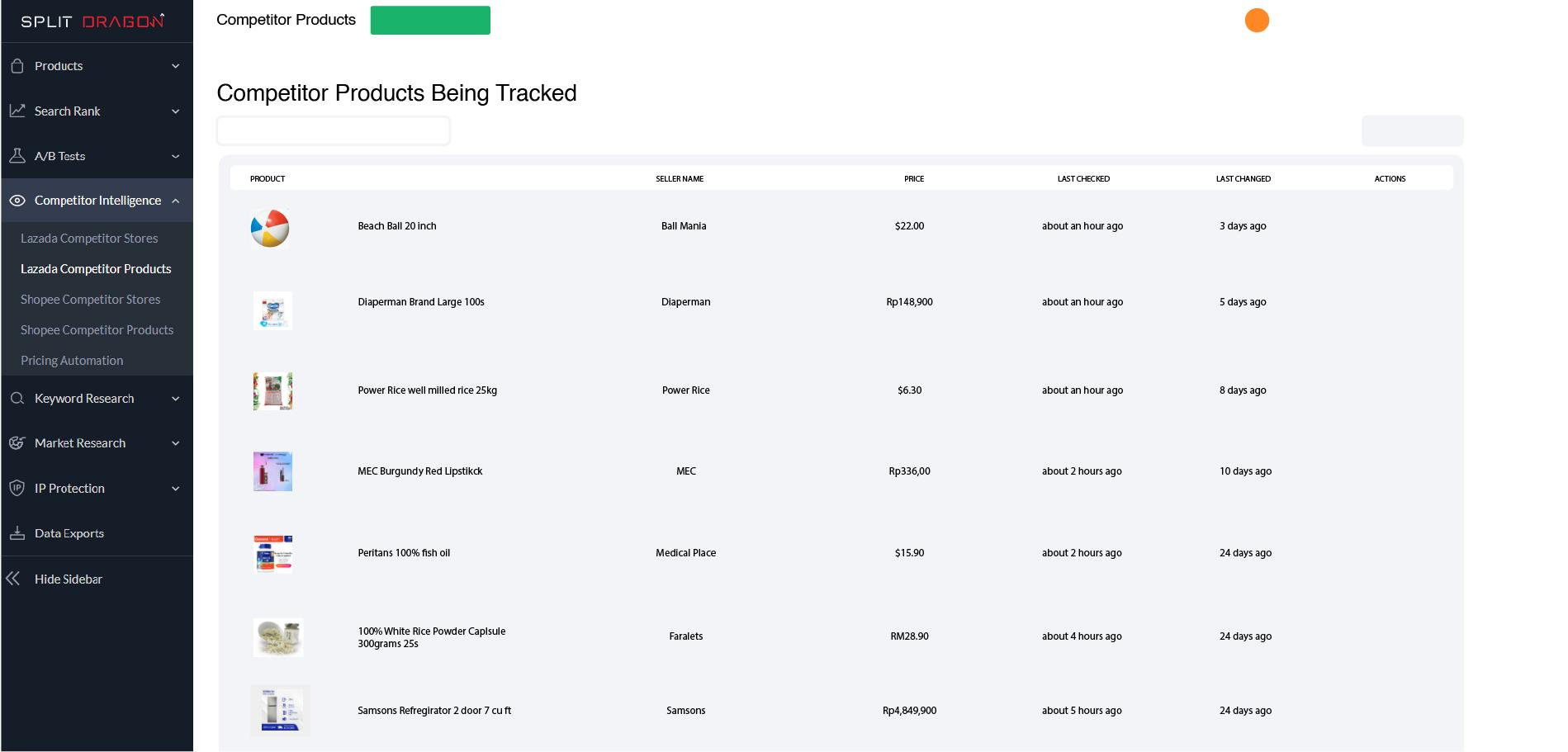 Give the team an hour or two to process the information after which your competitor product will be listed under Competitor Products Being Tracked. 
From this dashboard, you will get an overview of the following information for your competitor products listed:
Seller Name

Price

Last time the seller checked the listing

Last time the seller updated the listing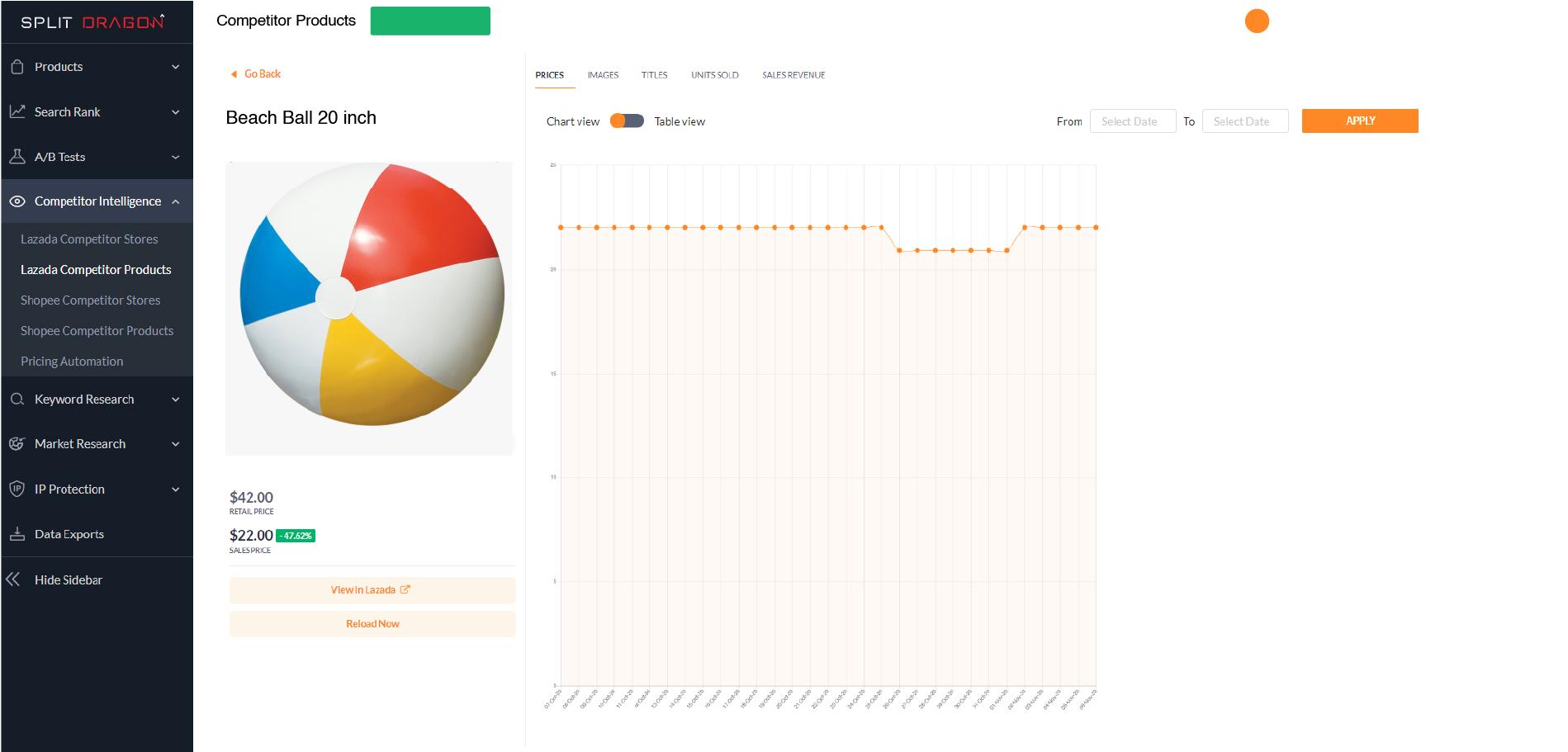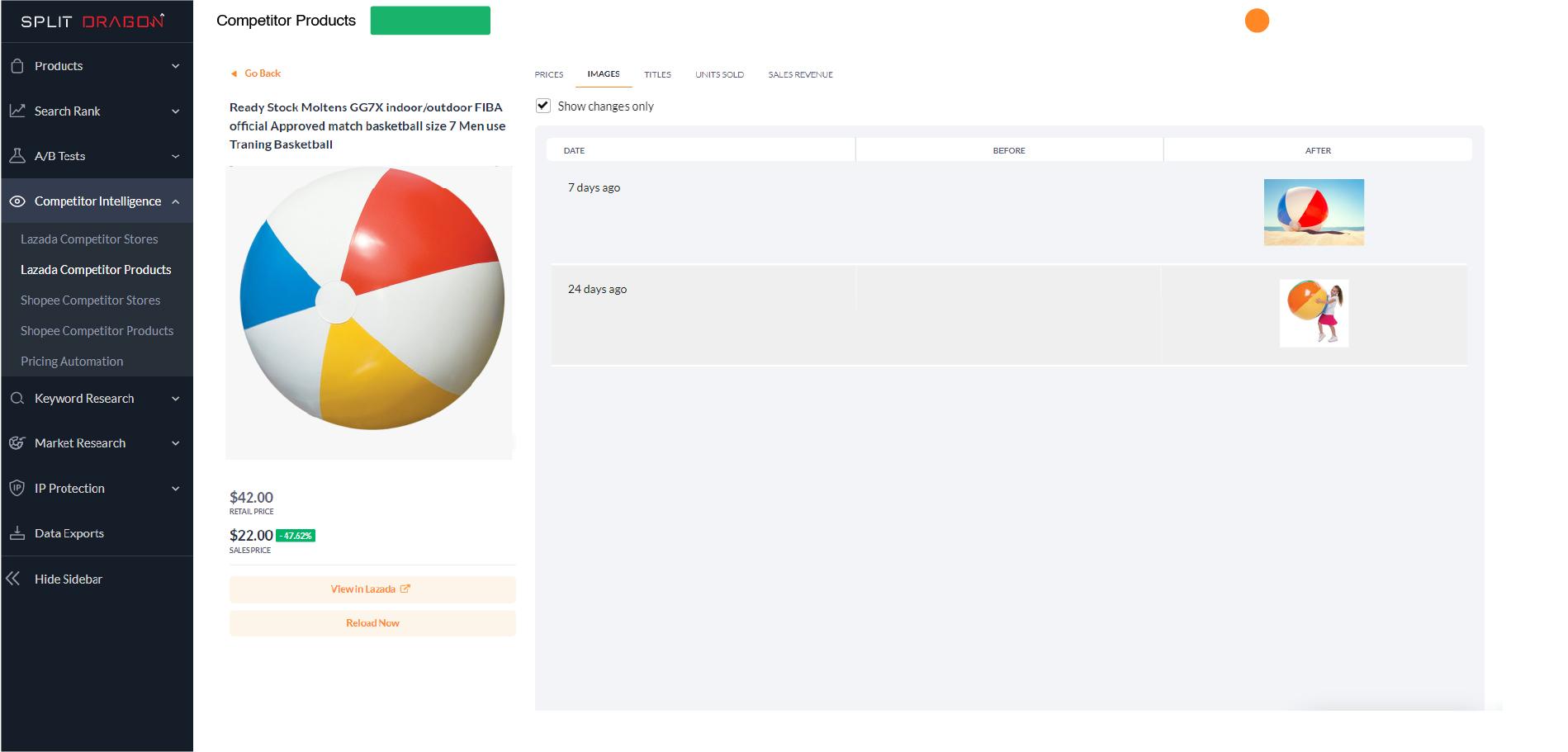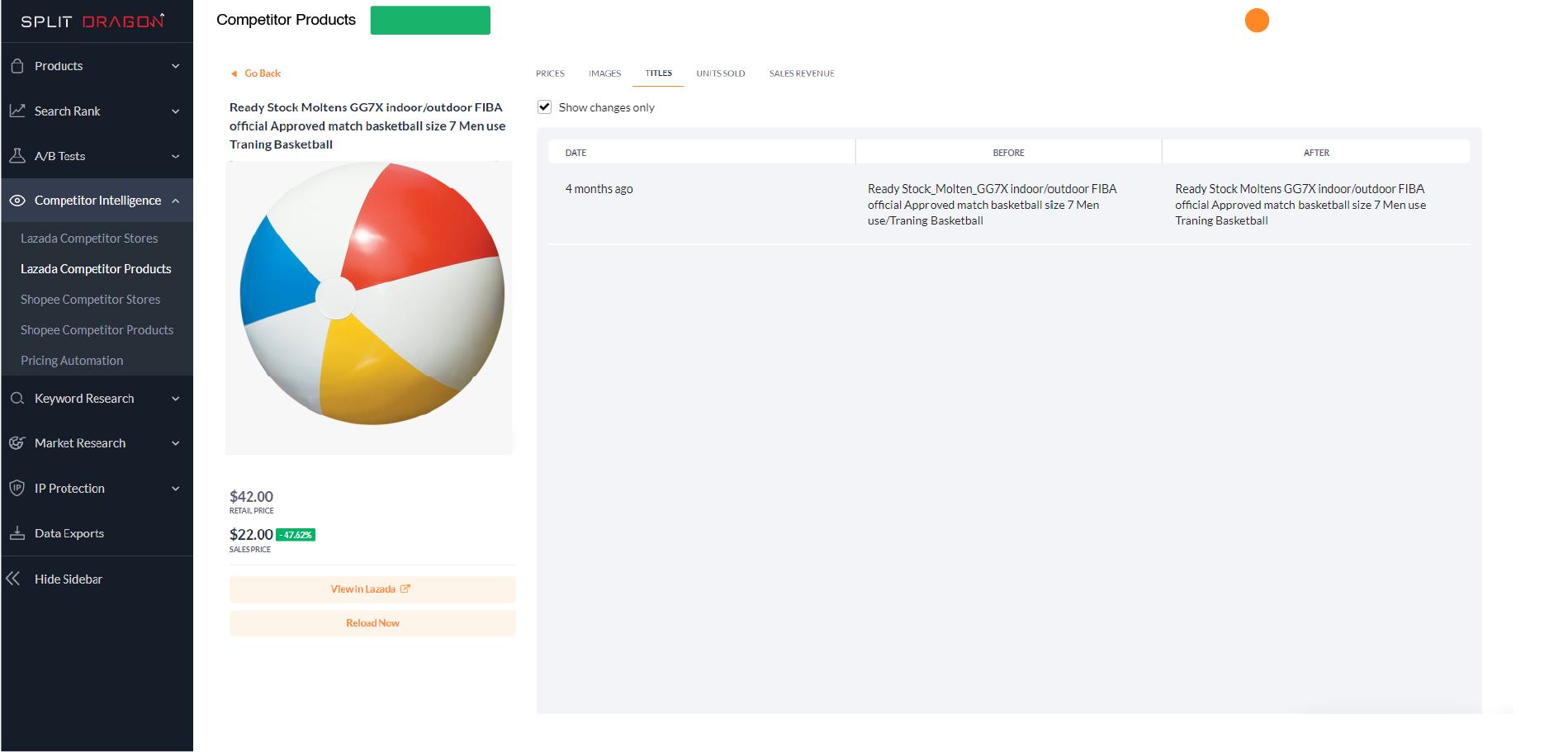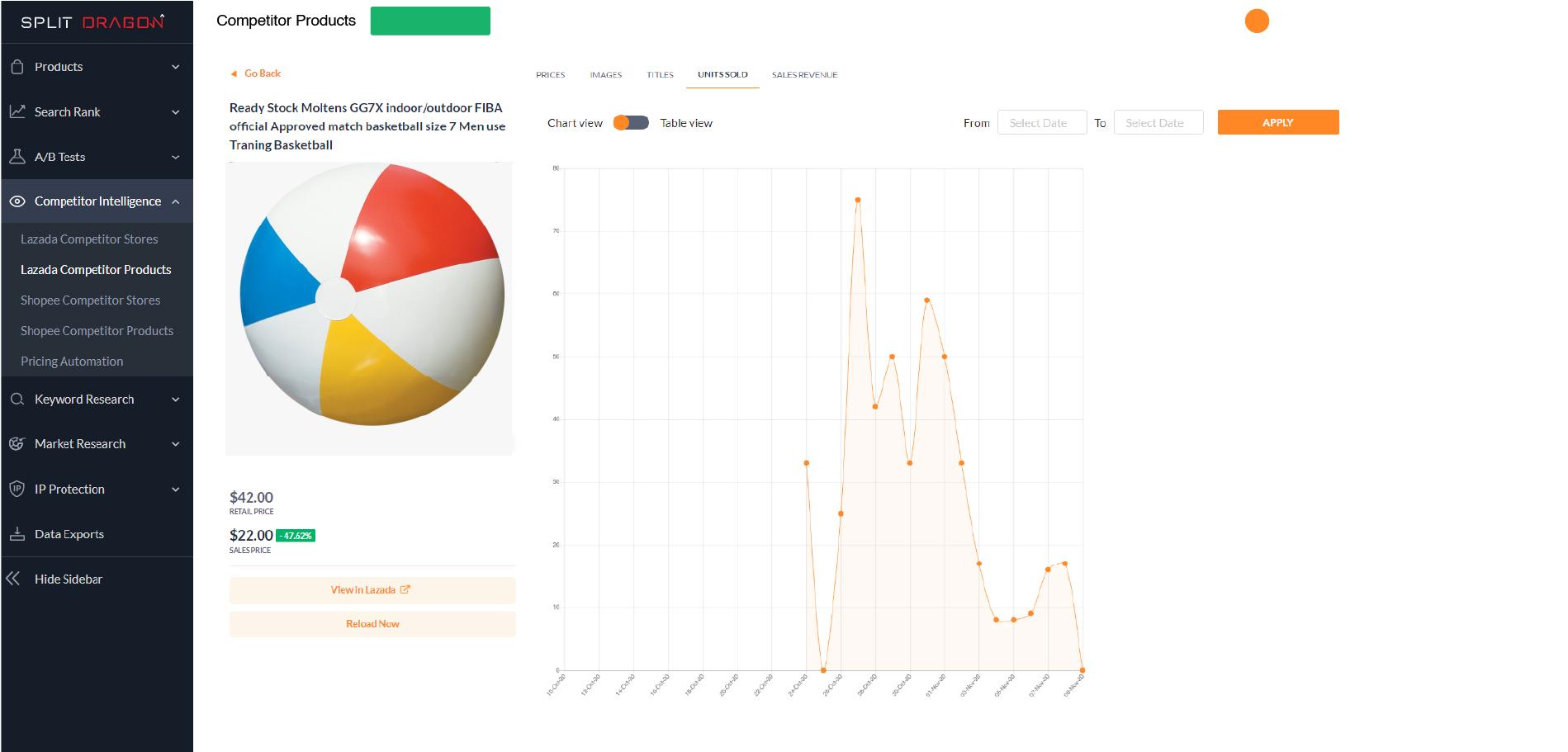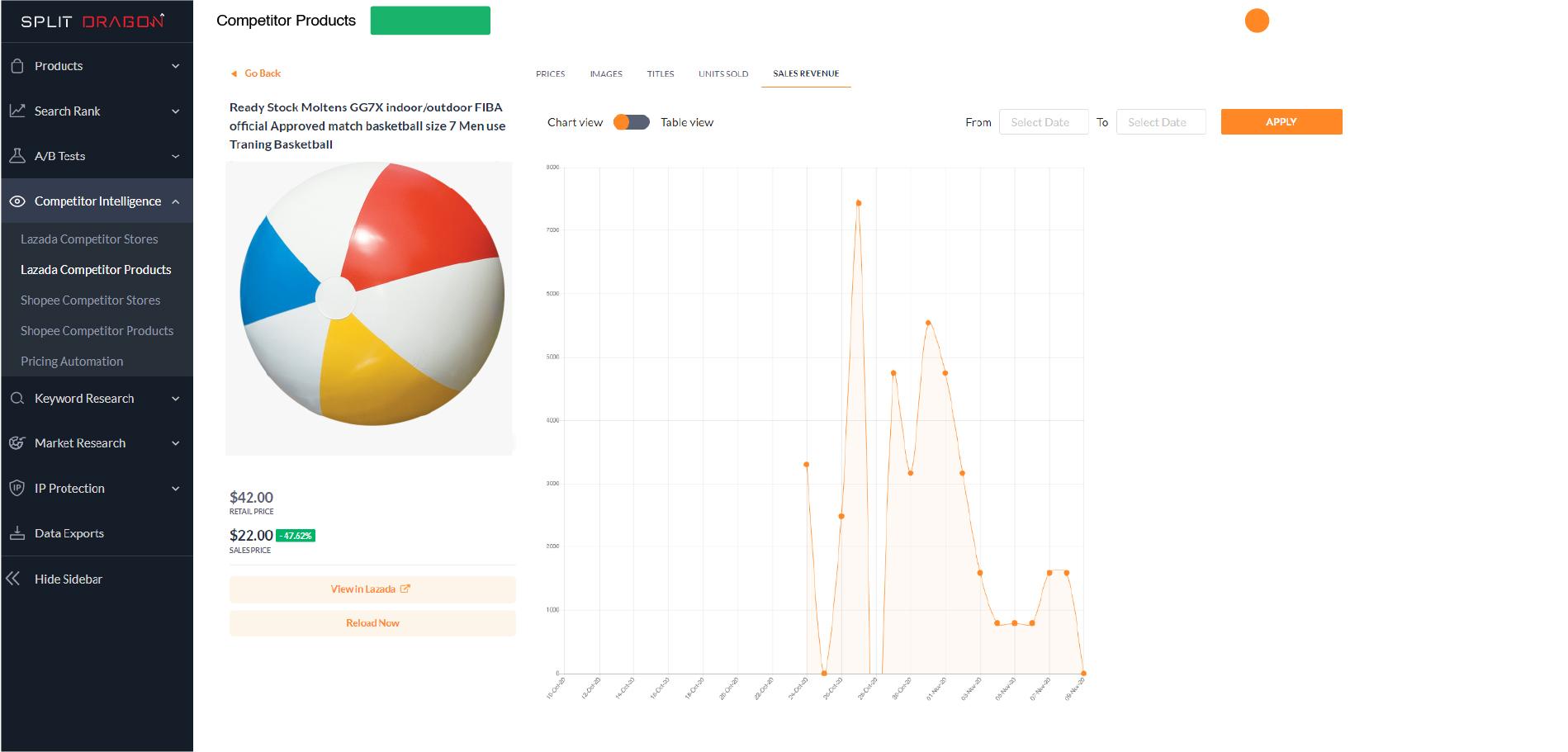 And then when you click on a particular competitor product, you will see graphs that illustrate the performance trend and fluctuation on the following:
Price

Images

Title

Units sold

Sales revenue
You can use this information as a baseline for when you are driving insights from your own sales.
Track Search Rank 
The Lazada and Shopee algorithms are typically based on the historical data of each user. Therefore, when you search for a specific keyword on a platform and then you see your product on the first page, this does not necessarily mean that customers see your listing on the first page as well. 
One customer could have your product on the first page of SERPs but sometimes it could be on the second page. 
Therefore, it is not a reliable number if you are using your search rank to measure your potential ROI. 
Our search rank tracking feature gives you the raw and accurate search ranking of your products based on your target keywords. 
That way, you know your real positioning in the market and will be at a much better place to aim for a better goal, business-wise. 
Search Rank Tracking Tutorial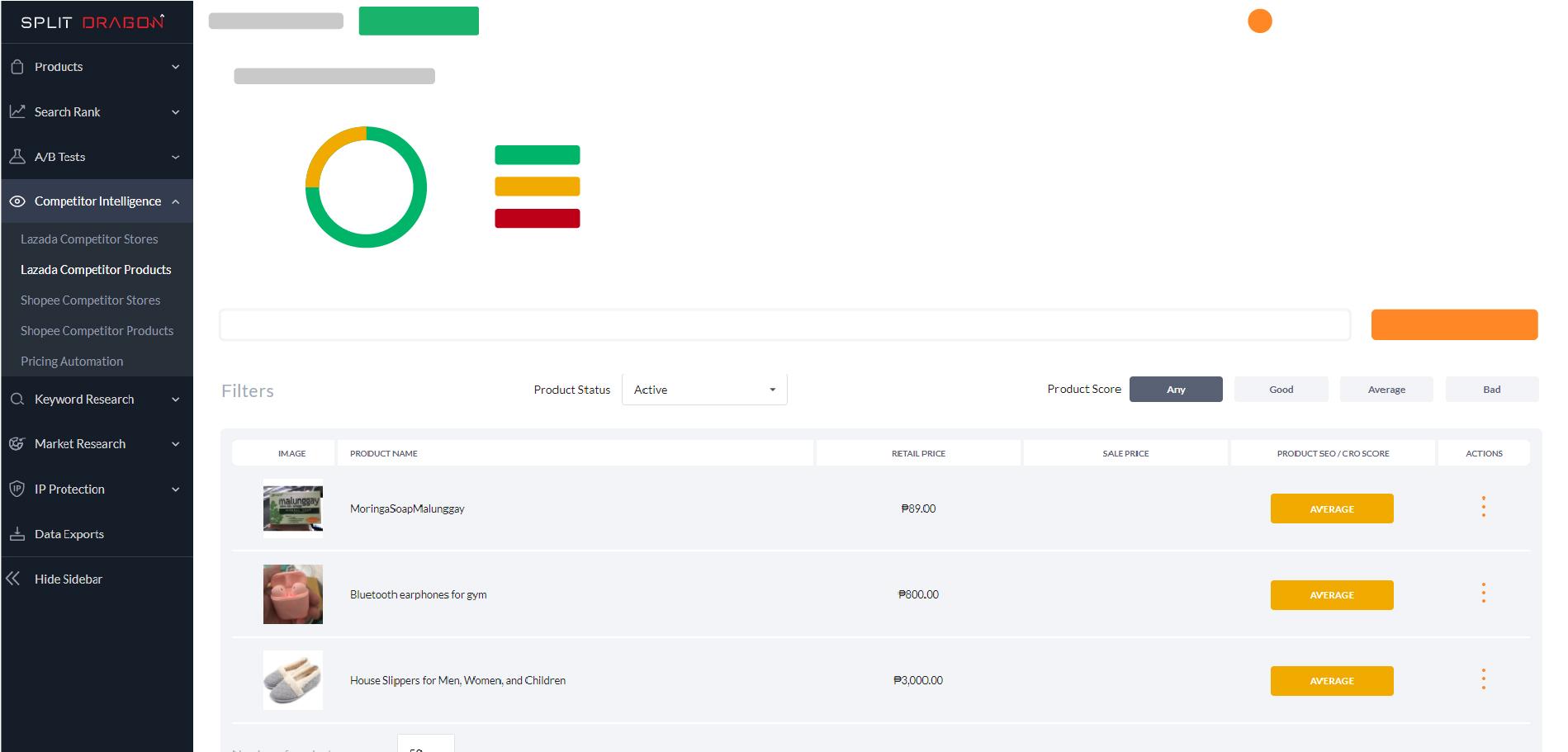 To start tracking your search, you just have to go to the products section and identify the products that you want to rank for.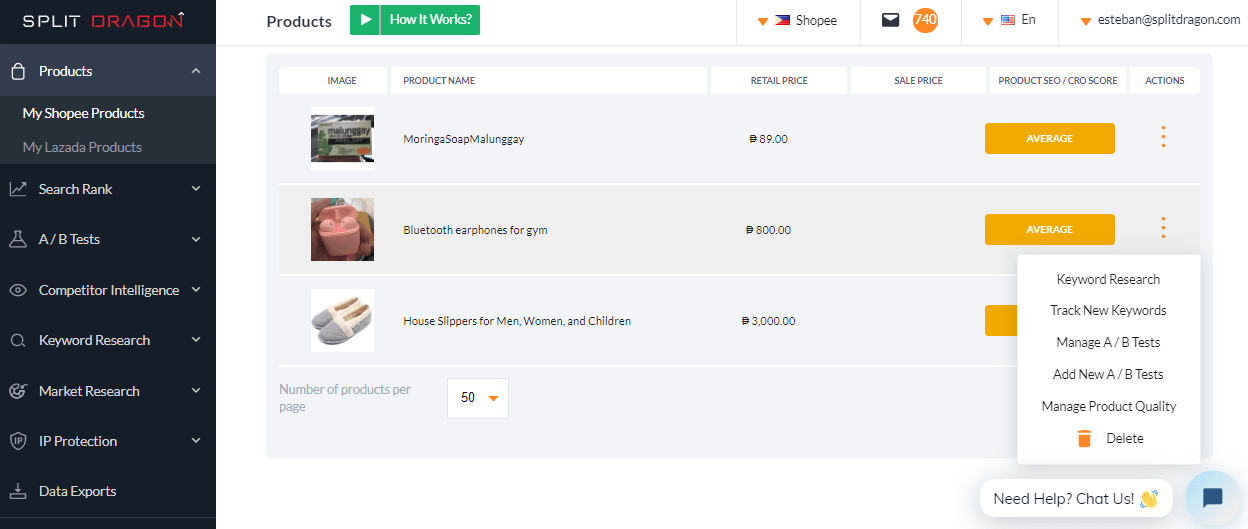 Next, click the triple dots beside the product. Click Track New Keywords.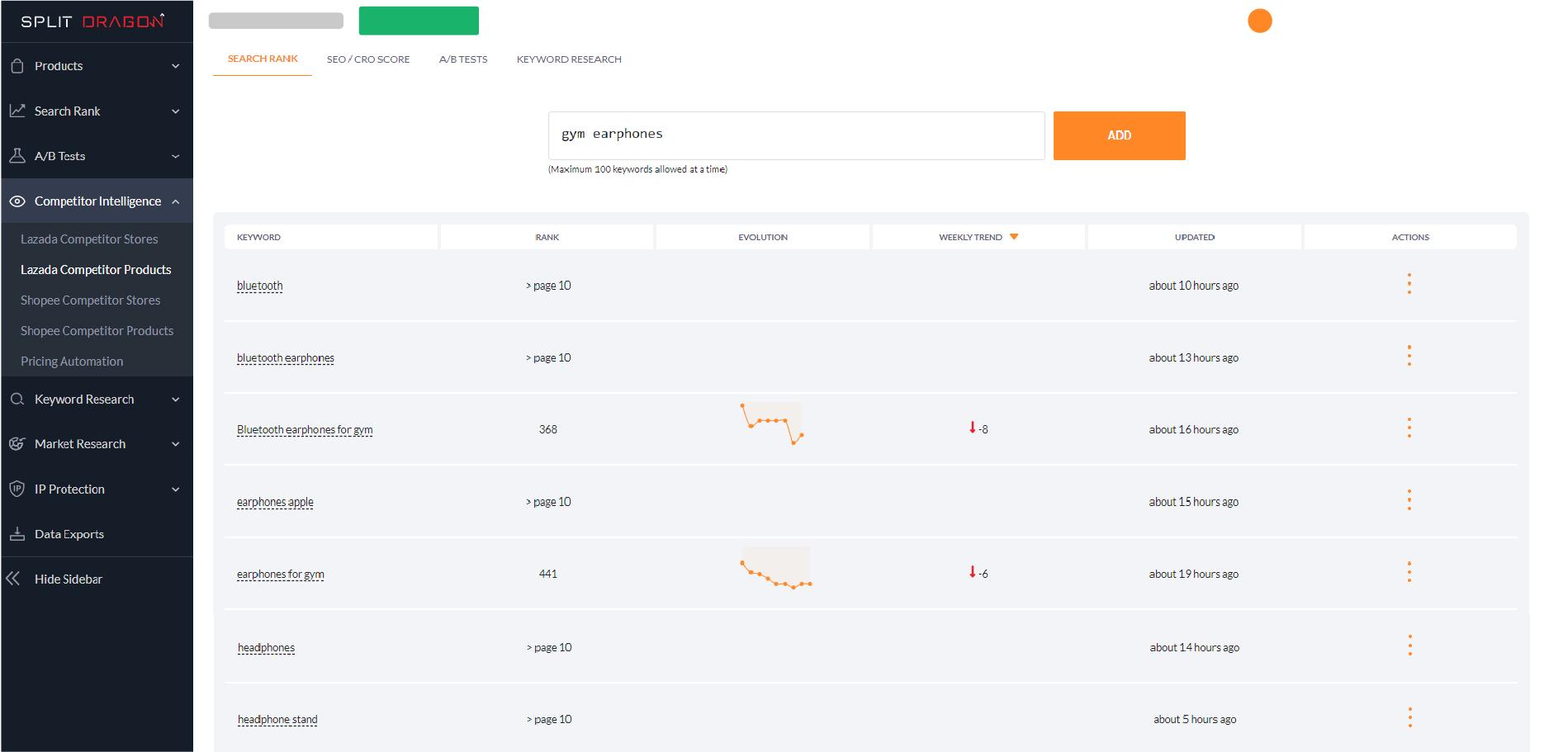 You will be taken to the information page for your product where there will be an option to enter your target keyword. Click Add.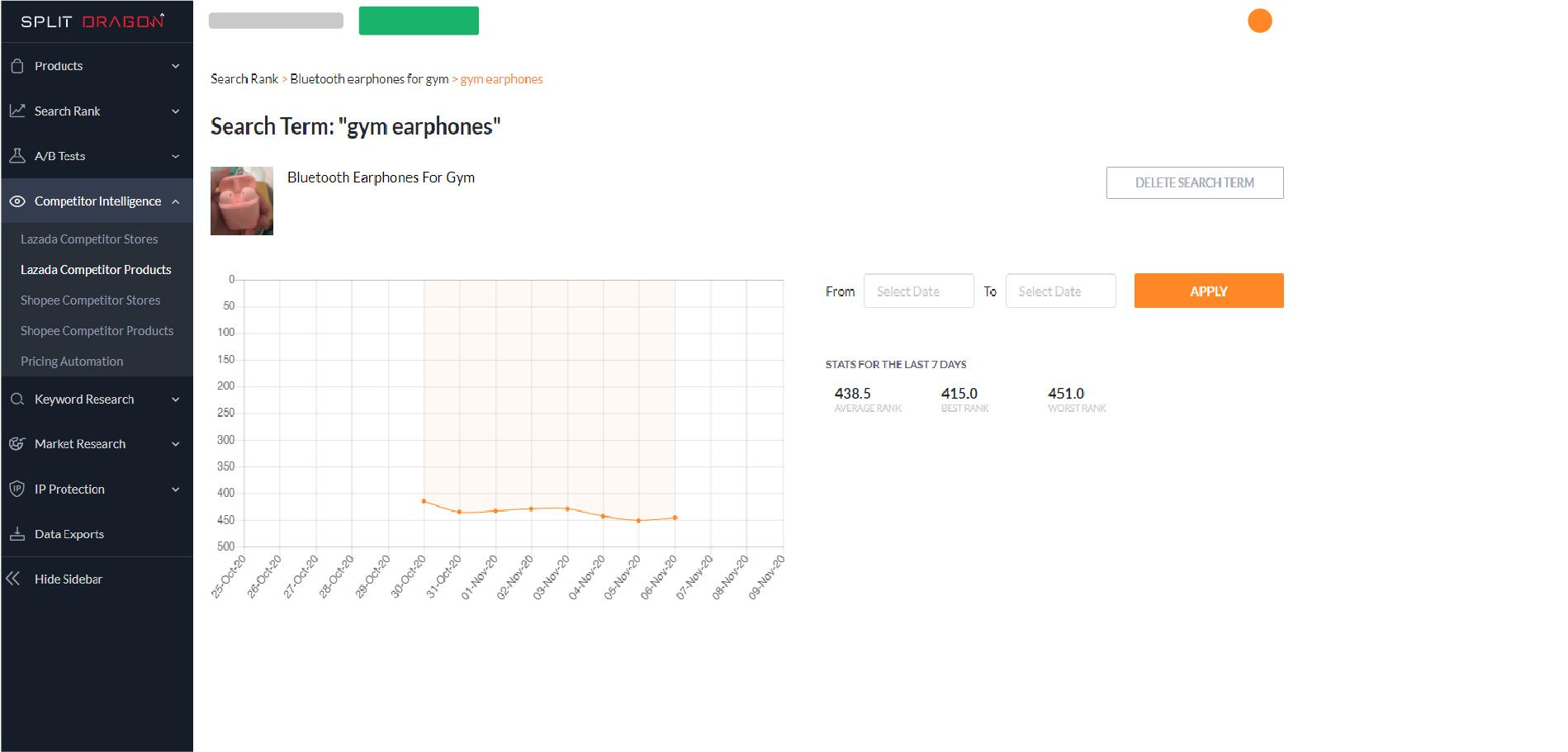 At that moment, the software will process the information. When it is done, you will find your target keyword under your target keywords list with the following information:
Your current search rank

Evolution trend of the keyword

Weekly trend

When your search rank was last updated
If you haven't done your keyword research yet, you can use Split Dragon's Keyword Suggestion tool. A short clip below demonstrates how easy it is to generate keywords specifically for Lazada and Shopee algorithms.
Split Test Your Products
Split testing or AB testing enables you to assess the efficacy of your SEO/CRO strategies for your product listings.
For example, if you have a product listing on a gaming product, on your split test, experiment on the images, pricing, title, and bullet points of the listing. 
Using your variations A and B, you will know if one or the other is better at converting sales. 
Split Testing Tutorial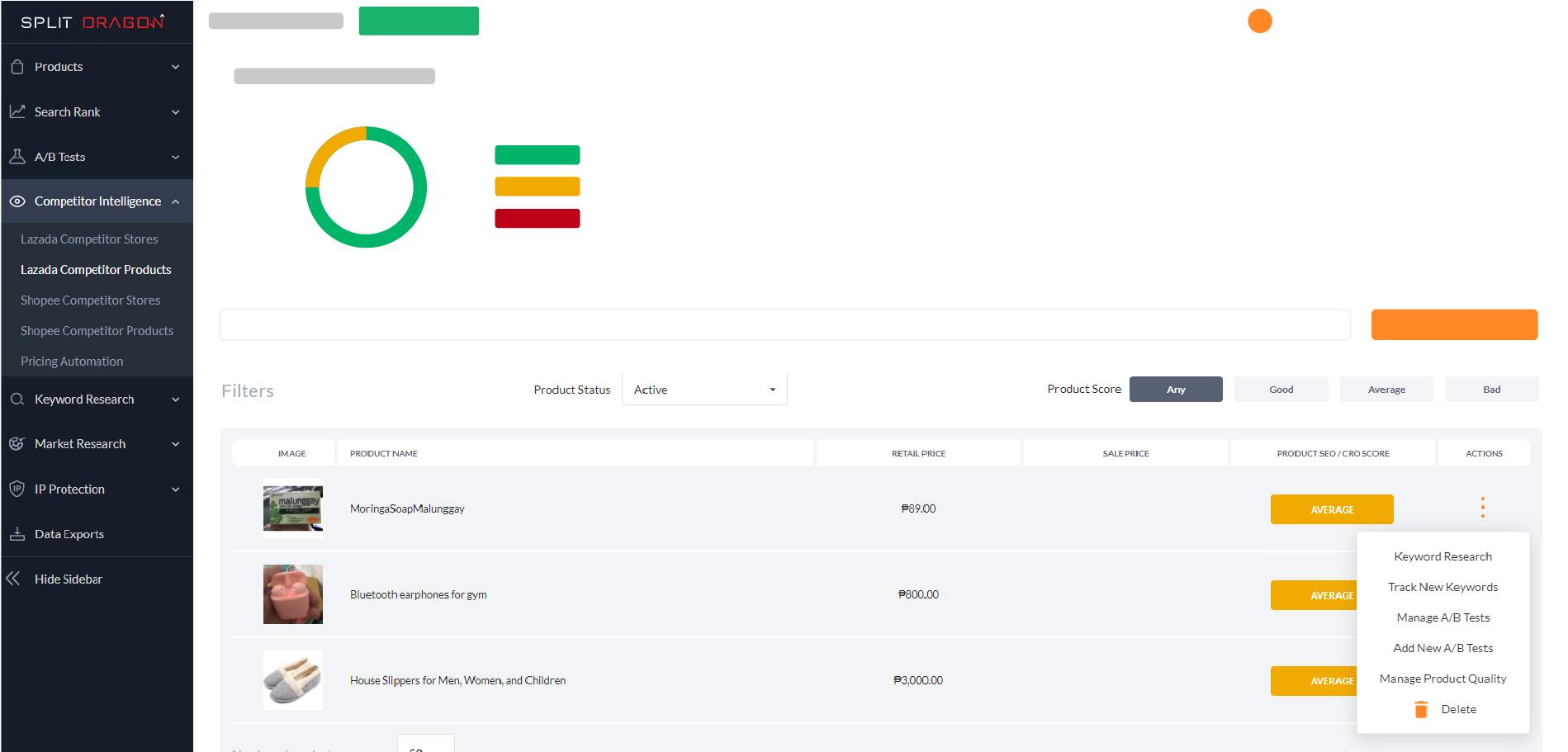 Go to your products and identify the product that you want to test. Click the triple dots beside the product and then select Add New AB Test.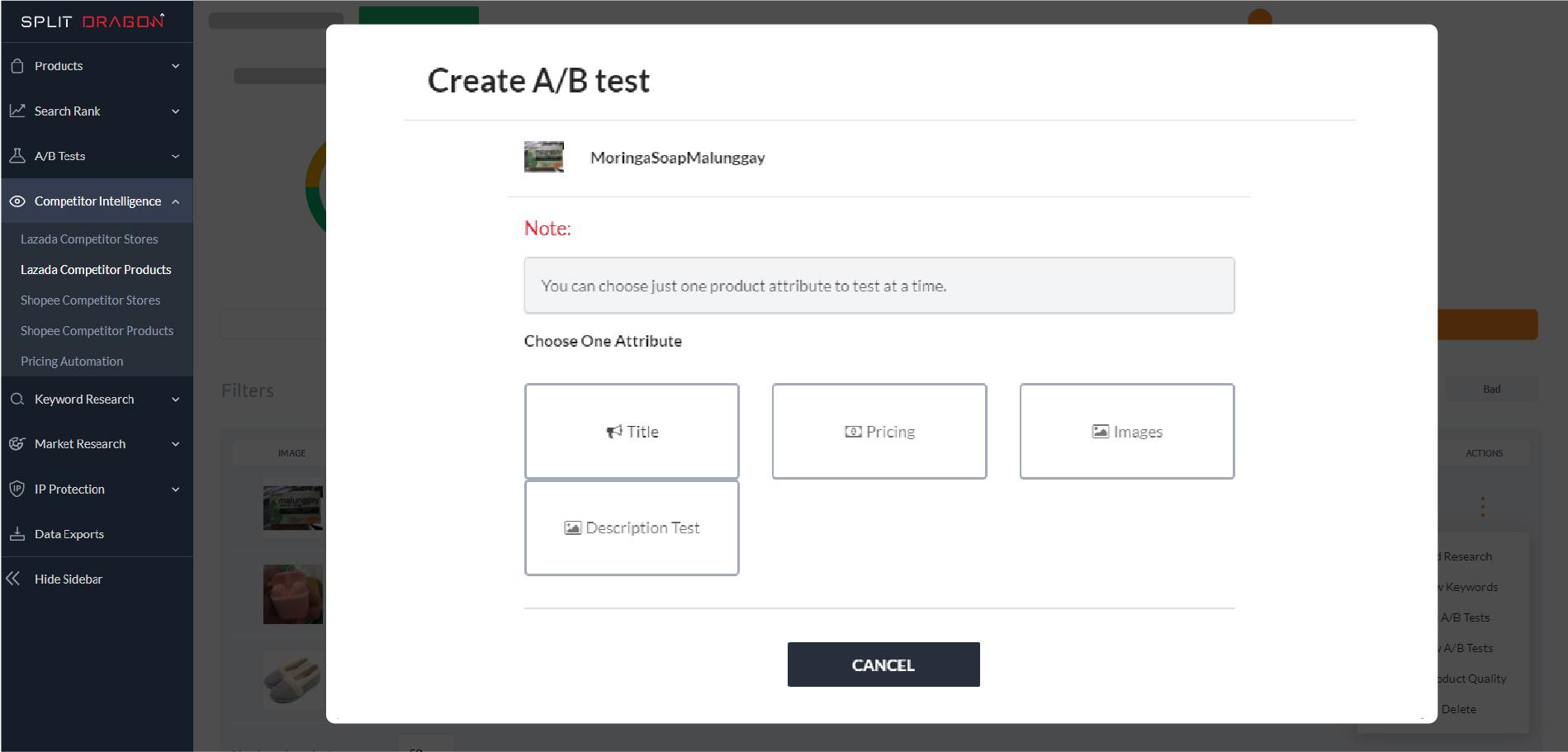 Choose the product attribute that you want to test.
You need to confirm the following information:
When you want the test to start

How long the test will run

Variant B of the product attribute
When done, click Submit AB Test. 
Do Market Research 
Market research benefits you in two ways: it lets you get to know the product niche you are entering if you are a new seller. Two, it lets you research the revenue or sales of a particular competitor. 
Let's say that you are selling gaming supplies such as computers and consoles. And then you have Ipason as one of your competitors. 
By doing market research through Split Dragon, you will be able to identify which product of Ipason's is the best-seller. On top of that, you will know how many sales the brand made or how much revenue it gained. 
Our Market Research feature is a tool that is specific for Shopee sellers. In the future, we might offer this feature to Lazada sellers as well. 
Market Research Tutorial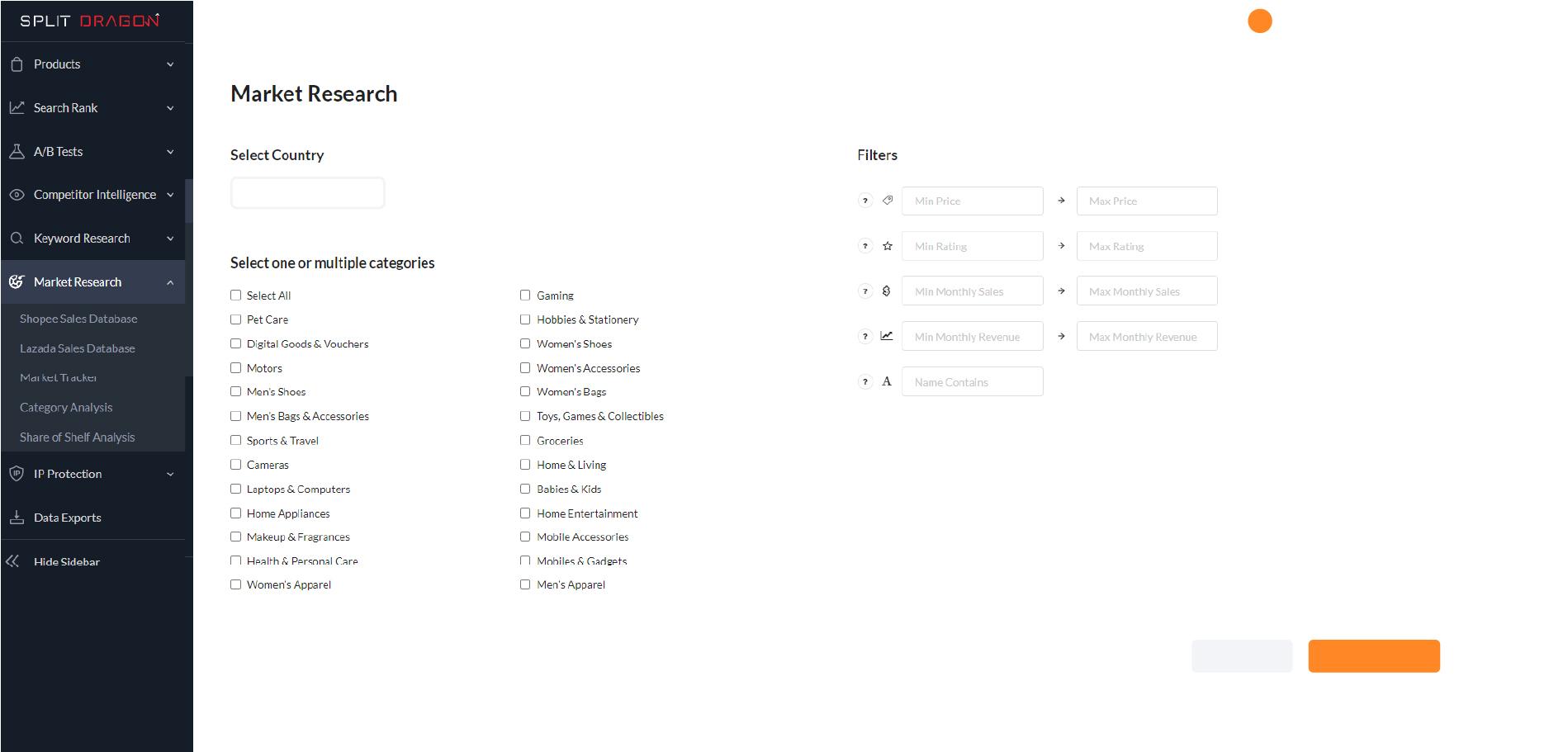 Go to Market Research and then click Shopee Sales Database.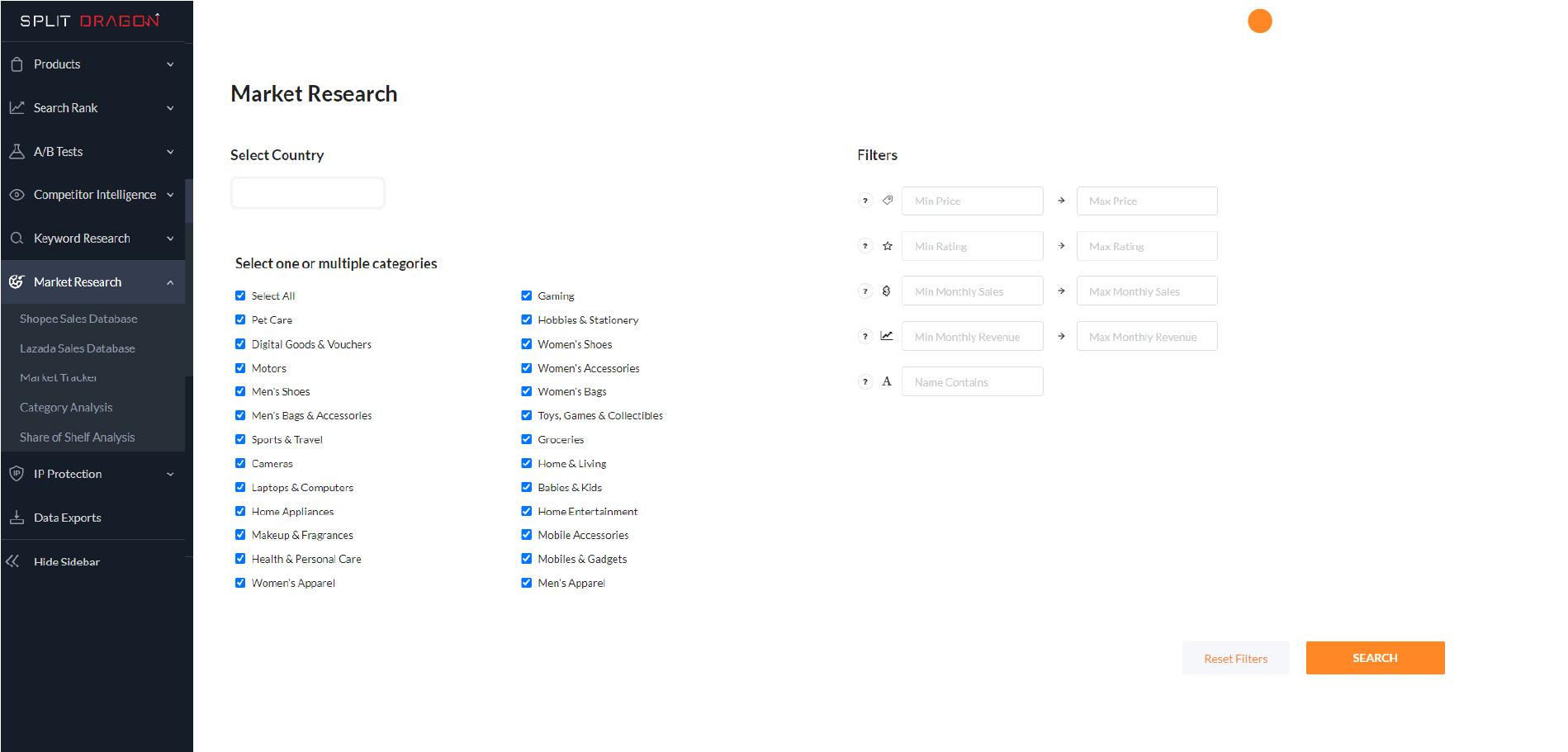 If you are a new seller who has yet to decide which category to sell on, you can use this market research tool to identify the industries with the best revenue potential. Select a country you want to sell in and then randomly tick a category or research on all of them. 
Click Search.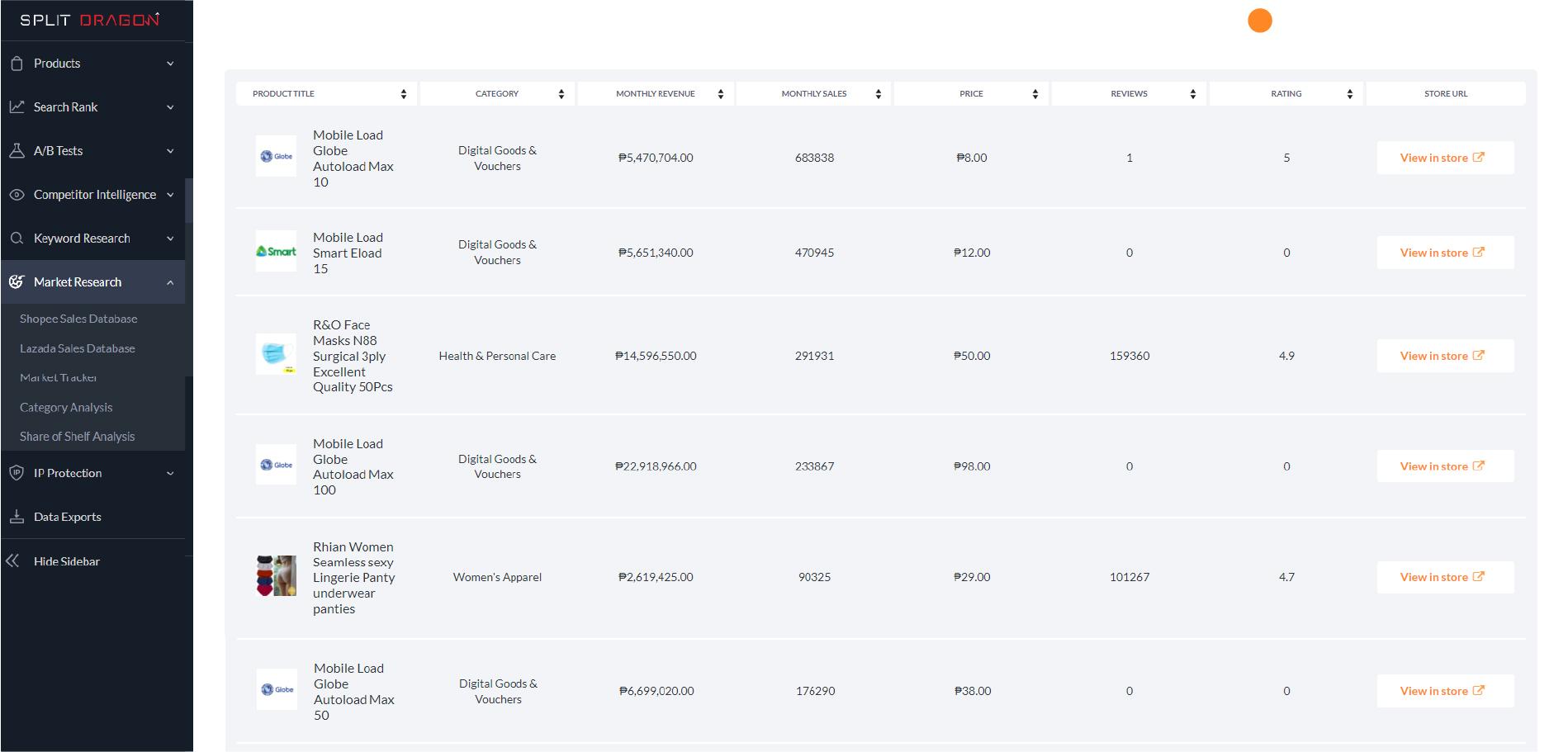 The results will show you a list of products being sold on Shopee based on the categories that you selected. 
You will arrive to an overview of the following data:
Monthly revenue

Monthly sales 

Price

Reviews

Rating
The URL to the product page is also there for you to easily locate the item. 
Now, if your purpose is to do research on the sales/revenue of a specific competitor, all you have to do is deselect all of the categories you previously chose and then tick one that you are focusing on.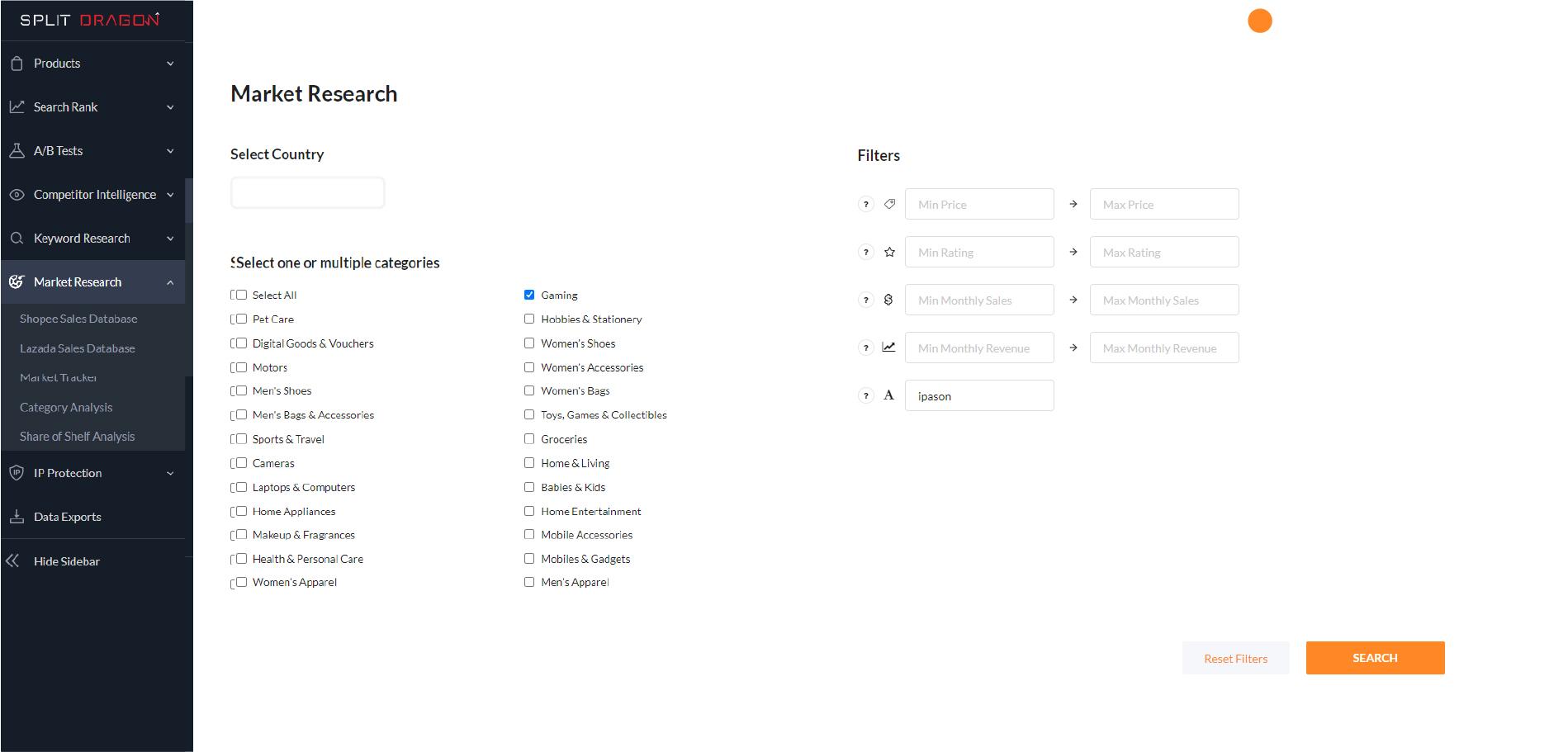 Under filters, go to the one labeled "A". Enter the name of your competing brand and then click Search.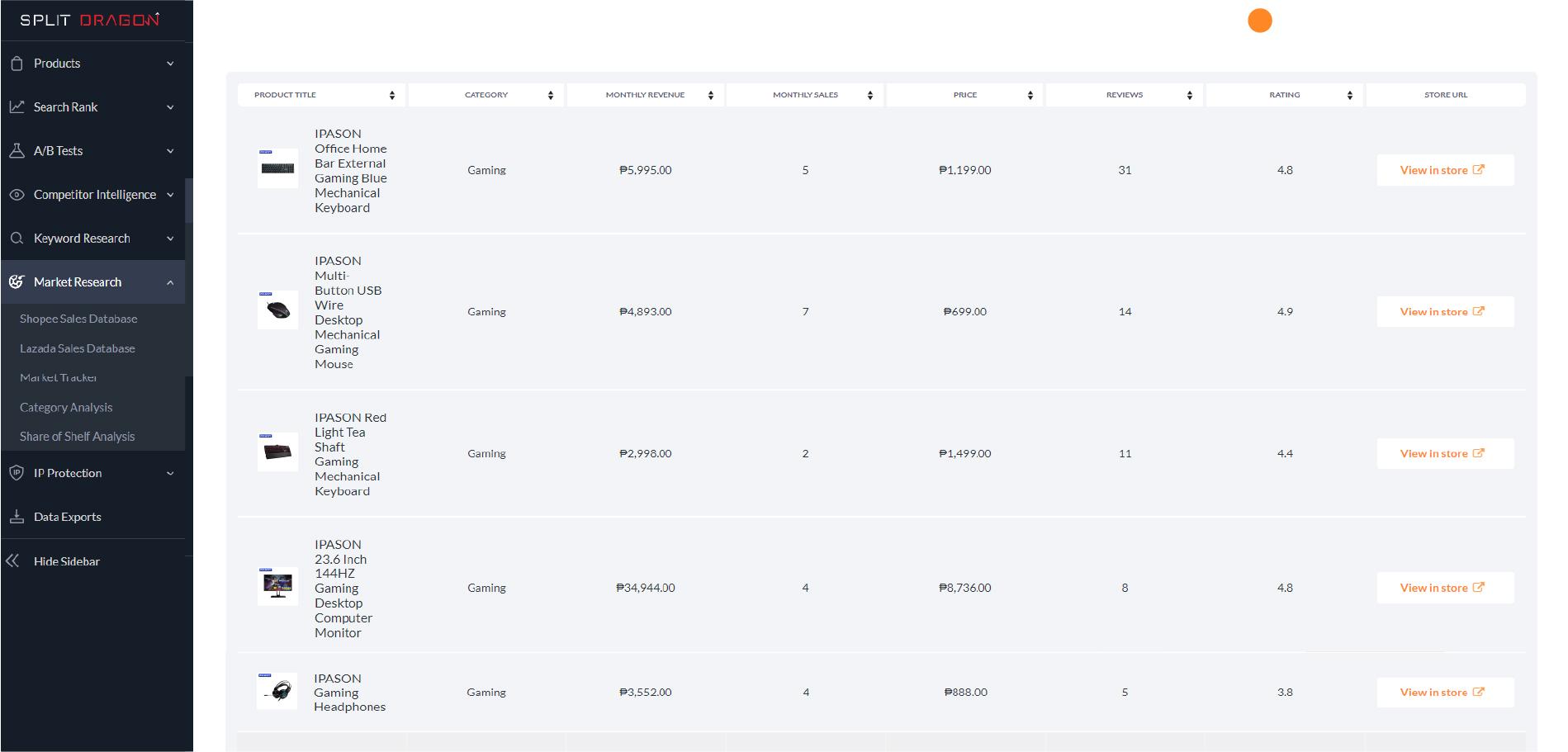 And then from the results, you will see all the products other brands are selling on Shopee together with the monthly revenue, monthly sales, price, reviews, and rating of the product. 
If there is a specific product that you are interested in knowing more about, click it, and then it will show you a graph illustrating the trend of sales, price, reviews, rating, views, and ranking.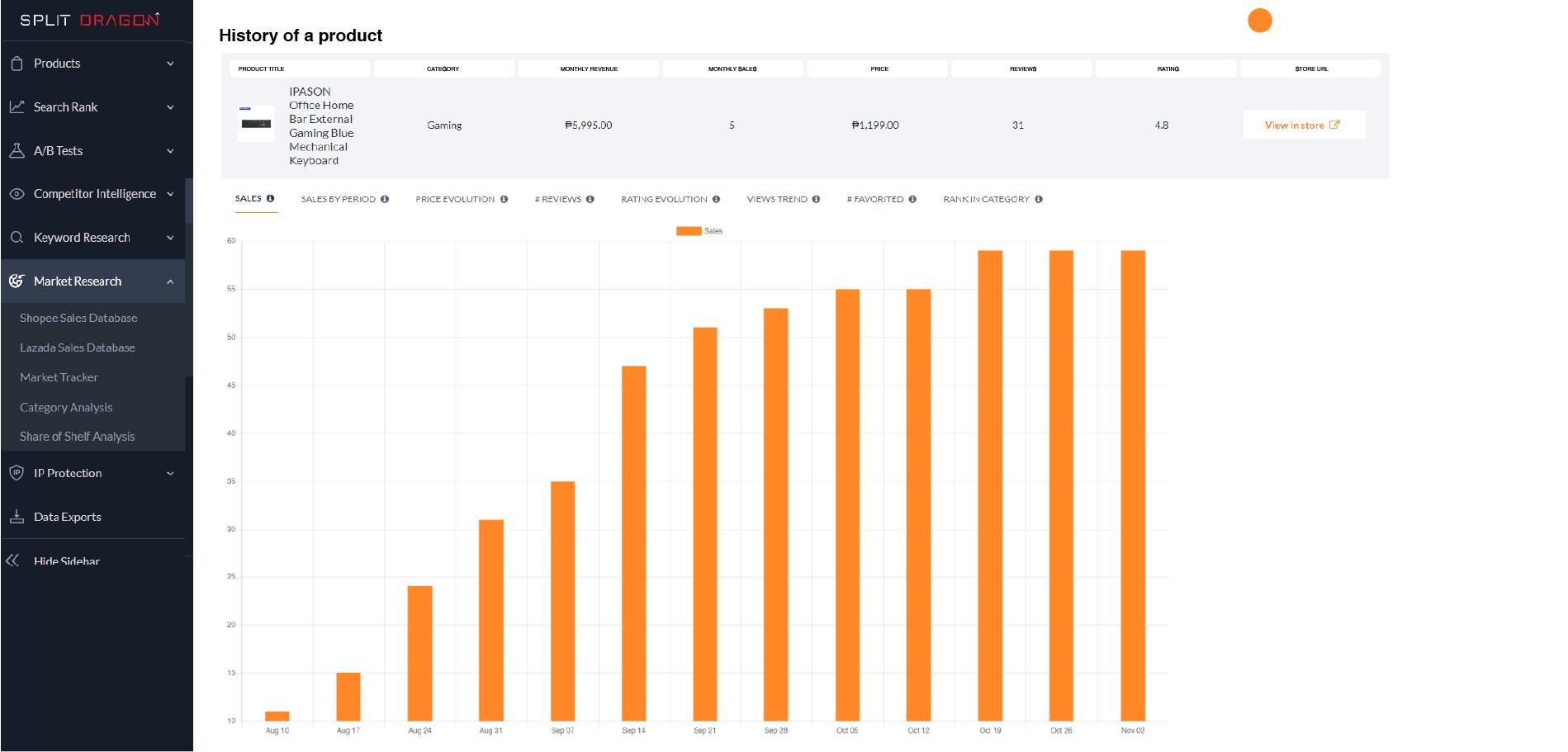 That's it. We are continually working on new features to add to your online seller arsenal. If you still have questions, don't hesitate to let us know through our chat service or in the comments section below.