Email marketing is, at its very core, another mechanism for Lazada sellers to drive more traffic and sales to their online businesses. It's easy as sellers for us to see it this way but there are also other benefits, like:
increasing brand awareness since it gives you another entry point to communicate with your customers over their lifetime of consumption (for one-off transaction request and also starting an open dialog with your customers
collecting feedback about your business, products, and customer experience to continuously improve
The challenge is…
You should only send emails to those who are willing to receive your contacts and never spam people (by giving them the ability to unsubscribe to your email list after they subscribed).
Also, Lazada does not allow you to collect emails via support chat on their platform so you must always collect emails outside the Lazada platform.
So… how do you go about collecting Email addresses in order to open this channel for your business? We outline a few of our favorite strategies very briefly below:
Facebook Lead Ads
You can grow your Lazada email marketing lists through Facebook lead ads. This Facebook advertising product quite simply:
Displays an ad on Facebook or Instagram
Asks users to fill in a form with relevant information and sign up
Facebook users see your ad and, if interested, click on the ad and fill in the details on the call-to-action button.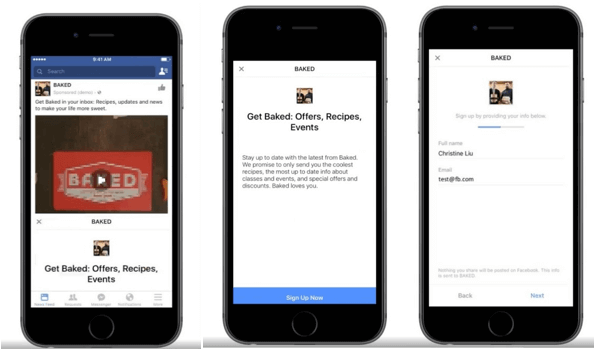 After customer submission, you will be able to gather the details of those emails and use it for further email communications.
This is one of the most natural methods to use since the forms are mostly pre-filled with only a few details needed and the subscriber can sign-up immediately within the Facebook platform. It's great for customer experience because of it's simplicity and the size/scale of Facebook users.
…but it does cost money so sellers will need to budget for this approach. Sellers on tight budgets might not be willing to do this.
Additionally, I generally recommend that sellers give incentives in their ads (ie – 20% off, 25% off) to encourage more people to sign up or give something for free. In terms of giving something away for free, you can draft tailored content like an e-book or tutorial for quite little money if you enjoy writing.
Free content around the general topic of your product niche can be very beneficial to increasing Facebook lead ad conversion rate. If you are selling furniture, for example, you can offer them a free e-book on DIY furniture tutorials.
Use forms on your brand.com website
Another great way to get prospects for your Lazada email marketing is through your own website (if you have one).
This is the cheapest way to achieve an audience and should probably one of the first methods you try to use.
There are many non-technical tools you can use to capture email addresses on your website, including HubSpot and Mailchimp.
Both Hubspot and Mailchimp give you control over the opt-in forms so that you can adjust and change how they look or what information is in the form. You can also automatically have forms pop-up after X period time or a certain action is taken by your website visitor.
Once you collect the addresses, you can use MailChimp to create a list or queue for the campaign. Then you can schedule your communications to customers.
Add product inserts in your Lazada shipmet packages
As a seller on Lazada, you can easily use the packages that you send out to clients as an avenue for creating a listing for emails.
This can be in the form of a warranty or thank you card that you insert into the package to connect your clients to your email.
Just be sure to stay up to date with the Terms and Conditions of Lazada so that you don't end up getting a suspension for this though.
See a simple product insert example below:
Hi Customer,
Thanks so much for your order. We really appreciate your business and just wanted to let you know that if you have any questions, concerns, or problems – you can email us at <insert your email address>. We're here to help!
This product has a X-year warranty. To enroll in our warranty program, please simply send an email to <insert email address>.
// or save 25% on your next order by emailing <insert your email address here>.
Thanks,
Seller Name
So… Is it worth it for sellers?
Most people would ask whether Lazada email marketing is worth the effort.
The answer to this query varies from one seller to the other, but one thing for sure is that it has the potential to boost sales and help you gain repeat business.
It also decreases your reliance on a single sales channel for your sales (which is always good for sellers as it controls your risk).