Campaigns aren't set in stone. They're unpredictable. You may seem prepared at this moment and the next thing you know, you're an inch close to a disaster due to lack of preparations. Due to this unpredictable nature of Shopee campaigns, it is highly recommended that you pre-plan your campaigns. Here are pointers on how to be campaign ready for Shopee. 
Make Your Prices More Attractive
Online shoppers are normally price-sensitive because one of the biggest perks of online shopping is the save on money that they get. 
Therefore, before running a campaign (preferably weeks before), you should have done your research on your competitors already. 
Since this isn't something that's easy to do, we highly recommend using Split Dragon's competitor tracking tool which will give you analytics as to how and when your competitors are changing prices. 
Make sure to match your products with attractive prices during your campaign. Otherwise, your investment in the campaign may not give you a lot of ROI. 
Increase Exposure For Campaign Products Through Free Boosting
When it comes to running a Shopee campaign, any additional exposure won't hurt especially if it's free. Shopee provides sellers with a free tool that they can use to advertise their products through Shopee Boosting. 
You'll be able to access this feature as you open your Shopee mobile app and then go to My Shop>See All Products>Get More Views For Your Product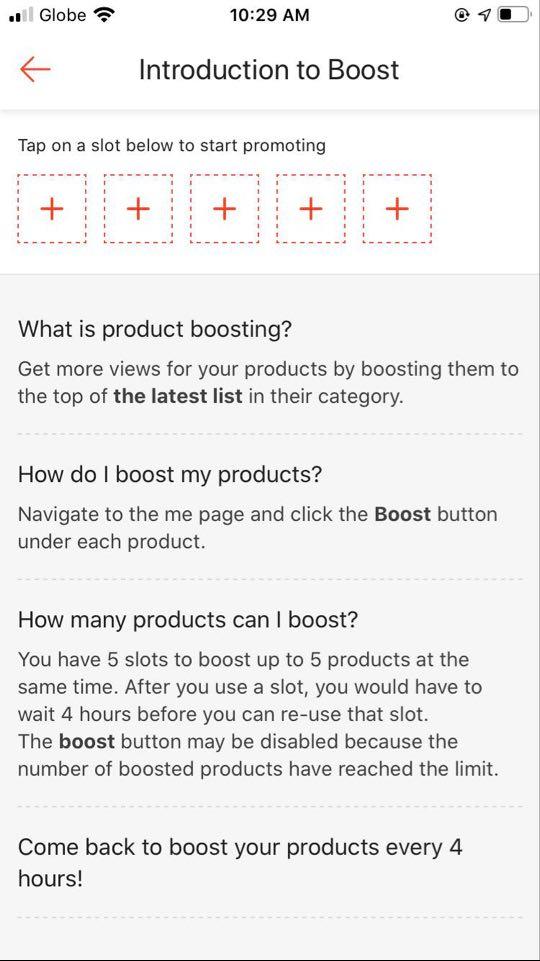 You can only choose up to four products at a time and your products will be boosted for four hours after which you can boost your products again. 
Your boosted products will appear under Daily Discover. 
Keep Additional Stock Supply
You need efficient inventory if you want to be campaign ready for Shopee with the most ROI.
Some sellers are hesitant to add more items to their inventory because they're afraid that it will only go to waste but nothing is a bigger waste than losing customers due to insufficient stocks.
Even if your store is new on the platform, always assume that you'll be getting more sales than usual. 
Otherwise, if you did receive huge demands during the campaign and you don't have enough stock supply to support the demand, this will have a detrimental effect on the reputation of your store since campaigns (especially big ones) hold a space in the hearts of shoppers. 
This will also result in a lot of canceled orders and negative outside reviews that will have a significant impact on your brand. 
Give Away Vouchers
As we've mentioned, shoppers love saving money and getting discounts from online shopping. Therefore, giving away vouchers is a good way to prepare not only your campaign but also your customers for the big day. 
Giving away vouchers will give them the motivation to watch their calendar for the campaign and purchase some of your products. 
It also develops loyalty between sellers and shoppers. Therefore, this will increase the chance that they will be constantly on the lookout for more campaigns that you will be running in the future. 
Create A Calendar For Special Holidays And Shopping Seasons
To be campaign ready for Shopee, you need to plan and manage your events in advance. We're not just talking about the campaigns that you voluntarily want to run. You also need to prepare for actual big campaigns. 
With that, we encourage you to keep a calendar of all the special holidays and shopping seasons. Check it frequently so that you know when's the best time to prepare for the campaign. 
Preparing for these campaigns will enable you to drive the most growth not only in terms of ROI but also brand awareness. 
For Big Campaigns, Start Your Marketing Two To Three Months Ahead
Another reason for keeping a calendar of all shopping events is that you will be able to know when it is time to market your campaign. 
One of the things that make campaigns a success is the hyper that comes with it. It is the longing of the customers for the big discounts that they'll get from your campaign. 
Therefore, to build demand for your campaign, you need to send out the message that you have an incoming campaign. Let the people know in advance how much discounts they will get from your campaign. 
This will build up tension that will inevitably encourage more buyers to participate in your Shopee campaign. 
When you join a Shopee campaign, the platform itself does most of the marketing for you but you can also do the following to further elicit demand:
Shopee Live

Post About Your Event In Shopee Feed

Share Your Banner On Your Facebook Page Or Personal Account
Anticipate A Greater Demand And Hire Additional Help To Ensure Good Customer Service Throughout The Campaign
Campaigns are going to keep you busy not just in terms of order fulfillment work but also in customer service. 
If you optimize your campaign right, you might just get inquiries that aren't enough for one or two people. 
So, in anticipation of your campaign, we highly suggest that you hire additional help for customer service on the day of the campaign. 
Take note that if a prospect has to wait too long for a response, it may result in lost sales. Since we don't want that, this is an aspect of your Shopee campaign preparation that you shouldn't overlook. 
Ensuring good customer service during the campaign also benefits you in terms of brand reputation. As you are able to accommodate all the concerns of prospects, you will be getting more and more positive reviews for your products which will elicit more purchases in the future regardless if you have a campaign or not. 
If you have more useful tips to add, we would love to hear from you in the comment section.