Facebook is the most widely used social media app globally, boasting an average of 2.93 billion monthly active users. 
It has the highest number of eCommerce orders from a social media network and the highest average return on investment ROI from Facebook Ads at 152%. 
Having the right Facebook ad strategies for your eCommerce is purely tapping into a goldmine marketplace for your business.
A diverse Facebook marketing and advertising strategy, in addition to a wonderful product, might be the missing link to your eCommerce platform generating sales in such a diverse marketplace. 
Also, Facebook ads for eCommerce are not only to drive traffic to your website but can be utilized at any stage of the sales funnel.
If you want to begin or alter your already existing Facebook eCommerce advertising campaign, these nine suggestions will help you maximize it.
Why You Still Need To Run Facebook Ads 
You might argue that Facebook ads may not be as efficient as they once were, but Facebook remains the social network with the most active members – not forgetting that Instagram is also a component of it. 
If you own an online business either in Shopee or Lazada, and you wish to expand your online presence, you should not write the Facebook ads off just yet.
Facebook Ads display your products to buyers whose interests increase their likelihood of interest. This can help you target those who do not use Shopee or Lazada and increase traffic to your store.
When a consumer sees one of your Facebook advertisements while browsing social media, they can click on it to visit your product page and make a purchase on your preferred eCommerce site or the app for mobile.
A creative and well-written Facebook ad will likely attract your target audience even if you do not go all out. Similarly, it is possible to spend money on ads without generating sales.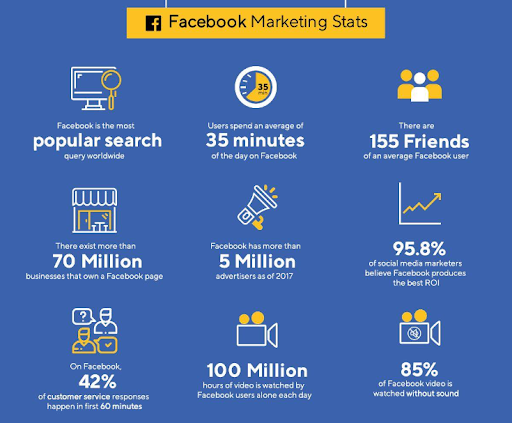 As an advertiser, you may tap into this vast marketplace through placements. Your advertisements will appear in a variety of "placements" on Facebook.
Placements are where your ads will appear, and it's essential to understand the different Facebook Ads placements.
The list of Facebook Ad placements is extensive, and each sort of advertisement offers numerous alternatives. Therefore, we advise that you utilize Automatic Placements. This optimizes your spending by simultaneously displaying your advertisements across all placements in the Facebook marketplace.
Here are the available Facebook Ads placements:
Search ads:

These advertisements appear on Facebook and Marketplace alongside search results.

In-Stream ads:

These appear on Facebook and Instagram as individuals view videos.

Message ads:

Ads appear on the Messenger app.

Feeds:

These ads appear when users view their Facebook or Instagram newsfeeds on their smartphones or PCs.

In-article ads:

They appear in between articles on Facebook's app.

Apps ads:

The Audience Network apps display these advertisements as either native or video adverts.

Stories ads

: The ads appear in full-screen format amidst other stories.
If you're a brand that needs help in setting up or scaling your paid advertisement campaigns, let's talk.
We can help you ramp up your eCommerce sales via Amazon Sponsored Search Ads, Lazada Ads, Shopee Ads, and Facebook Ads.
9 Must-Use eCommerce Facebook Ads Strategies
1. Set Up Facebook Pixel
Installing a conversion tracking pixel is one of the Facebook ad strategies you should implement before anything else. Uncertainty regarding the efficacy of their advertisements is a significant source of worry for business owners. You can promote a Facebook post or create a whole advertising campaign in the marketplace, but without the Meta Pixel, you won't know if the run was successful for your target audience.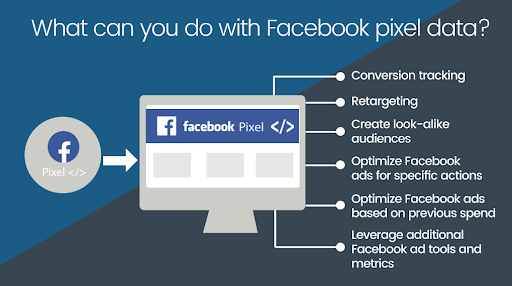 Even though it seems complicated, the concept is straightforward: a "pixel" is a little bit of code you place on your website, both Shopee or Lazada, to measure how users interact with it. 
Once installed, it gathers information on site users and their actions. This makes it easier to launch customized Facebook advertising campaigns in the future, mainly if you collect email addresses from the target audience.
Here's how to generate and use a Facebook Pixel on your website:
Start by visiting Facebook's

Events Manager

page.

Hover over the icon 'Connect data sources' and select Web.

Select Facebook Pixel, and click the Connect button.

Then you will need to name your Pixel.

Enter the URL of your website to determine if it has simple configuration options.

Continue by pressing the Continue button.
After configuring a Facebook Pixel, you must include the Facebook Pixel code on your eCommerce website including Daraz. We suggest that you complete this manually.
Follow these steps to complete the installation of Facebook Pixel on your website:
Go to the Facebook

Events Manager

.

Select the Pixel you created earlier that you modified.

Then, select Continue pixel setup

Choose the option to install the code manually.

Now copy the pixels' base code.

Navigate to the website's header or search for the header template on your web platform or content management system.

Copy and paste the code immediately above the closing head tag after your website's header section.

Finalize by pressing the Continue button.

Use the event tool or manually upload code to your website to create events.
So, here concludes it. Facebook Pixel may now track events on your website. Facebook may now observe all of a user's actions related to your ad targeting.
2. Use Dynamic Product Ads
Dynamic product ads are one key component you shouldn't overlook in your eCommerce Facebook ad strategies. This function will be pretty valuable if your eCommerce site like Daraz, sells a variety of items.
It uses machine learning to recommend products based on interests, hobbies, and age to each user. Dynamic product advertising employs your Meta pixel data and product catalog to retarget potential purchasers on Facebook marketplace by displaying adverts pertinent to their actions on your website.
Facebook templates will pull photographs, product names, pricing, and additional information from your catalog according to the information you provide about each product.
The first step in creating Dynamic ads is to log in to your Meta Business Manager.
After logging in, a menu should appear in the upper left-hand corner. Proceed to the "create catalog" option.
There should be a large button with the words "Create Catalog" on it when you arrive.
You will then have four alternatives. You can select eCommerce, travel, real estate, or automobiles. Choose the one that is optimal for your business, eCommerce.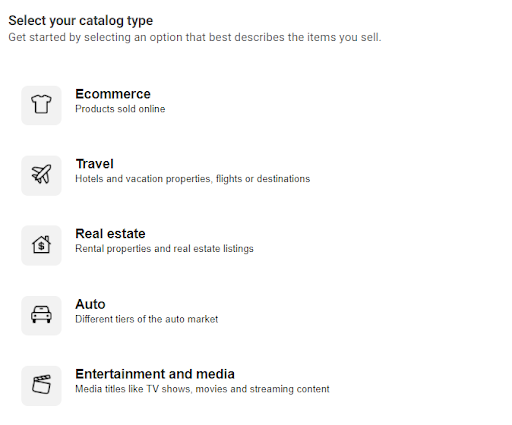 You will next have to choose whether to enter your product catalog via a form or connect it to an eCommerce platform such as Shopify.
You will now give your catalog a name and select the kind of items it will contain. You have various options, but remember that they must be items you sell online. You can place vacation houses, plane tickets, and other services.
Then, navigate to the ads manager and begin your dynamic product advertisement by setting the Facebook campaign objective to "catalog sales."
If you are still not convinced that dynamic advertisements are essential, consider the following four arguments.
Retargeting;

When visitors visit your

Daraz

website or app but do not make a purchase, dynamic advertisements can be an excellent method to entice them back and drive them farther down the sales funnel.

Find new clients

; Even though they have never visited any Shopee or Lazada website or downloaded the app, some people may be interested in your products or services (or comparable ones). Because they can target a wide variety of individuals, dynamic advertisements can help you reach them.

Personalization

; The most significant benefit of dynamic advertisements is that they are truly dynamic. This implies that firms will provide customers with relevant information based on their preferences and behaviors.

Automatic ad running;

You'll appreciate how dynamic advertisements alter on their own constantly. You will not be required to create and run as many campaigns because machine learning will do so automatically.
3. Share Your Brand Story
Since Facebook is primarily a social network and not online commerce, most users including your target audience utilize it to interact with others rather than shop. Before selling, it is crucial to speak with prospects and develop relationships. Facebook advertisements may be utilized to connect with customers and share your brand's story.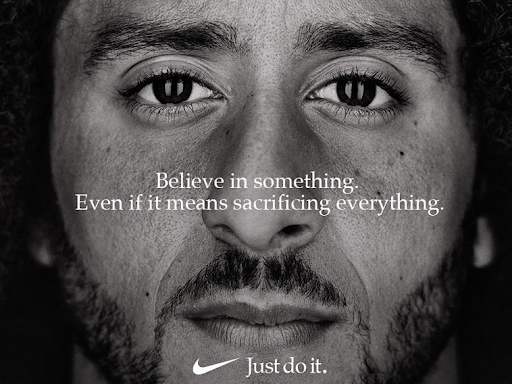 4. Don't Compromise on Visuals Quality
Utilizing high-quality images is the most vital aspect of Facebook advertising. If the image is fuzzy or poorly created, who in the Facebook marketplace will believe it to be real?
Use the following checklist to select an image for your Facebook advertisements:
Faces: Since humans tend to get along best with others, friendly, close, and emotional faces are lovely for capturing people's attention and assisting them in visualizing themselves utilizing your product.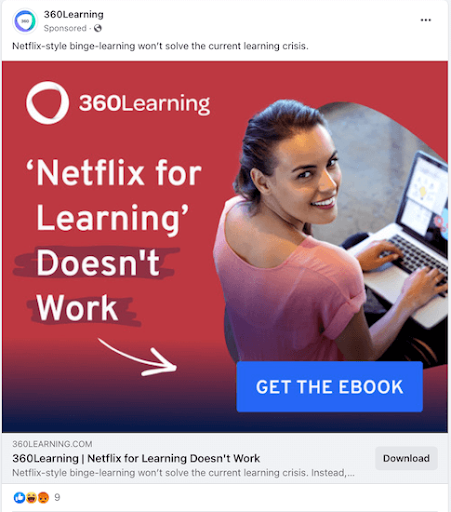 Simplicity; Photos that are difficult to view or have a lot going on divert attention away from your product. On the other side, images that are simple and have a lot of space call attention to your product.
Quality images; You should choose images that halt scrolling and stand out in the news feed. Use excellent, professionally shot photographs of your actual product instead of stock images, which are often overlooked.
5. Run Retarget Campaigns for Potential Prospects
How often have you browsed online on Shopee and placed items in your shopping cart to abandon them and move on to other things?
There are numerous reasons a client may abandon their shopping cart on Lazada without making a purchase, but most of them are unique to each customer. In any light, this is a significant loss for eCommerce enterprises.
Notably, even after you have in-completed your purchase in Daraz, you may begin to see advertisements for the items in your shopping basket on Facebook. This is likely due to the company's Facebook ad strategy known as remarketing.
The target audience is already familiar with your brand due to your brand-awareness campaigns, but they require additional encouragement to purchase or engage with your brand at this level. You may boost the likelihood that someone will make a purchase from you on Facebook by customizing your advertisements to the exact product pages they have visited.
When you're ready to launch a Facebook retargeting campaign, follow these five simple steps. Please note that the instructions presume you have an existing Facebook business account.
→ Have the pixel code already on your webpage 
Without this Pixel, you cannot monitor who visits your website and their activity. This makes it challenging to display retargeting ads on Facebook.
Audiences may be found in the dropdown menu when you select Business Manager in the upper-left corner of the screen.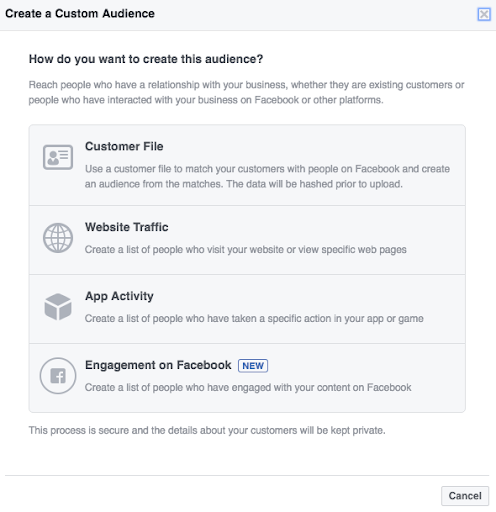 → Select Custom Audiences from the dropdown menu
You can locate Create Audience in the upper left corner of the screen. For retargeting, we will utilize Custom Audience, which will allow us to create a campaign that targets website visitors.
→ Select Site Traffic
You have several choices available, but for retargeting, we will focus on website traffic to reach those who have already visited your website.
→ Select the individuals you wish to contact from the list
You will be directed to a page similar to the one shown below, where you may select who can view your ads. You may concentrate on any of the following:
Those that visit your website.

People who visit particular pages.

Users who only browse specific websites

People who haven't visited in a given length of time are excluded.

Custom combination.
→ Pick ad placements
After creating your advertisement and considering your target audience, you must pick where it will be distributed. Always aim for automatic ad placements, as Facebook understands where each ad kind will most likely achieve your campaign objectives.
If you're a brand that needs help with retargeting ads, let's talk.
We can help you ramp up your eCommerce sales via Amazon Sponsored Search Ads, Lazada Ads, Shopee Ads, and Facebook Ads.

Schedule a consultation call with us.
6. Run Carousel or Multi-Purpose Ads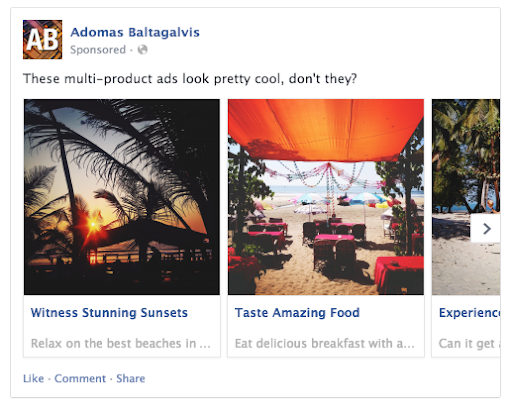 Carousel ads are ideal for eCommerce since they can display several images or videos. They are not the most engaging advertising for likes and shares, but they can be pretty effective at persuading people to subscribe to your list or make a purchase.
The benefit of these advertisements is that you may showcase multiple products in each one. Therefore, if a buyer sees a hoodie they are after in your ad for many products, they may browse and view other clothing-related products that may be of more interest.
As a result of the increased likelihood that a product will be valuable to consumers due to these commercials, you'll generate more sales. We recommend using them for retargeting, particularly for dynamic product retargeting advertisements.
Do you wish to create your carousel ads? Follow the below instructions:
Launch

Power Editor

.

Create a standard ad, but change the campaign objective to "Clicks to website" or "Website conversions."

Select "Multiple images and links in one ad" in the "Create Ad" section. If you don't get this option, you don't have access to this feature.

Complete each box for the three ads you wish to see in the carousel, including the URL, headline, product description, and image. Utilize the numbered panels to navigate between objects.

Select "Automatically select and order images and links" if you want Facebook to determine the optimal method to display your advertisements. This ensures that the item with the most interactions will always appear first.

Under "See More URL," enter the URL for your advertisement's last panel.

If you were selling fancy tops, for instance, your "See More URL" might be a page that displayed all the clothes you are selling.

In the "See More Display URL" section, enter the See More URL you wish to display in your advertisement.

If you are utilizing custom tracking parameters or tags, check the "Tracking" box.

To save your new advertisement, click "Upload Changes" in the menu bar's upper-right corner.
7. Don't Overlook Video Ads
Video ads have the potential to be incredibly lucrative for eCommerce. Some video advertisements perform better than any image ad we've attempted, but that doesn't mean all video ads are guaranteed to perform in the marketplace.
The key to creating compelling video campaigns to add to your eCommerce Facebook advertising is to create video content that appeals to your target audience and has a social aspect. This does not imply that you must engage specialists for every film you create. Some smartphone videos with a modest budget receive millions of views on social media.
You will require a script and storyboard. If you can adequately articulate these two aspects of your film, it will be much simpler to implement your advertising concept.
If you don't know how to go about this, we always recommend collaborating with professionals when creating a video ad for Facebook. At this time of your strategy, it is essential to locate a media business that can create videos. The important thing is to improve and grow a Facebook video strategy to generate more revenue.
Tip: Repeatedly playing looped ads may be aesthetically attractive. Since these video advertisements only run approximately 15 seconds, they do not need to hold the customer's attention for an extended period. People will remember your eCommerce company if you create films that are enjoyable and simple to see repeatedly.
8. Target Lookalike Audiences
This is an excellent alternative since it allows you to locate new consumers on the vast marketplace depending on the quality of your previous ones. People that saw your products or purchased from you may be considered a "target audience." Consider how Facebook may utilize AI to locate customers similar to those who have purchased from you.
Therefore, you are advertising to those more likely to be interested in your items since they resemble your present clients. Based on historical consumer behavior, after setting up a lookalike audience on Facebook, these algorithms determine who else may be interested in your products or services. You may then create an advertising campaign that directly targets these individuals.
Your list of present consumers should be clear and precise if you want to locate new clients that will benefit your business. Include customers that frequently purchase from you and adore your brand.
Facebook may use a "lookalike audience" to market your goods to those inclined to purchase them. You just need to ensure that your content is appropriate for your lookalike audience and that Facebook will handle the rest.
8. Create Urgency with Promotions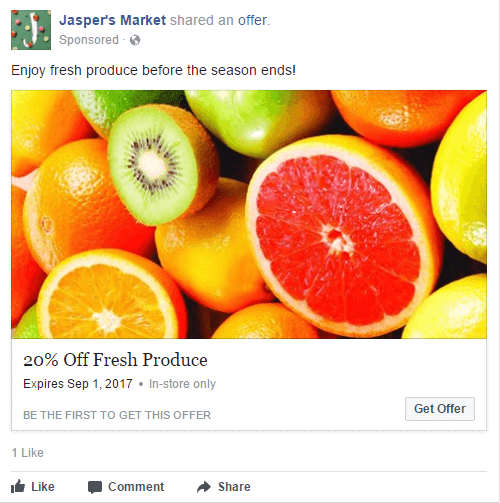 Regardless of your advertisement type, you should always utilize words and phrases that encourage immediate action.
The Offers function in Facebook advertisements allows you to reduce the gap between the discount offer and the actual sale, which is when you risk losing clients when they leave Facebook. Instead, customers receive a code immediately when they click the Offer ad.
Plus, you can demonstrate how many individuals took advantage of the offer. This is sound social proof that others benefit from the transaction, so why shouldn't I?
One of the most excellent methods to ensure that your advertisement is effective is to ensure that your target audience engages with it. And presents, offers, and giveaways are excellent methods of brand promotion.
People are highly susceptible to language that prompts them to act immediately. Therefore, if you know your prospect is intrigued, utilize phrases such as "Flash sale," "short time only," and "While supplies last" to convince them to purchase.
You can do much more to encourage interaction with your eCommerce Facebook advertisements.
People are so enamored with offers that they may purchase something simply because it's on sale, even if they weren't interested in it beforehand. As part of your plan to advertise your ecommerce business on Facebook, you may wish to experiment with deals-focused promotions.
Using competitions and giveaways to increase sales may seem paradoxical, but if done correctly, they can be helpful in the long term.
They aid in establishing and maintaining brand loyalty. If prospects realize that you care about them (through competitions and giveaways) in addition to completing a sale, they are more likely to remember you and buy from you again.
The Facebook Ad Funnel Campaign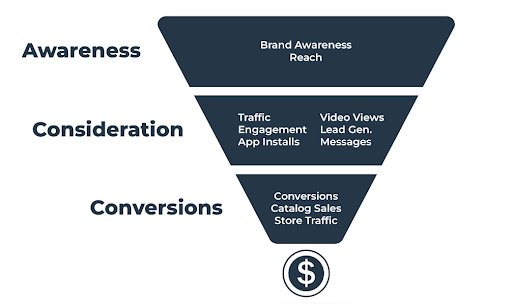 When it comes to Facebook ad strategies for your marketplace, confusion may arise immediately since many individuals examine Facebook's goals and focus solely on conversion.
Even if generating sales is the objective, most customers won't be ready to buy your products at first glance. Typically, high-value conversions occur after several encounters between a person and your brand.
Brand awareness
People who do not recognize your brand are unlikely to purchase from you. Beginning with a brand awareness campaign enables you to cast a wide net on Facebook and expose your brand and product to as many consumers as possible.
Start these campaigns with a low-risk offer that describes how you can assist your audience without attempting to acquire a transaction.
After they know who you are and what you can do for them, maintain your involvement.
Engagement
The more favorable feedback an advertisement receives, the greater the likelihood that more people will stop and interact with it. Therefore, engagement initiatives follow immediately after brand awareness campaigns.
The second phase, "Engagement," should focus on getting to know the page's fans and target audience. The objective is to attract likes, comments, shares, and even queries about how to purchase the goods or services. Use a brief video advertisement highlighting a product's or service's benefits, advantages, and primary characteristics to pique people's attention.
Click/Conversion
Advertisers might attempt to increase clicks and conversions after the initial two encounters.
You may add the individuals who reacted to our ad to a traffic campaign that you can modify to increase the number of visitors to your landing page. At this point, your objective is not only to increase brand awareness. Additionally, you want them to visit a specific page on your website.
[activecampaign form=1]
Don't burn your Facebook ads money. Have a strategy.
You'll want diverse, well-optimized Facebook Ads strategies that target each touchpoint throughout the buyer's journey. This involves utilizing many Facebook campaign types to create a sales funnel that is effective for acquiring new customers and retaining existing ones.
In a nutshell, the most effective method of promoting an eCommerce website or a Shopee, Lazada, or Daraz store should incorporate both cold traffic and retargeting efforts that employ various ad formats.
If you want to make the most of your ad budget, ask marketplace experts for help.

Schedule a call with us if you want your eCommerce project to begin seeing positive similar results from Facebook advertising.
Our advice on results-driven marketing, which extends beyond social media, should not be overlooked. Your most excellent chance is always to have a comprehensive strategy, and we have the expertise to assist you in achieving your objectives.