Online shopping habits of Southeast Asia consumers intensify as 95% of people get internet access. And with over 380 million shoppers in Southeast Asia, selling in online marketplaces now can be the best decision you ever make.[*]

For Lazada sellers and Shopee sellers, Direct-to-Consumer selling in online marketplaces provides full control over the products, plus an opportunity to get to know and understand your consumers for future business development.

But, as you go along with your eCommerce marketplace for the Direct-to-Consumer (D2C) journey, you will discover unforeseen pain points that might affect your business.

If you have little to no experience in D2C, this article is for you. Let's take a look at the possible problems you could face as well as the solutions you can apply.
Challenge #1: Infinite options for buyers
Online shoppers prefer marketplaces because it provides shoppers the option to select. They can easily compare prices, features, and even choose the nearest location for faster shipping. This is good for the buyers but can be a problem for the sellers as this causes distraction.
The competition is brutal. Aside from manufacturers and resellers, sometimes the marketplace itself becomes part of the contest because they also sell the same products.
Solution: Optimize your listings
Here at Split Dragon, we can't stress enough the importance of using highly searched keywords on your product listings. You can have the best and most amazing product in the world, but if you do not use the right keywords, descriptive images, and compelling copy and just settle for a sloppy-looking listing, your product will be engulfed by those who did.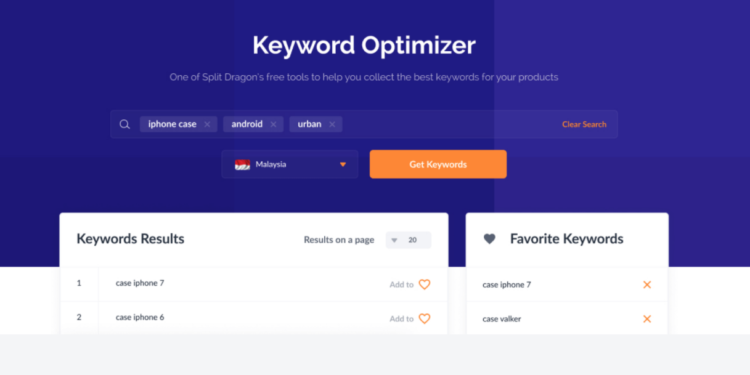 From the title, bullet points, images, and lorikeet, each element plays an important role for the shopper to explore your product more and eventually complete a purchase.
SEO gets harder every year — even in marketplaces. To get better at the competition, get a comprehensive tool like Split Dragon's keyword research tool.
Challenge #2: Inventory management
Good news: business is growing.

Bad news: every time there's an order, you feel overwhelmed and stressed.

What's lacking? Stock management. 
What's the point of having a surge of customer interest if your inventory and process can't keep up?
Your store should be thriving, alive but not chaotic. And a streamlined and efficient stock management system can make this possible. 
Solution: Quit the paper and pencil
Stop using manual processes and start applying automation. Think about it. Even with just 100 transactions, using paper and pencil will be inefficient and will slow you down.
Streamlining your process with automation helps reduce risk and maintain accuracy, simplifies documentation, saves time, plus it lets you help save the environment by eliminating paper. 
Challenge #3: Lack of brand recognition
It's already well-known that, despite having a huge audience, one of the major challenges of companies from selling in marketplaces is a lack of brand recognition. 
Building your brand in marketplaces is challenging. And, if your brand already has a poor image, it will be difficult to change. Thus, you will have limited opportunities to strengthen it with your customers. 
Also, it's important for you to learn the difference between branding and marketing. Branding is the "why" of your business, meanwhile, marketing is the process of how you reach your customers. This is where the marketplace comes in.
Solution: Let the marketplace work for you
Did you know? Traditionally, marketplaces are the ideal channel to build brand exposure and sell excess inventory.[*]
And it should be that way until now. It's just that some brands forget these benefits from selling in marketplace:
An additional channel to sell your products

Opportunities of overseas selling

Round the clock operation
Perhaps the "I bought this from Shopee" immediate response gives an impression that there's no brand retention, but with the right marketing and tools, you can make the marketplace work for you. 
eCommerce websites like Shell are doing a great job in manipulating their purchase links to Lazada and Shopee: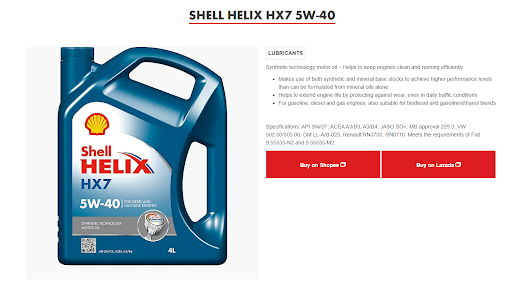 This way, they don't have to think about fulfillment, the return and refund process, or even customer service. 
This is how you make the marketplaces work for you.
Challenge #4: Slow shipping process
69% of the buyers won't shop in your store again if their products are delivered within two days of the promised delivery date.[*]
Fast shipping makes the customers happy. If customers experience otherwise, they will show it on your ratings. Unfortunately, most of the time, this is beyond your capacity as a seller. 
Solution: Optimize your warehouse procedure
The best thing to do to expedite your shipping process is to make sure that your packaging procedure (including the area) is well-structured. 
Have a review of your pick, pack, and ship process, and again, invest in automation. Have your workers scan labels and barcodes to upload shipment information rather than write it down.
Also, make the effort to communicate with your customers if there's a delay in shipping. There's nothing more frustrating than wondering where their parcels are without any update. Meanwhile, as you communicate, allow your customers to decide by giving them options like picking up the parcel at the nearest station or providing a refund.
This approach will make the customers feel calmer because they have control over the situation, plus this course of action shows your customer-centric approach. 
Challenge #5: Low traffic
There are several reasons why you could be experiencing low traffic. It can be because you do not do any marketing, or perhaps your listings are not optimized. 
Yes, marketplaces like Lazada and Shopee have millions of visitors each month, but you can't expect that these visitors will flock right to your shop. They need to be guided and hooked before they complete any purchase. 
Solution: Use multiple traffic sources. 
Let's take a look back at Shopee's sales funnel: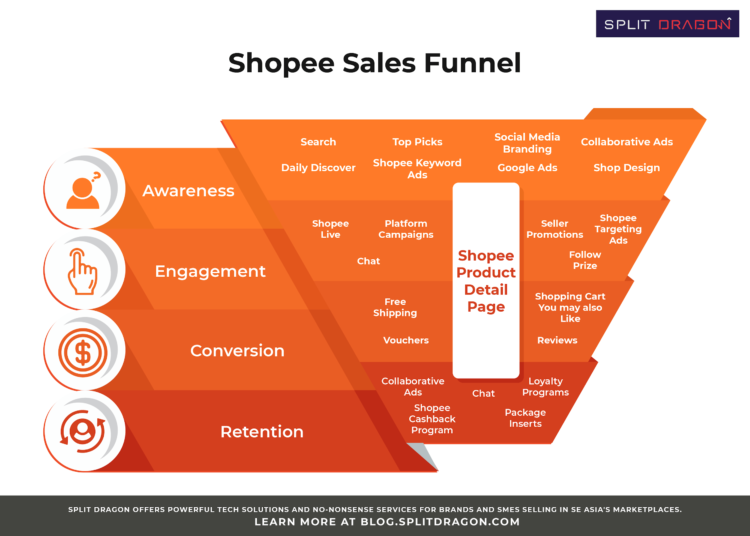 Awareness can be done in many ways:
Recommendations – you can encourage your old customers to recommend your products in exchange for something valuable to them like gift certificates, vouchers, free shipping, etc. 
Ads – You can use paid ads to spread awareness about your product and convert those who are already engaged. They can be very helpful if you have a qualified and interested target audience you would like to reach.
Affiliate marketing – in this advertising model, you pay a third-party publisher to generate traffic to your shop. Each affiliate marketer has their unique link and they get a commission every time an item is purchased using it.
Social media – perfect not just for affiliate marketing but also to increase engagement with current customers,  social media is very effective to reach audiences in every demographic. 
Challenge #6: Slow rating and feedback build
Review and social proof are important for any business, but it's more crucial for online businesses like marketplaces. The problem is that most happy customers will never tell you that they are happy – unhappy customers will.
So how do you excite your customers to give you positive feedback?
Solution: Add a personal touch to every transaction
The solution is straightforward: Send a personalized request for review. Also, include a little thank you letter and/or a surprise freebie. This will excite your customers. Who doesn't want to flex their freebies right?
But be warned: you want the review to be 100% authentic. Buyers can tell whether the review is fake or not. So, although freebies are okay, please don't offer actual cash in exchange for testimonials because it's unethical and could ruin your reputation.
By going the extra mile on every purchase, your customers will feel that you give more thought and effort to them. This can trigger reciprocity and make them feel like they also want to give something back. And the best way for them to express gratitude is through the feedback or review section. 
Lastly, always make time to respond to the reviews, good or bad. Remember, reviews are one of the best sales tools in the marketplace. 
Get ready to master D2C selling in marketplaces
While there are many challenges in selling D2C in marketplaces, the obvious (and proven) advantages allow manufacturers and brands not only to survive but thrive during the pandemic. 
To truly win this model though, you must leverage technology to facilitate your operations, gather consumer insights, and use the best of it to create campaigns to cater to the needs of your consumers.
Split Dragon specializes in turning insights into revenue. With a complete toolkit for online marketplace selling to a team of experts in eCommerce, we will help you grow your business and make sound decisions. 
Start your free 7-Day trial here.