When the world began to be characterized as an advanced digital culture, you saw an opportunity and decided to be a part of this ever-expanding business called e-commerce. And as the e-commerce industry continues to evolve through the years, so is the demand for new e-commerce service providers like e-commerce enablers.
1. E-commerce Growth
Even before the COVID-19 pandemic, online e-commerce was already a fast-evolving industry. Over the years since online shopping was introduced in 1994, it has forecasted to become a billion to trillion dollar industry. In fact, the continuous rise of online shopping is one of the major reasons why street shops are beginning to look bleak.
To put a better perspective, a report done by DigitalCommerce 360 shows that eCommerce sales have been growing an average of 15% per year since 2015, while offline retail brands have only been growing 4% yearly. And in Asia alone for the year 2020, consumers are spending a hefty $2.525 trillion of goods on the retail website.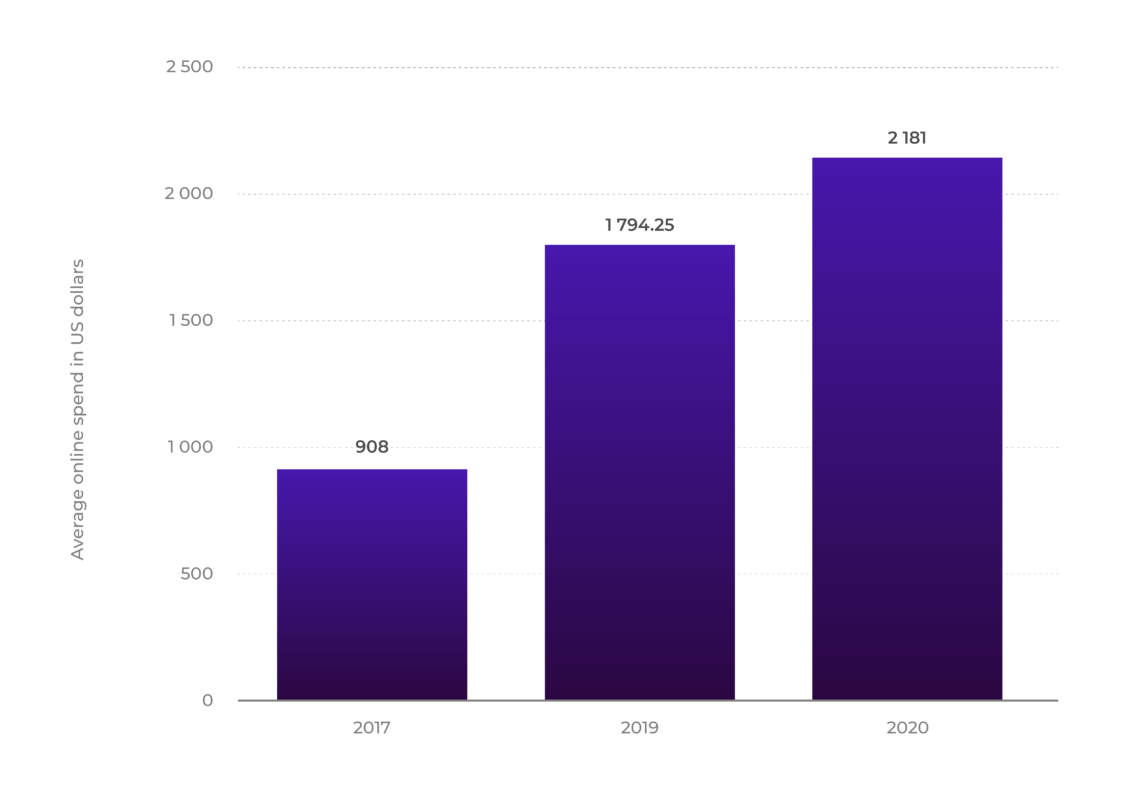 "Ultimately, it was during the spread of COVID-19 that triggered the surge of online buying. Even giant brands that are hardcore offline retailers like Coca-Cola, Palmolive, and Colgate are forced to reimagine their omnichannel approach to stay afloat and recover from the crisis."
With that being said, it is safe to say that beyond the hype, your decision to be in the e-commerce space is not just a good decision but an excellent solution.
However, any thriving industry always attracts new and tough competitors. Now that big offline retailers are joining and start-ups continue to flourish, the competition is cutthroat.
To stay on top of the game, you need to be convenient, fast, reliable and reach large audiences nonstop. Without a doubt, an e-commerce team in place is a must if you want to reach new heights for your business.
Chances are, however, you are reading this article because you are still undecided on whether to create your team from scratch or partner with an eCommerce service provider like e-commerce enablers.
In this post, we will tackle the pros and cons of an in-house team. We will also discuss what e-commerce enablers are and if they're the right service provider for your business.
2. Building an in-house e-commerce team
An in-house team means you have an opportunity to customize the group according to your business requirements and goals. Other benefits include:
Some issues need quick-fix solutions, and having a dedicated team can attend to the problems fast. 
From inventory management, order processing to promotions and marketing, you'll get full access and overview of the whole operations, allowing you to come up with a more satisfying brand experience for your regulars.
 When your business is online, expansion is not far off from happening. And as your business grows and goes international, so are its complexities and demands. Having an in-house team allows you to be flexible. 
But you can only luxuriate in these advantages if:
You hire the right people
This includes identifying which roles are for full-time and which talents are for contractual. If not done right, it can cause unnecessary operational expenses. Moreover, most developers, by their own admission, are usually not for keeps. So if the time comes that they want to look for greener pastures, you'll have to find another promising talent – which is also another challenge.
Have an efficient product management process
E-commerce never sleeps. That said, product management, including maintenance of quality in terms of product, customer support, and operations should be seamlessly integrated 24/7. 
You know the right tools and how to use them

 
These tools refer to customer service platforms, shipping and postage, site and insight solutions, CRM, and other gears that you need to augment your customer experience and achieve operational efficiency.
You have an allocated budget

 
From recruitment, setting up equipment to developing a conducive workflow, it's clear that it is going to be an expensive endeavor. Also, Developers are highly regarded as specialists. This means that you'll have to compete in terms of salary and company culture just to get the best and keep them for a long time.
3. E-Commerce enabler 101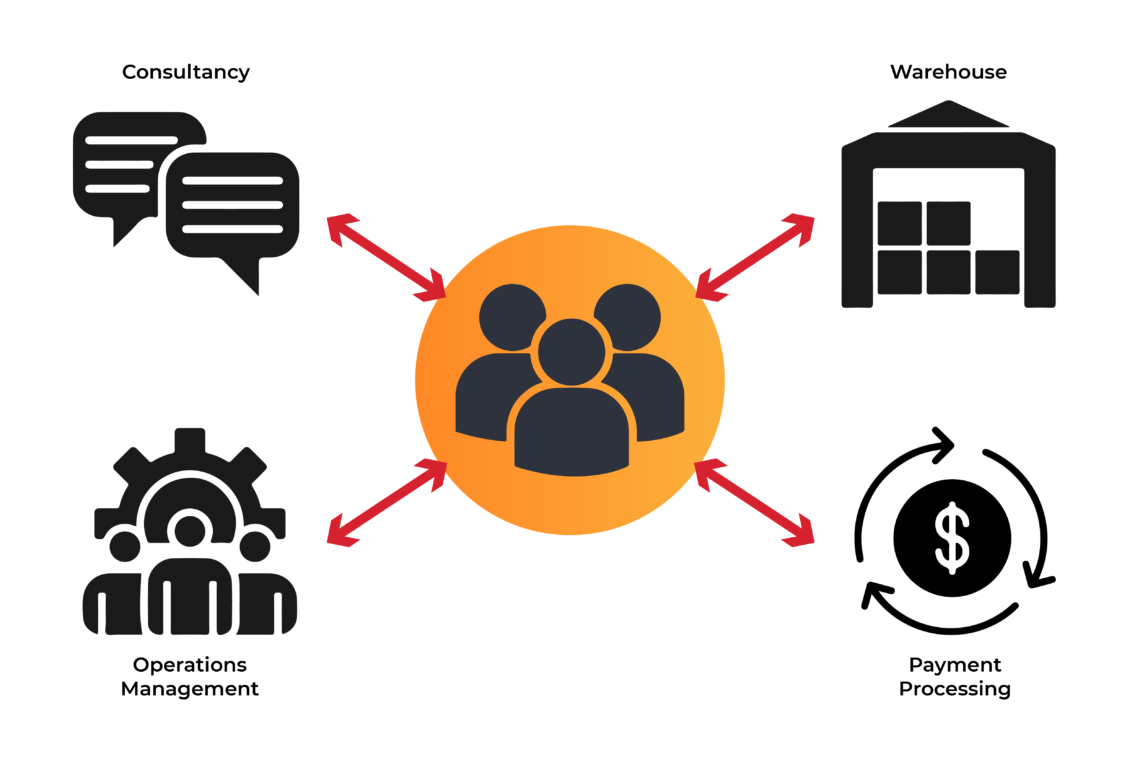 E-Commerce enabler is a business that provides professional expertise for your brand to stand out and successfully sell in crowded online platforms like Lazada, Shopee, etc.
This B2B model started in Thailand and Vietnam and has been in the e-commerce ecosystem since 2015. However, most merchants are having difficulties understanding the role of e-commerce enablers.
A survey done by aCommerce shows that 60% of the e-commerce vendors do not know the difference between an e-commerce enabler and a marketplace.
To clarify, Lazada, Shopee, Amazon, Zalora, etc are what we call marketplaces. This is where you sell your products online, participate in flash sales and platform promotions like 5.5 sales, among others.
An e-Commerce enabler, on the other hand, focuses more on providing end-to-end e-commerce services. If you are new to the e-commerce business, they will help you set up your online store, provide consultancy, technical support, and supply chain operations. 
Currently, global brands like Unilever, Samsung, Amorepacific, Procter & Gamble, and even SMEs use e-commerce enablers, allowing them to have significant marks in the local market in Philippines, Vietnam, Singapore and other regions in Southeast Asia. 
4. What are the usual services e-commerce enablers offer?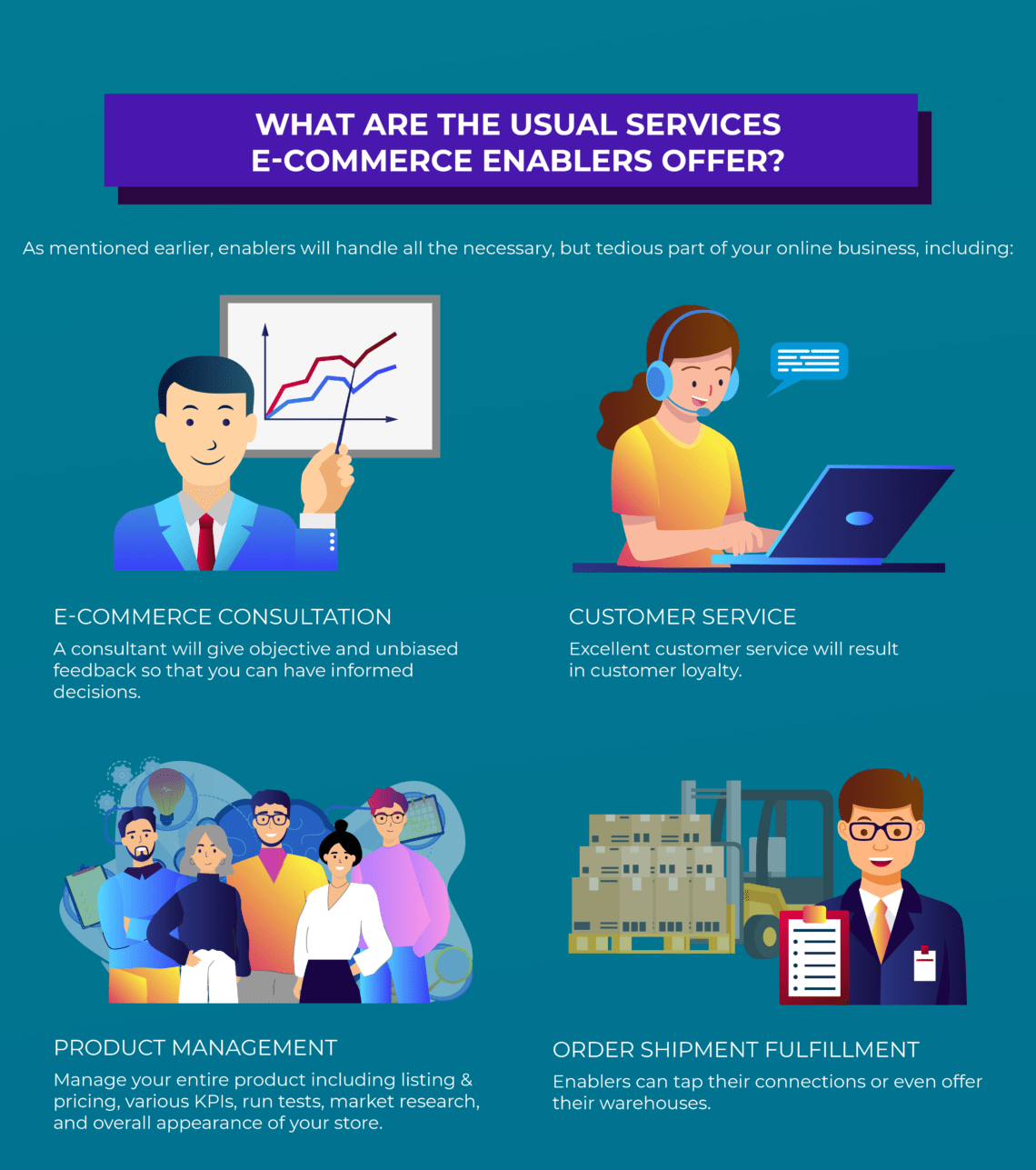 As mentioned earlier, enablers will handle all the necessary, but tedious part of your online business, including:
Transitioning your physical store into the online environment is not a free and easy decision. New or not, there are times that you decide on something based on inaccurate reasons. A consultant will give objective and unbiased feedback so that you can have informed decisions.
The enabler will have the capacity to manage your entire product including listing and pricing. They will also help define various KPIs, run tests for user experience or performance, customer 
market research, and the overall professional appearance of your store.
Order Shipment Fulfillment
One of the common issues is when the seller picks the wrong items for delivery. Did you know that 21% of the consumers leave your store because of past bad experiences with the offered delivery company? To solve this problem, enablers can tap their connections or even offer their warehouses. 
The lack of personal touch is one of the obvious downsides of online selling. In physical stores, there is an interaction between the customer and the associate so that the customer can make good and satisfying choices.
You can bridge this gap by having professional customer service representatives. This department can be very demanding, yet very crucial as well. Excellent customer service will result in customer loyalty.
And loyal customers create sustainable profits.
5. Outsourcing e-commerce enablers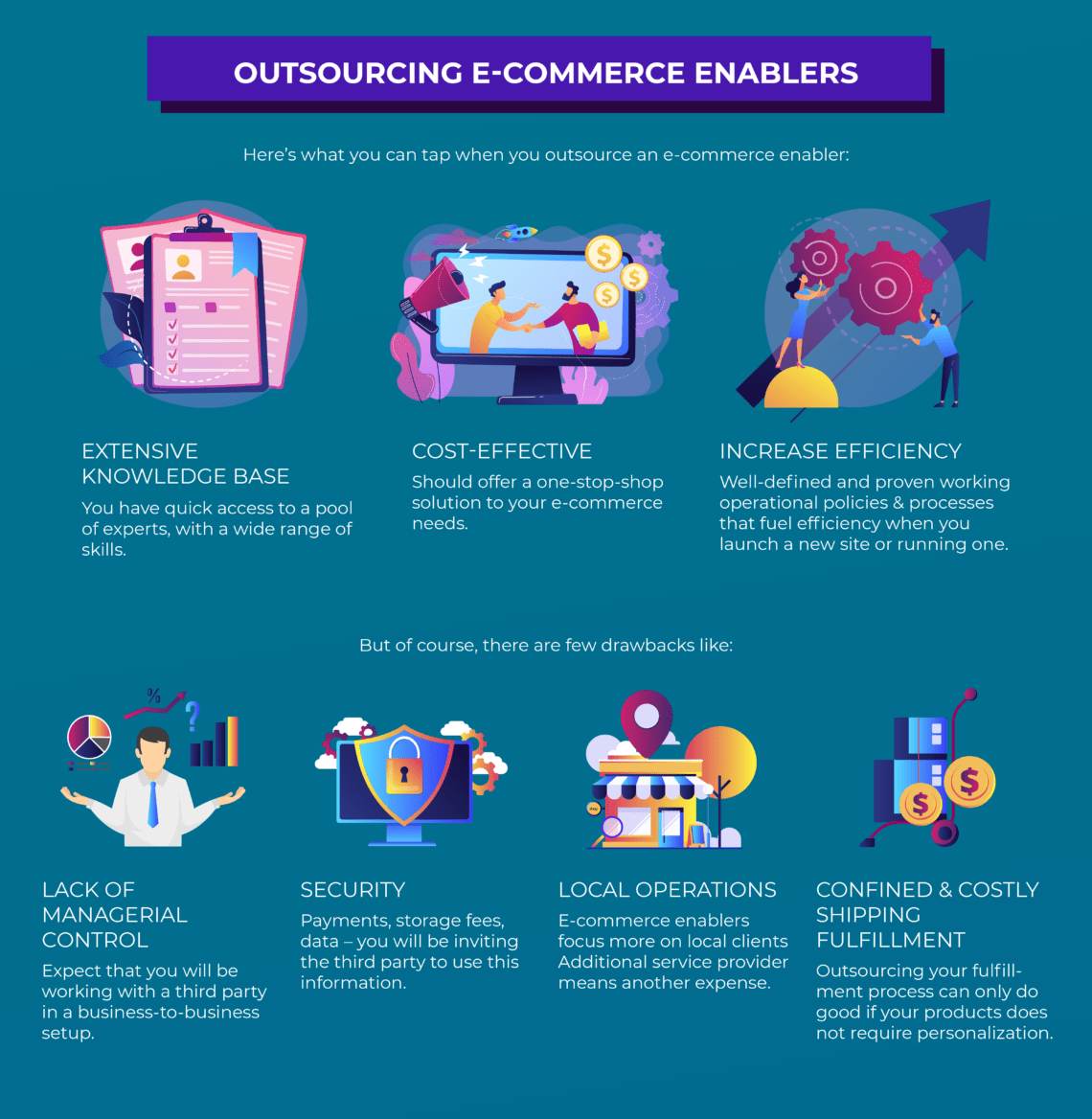 Here's what you can tap when you outsource an e-commerce enabler:
An e-commerce enabler breathes one thing: e-commerce. This means you have quick access to a pool of experts, with a wide range of skills. Compared to having an in-house team where you have to squeeze in other tasks like staff development and business management, outsourcing an agency only focuses on taking your organization to the next level.
E-commerce enabler can offer a one-stop-shop solution to your e-commerce needs. They have the appropriate, if not the best in the market tools and equipment. Not to mention that they are an assemblage of professionals who know the nook and cranny of running an ecommerce business.
Reputable e-commerce enabler has already well-defined and proven working operational policies and processes that fuel efficiency when you launch a new site or running one.
But of course, there are few drawbacks like:
Lack of managerial control
Expect that you will be working with a third party in a business-to-business setup. They are not your employees so you have no control over how they will manage the tasks. Yes, you can give feedback on how you want things done, however, there's no guarantee that they will go over the tasks the same way that you could if it was done by your employees.
Payments, storage fees, data – you will be inviting the third party to use this information. Potential privacy concerns may include product information and strategies. Make sure that you state clearly the boundaries between you and the enabler.
E-commerce enablers focus more on local clients and their specialty is more on local service. If you want your business to go overseas, you'll need an additional service provider which means another expense.
Confined and costly shipping fulfillment
Outsourcing some or all of your fulfillment process can only do good if your products don't have any specific needs, adjustments, or does not require personalization. If so, your products will require a separate warehouse which translates to more storage cost.
6. Split Dragon fills in the gap through data and analytics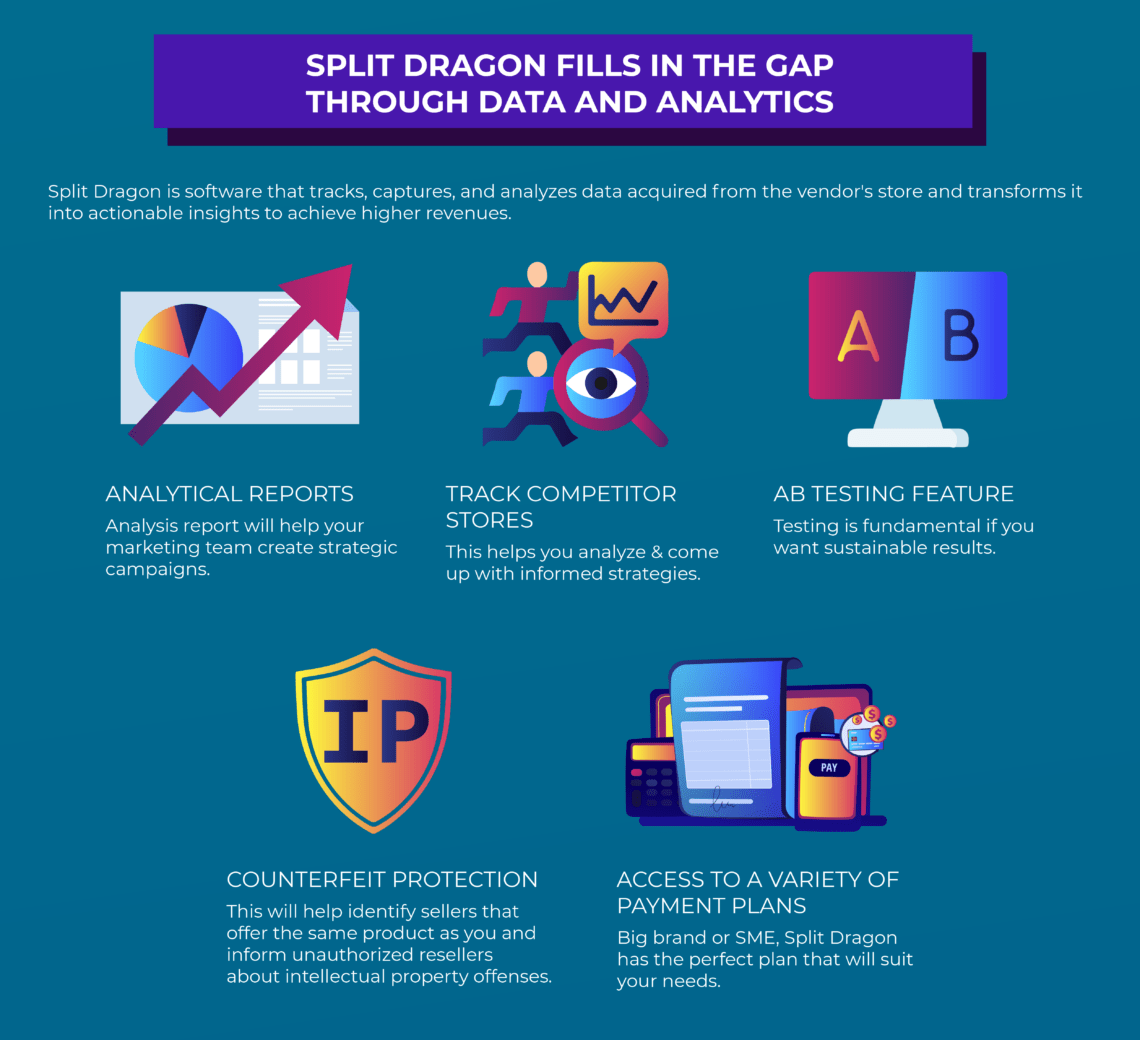 Is Split Dragon an enabler?
The direct answer is no.
While e-commerce enablers maintain the operations of your business, Split Dragon helps you strategize and achieve your business goals using the big data your customers provide.
Imagine being able to figure out if your product will be a hit or flop to your customers before launching, or getting a forewarning from possible issues before the customer brings notice to the customer service department.
Imagine knowing in advance what works and what doesn't. 
With Split Dragon, all of that is possible and more.
In a nutshell, Split Dragon is software that tracks, captures, and analyzes data acquired from the vendor's store and transforms it into actionable insights to achieve higher revenues.
7. How can Split Dragon help you?
The analysis report will help your marketing team create strategic campaigns. This will give them insights on when to do flash sales, come up with vouchers and codes, how to personalize your engagement and how to attract new customers.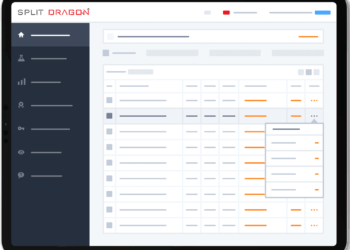 You will also have an overview of how each product performs, how users interact with your product, which items are most often viewed, information about the abandoned cart, fulfilled transactions, and spending habits. 
Armed with useful information, the sales and marketing team can determine which path to take to drive higher sales.
Knowing your competitors' moves will give you an edge in the marketplace. Every time your competitor changes anything, Split Dragon will send an email notification and a link so you can access and check any updates about this particular store. This competitive intelligence will help you analyze and come up with informed strategies.
Testing is fundamental if you want sustainable results. Unfortunately, it's time-consuming and if not done right, can lead to inaccurate results. Split Dragon came up with a genius tool to automate two or more variations of the title, product description, image, or pricing.
Another key feature of Split Dragon software is the IP protection tool. This will help identify sellers that offer the same product as you. If you find counterfeit sellers, Split Dragon can provide a template you can use to inform unauthorized resellers about intellectual property offenses.
Access to a variety of payment plans
Big brand or SME, Split Dragon has the perfect plan that will suit your needs. Plus, we offer a free 7-day trial so you can access an extensive list of features. This includes tracking your competitor's stores or products, optimize your listing using ranked keywords, and have access to educational resources. Plus, these features are all automated! 
Currently, Split Dragon is supporting brands and sellers in Asia including Indonesia, Malaysia, Singapore, Philippines, Malaysia, Vietnam, and Taiwan. 
Automation means faster implementation. All of Split Dragons' features are built for ease of use on the sellers' end. You can keep an eye on your competition while your products are being optimized in the marketplace.
With Split Dragon, you can focus on the main operations of your brand – no time wasted.
8. Conclusion
Before deciding, consider first the needs of your business. How you want it to be developed 3, 5 or 10 years from now? Weigh in your variables and identify your priorities.
If you are going for a global expansion, it's high time that you create an inhouse team.
On the other hand, if you want to strengthen your brand in the local market, outsourcing a few tasks with an enabler can be beneficial. 
Perhaps you can mix both. And while you're at it, consider hiring a third party like Split Dragon so that your team is backed up with accurate data and information to maximize their functions.