eCommerce marketplaces are obsessed with delivering customer value, and Lazada and Shopee are no exceptions.
The continuous promotion of freebies and vouchers that influence a shopper's purchase decision is one of the ideal examples. They know "people love a good bargain."
But how did they find out that vouchers work?
The answer: customer-driven metrics. The data they collect from these metrics determines customer behavior. 
If you are a Lazada and/or Shopee seller, it's also important that you have a clear understanding of these metrics so that you can use them to your advantage.
Why is it important to monitor Lazada and Shopee seller metrics?
Monitoring Lazada and Shopee seller metrics gives you insights on how to increase your shop's traffic and conversion inside the marketplace. 
When you go shopping, products and services are arranged in a way that is convenient for the shopper. This is what it's like as well in marketplaces — you're competing for visibility.
High visibility can be achieved in 3 ways: Optimizing listings, using sponsored ads, and becoming a recommended seller.
Both Shopee and Lazada algorithms recommend products that best match the search query. But there are thousands of options for the same product out there. To determine which product to recommend, they created a program that warrants sellers to be on top of the search results based on their operational performance and sales. 
Shopee has Preferred Sellers programs. And in May 2022, Lazada will also launch the same program for their sellers. 
As a Preferred Seller, you will enjoy benefits like preferential rates for flash deal slots, extra visibility, and ad rebates.
But the best part is the preferred seller badge that will help you gain trust from buyers. After all, it shows that you passed  Lazada and Shopee's stringent requirements for the program.
So how do Lazada and Shopee select qualified sellers?
Below are the powerful metrics you need to keep an eye on to qualify as a Preferred Seller in Lazada and Shopee. 
Important Lazada Seller Metrics
Lazada's preferred seller badge can only be earned by sellers with exceptional assortment quality and buyer experience.
That said, Lazada breaks it down into various measurements:
Positive Seller Rating
Target: more than 85% 
A positive seller rating measures the ratings given by users based on their overall shopping experience in the seller's store.
How do you improve your seller rating? 
Let's go back to the basics. Shoppers are in marketplaces because they're convenient. And a marketplace promises a smooth transaction from ordering to receiving the items. 
Usually, what disappoints a buyer are things that can be avoided, such as: 
Unavailable/out of stock items that are still listed

Sending the wrong color and/or size

Sending the wrong item/s

Late shipments
As you can see, all of these issues can be addressed beforehand. To get a 5-star rating, reevaluate your fulfillment process and tighten any loose screws you find. Also, read all of your feedback and identify the particular reasons why your customers don't like your product. 
Return Rate
Target: less than 1%
Return rate tracks the number of returned items purchased from your store due to errors caused by the seller.
Returned items are not a bad thing, in fact, it happens across almost all industries. For customers and the marketplace, having the option to return products also brings a positive experience and helps foster a great relationship and connection between the sellers, marketplace, and customers.
However, if items are frequently returned, then your store can get flagged and its marketplace reputation may get tarnished. 
This still goes back to what we mentioned earlier about giving a positive seller experience. A healthy return rate is easy to achieve as long as you evaluate your fulfillment process.
Have a process that double-checks the items before shipping. You could take and send photos of the items to the customer before you ship them to make sure you are sending the right products, and at the same time engage with your customers.
Cancellation Rate
Target: less than 1%
Cancellation Rate refers to the canceled orders due to non-fulfillment by the sellers. Take note that cancellations made on the buyer's side do not affect your cancellation rate.
Content Score
Target: more than 75%
Your content score measures how you present your store and product listings to attract buyers. You need to provide the best product information that meets the highest standards to convert browsers into buyers. 
The content score is measured through 4 key indicators: 
1. Completing attributes
Make sure that you fill in all mandatory fields. The mandatory fields are marked with a red asterisk or star (*). 
2. Use of 3 or more product images
You can actually sell products with only 1 image. However, for a better content score, upload at least 3 clear and descriptive images for each variant of the product. 

3. Complete and informative product description
Ideally, you will need 50 or more words for the product description. A listing that converts usually includes key selling points like the product's features and benefits, the material it's made from, and other useful information.
However, you need to check if your product description meets the  product listing rules such as guarantees and medical claims to avoid getting penalized
4. Key Product Information Fill-Rate
People are using filters to search items in Lazada. To make the most out of this, tag your products with the right key attributes. 
You can find the key attributes under the Key Product Information. 
Another way to gain more traffic and rank higher in search results in Lazada (or any marketplaces) is to optimize listings using keywords. 
You can use Split Dragon's keyword tracking tool to find the keywords with the highest search volume.
Important Shopee Seller Metrics
Seller performance is also closely monitored by Shopee. You can find your Key Performance Indicators (KPIs) and targets on the My Performance page.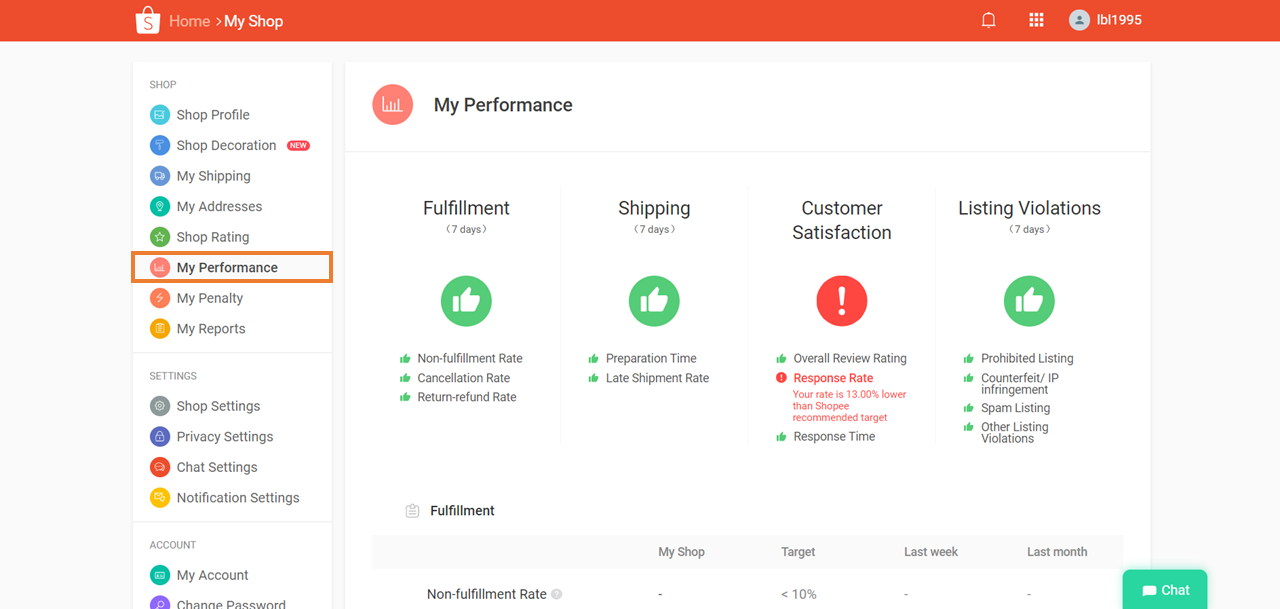 Here are the 4 important key metrics Shopee uses to assess sellers' overall performance: 
Fulfillment
Target: not less than 10%
Fulfillment measures how well a seller completes all orders. This includes returns, refunds, and cancellations.
Auto-cancellations also happen in Shopee. To avoid auto-cancellation, ensure that the shipment is arranged and your partner logistics are shipping your item within 2 days of your shipping deadline. 
Pro tip: If you are using Shopee Logistics Partners, just select Arrange Shipment and your orders will automatically be arranged. For non-Shopee logistics channels, you need to use the  "Ship" button to arrange your order.  
Shipping
Shipping measures how well a seller prepares and ships out all orders within the Days to Shop period. 
Preparation time – not more than 2 days

Slow delivery rate – not more than 10%
To improve the shipping process, you need to create best practices inside your warehouse. Stock up on packaging, especially during peak seasons, so that you don't run out.
And if your warehouse is ready to handle automation, then we highly recommend that you eliminate manual operations. This is inevitable when your shop is growing. 
Customer Satisfaction
Target: more than 50%
Customer satisfaction measures the buyer experience by analyzing customer reviews and seller chat response rates. 
The key indicators for customer satisfaction are:
Response rate – more than 75%

Response time – not less than 1 day

Overall opinion rate – not less than 4.60 ratings
Listing Violations
Target: not more than 3 points
Listing violations measure how well a seller observes good listing practices. Shopee keeps track of this to ensure the safe experience of its shoppers when using its platform. 
You need to familiarize yourself with the policies and regulations of Shopee. To start, here are the main types of listing violations you need to watch out for:
Prohibited Listings – These are the listings that are prohibited from being sold by law and are also prohibited by Shopee's listing policy. 

IP Infringement

and Counterfeit Listings – These violate the use of trademarked, and copyrighted products, and also include imitation products. 

Listing Spam Policy – Keyword spamming, incorrect attributes of products and reuploading deleted products fall under this violation.
Maximize rank potential through Lazada and Shopee's powerful metrics
Without a doubt, Shopee and Lazada are using metrics to observe your performance and help them make decisions. This will ensure that they deliver a great customer experience — always. 
And these decisions include weeding out bad sellers and recommending the good ones. If you want to maintain good standing, just follow the best practices in selling inside the marketplaces. 
But if you want to maximize your potential as a seller, you need to constantly monitor and optimize your listings. And in return, you will earn that preferred seller's badge and eventually, have all your products recommended.
Learn more about how to sell better in Lazada and Shopee by joining our community here.